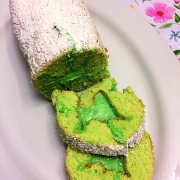 Print Recipe
Saint Patricks Day Roll Cake
This delicious Saint Patrick's day dessert is festive as well as delicious, as it is a perfect vanilla cake rolled in between amazing buttercream frosting! You will absolutely love this valentines day dessert!

Vanilla Roll Cake
3

egg yolks

3

egg whites

2

large

eggs

1

cup

granulated sugar

1/3

cup

water

2

tsp

vanilla extract

1

cup

all-purpose flour

1/8

tsp

salt

green food coloring

1/4

cup

powdered sugar

for dusting the towel
Vanilla Buttercream Frosting
1/2

cup

butter

1 1/2

cups

powdered sugar

1/2

tsp

vanilla

green food coloring

1

tbsp

milk
Roll Cake
Preheat the oven to 375 degrees. Line a 15x10x1 baking sheet with parchment paper, and spray the parchment paper with non-stick spray.

Get a clean towel that is either larger or the same size as the baking sheet, and evenly sprinkle the powdered sugar onto the towel.

With an electric mixer, beat the 3 egg whites in a medium bowl, and add 1/4 cup of white sugar till stiff peaks form (if you turn the batter upside down, it holds in place).

In a large mixing bowl mix the egg yolks and the egg whites together until very well incorporated. Add in the sugar, vanilla, and water and mix for another minute. Then add the green food coloring until it is the desired color, and mix until the food coloring is completely incorporated.

Sift in the flour, baking powder, and salt, and mix until just combined on low. Very gently fold in the egg whites.

Pour onto the baking sheet, and bake in the oven for about 12-14 minutes, or until the center of the cake springs back when pressed on gently. Be very careful not to overbake, as overbaking the cake will cause it to crumble.

When the cake is ready, with oven mits, immediately flip over the cake onto the prepared towel. Peel the parchment paper off, and put on a new layer. Roll the cake carefully in the towel from the short side to short side. Cool in the towel for 1 hour.
Buttercream Frosting
Mix the butter with an electric mixer until it is smooth. Slowly add the powdered sugar until it is fully encorparated.

Add the vanilla and milk. Add in the food coloring until desired color, and mix well.
Assembly
When the cake has cooled, unroll the cake and spread the frosting evenly across the cake. Without a towel, reroll the cake tightly and put it in plastic wrap in the refrigerator to serve cooled with powdered sugar sprinkled over the top.