Deferred From College Meaning And What To Do

So you've just been deferred from a college and your wondering, what now? This guide will tell you what getting deferred means, and exactly what to do to increase your admission decision.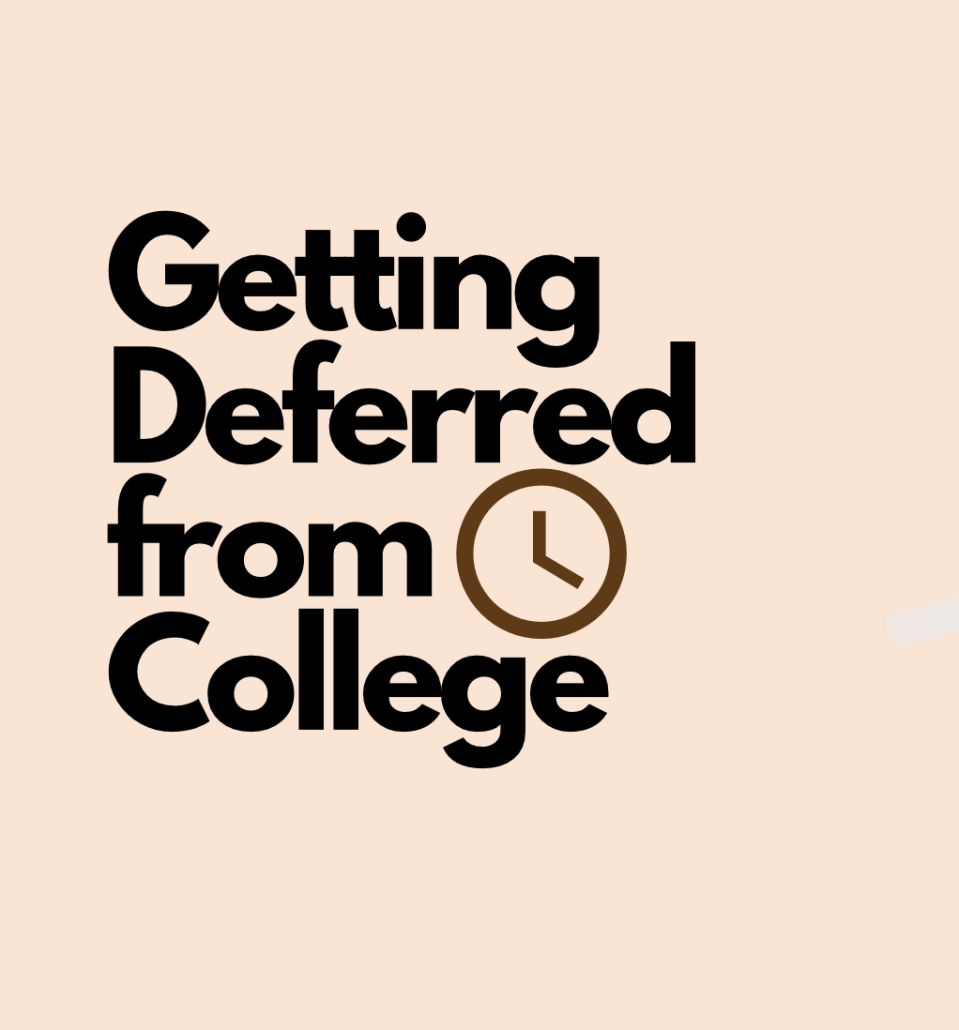 What does it mean to get deferred from college?
Getting deferred from a college essentially means that the college is postponing your admission decision from the early action/decision round to the regular round. This can be extremely frustrating, but don't view it as necessarily a bad thing. Remember that colleges get thousands of applications and have very limited spots. Getting deferred means that you are academically qualified, the college just doesn't know if they have a spot for you yet. This could be because they want to see your midterm grades or they just want to get to know about you a little bit more.
Does getting deferred from a college mean I'm academically qualified for the school?
Yes! Colleges only defer the people who they think would fit into the school, they just are not sure if they have enough spots yet. Make sure to keep your first semester grades up to continue to show them that you are academically qualified for the school. The college thinks that you are qualified, so make sure to keep that trend up!
Is getting deferred like a rejection?
Despite what you might hear, getting deferred is definitely not a rejection. Colleges do not defer people who they think won't fit in at the school – they reject them. Why would a college want to waist time re-evaluating an application if they thought you were a bad fit? The college just doesn't know if they have enough spots for you yet. Your almost there, you just have to show the college your unique qualities and your academic strengths.
What are my chances of getting into a college after being deferred?
Unfortunately, your chances of getting into a college after getting deferred lower to the regular decision acceptance rate. If the early decision acceptance rate was 30% and the regular decision acceptance rate was 15%, your odds most likely lower to the regular decision acceptance rate. Now the college is reviewing your application in a much bigger pool. With that being said, however, remember that getting deferred means that you area academically qualified. Many of regular decision applicants simply are not qualified for the school. In this stage, make sure to stand out!
What should I do now that I am deferred?
Usually specific colleges post instructions for what to exactly do on their website. Here are a few things to look out for:
1) In your application portals, some schools ask if you are still interested in being considered. Make sure to check off that you are. If you forget, your odds of getting accepted will lower. Remember that colleges want to be confident that you will attend.
2) Write a letter of continued interest. Check out Letter Of Continued Interest For College for all about how and when to write one and see a sample letter.
3) Continue expressing interest in the school. Keep attending webinars and virtual events to show that you still want to learn more about the school. If you haven't toured the school yet consider touring (no need to fly across the country to a school though).
4) Consider following up and emailing your admission officer. It may be helpful to shoot a quick "hello" to your officer to introduce yourself and tell them that you are still interested in attending their school.
5) Stay on the lookout for any emails or portal updates that may request additional information.
6) Be sure to submit your midterm grades to the college. You can usually do this through the application portal, but be sure to talk to your high school counselor as well.
Deferred vs Waitlisted
Getting deferred means that the college simply has not decided if they have a spot for you. Getting waitlisted means that the college has decided that they will offer you a spot only if they do not fill enough spots of admitted students. You may get off the waitlist in summer, so make sure that you commit to another college before this.
Deferred from Early Decision
Getting deferred from early decision can be very frustrating. Good news – the college will still see that you applied early to decision when they re-evaluate your application. Make sure to reiterate that the college remains your top choice and you will go if accepted in your Letter of Continued Interest.
https://vibrantguide.com/wp-content/uploads/2023/01/245682C9-0D59-4089-AB0D-77D89DF7E4BB.jpeg
1098
1022
Anna
https://vibrantguide.com/wp-content/uploads/2019/01/logo2.png
Anna
2023-01-14 18:03:54
2023-01-14 18:03:54
Deferred From College Meaning And What To Do