Letter Of Continued Interest For College

Getting deferred from a college can definitely be frustrating, but writing letters of continued interest really help increase your chances of admission. This guide will cover all about how to write the perfect letter of continued interest.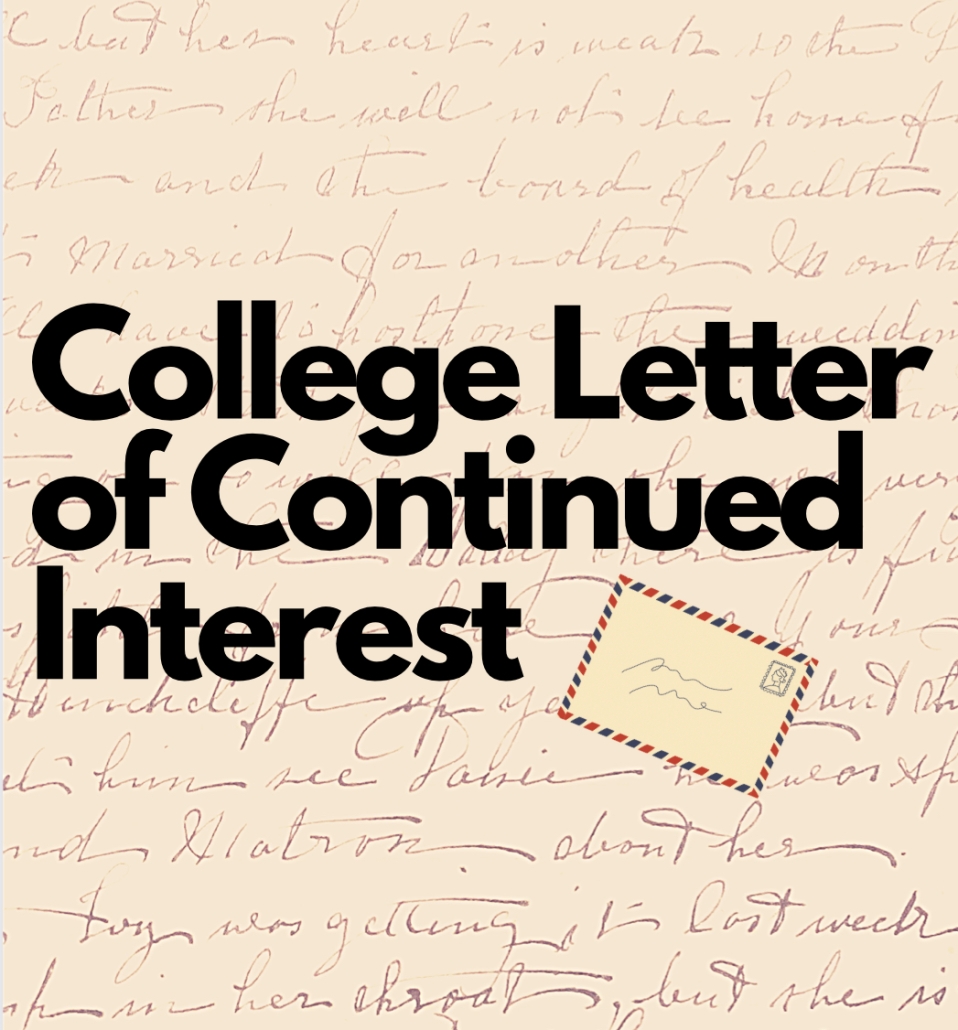 What Is A Letter Of Continued Interest?
A letter of continued interest is a message that you send to a college after you have been deferred from a school. It demonstrates that you are still interested in attending the college and highlights your most recent accomplishments.
If you want to learn more about what being deferred from a school means check out Deferred From College Meaning And What To Do.
How To Write A Letter Of Continued Interest
Writing a letter of continued interest is relatively simple. There are many different ways to write one, but here is the most traditional format.
Begin the first paragraph by thanking your admission officer for considering you. It is important to let them know that you appreciate the time they spent looking at your application. Next, if the school is your top choice, let them know that you will attend! Remember, schools want to give spots to people who they are confident will attend. They want to increase their yield rate (percent of people who are accepted that will attend). Make the admission officer know that you truly want to go to this college.
Next, write a few lines about your recent accomplishments. If you've won a debate award or math competition, definitely highlight that. If you haven't really accomplished anything significant, write about how you are continuing your current activities. If you volunteer with an elementary school, highlight how you are making a difference. If you've started a new hobby or activity definitely include that! If you've joined the bowling team or started a new hobby, it's worth mentioning that. Remember – you want to be someone that stands out! Colleges defer hundreds of academically qualified students, so find a way to catch their attention.
Follow up with a few sentences reiterating why you are interested in the school. Is there a program your interested in? Is there a special research or study abroad opportunity? Remember that you need to give a compelling reason for why you want to attend. It should be very specific to the school, and not just general. If you can give the same reasons for multiple colleges, then they are probably to broad!
End by thanking your admissions counselor again, and letting them know that you are awaiting their decision.
Tips for Writing a Letter of Continued Interest
DO NOT sound bitter! It can be very frustrated getting deferred, but this does not mean a rejection. The admissions committee just needs more time deciding. The letter of continued interest gives insight into your personality, and trust me, they will not like someone who sounds bitter!
Make yourself stand out. Getting deferred means that you are academically qualified for the school. Now, you just need to catch the admission officer's attention and show them that you will be a unique addition to the school. Remember that they are reading hundreds of letters from other qualified students. You want yours to be memorable.
Be genuine. Remember that humans are reading the letter of continued interest. People can definitely tell when you are being genuine or not. Don't use overly complicated words, force humor, or write in a style that doesn't math your voice. The colleges want to see who YOU are.
Sample Letter of Continued Interest
Here is a sample letter of continued interest for a student applying to the Tulane Business School:
Dear Mrs. Brown,
Thank you so much for considering me for the class of 2026. I have continued interest in this school and am eagerly awaiting your decision. Tulane has remained my top school, and if accepted I will attend. What really excites me about the Freeman School of Business is their emphasis on active learning. I am confident that the resources it provides me will set me up for success. Another reason I love Tulane is the experience it provides. Located in the culturally rich city of New Orleans and with hundreds of interesting student groups, I am confident I will thrive there.
Since I have submitted my application, I have been continuing to volunteer with Feed My Starving Children, and writing a 20-page paper and preparing a presentation for upcoming science competitions. I have also won second place in my regional debate competition.
I am prepared to submit any additional materials and please reach out to me at Johndoe@gmail.com. Thank you again for your consideration.
Best,
John Doe
Forest High School
Application ID: 204802384
How Long Should It Be?
A letter of continued interest should be no longer than a page. It should be about 200-400 words long.
When Should You Send It?
You should send your letter of continued interest as soon as you can after you have been deferred. You want to show the college that you are eager to attend are not procrastinating writing it. Make sure to still take the time to write a quality letter!
Where To Send The Letter Of Continued Interest
Many colleges allow you to send the Letter of Continued Interest right from their application portal. If this is the case, log into your portal and write it directly from there. If not, you can find your admissions officer and send them an email. Colleges usually give specific instructions for what to do when deferred, so stay on the lookout for those.
When To Follow Up
Many people get deferred some time in December or January and then write their letter around that time. If this is the case, shooting a quick email to your admission officer in late February might be beneficial. Definitely don't be emailing you admission officer all the time, but sending a quick follow up about a month or two later can help. Make sure that your follow up is purposeful and continues to show your interest in the school.
https://vibrantguide.com/wp-content/uploads/2023/01/FCDE9D6A-0E4C-4F0B-9938-93E6ECEBDA68.jpeg
1126
1047
Anna
https://vibrantguide.com/wp-content/uploads/2019/01/logo2.png
Anna
2023-01-14 17:29:24
2023-02-10 20:31:00
Letter Of Continued Interest For College