Best Extracurriculars For College

It can be quite difficult to figure out which extracurriculars you should participate in. This guide will explain the best extracurriculars to do, and how to select your extracurriculars by interest!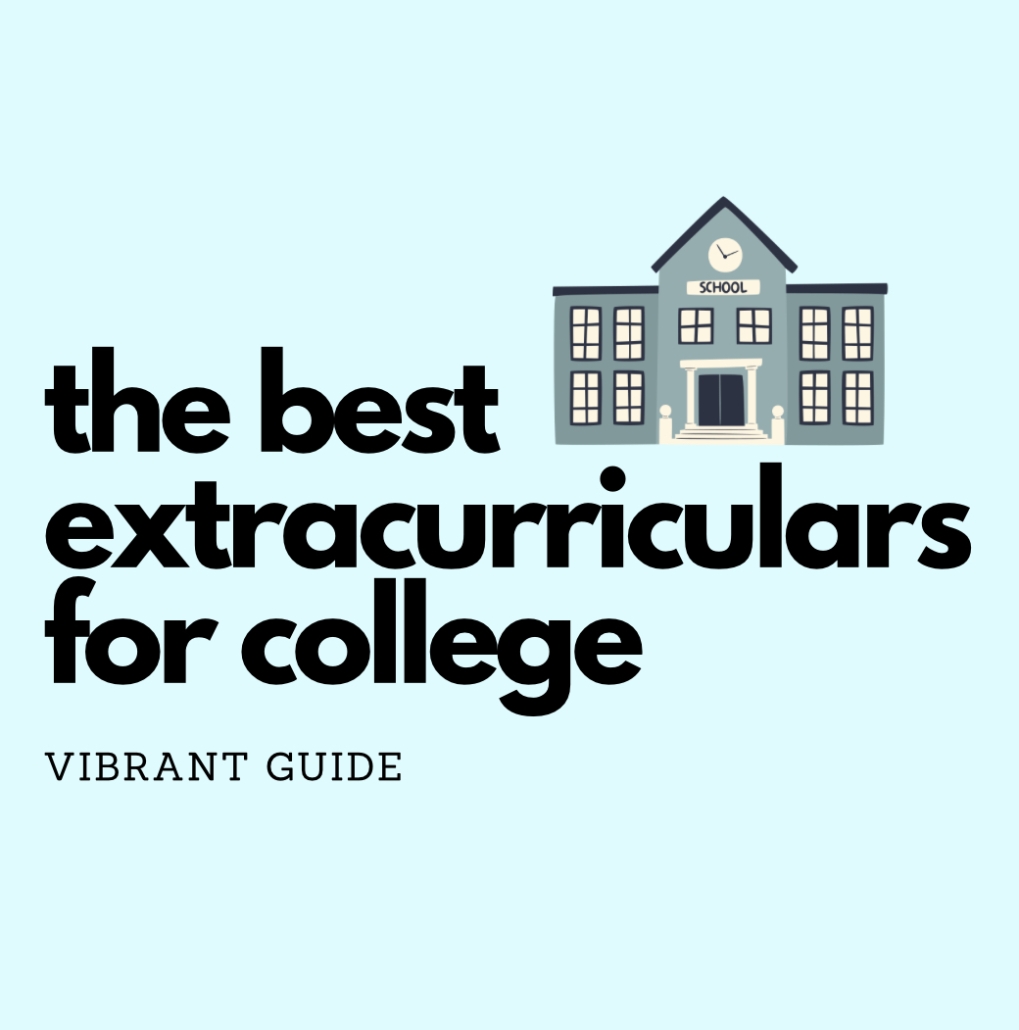 What extracurriculars should I do in high school?
You should find a few extracurriculars that you are passionate about and stick with them. You do not need to join every single club and attend every single volunteering event – colleges can see through it. It looks better to find a few clubs, sports, or activities that you really enjoy, and stick with them. It looks much better to be the track captain and debate president than be a general member of eight different clubs. With that being said, if you are stuck finding extracurriculars, I suggest using this formula to start:
1) 1-2 Educational/Preprofessional Organizations – Join a few academic clubs or organizations at your school! You can join the debate team, the science team, the business club, or the medical club. Think of what interests you, and try out the activities to see if you like then. Colleges want to see you challenging yourself and excelling in different academic settings.
2) 1-2 Fitness-based Activities – Does your school have a weightlifting club? Intramural basketball? A tennis team? Find some sort of sport or activity that gets you moving and that allows you to be part of a team. The benefits of physical activity are endless, and being on a team always looks great to colleges.
3) 1-2 Fun/Volunteering/Group-Based Activities – Make sure to take some time to have fun and make an impact! If your school has a Relay for Life chapter, a Feed My Starving Children partnership, a Black Student Union Group, an Israeli club, or just a fall activities club, get involved! The best way to find a community and make a difference is to get involved at the different clubs at your school that may not be purely academic. Colleges want to see that you are passionate about things outside of academics!
This is NOT a perfect formula, this is just a suggestion on what and how many extracurriculars to consider. This may change as you learn what you do and don't like. Always remember to find extracurriculars that you ACTUALLY like!
What do colleges look for in extracurriculars?
It is quite simple – colleges look for genuine interest in the extracurricular. It is fairly easy to spot when you are doing an activity just to do it, vs having a real passion in it. When it comes to extracurriculars, it is quality over quantity. Colleges know that you only have so much time. They don't want to see dozens of random extracurriculars that you do just to do. They'd rather see you win awards, obtain leadership positions, and spend a lot of time in the extracurriculars you choose.
Another thing that they look for is if your extracurriculars relate to your major. If you do not do any extracurriculars that relate to your major or you are undecided, that is absolutely okay! It definitely helps, however, to have a few activities that show that you are interested in your major. If you want to major in business, joining your school's DECA or FBLA chapter shows you have been exposed to business. If you want to major in engineering, joining your school's engineering club will show that you took the time to learn more about your field of interest.
Best extracurriculars for Ivy League
Ivy League colleges have gotten EXTREMELY competitive! This goes for any competitive college, but the best thing to do is to stand out. Although being well-rounded is important, showing a genuine passion for something unique will help you much more. Think about it like this – almost every college applicant is "well-rounded". Not every college applicant is a rising star-chef or a passionate stock day-trader. Although you should absolutely still be well-rounded, you should craft your extracurriculars to highlight your passion.
The majority of Ivy League applicants have the stats needed to get in. Think of it like this – X school can only admit 2,000 students, but 10,000 students apply who have a near 4.0 and 1500+ SAT. How do the college admissions officers choose who gets in? I guarantee you, almost everyone who is applying all have impressive extracurriculars. The key is to focus your application on a few key areas/interests that will really make you stand out.
Best extracurriculars for business majors
Business is definitely one of the most popular majors and has gotten very competitive. Due to the amount of applications from business majors, many colleges have had to admit students to their second-choice, less popular major. Even if your stats are below the school's average, by showing your genuine interest in business you can really stand out. Although business is a very popular major, a lot of people choose it without giving much thought and showing much interest. If you simply do a few business extracurriculars, you can definitely stand out!
Join your school's DECA Chapter/FBLA Chapter/Business Club. Simply joining and attending your school's meetings, events, and competitions shows your interest in business. If you end up winning awards in competitions, definitely highlight those on your application! This will show that you are not only involved in your business club, but you have a talent in it. Also try to get leadership positions. Leadership is very important when majoring in business, and also shows your involvement.
Start your own investing/entrepreneurship/finance club! Starting your own club looks EXTREMELY impressive to colleges. Not only does it show leadership, and organization, but it shows that you go above and beyond in bringing business opportunities to your school.
Start your own business. The best way to show that you are interested in business, is to start your own business! It doesn't have to be very complex, simply selling clothing, jewelry, or sports cards is enough. You do not have to think big, and you do not have to be successful. Just showing that you are willing to work hard and take risks is more than enough.
Do an internship. In business, the best way to learn is by doing! By doing an internship, it will show that you are knowledgeable in business and seek out opportunities to get involved. Internships are beneficial for all majors, but especially for business!
Attending a summer business program – There are many summer business programs offered through several business organizations and colleges. Doing one of those will show your passion for business. It is informant to note that many of these are expensive, and it is definitely not necessary to do one.
Find other opportunities to get involved. Think creatively! If you are interested in finance, trade money in the stock market or do an investing simulation. If you are interested in marketing, help a non-profit with their social media. If you are interested in entrepreneurship, help out with your family business. The opportunities are truly endless!
If you want to learn more about ways to get involved in business in high school, check out 5 Things to Do in High School if You Want to Major in Business.
Best extracurriculars for engineering
Engineering has become a very competitive major, so it is important to show your interest in the field! Remember that engineering is pretty broad, so any STEM related extracurricular is beneficial.
Join your school's engineering club. This is one of the best ways to get exposure in the field and show that you are interested in engineering. Colleges want to see that you are finding opportunities to learn more about your major. It is even better if you get leadership positions in your school's club. It shows that you are taking the extra step to get involved.
Join STEM-related clubs. You do not just have to join your school's engineering club. Any STEM related club will look great! If your school has a 3D printing club, definitely join that! If your school has a physics club, a math team, or a science exam, consider joining those extracurriculars!
Attend a summer engineering program – Many different organizations and colleges offer 1 week-month long engineering programs. At these programs you get to do hands-on engineering activities that teach you a lot of valuable information.
Do a STEM/Engineering internship – Doing a STEM/Engineering internship looks fantastic to colleges! These are difficult to get, so if you can get one it is VERY impressive.
Find other opportunities to get involved. – Build your own invention! Volunteer in a STEM related field! Get creative, you do not need to think of huge activities. Any engineering related activity is helpful, no matter how small.
Best extracurriculars for pre-med
Pre-med majors have a lot of opportunities to get involved in their high school! Because you usually major in science, showing your interested in science is also helpful.
Join your school's medical club. – Joining your school's medical club shows that you are trying to learn more about the different fields of medicine. If your school offers a competitive business club like HOSA, definitely compete in the events. Winning an event shows that you are both dedicated and talented in medicine. Also try to seek out leadership positions to show that you are going above and beyond.
Volunteer at a hospital. – Volunteering at a hospital is one of the most classic and effective ways to show your interest in medicine. Reach out to your local hospital and ask if there are any ways to help. Just being a greeter or handing out papers looks excellent.
Shadow a doctor. – If you have the opportunity to shadow a doctor, it will absolutely look great to colleges! This is very difficult to do, however, so it is by no means necessary.
Join your school's science team/clubs. – Since there is a good change you will be majoring in bio or chemistry, definitely focus on joining your school's science team and clubs. Remember, colleges want to see that you are interested in the major itself, not just medicine. Competing in your school's science team will show your dedication to your major. Obtaining leadership roles in science clubs will also show that you are seeking out lots of different opportunities to immerse yourself in the major.
Attend a summer medical program. There are a lot of different programs in medicine and science offered by universities and organizations. Attending these programs will add to your demonstrated interest in medicine. These programs can be expensive, so they are not necessary by all means.
Find other opportunities to get involved. Have the opportunity to work at a dentist office? Veterinarian's office? Send cards too children in hospitals? Think creatively. Anything that has any relation to medicine is helpful.
Is it OK to have no extracurriculars in high school?
It depends on what college your aiming for. It is fine for less competitive colleges, but with competitive colleges you pretty much need to have involvement outside of school. Competitive colleges want to see that you are passionate about different topics, and want to see that you are involved. Try to pick a few extracurriculars you think you might like, and remember to have fun! Participating in an extracurricular you hate is never worth it!
https://vibrantguide.com/wp-content/uploads/2023/02/BAEA6A8B-8BE8-4B2B-B08D-0551ED980D60.jpeg
1051
1040
Anna
https://vibrantguide.com/wp-content/uploads/2019/01/logo2.png
Anna
2023-02-05 23:27:23
2023-02-05 23:28:46
Best Extracurriculars For College