DECA is an international competitive business organization for high school and college students. In this guide, you will learn all about high school DECA.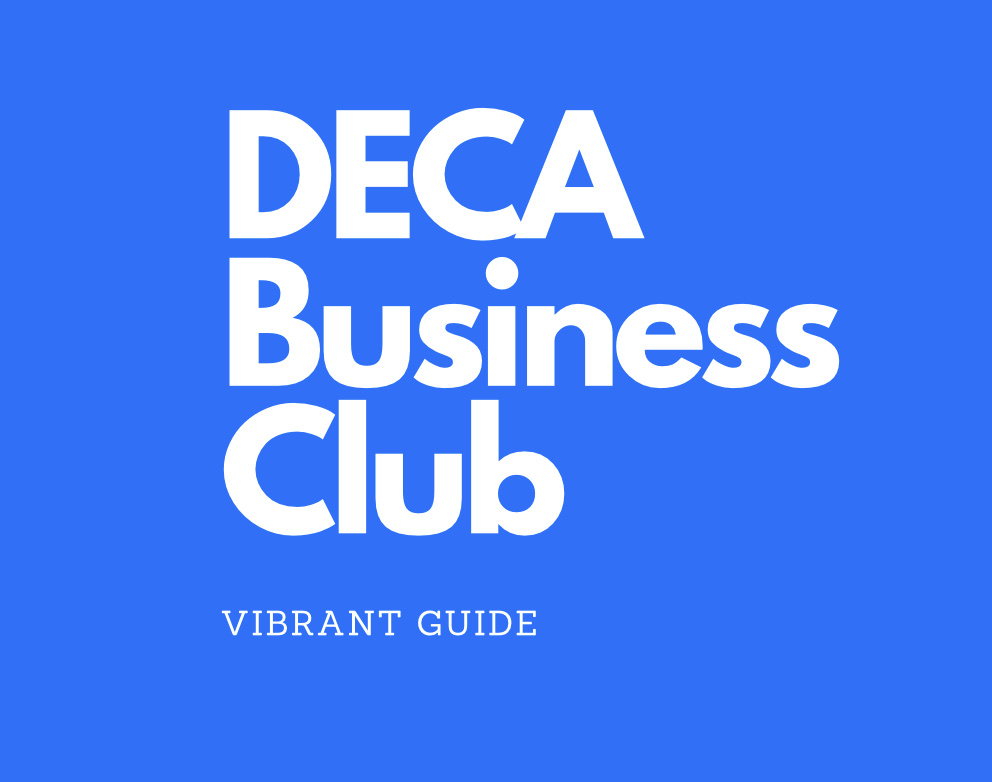 What is DECA club in high school?
DECA is an international competitive business organization. DECA competitions are most popular, and has regional, state, and international competitions. DECA also hosts career development and leadership conferences and does lots of fundraising and charity work. DECA is very broad and covers all areas of business including finance, marketing, entrepreneurship, hospitality and tourism, and business administration.
What does DECA stand for?
DECA stands for Distributive Educative Clubs of America.
Do you have to write out DECA's full name on college applications?
No you do not. College admissions officers know what DECA is, but if you want you can write "DECA business club".
What does DECA do?
DECA hosts competitions, career development conferences, and volunteer work. DECA is primarily competing and preparing for competition. There are two main types of DECA competitions: role-plays and written events. But there are dozens of other competitions including the stock-market game and virtual challenges.
DECA club activities
During your chapter's DECA club, you do a wide variety of activities. Many of the activities revolve around comparing for competitions. In a typical meeting, there is usually some type of social activities and then role-play practice, testing, and written-event work time. Since DECA is a competitive club, a big focus is preparing the whole chapter to compete.
DECA competitions
In DECA there are usually 3-4 competitions a year. In competitions you compete in your chosen event for trophies and to move up to the next competition level. The competitions go as following:
– Local: There are sometimes local competitions with surrounding schools for very low stakes.
-Regionals: Regional competitions with around 10 other schools in the area. They are usually a full day event and you receive medals for winning. These competitions are often used to decide who attends the state competition.
-State: State is a 2-3 day competition, and usually involves staying in a hotel or convention center. At state you compete, attend social events, and attend a giant awards ceremony. State is used to see who qualifies for internationals. To qualify for internationals you must be the top 3-4 in your event depending on the event.
-Internationals: Internationals is 4-5 days and the biggest DECA event. It often takes place in states like Georgia and Florida and is the "top competition". Internationals involves competing, social events, and big awards. It is always the highlight of people's DECA year.
For more details on what happens during DECA competions, please see the following article: DECA competition.
DECA events
There are 3 main types of DECA events. You can choose which you want to compete in:
Role plays – Role plays involve taking a 100 question multiple choice test and then presenting. Role plays are basically where you are given a problem about a business and you have to talk to judges about solutions. These are the "standard" events and definitely the most common.
Written events – Written events are 10-20 page papers that participants prep for for multiple months. Some are business plans, marketing plans, or even service based events.
Virtual events – There are also tons of virtual events that you compete in throughout the year. One very popular virtual event is the stock market game, where you buy sample stocks and compete to see who makes the most money.
DECA role plays
DECA role plays involve 2 components:
1. The test – Part of your role-play event is taking a 100 question scantron multiple choice test. This test will go over various questions about your chosen event. The best way to prepare for the test is by doing practice tests. You can find these tests online by searching up "DECA practice test".
2. The role play – There are two types of role plays: individual and team. In individual role plays, you are given 10 minutes to read a piece of paper about a problem with a business and take notes and brainstorm solutions. You are then given 10 more minutes to present to the judge. In team events you are given 30 minutes of prep times and 15 minutes to present (although this may vary per competition). The best way to practice for role plays is by practicing sample ones. Role plays can seem intimidating, but are a lot of fun!
For detailed information about role plays, please see my article on DECA role play tips.
DECA career clusters summary
There are 5 career clusters, but many different events fall under each one:
1. Finance – Finance is all things numbers in business. Accounting, personal financial literacy, and just general finance fall under this cluster. If you are good at numbers and facts, this is a very good cluster for you.
2. Marketing – Marketing involves thinking creatively of ways to reach potential customers. This cluster is very popular for first year DECA members and sports marketing is also a very popular event.
3. Entrepreneurship – Entrepreneurship involves starting and managing a business. It covers a little bit of everything in business. Under this cluster there are written events where you can give business proposals for starting a new business.
4. Hospitality + Tourism – If you are interested in managing hotels, restaurants, and entertainment services, then this is the cluster for you. It is definitely a very underrated cluster and involves interpersonal skills, thinking creatively, and managing.
5. Business Administration – General business administration is the most broad cluster and has a little bit of everything. It's a great event to do if your not exactly sure what aspect of business you like best. Under business administration there is also Human Resources, Business Law, and some service-based written events.
Does DECA require public speaking?
DECA does require public speaking. Most DECA events involve public speaking in some form. DECA really helps you improve your public speaking and you can absolutely do it even if you dislike public speaking.
Is DECA only for high school?
DECA continues on into college, but college events and competitions are completely separate from high school DECA.
Does DECA look good for college?
DECA looks GREAT for colleges. If you are interested in majoring in business, DECA is one of the best things you can put on your application. Remember, colleges want to see genuine interest in the subject your majoring in, and doing DECA is a great way to show it. Even if you don't want to major in business, DECA is a well-established organization and doing it shows that you are involved in school.
Does DECA look good on resumes?
DECA absolutely looks good on resumes. On resumes you may need to clarify what DECA is, but it definitely looks good. It shows thinking creatively and on the spot and business involvement. If you have leadership positions in the club, it looks even better.
How much does DECA cost?
The costs of DECA vary per school and it depends on how much your school covers. Most schools have a base fee of about $50 and additional fees that can be well over $100 for state and international competitions. But again, it depends on the school and some schools cover everything.
What GPA do you need for DECA?
You do not need a minimum GPA to join DECA. There may be other rules pertaining to your school, however.
Can DECA get you scholarships?
DECA can get you scholarships. Seniors in high school can apply for scholarships given at DECA competitions on the website. You just need your membership ID and password.
What is the DECA dress code?
The DECA dress code is business professional. DECA does enforce a dress code during competitions. For girls, dress pants, skirts below the knees, dress shoes, blazers, and blouses are appropriate. Avoid flashy jewelry, accessories and nail-polish. For boys, suits and dress shoes are appropriate. At international competitions, special blazers may be required.
Do you travel for DECA?
Yes you do travel for DECA! For the state competition, there is one central location for the whole state. It can be a 20 minute or 2 hour drive and a 2-3 day stay at a hotel. For internationals you fly out to another state for 4-5 days.
Should you join DECA club?
You should ABSOLUTELY join DECA club. DECA greatly advances your public speaking, creativity, business knowledge, and on-the-spot speaking skills. It also looks great for college, you get to travel, and it really is a lot of fun! Its a great way to get involved and you make a lot of friends from it.
https://vibrantguide.com/wp-content/uploads/2022/11/51A783E7-2587-4B17-A33F-D29020D70CFF.jpeg
782
992
Anna
https://vibrantguide.com/wp-content/uploads/2019/01/logo2.png
Anna
2022-11-18 21:07:07
2022-11-18 21:07:07
DECA Club In High School