Looking to up your nail game and make a bold statement? Well, look no further than black French tip nails! These super cute and versatile nail designs have taken the fashion world by storm and are here to stay. So, grab your favorite nail polish and let's dive into the wonderful world of black French tip nails!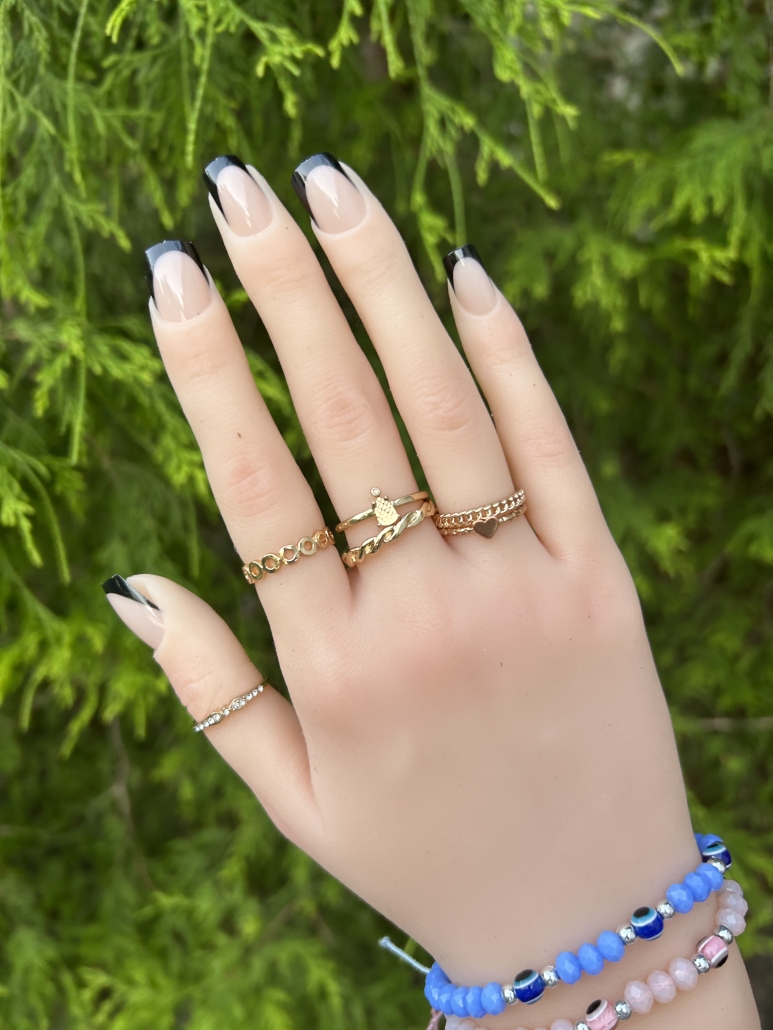 Why Black French Tip Nails Are So Incredibly Cute
If you're a fan of classic French manicures but want to add a touch of edginess to your nails, black French tips are the way to go. This trendy twist on a timeless design is a perfect balance of elegance and attitude. Black is a color that exudes confidence and style, making your nails stand out in any setting. Whether you're going for a casual hangout or a night on the town, black French tip nails will never fail to make a statement.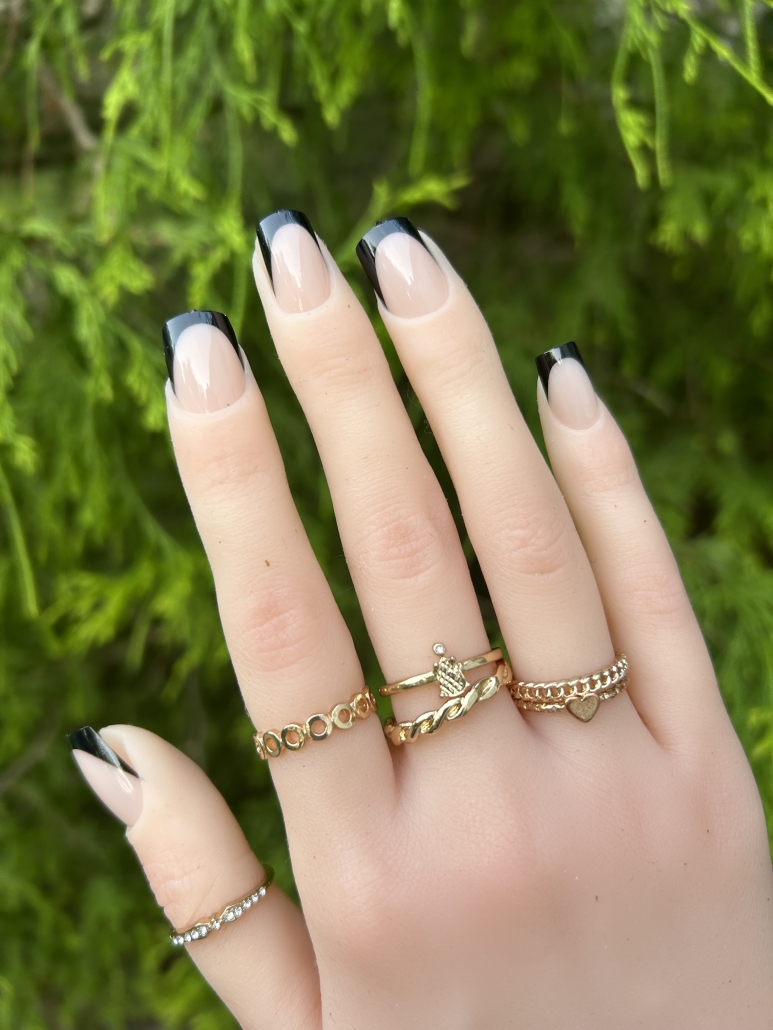 Versatility at Its Finest
One of the most fantastic things about black French tip nails is their incredible versatility. They can effortlessly adapt to any style or occasion. You can keep it simple and sophisticated by pairing black tips with a natural or nude base color. This combination is perfect for the workplace or formal events where you want to showcase your professionalism without sacrificing style.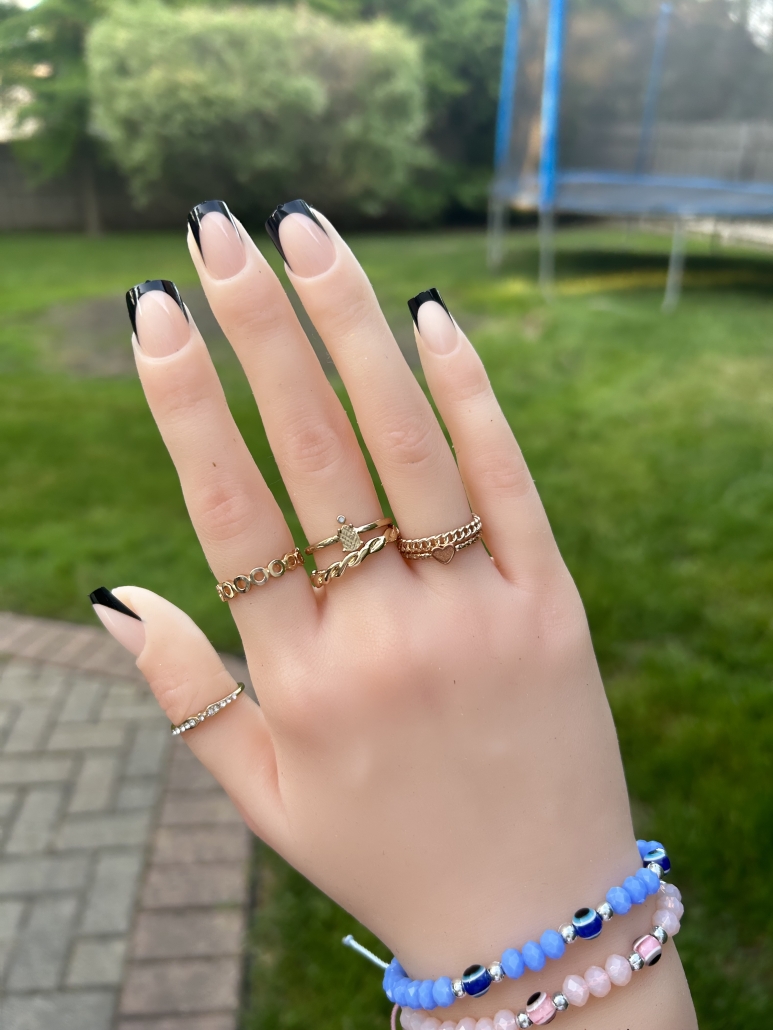 Feeling a little adventurous? Get creative and experiment with different colors for the base! Try a soft pastel shade for a feminine touch, a vibrant neon for a playful look, or even a deep burgundy for a luxurious feel. The possibilities are endless, and you can change up your look to match your mood and outfit!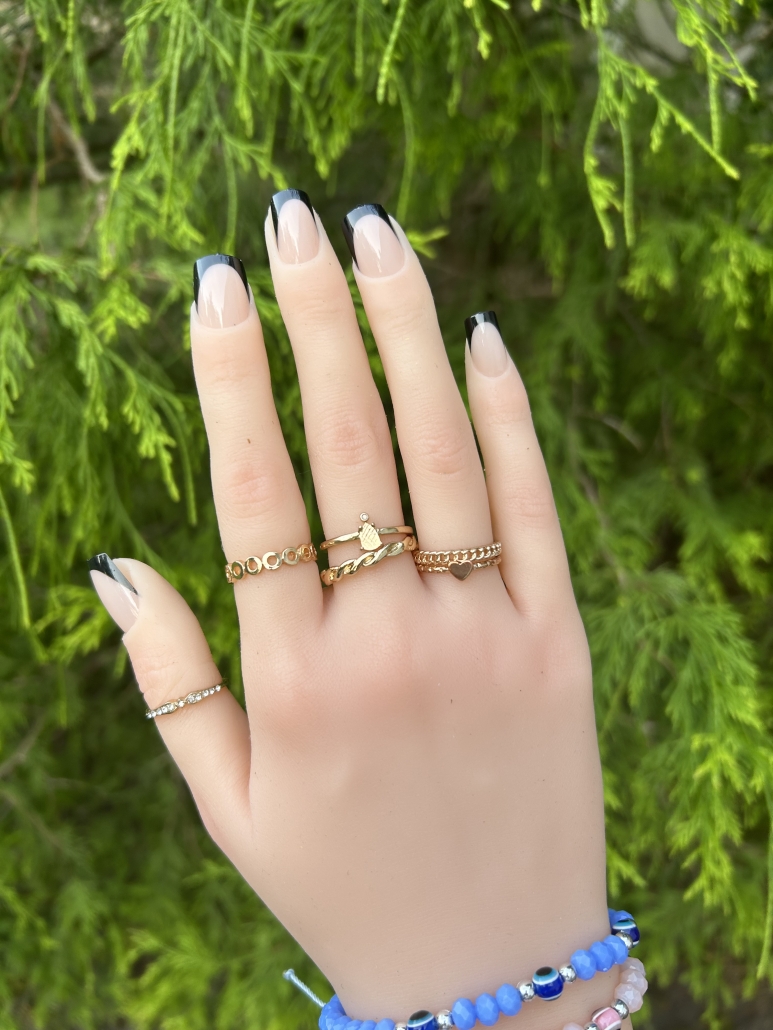 How to do these nails yourself!
Despite their complex look, you can recreate these nails yourself! You will need a nude base color and a black color. I used a true nude base color, but you can also use a pink or white tinted base color. You also need an extra thin brush to paint on the tips. It would also be helpful to have a q-tip with nail polish remover nearby in case you make mistakes.
To start, paint on the nude base coat. Make sure that it is completely dry before you paint on the black French tips. Next, with the extra thin brush paint on thin black likes on the tops of your nails. If you'd like, you can use nail tape to make sure that the lines are extra straight. Finally, finish with a shiny top coat and enjoy your new nails!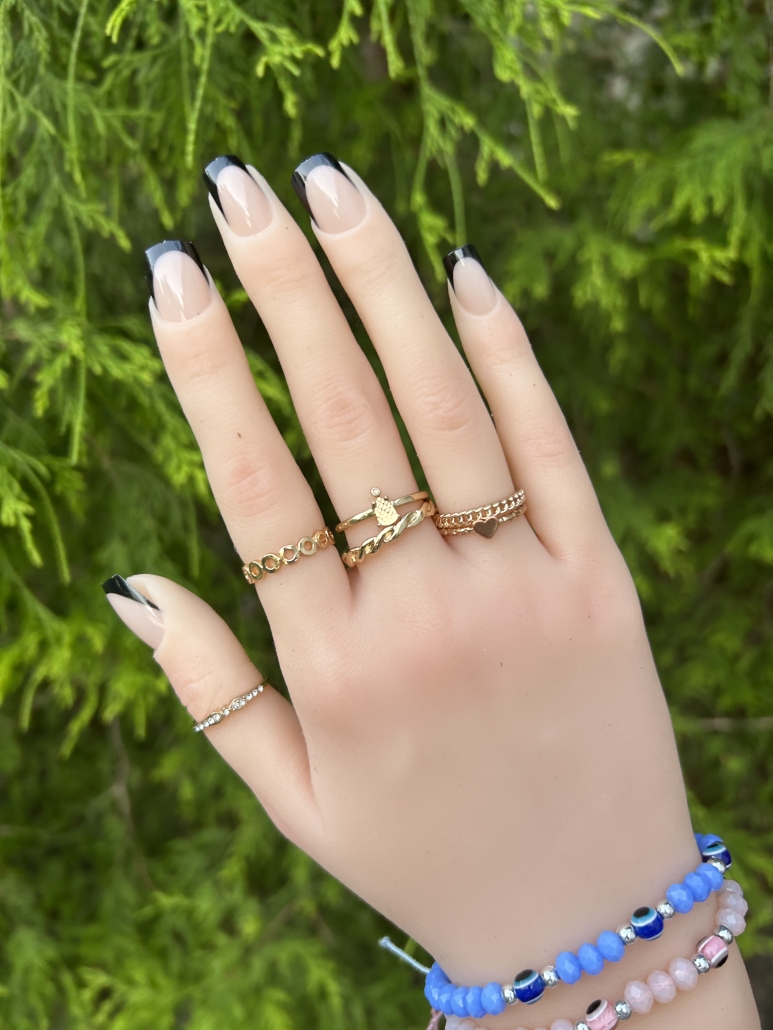 With their undeniable cuteness, versatility, and on-trend appeal, black French tip nails are an absolute must-try for any nail enthusiast. From casual outings to formal affairs, they can adapt to any occasion and elevate your style game. Plus, recreating this look at home is a breeze!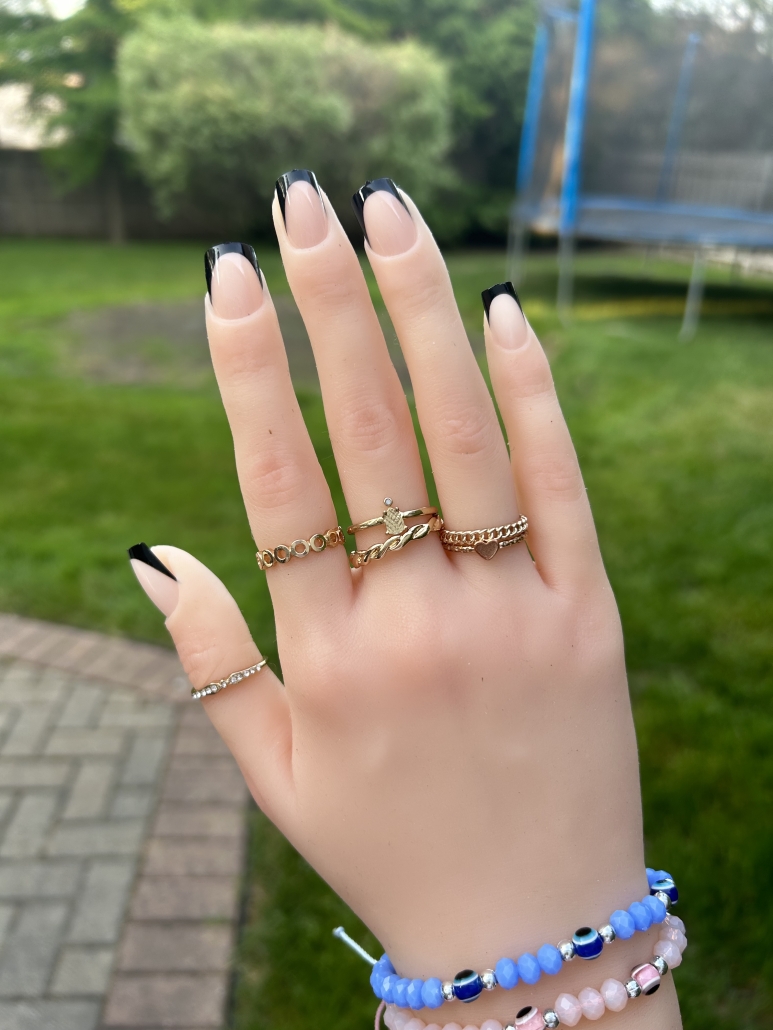 So, why wait? Grab your favorite black nail polish and let your creativity flow. Show off those super cute black French tip nails and rock the trend like a true fashionista. Your nails deserve to be as trendy and fabulous as you are!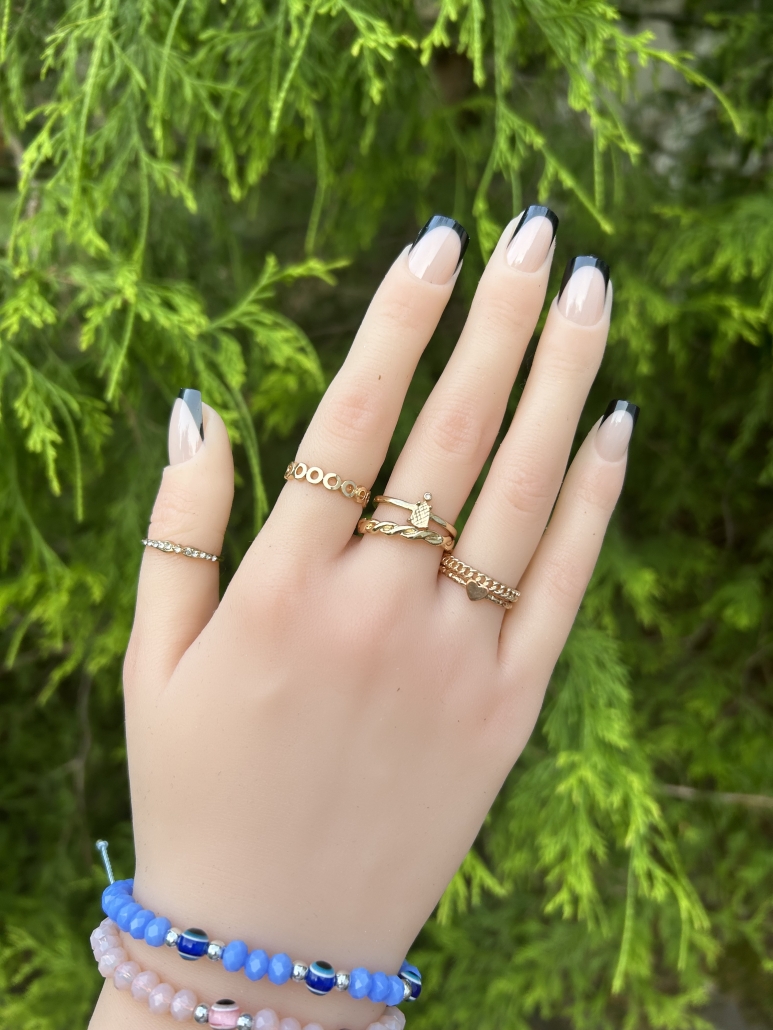 Remember, in the world of nail art, the only limit is your imagination. So, go ahead and experiment, have fun, and embrace your individuality. Trust me, with black French tip nails, you'll be turning heads everywhere you go! If you are looking for more French tip nail ideas, check out French Tips Nails Ideas, Designs, Colors.
https://vibrantguide.com/wp-content/uploads/2023/06/IMG_1789-scaled.jpeg
2560
1920
Anna
https://vibrantguide.com/wp-content/uploads/2019/01/logo2.png
Anna
2023-06-03 16:12:48
2023-06-03 16:12:48
Black French Tip Nails