Grey Silver Metallic Nails Design Idea With French Combo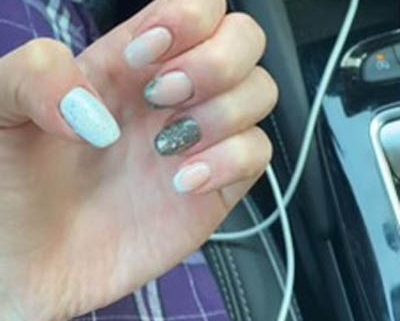 No nail art design is more classic than the French manicure, since the 1970s it has been the go-to nail design for generations of women. Since then, the french has taken on many shapes and colors like this Gray Silver Metallic French Manicure.
Gray and metallic silver pair perfectly with a natural nude nail polish on this design, creating a look that would sparkle at a holiday party or pop at an urban Instagram photo shoot.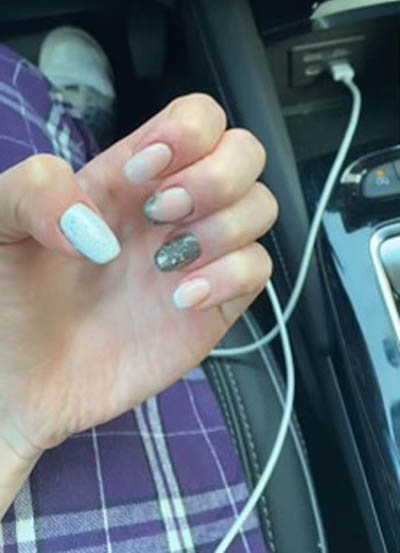 Gray and Silver Metallic French Manicure Nails Tutorial
For this nail design, I chose a shorter almond shape since it also has a french vibe. A french inspired nail shape for a french manicure! This shape is the happy medium between the fully rounded oval nail shape and the sharp square or coffin shape. It's great for most nail designs and is very easy to maintain. The smooth edges are unlikely to snag or chip. It also visually elongates the look of your fingers.
The perfect almond shape starts with filing your nail so that the tip mirrors the natural shape of your cuticle line. Keep the sides of the nail straighter and file gently at a diagonal angle towards the center point to create the iconic almond tapered tip. Take care to keep the sides even and go slow to ensure the edge angle tapers to the space beyond your fingertip. If you go too short, pivot to an oval shape nail.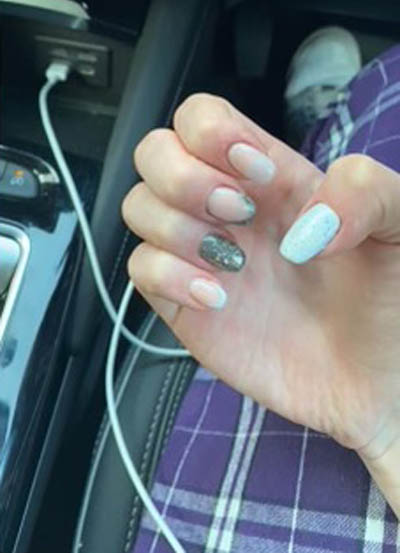 DIY Gray and Silver Metallic French Manicure Nails Tips:
Because we are pairing multiple colors with metallic silver, be sure that the gray polish and nude polish you choose are both cool tones.
After shaping your nails, gently buff them and thoroughly wash your hands. For this look, I chose different designs on different nails. I'll show you how to do each nail design.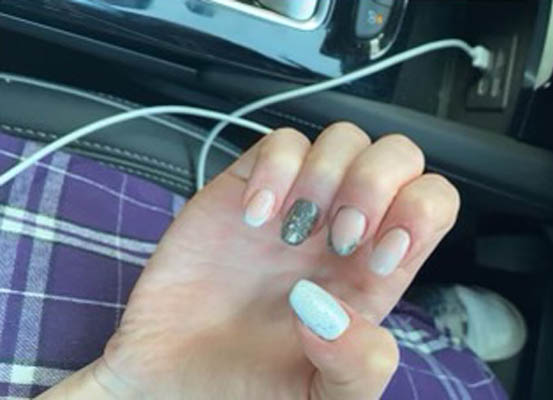 Gray and Silver Metallic French Manicure Nails Inspiration:
To recreate this exact nail design, following this sequence:
For the thumb: Solid opaque gray design
Pointer finger: Gray French nail design
Index finger: Silver French nail design
Ring finger: solid metallic silver nail design
Pinky: Gray French nail design
How To Paint Gray and Silver Metallic French Manicure Nails:
For the solid gray nail and the solid silver nail design, paint two thin coats of the desired polish on the nail and allow it enough time to dry completely.
For the French nail design, start with a coat or two of your nude polish. You can also choose a clear polish or a cool sheer pink shade for this step.
Next, working with either the gray or silver polish, begin painting from the natural growth point on one side of your nail and, in one smooth motion, drag the polish brush in a straight line to the center point of the nail tip.
Mirror the same motion from the other side of the nail, keeping the positioning and scale as similar as possible. You can also let the polish curve organically with the natural shape of your nail to create a look of longer nails.
Once you've completed the french nail design in gray and silver, paint at least one coat of clear topcoat on all nails to protect from chipping. Keep your polish layers thin to prevent any bubbling or smudging.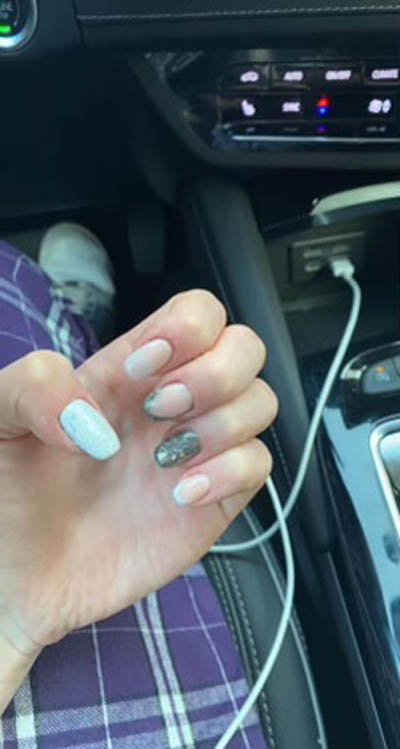 How To Wear Gray and Silver Metallic French Manicure Nails:
When it comes to color pairing, gray is a true neutral and metallic silver is simply a more fun and bold version of gray. For a softer look, muted purple tones or blues with purple hues would absolutely shine with this nail design. If you aren't into cool tones, choose a dusty pink for a sweet balance to the bold silver.
A bolder pairing is black. Black is a classic and metallic silver makes a major impact. Black and silver are a glamorous and high-fashion look. Silver accessories all around, obviously!
This Gray and Silver Metallic French Manicure Nails is so fun and chic, try my other french nail designs in Classic White, Pink Tips, Blue Tips, and even Purple Stripe Tips!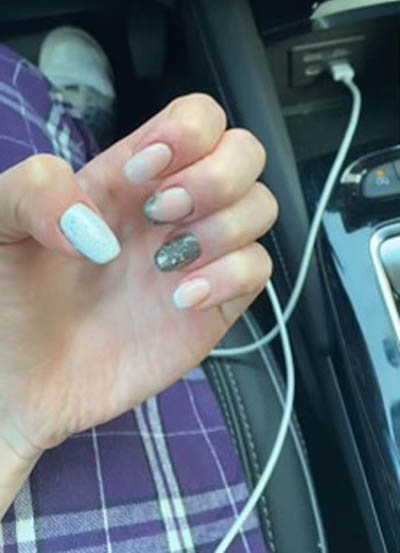 https://vibrantguide.com/wp-content/uploads/2022/07/grey-metallic-nails-design-2.jpg
553
400
Anna
https://vibrantguide.com/wp-content/uploads/2019/01/logo2.png
Anna
2022-08-07 07:07:05
2022-08-07 16:28:31
Grey Silver Metallic Nails Design Idea With French Combo