Pink And Silver Glitter Ombre Nails Design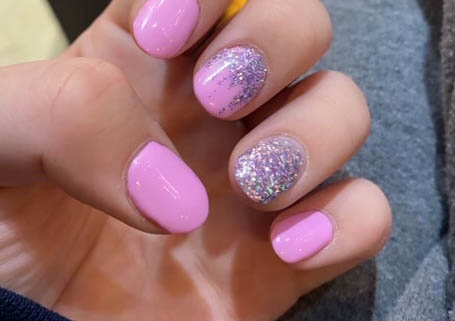 This dreamy pink and silver glitter nail design is both feminine and fun! Pink nail designs have a friendly and creative vibe, making them one of the more popular options for both at-home manicures and salon nail designs.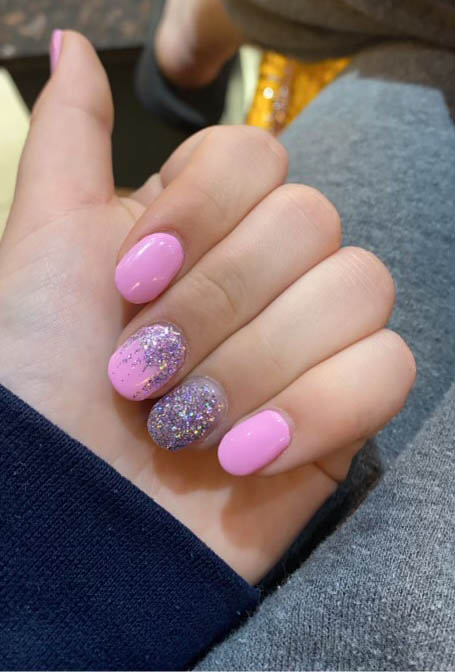 Pink And Silver Glitter Ombre Nails Design Inspiration
Pink nail designs are seen as very feminine and youthful. Light pink shades are associated with love, innocence, and sweetness. It is a delicate and fun color that can make the wearer feel pretty and even romantic. Pink nail designs are a great way to show off your personality and personal style.
If you love soft pink nail designs, you'll love: Light Pink Nails Ring Finger Design With Flowers And Gold Foil Flake, Purple French Nail Tips With Flowers And Glitter Design, French Manicure With Light Pink Tips, Light Green Nails With Pink Flowers Mani, Simple Leaves Nail Art Idea, and Pastel Summer Nails Multicolor Swirls Design.

Pink And Silver Glitter Ombre Nails Tutorial: Shape Nails Into The Round Shape
First, trim and file your nails with a fine-grit nail file. For this summer nail design, I chose a medium-round shape. You can certainly choose any shape to create this DIY home manicure. However, if you opt for a more tapered shape, you may lose some of the glitter ombre effect.
The round shape for nails is an iconic option. A round nail shape has straight sides and a curved tip that follows the natural shape of the fingertip. The round nail shape is universally flattering, elongating the look of fingers. The gently rounded tip is a practical option for natural nails, as it's not easily snagged or chipped.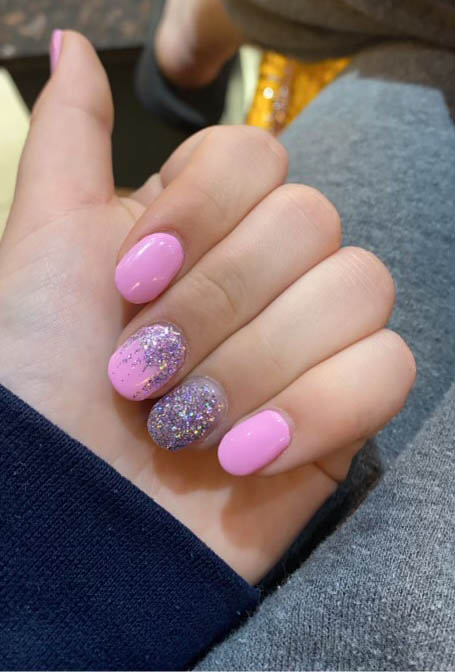 How To Do Pink And Silver Glitter Ombre Nails Design: DIY Manicure Tutorial
For this DIY manicure, you'll need:
A medium pink polish with cool undertones
A silver glitter polish
Clear Top Coat Polish
A Thin Nail Art Brush or a cotton swab
When choosing your polish colors, steer clear of pink shades that have warm undertones. Anything that feels orangey or has a coral vibe is not the best shade for this nail design. The silver glitter is a cool tone. And we want to pair it with a cool-toned shade of pink for the best look.
This nail design has two accent nails. One has a silver glitter ombre (index finger) and the other (ring finger) is a solid silver glitter accent nail. For this manicure, first paint two thin coats of the pink nail polish on all nails, except the ring finger nail. Allow the pink polish to fully dry.
Then paint two or three coats of silver glitter polish on the ring finger nail to reach your desired level of sparkle. If you paint more than three coats, you risk bubbling in the polish and poor polish adherence to your nail base.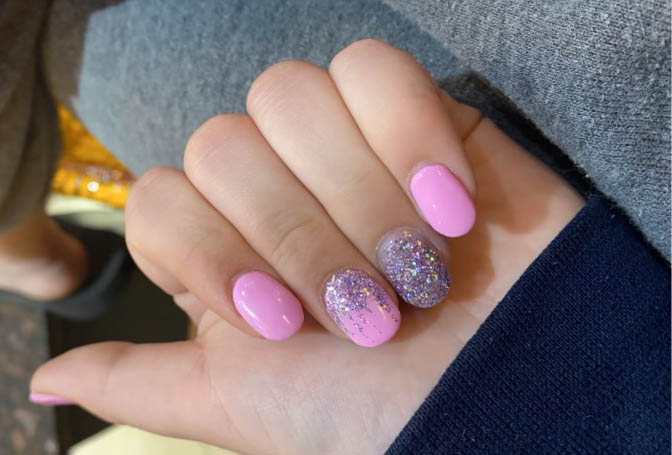 How To Do A Silver Glitter Ombre Nail Design: DIY Manicure Tutorial
For the ombre glitter nail paint the top third of your nail with the glitter polish. Then, using a thin nail art brush, pull streaks of the glitter polish down the nail towards the tip. You can add more glitter polish to achieve the ombre effect you prefer. This is a time to be creative rather than a perfectionist.
If you don't have a nail art brush, you can use a cotton swab (q-tip). First, dampen the tip of the cotton swab the tiniest bit. You can use water (or you can even lick it). Dampening the cotton swab will prevent the fibers from sticking to the nail polish or smudging the not-yet-dry base coat. Use the damp cotton swab to pull the glitter polish down towards the nail tip. Use a steady and gentle hand to prevent pulling at the pink base coat.
Finish your DIY nail design with at least one coat of clear top coat to protect against chips and scuffs, and lengthen the wear of your manicure.
More glitter nail design ideas and inspo: White And Gold Glitter Nails Colorblock Design Idea, Purple French Nail Tips With Flowers And Glitter Design, Christmas Candy Cane Nails Design Red White And Glitter, and Nude Nails With Glitter.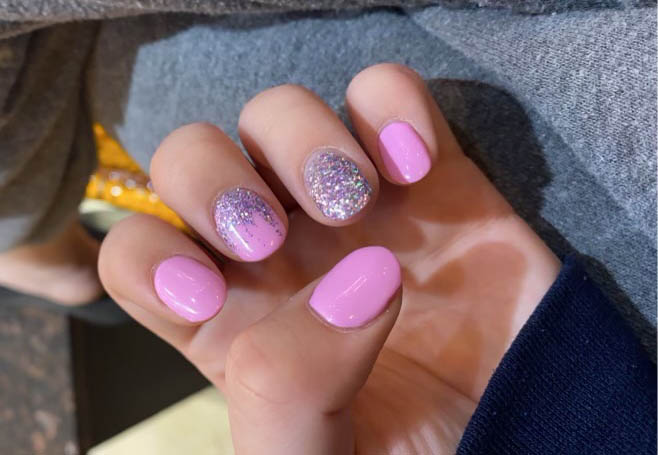 Pink And Silver Glitter Ombre Nails Design Style Ideas
This pink polish nail design is so feminine, and the silver glitter accent nails create a fun focal point. This cute manicure idea would look perfect with a soft pink dress, casual denim, and a white eyelet top combo, or even paired with a formal pink or neutral dress for an event.
Pink pairs perfectly with whites, shades of gray, denim blue, and (maybe surprisingly) black. Because we are using silver glitter, keep jewelry silver to avoid clashing.
Whether you play up the soft and dreamy aspect of this mani or push it to pair with more bold options. The pink and silver glitter ombre nails are sure to boost your mood and give your look a dreamy feel.
More ombre nail tutorials: blue and nude ombre nails and orange and pink ombre nails.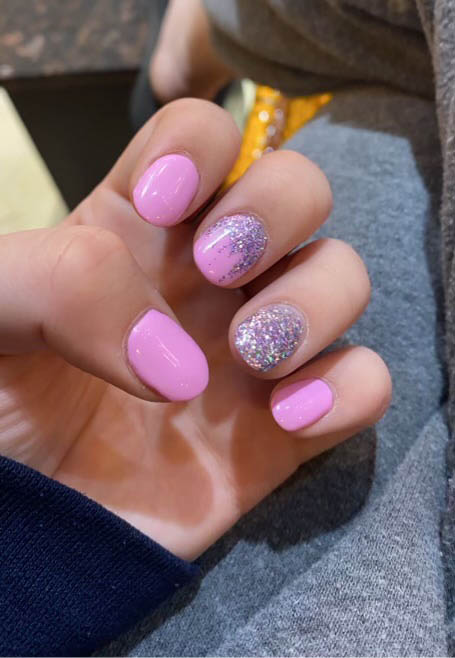 https://vibrantguide.com/wp-content/uploads/2022/05/pink-nails-silver-glitter-design-2.jpg
658
455
Anna
https://vibrantguide.com/wp-content/uploads/2019/01/logo2.png
Anna
2022-09-15 15:11:10
2022-09-16 21:50:13
Pink And Silver Glitter Ombre Nails Design