Pink And Purple Nails Design

This Pink And Purple Nails Design is such a creative and trendy manicure design! The pink and purple combo with a white stripe accent is a dreamy feminine color palette. The fun modern boho swirls are especially chic when paired with almond-shaped nails.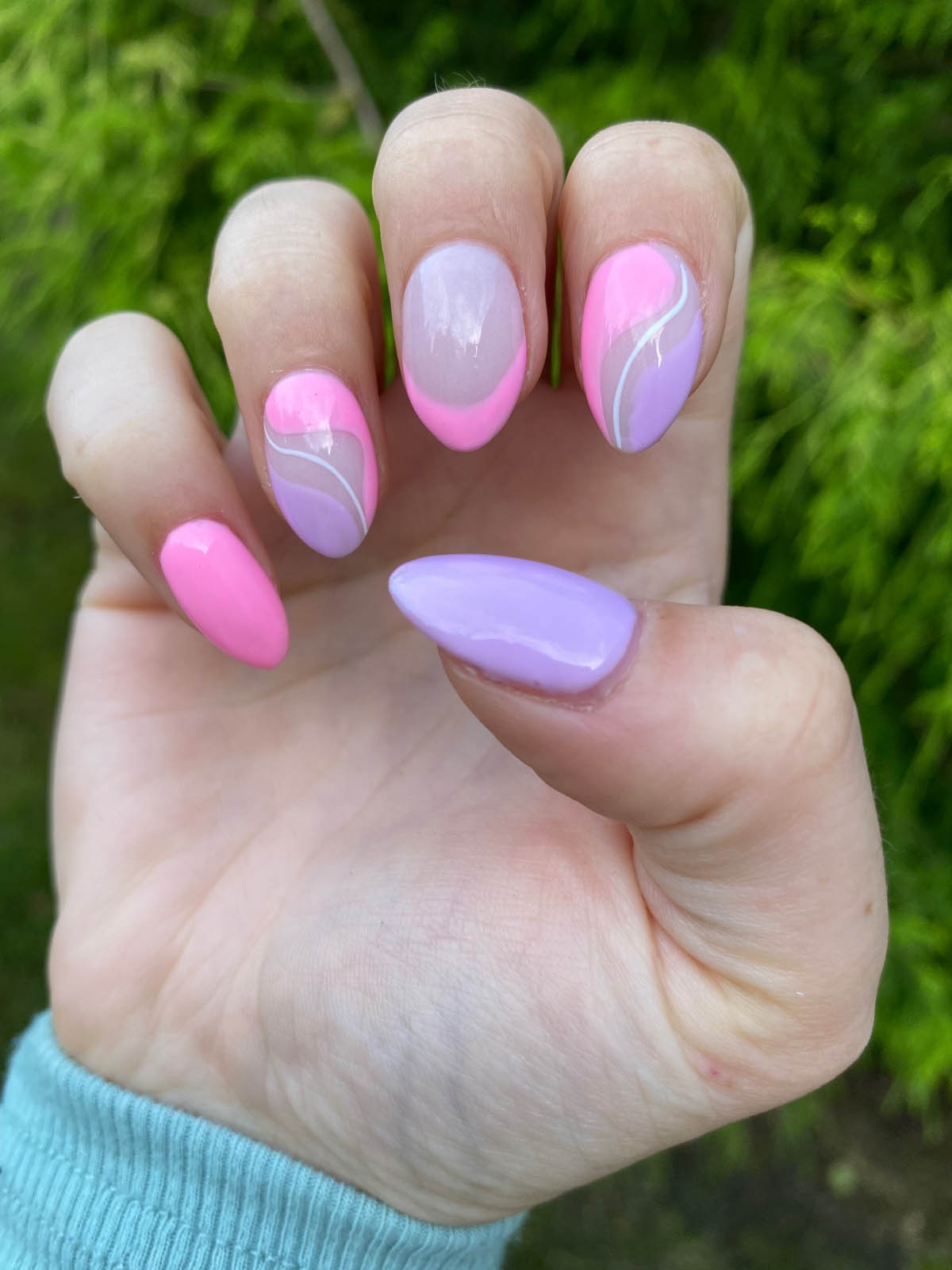 How To Do The Pink And Purple Nails Design: Shape Nails Into The Almond Shape
An almond-shaped nail looks great with the flowing organic shapes of the design. The swirls and organic shapes of this nail design would also look great on oval and round nails.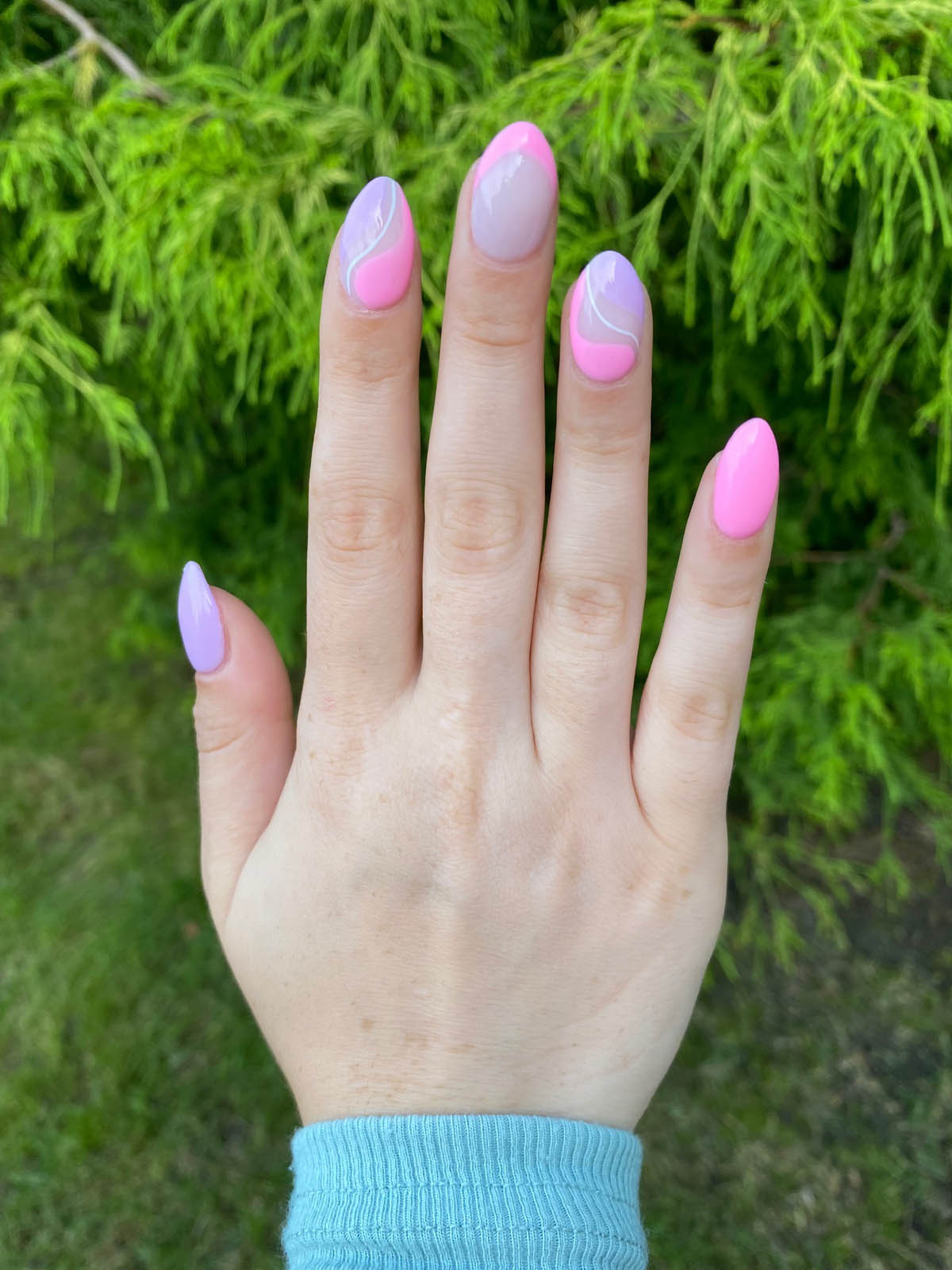 Pink And Purple Nails Design Tutorial
You'll need a few items to create this pink and purple swirls DIY manicure:
A cool pink nail polish
A cool purple nail polish
A sheer very light lavender nail polish
A white nail art pen
A clear top coat
The first step is super simple! Paint at least two coats of pink polish on the pinky nail. And two coats of purple polish on the thumbnails. Be sure to paint the sides and front of the nail tips to seal in the color and prevent and polish chips. Allow the polish to fully dry.
More purple nail design inspo: Purple Nails With Smiley Face And Abstract Designs, Light Purple Manicure with Flowers, and Gradient Purple Nails Design.
Pink And Purple Nails Design: Pink French Tip Nail
Next, paint one or two thin coats of the sheer lavender polish on the remaining three fingers. Then only on the index finger, create the pink french tip by painting a curved smile line with the pink polish.
Start at the growth point on one side of the nail and pull the polish to the other side. You can make the curve match your nail tips or mirror the natural shape of your nail bed. If you need a second coat, let the first coat dry completely first.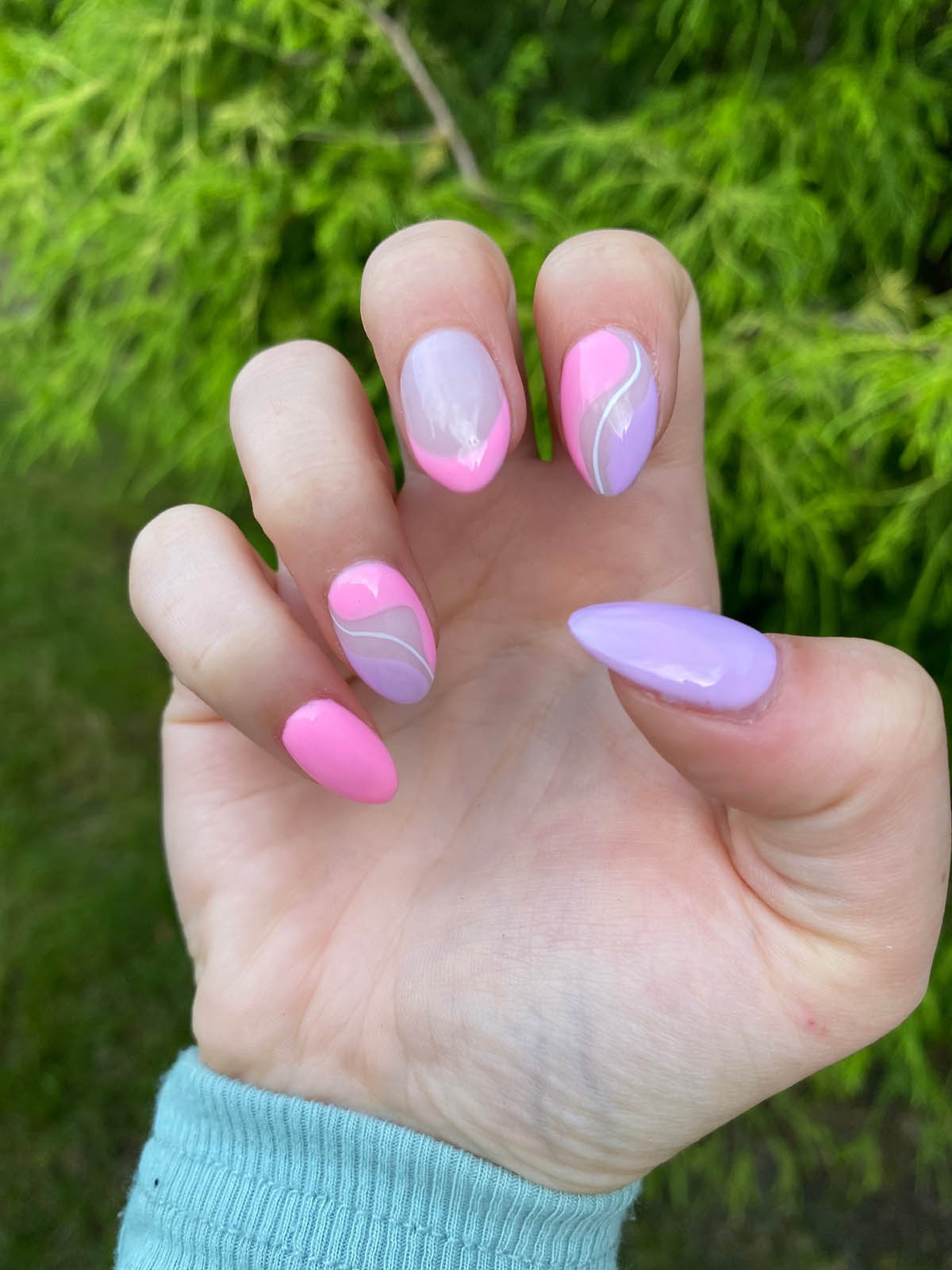 Pink And Purple Nails Design: Accent Nails with Organic Shapes
To paint the organic abstract shapes, follow the same nail tutorial for the Simple White Nails Design With Light Purple Green Color Block. Color-blocking nail designs are trendy and a fun way to show your creativity. Start with the pink polish and paint a sweeping organic blob of color aligned to one side of the nail. Aim to cover about one-third of the total nail space.
Then paint a cohesive organic shape on the opposite side of each nail with purple polish. You can mirror the sweeping edge of the pink polish loosely for visual movement. Again aim to cover up to one-third of the total nail space.
Don't worry about being super detailed with the organic shapes. Let the shape flow organically. Work one nail at a time or one color at a time. I alternated the pink and purple designs on the accent nails to mix up the design.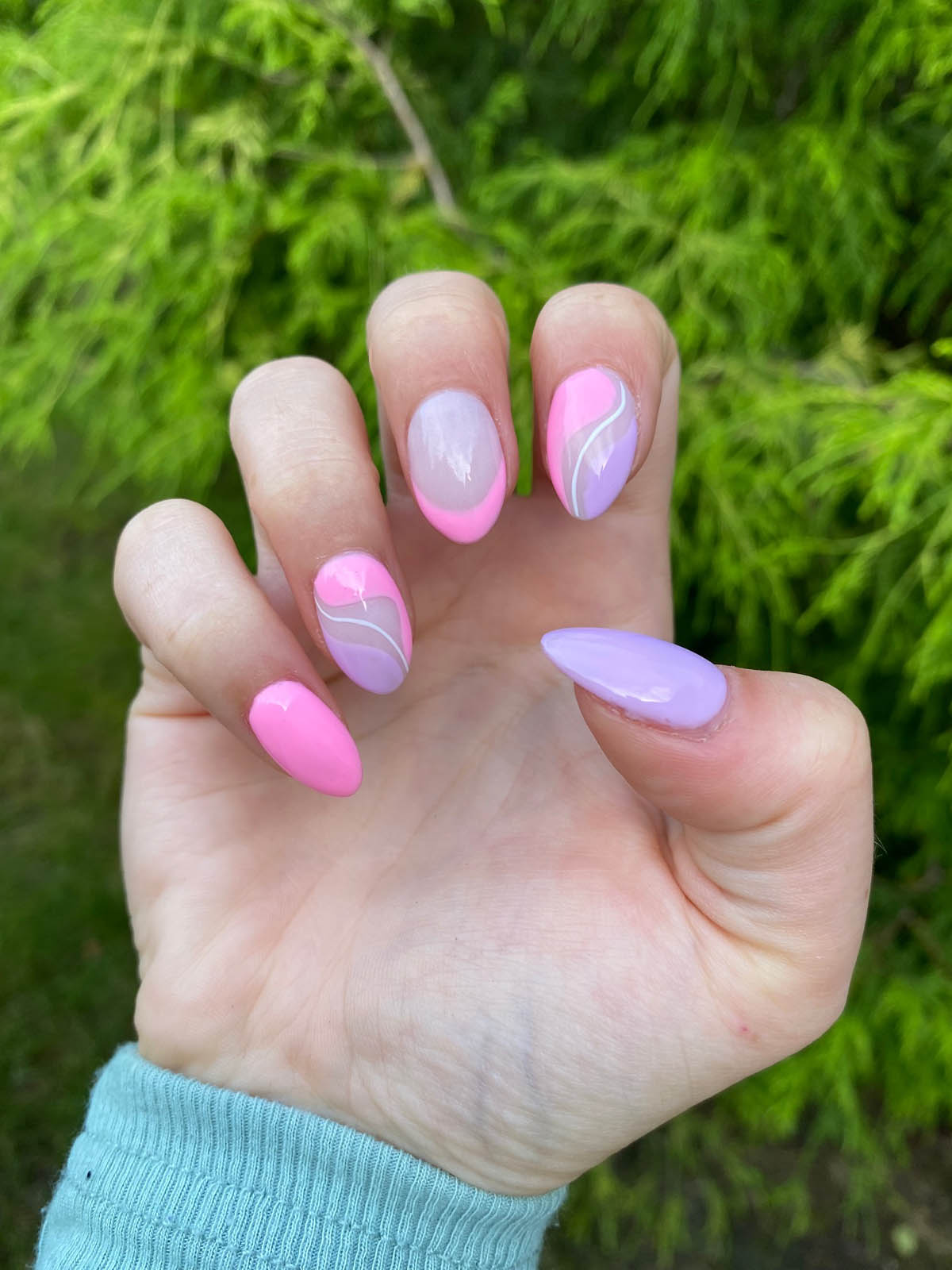 Pink And Purple Nails Design: White Swirl Design
A nail art pen makes the white stripe easy to create. If you've never used a nail art pen before, the Purple Nails With Smiley Face And Abstract Design post has great tips!
First, check to confirm your nails are totally dry to prevent smudging and dragging the polish. Then working one nail at a time, draw one organic, sweeping line down the middle of each accent nail. Allow the line to flow with the pink and purple organic shapes.
Other swirl nail design ideas you'll love: Orange Nails With Swirls, Yellow Orange Nails with Flowers or Swirls, Nude Nails With White And Gold Swirls, Pastel Summer Nails Swirls Design, Blue Nails With Ring Finger Design, Lavender Nails Design, Beige Nails With White Swirls, and Hot Pink Nails With Swirl Accent.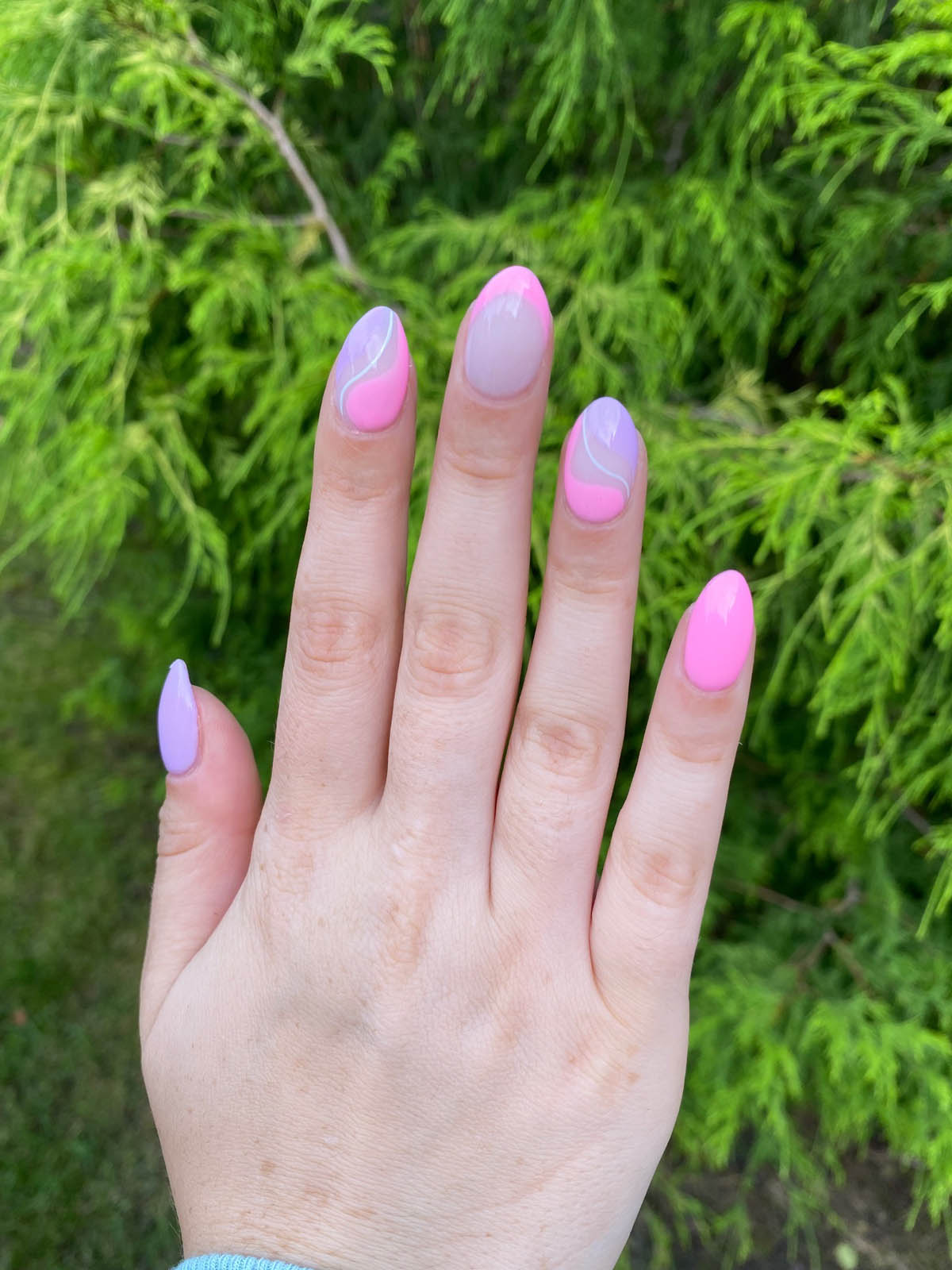 Pink And Purple Nails Design Styling Inspo
Perfect for spring and summer, this girly nail design will work with so many outfit styles. Dressing in pink and purple tones will create a cohesive and put-together look. And of course, neutral outfits in lighter tones will make this DIY manicure pop.
If you love pink nail designs, check out: Hot Pink And Neon Yellow Nail Design, Light Pink with Gold Foil, Different Shades Of Pink Nails With Ring Finger Swirl Design, Hot Pink And Neon Green Nails Combo, Pink and Silver Glitter Ombre Nails, Long Pink Coffin Nails, Ombre Pink Glitter Nails, and Hot Pink Flames Nail Design.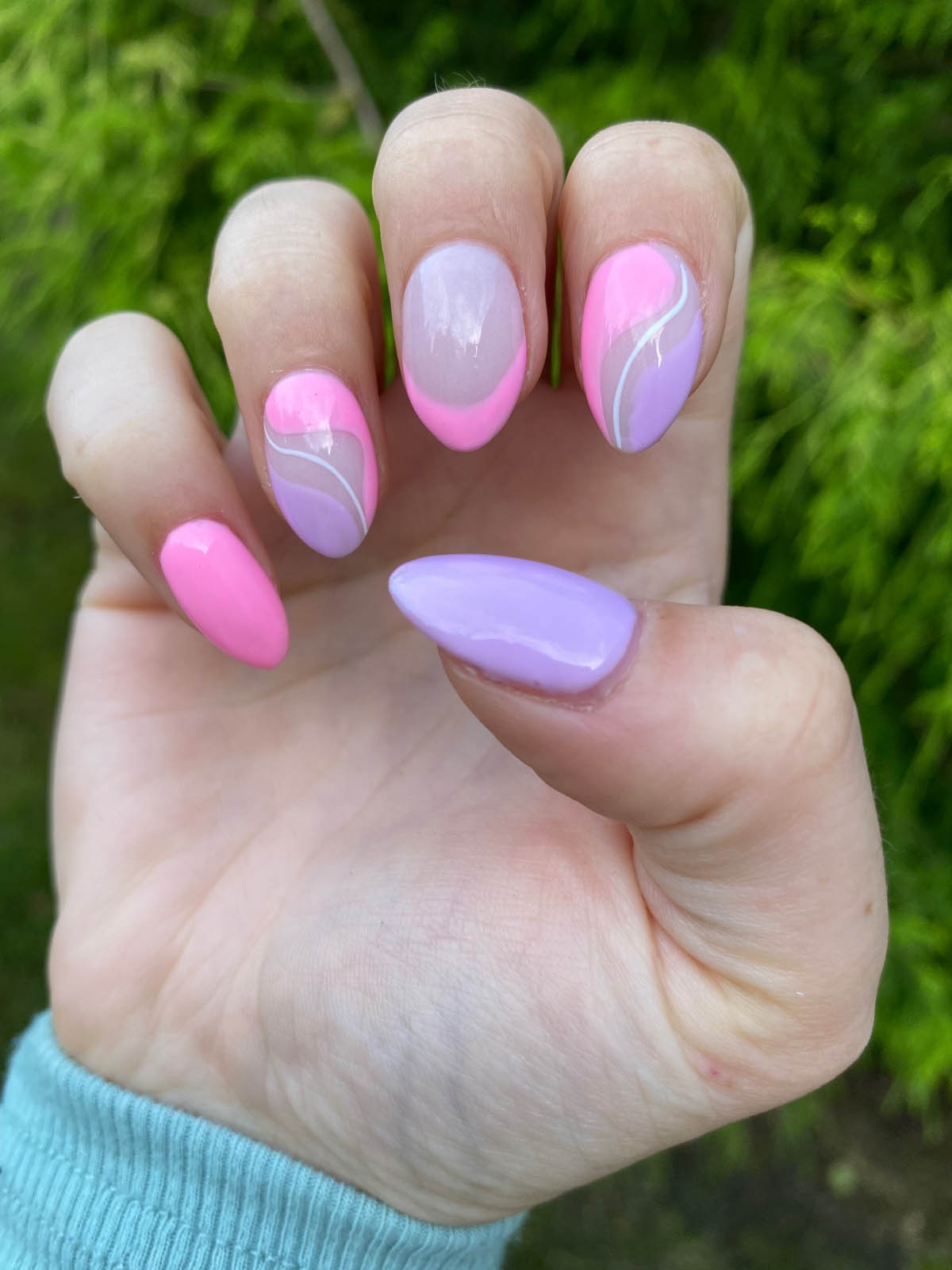 https://vibrantguide.com/wp-content/uploads/2022/10/purple-and-pink-nails-design-6.jpg
1600
1200
Anna
https://vibrantguide.com/wp-content/uploads/2019/01/logo2.png
Anna
2022-10-21 22:49:48
2022-10-21 22:49:48
Pink And Purple Nails Design