Yellow And Orange Nails Designs With Flowers And Summer Swirls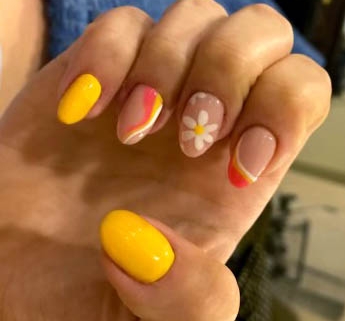 Summer is full of warmth, both literally and visually. What could be more of a summer vibe than this Yellow And Orange Nails Designs With Flowers And Summer Swirls? Bright colors are so on theme for summer. Pink and orange pair together as beautifully as the warm summer sunsets they're inspired by.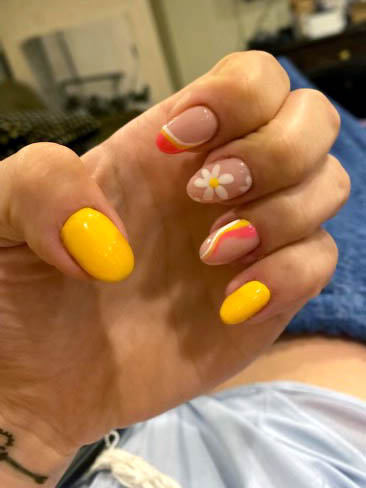 How To Paint Yellow And Orange Nails Designs With Flowers And Summer Swirls
First, trim and shape your nails. For this summer design, I chose a short round shape. The round shape nail is great for summer as it's easy to maintain, and its smooth edge is less likely to snag or chip, especially during summer when days at the beach or pool can be rough on longer nail shapes.
To achieve this look simply file the nail following the natural curve of your fingertip. File in one direction, going from a heavier grit to a lighter grit file.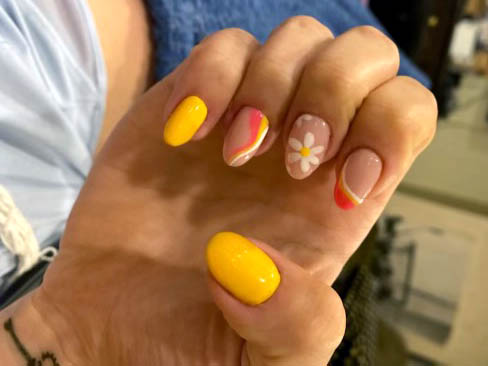 Yellow And Orange Nails Designs With Flowers And Summer Swirls Tutorial Tips
For this nail design you'll need:
A neutral or warm nude nail polish
A bright yellow nail polish
A hot pink nail polish
A true white nail polish
A clear topcoat
1-4 ultra thin nail art brushes
On the accent nails that will have the flower and swirl designs (in this design the first, middle, and ring fingernails) Paint two coats of a nude nail polish to achieve an opaque nude.
On the thumb and pinky, paint two coats of a bright and bold yellow nail polish. To prevent streaky or uneven polish, paint more thin coats rather than fewer thick coats, especially on lighter colors.
Allow all polish to dry completely before painting the accent designs.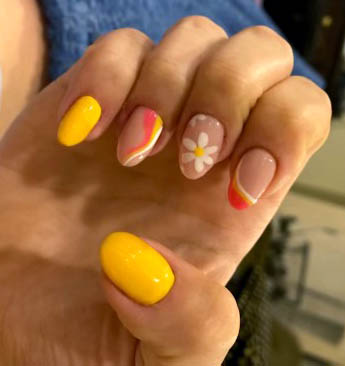 How to paint flower nail designs
The flower design can seem intimidating, but it is more simple than it looks. This step works best if you have an ultra-thin brush to paint the floral design. For this design, I chose to do the flower on just one accent finger.
The flower is actually just some well-placed dots. To start, paint a dot of yellow polish as the flower center. Let it dry so you don't smudge it on the next step! Then paint five dots equally spaced around the yellow dot. Use your brush to pull the nail polish into an oblong shape for a more natural petal look. I also painted a few extra petals at the base of my nail to balance out the main flower.
More floral nail designs you'll love for spring and summer: Purple Nails with Flowers, Pink Nails with Flowers and Gold Foil, and Pink and White with Leaf Nail Design.
How to paint orange and pink swirls nail designs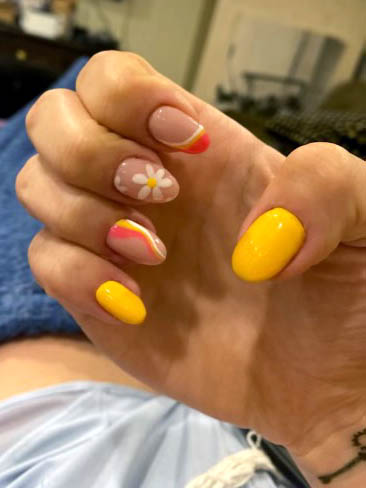 I love painting swirls on my nail designs because it looks beautiful, and it's so easy! Simply take a long thin nail polish brush and start from the base of your nail, swooping the brush in an organic curve.
You can be subtle or bold with the curve; get creative with it! This is a design feature that does not need to be perfect. A little character makes the design all the better.
For this nail design, I chose two accent nails for the stripes, my pointer, and ring fingers. First, paint the pink stripe on each finger. Let the polish dry completely. Then either fully clean the thin polish brush with nail polish remover or grab a different unused brush. Then follow the shape of the first stripe with the yellow polish.
Again, let the polish dry completely before the next step, if the polish isn't fully dry your risk for smudges is very high because of how close the stripes are on the nail design. Finally, follow up again with a strip in white.
Because this nail design has a lot going on visually, keep the order of the stripe colors the same on all accent nails.
Finally, finish the design with one or two coats of a clear topcoat on all nails.
Other swirl nail design Ideas you'll love: Pink White And Nude Swirls, Multi Color Swirls Nail Design, Blue Swirls Nail Design, White With Tropical Swirls Nail Design, and Lavender With White And Silver Swirls Nail Design.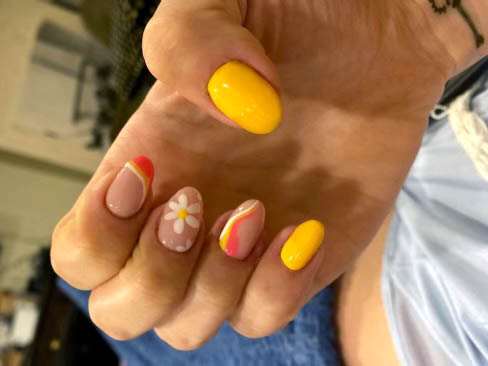 Yellow And Orange Nails Designs With Flowers And Summer Swirls Inspiration
Summer is the best time of year to try new fun colors and nail designs. Summer nail designs can be simple and easy like this Neon Yellow And Pink Nails Design or more complex like the Pink And Orange Ombre Nails. Summer nails are playful, colorful, and carefree; just like those long summer days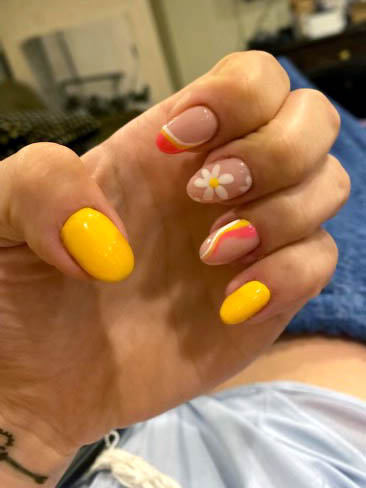 https://vibrantguide.com/wp-content/uploads/2022/07/yellow-orange-flower-nails-designs-summer.jpg
366
345
Anna
https://vibrantguide.com/wp-content/uploads/2019/01/logo2.png
Anna
2022-08-11 18:34:19
2022-08-13 01:49:16
Yellow And Orange Nails Designs With Flowers And Summer Swirls