Nail Design With Red Orange Yellow Stripes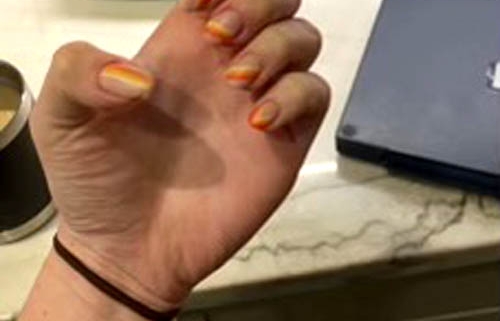 This bold red, orange, and yellow stripes nail design is reminiscent of the hot deep summer sun and easier to create than it looks!
This nail design will look best on warm-toned skin types, the summers and falls of the complexions. Red, orange, and yellow are all warm tones. They evoke feelings of energy, cheerfulness, and excitement. Combined with the bold striped design, this manicure is bold and fun.
How To Paint This Bold Summer Nail Design With Red Orange Yellow Stripes
First, trim and shape your nails into a medium oval shape. To file an oval nail shape, hold the file at an angle while filing the fingernail into an egg shape from each side of the nail bed to the center. Oval nails create an impression of longer fingers and nails while still being cumbersome.
This nail design would also look great on coffin or square nail shapes.
In addition to Summer season, you can also use this nail design in the Fall for Halloween and Thanksgiving! Orange color is the color of pumpkins and fall leaves, so it will work for Fall nails and Halloween nails as well!
Bold Summer Nail Design With Red Orange Yellow Stripes Tutorial
Items needed for this nail design:
A warm nude nail polish
A bright red nail polish
A bold orange nail polish
An opaque yellow nail polish
A clear topcoat
Washi tape or masking tape
Begin by painting one or two thin coats of a warm-toned nude polish on all nails. You can also use a clear base coat rather than nude polish for this design if your natural nail beds and skin are more warm-toned. Always allow nail polish to dry completely between coats to prevent smudging.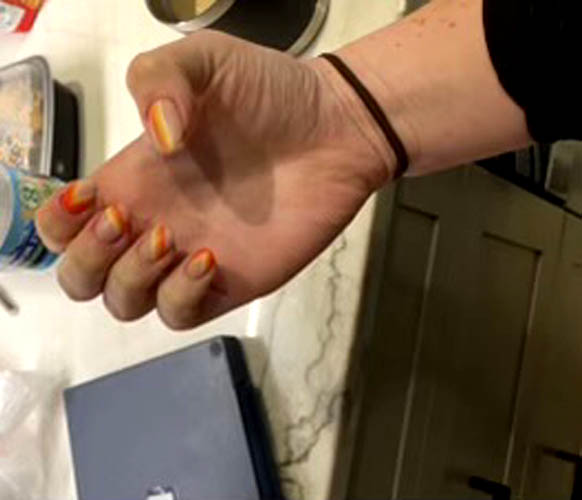 How To Paint Red Orange Yellow Stripes Nail Designs
First, double-check that the nude base coat is completely dry. If not, the washi tape in the next will smudge and can even pull up the base coat polish when removing the tape. Waiting at least twenty minutes before creating the stripes is ideal.
If you have a super steady hand and experience in creating DIY nail designs, you can freehand paint the stripes. If you want super crisp lines, washi tape is ideal for the next steps. If you don't have washi tape, you can also use masking tape or painter's tape; any tape that seals well but is also easily removed will work.
If you are freehanding the designs, simply paint a stripe of each color in a red, orange, yellow pattern. You can paint the stripes in a vertical line, a side-to-side swipe, or a stacked french design. Or, mix it up with different stripe designs on different nails, as I did. Especially if you are mixing strip designs, keep the color sequence the same on all nails.
Red Orange Yellow Summer Stripes Nail Design Tutorial: Using Tape
If using the tape method, paint one color stripe on all nails, lightest to darkest. Cut strips of washi tape and firmly press them onto your nail, covering everywhere that you don't want the stripe paint to touch. Make sure the washi tape is securely placed to get crisp lines.
Paint a coat of the yellow polish, filling in the untapped space on your nail. Allow the polish to be somewhat tacky, but not fully dry. Gently peel the tape pieces off to reveal crisp and clean stripes.
Then allow the yellow polish to dry completely. Then repeat the steps with the orange polish and then again with the red polish.
Allow all nails to dry completely, then apply a clear topcoat. If you prefer a smoother nail feeling, paint an additional topcoat layer to fill the ridges between the stripes more.
This technique is similar to how the stripes on the Candy Cane Christmas Nails Design are painted.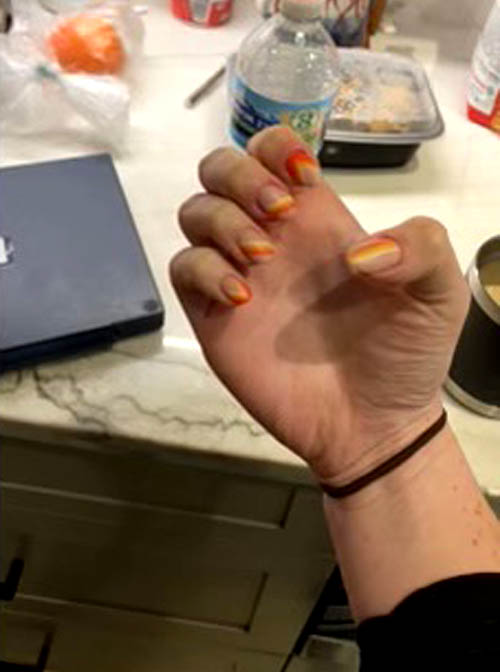 Bold Summer Nail Design With Red Orange And Yellow Stripes Style Inspiration
This nail design is absolutely perfect for the summer season. The bold design and bright warm colors are exciting and lively, perfect for lounging by the pool on vacation in a sunny yellow cover-up or dancing at a beach bonfire in cut-off shorts and a bright summer top. For more refined events, pair this bold mani with neutral pieces to play down the bright tones.
No matter where or how you wear these bright summer stripes, this nail design will pop. Other bold summer nail designs you may love: Yellow And Orange Summer Nail Design, Sunset Ombre Nail Design , Neon Yellow And Pink Nails, Pink Nails With Ring Finger Swirls, and Tropical Orange And White Stripes On White Nails.
https://vibrantguide.com/wp-content/uploads/2022/07/orange-nails-stripes.jpg
672
500
Anna
https://vibrantguide.com/wp-content/uploads/2019/01/logo2.png
Anna
2022-08-17 10:30:43
2022-08-18 01:00:52
Nail Design With Red Orange Yellow Stripes