Hot Pink And Neon Green Nails Design
Something about a bright and fun color nail design just feels like summer, the bolder the better! This hot pink and neon green nail design could not be a better summer design!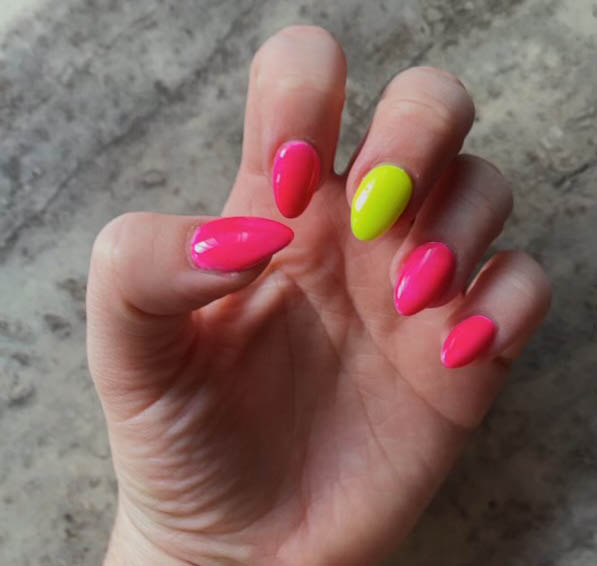 Hot pink and neon green nail designs flatter all complexions
Neon Green is one of the hottest colors this summer, and hot pink is a classic hot-girl-summer color. Plus it pairs perfectly with a glowy tan (real or faux)! Add a pop of color to your outfits or elevate your poolside look with this DIY nail design.
Hot pink and neon green is bold and fun and suits everyone; the best part is that it's a super easy summer nail design! If you love bold summer nail designs, you have to see the Pink and Orange Ombre Nail Design and the Pink Nails with Swirl Accent Design.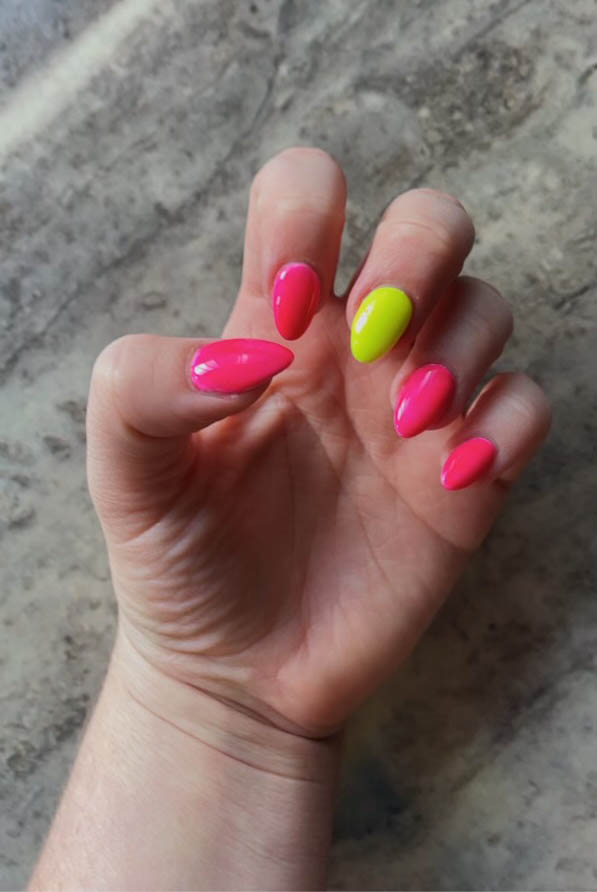 DIY hot pink and neon green manicure steps:
Before you grab the polish, file your nails into an almond shape. This pink and green combo can work on any nail shape, but we love the look of almond nails for this set! Almond-shaped nails elongate the look of your fingers and add a feminine balance to our bold hot pink and green polish.
To file an almond shape, visually mark the center of your nail and equally file both sides at an angle towards that point while leaving a bit of a flat tip to round out. Then smooth out any sharp corners and blend the edges into a soft almond shape.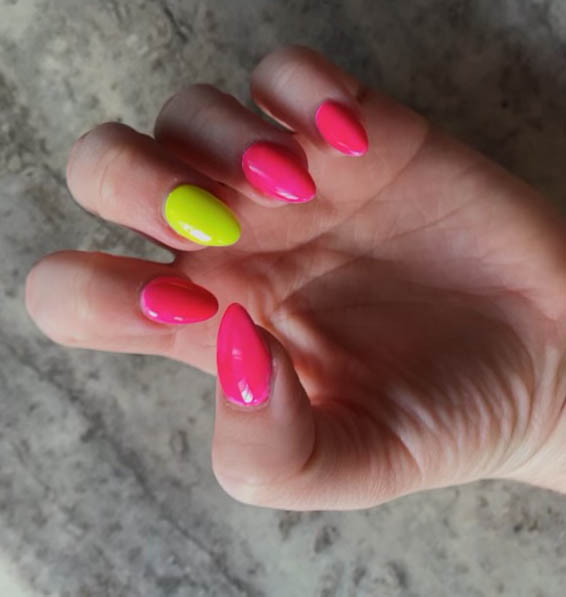 Next, paint your index finger on each hand in neon green, and paint the remaining nails in hot pink. I was sure to choose a hot pink nail polish that does not have orange tones to match better with the cool tones of the neon green polish.
If you feel unsure about choosing color combos, find the most challenging or rare shade first. For this look, that is the neon green polish. Next, hold up a few options of the more common color (our hot pink polish) together in the same lighting and compare them. Since the neon green is cool-toned, we want to find a hot pink polish that also leans cool.
Paint at least two coats of polish on all nails to get the best color saturation. Then always follow up with a clear topcoat to prevent chipping and help your manicure last. Allow each coat of nail polish to dry completely between coats to prevent smudging or bubbles.
Pink and green nails are a bold summer look!
The hot pink and neon green polish combo feels energetic and fun while being a fast nail design. Although the design is simple, that doesn't mean it's boring! The bold colors and contrasting accent nails create an eye-catching design, pulling together your summer look! Just seeing this nail design makes me feel like I'm on vacation!
If you're not feeling the neon green and hot pink polish combo, combine other color combinations like hot pink and yellow! This design is also so great for seasonal and holiday color combinations.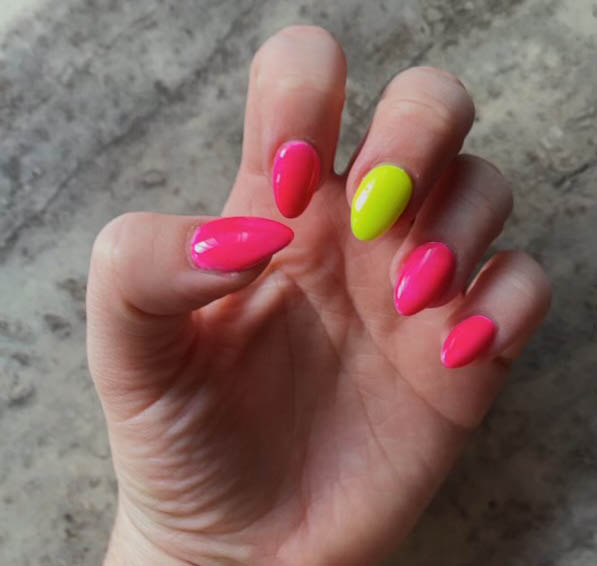 https://vibrantguide.com/wp-content/uploads/2022/05/pink-neon-green-nails-3.jpg
566
597
Anna
https://vibrantguide.com/wp-content/uploads/2019/01/logo2.png
Anna
2022-07-20 12:43:28
2022-07-27 17:05:58
Hot Pink And Neon Green Nails Design