White Summer Nails with Pink and Neon Green Swirl Design

These white summer nails with pink and neon green swirls are absolutely stunning! They are such a fun and unique look and are super eye-catching! You will absolutely love these trendy nails!
These pink and neon swirly white nails are the perfect look for summer! White is always a classic summer color and is super trendy in the warmer months. The neon green and pink swirls though make for a super fun and cheerful touch and really elevate the nail look. The combination of the white and the swirls really makes these nails so fun and awesome!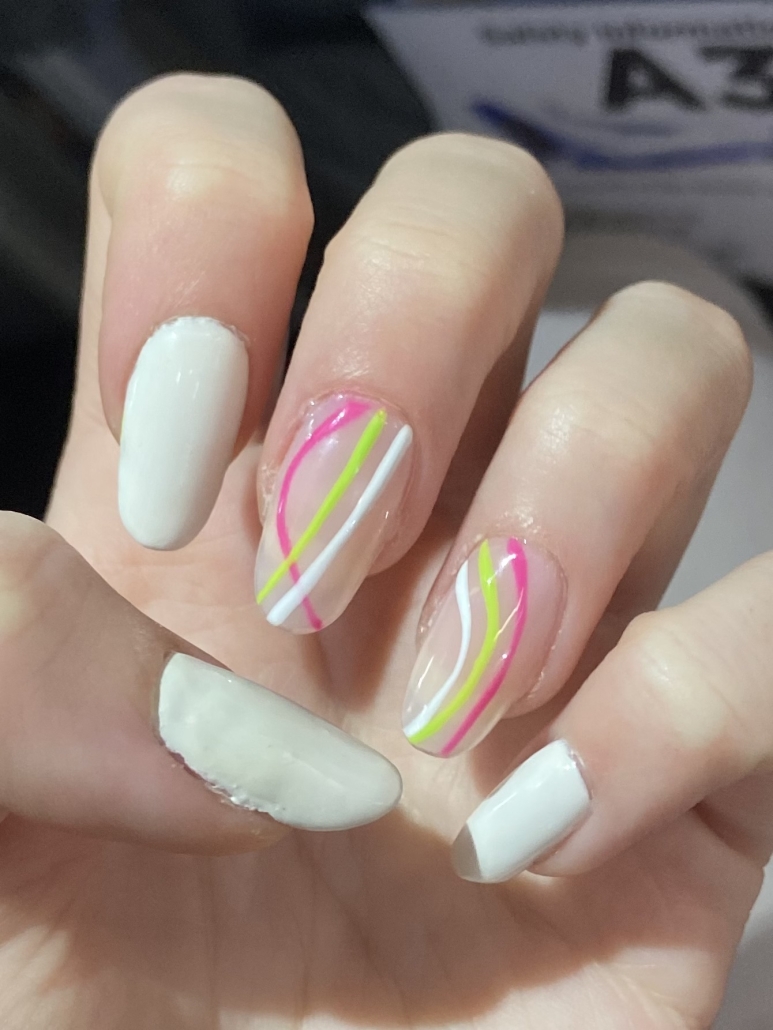 These nails are also wonderful for vacations! If you have a spring break vacation coming up and you're not sure what to get, you should definitely check out these white nails with pink and neon swirls. They seriously will add such a great touch to your vacation pictures and they go with so many different fun outfits. These nails would also be great for a concert or party, as they are super fun and bright!
If your looking for more vacation nails, check out Spring Break Nail Ideas, Designs, and Colors.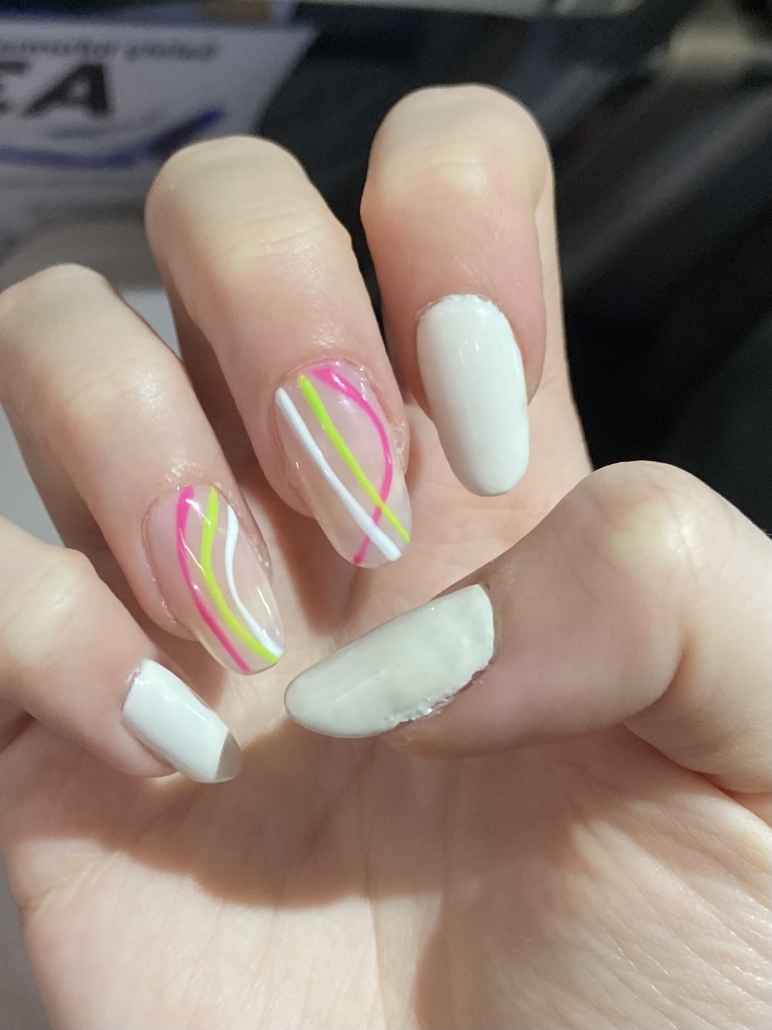 Despite their fancy look, these white nails with pink and neon green swirls are easy to recreate! You need a white color, a nude color, neon green, and hot pink. You will also need an extra thin brush for the swirls. It also would be helpful to have a q-tip with nail polish remover so that you can easily erase any mistakes.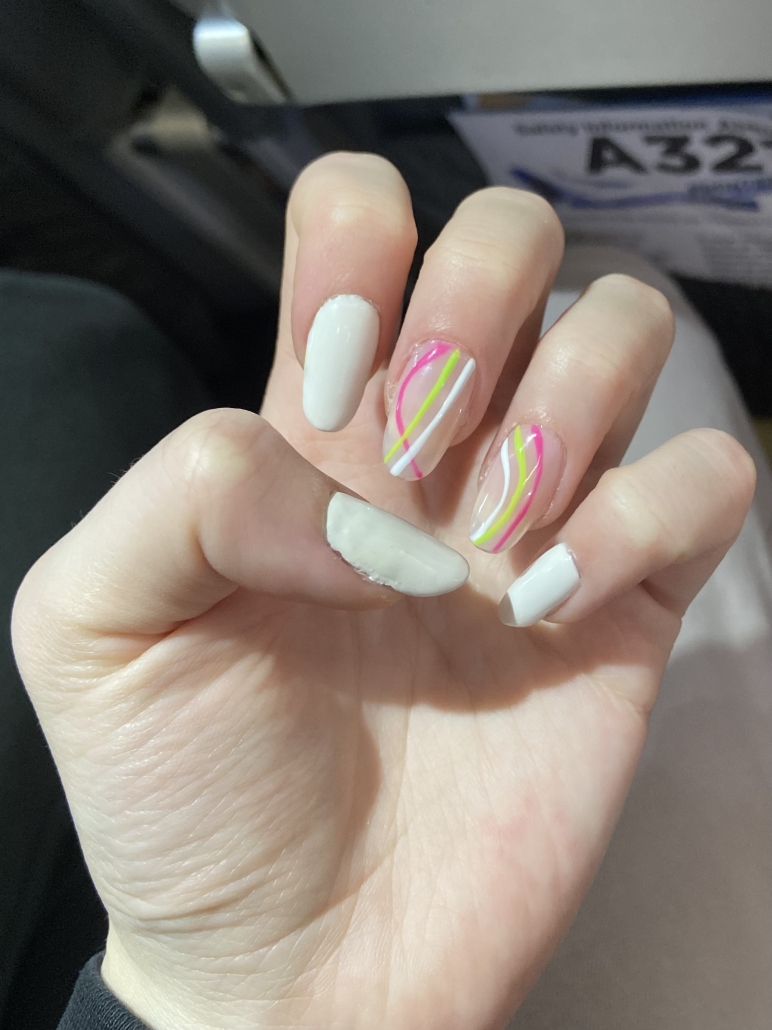 Start by painting on the nude base coat on the third and fourth finger. Then, paint on the white coat on the thumb, second, and pinky finger. You may want to do 2 coats of white to get that nice bright color. When the nails are completely dry, paint on a hot pink swirl on the middle and fourth finger. Let the hot pink swirl completely dry before painting on the neon and white swirl. Finish off the look with a top coat and enjoy your new gorgeous nails!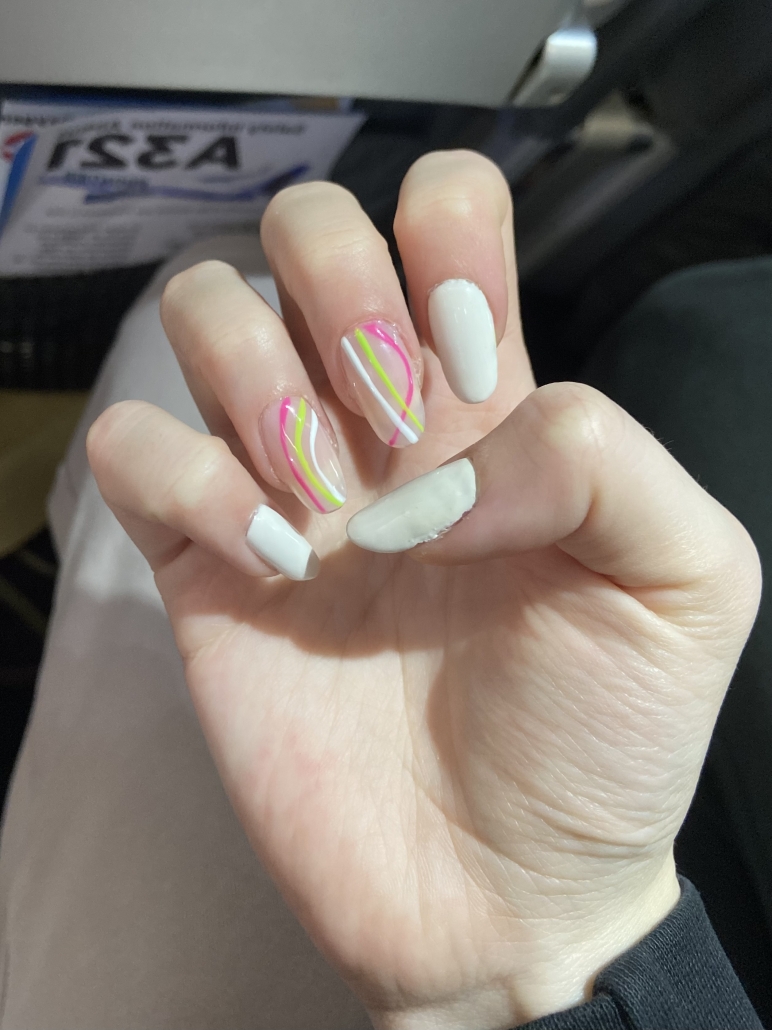 There are so many different ways to get creative with these nails! Firstly, you can change up the amount of nails that you paint the swirls on. You can make all 5 nails the swirl design, or only make your fourth finger the swirls. You can also change up the white color to pink, neon, or even black for a whole different look. Or, of course you can also change up the colors of the swirls. There are so many different fun things you can do with these nails. I hope that you love them!
https://vibrantguide.com/wp-content/uploads/2023/04/F08D4FB5-49AE-453B-A071-A460CA139D3C-scaled.jpeg
2560
1920
Anna
https://vibrantguide.com/wp-content/uploads/2019/01/logo2.png
Anna
2023-04-09 19:05:10
2023-04-09 19:05:10
White Summer Nails with Pink and Neon Green Swirl Design