Purple Butterfly Nail Design With White Nails

These white nails with gorgeous purple butterfly designs are so cute and make for the absolute perfect spring nails! The white brings a classy appearance and the purple butterflies are so fun and adorable!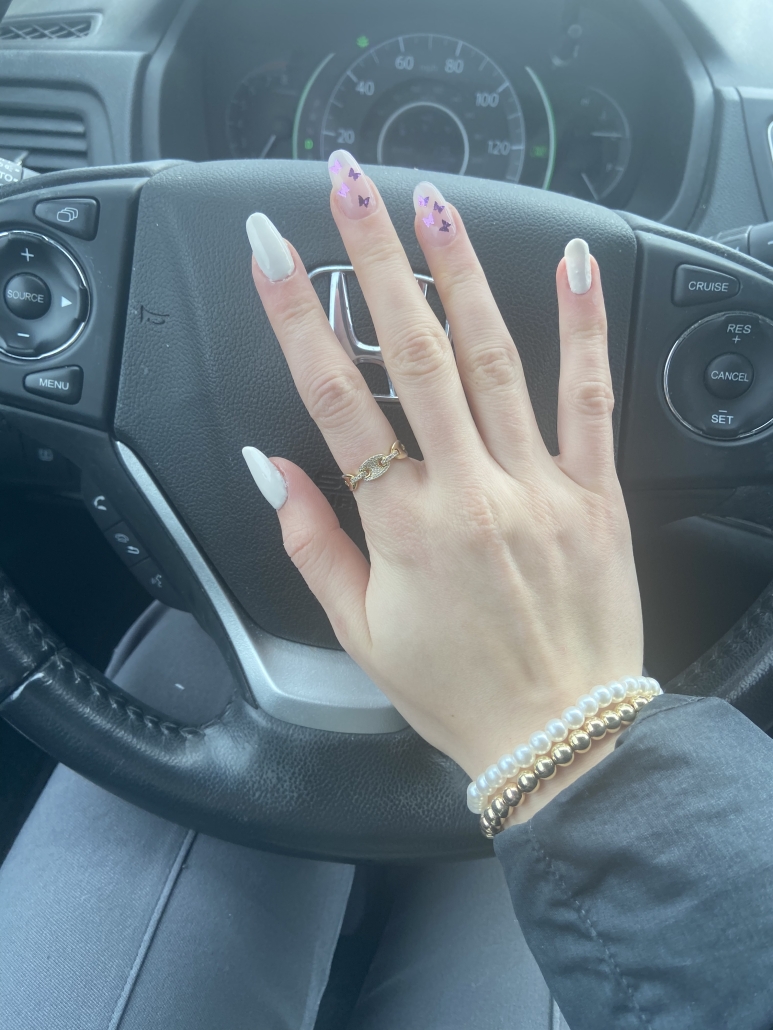 These are the best nails to get in the spring time! What is more spring-like than a cheerful butterfly design? Not to mention, white is a super trendy spring color and always gives fun and bright vibes. The purple color of the butterflies is also cheerful and a nice contrast from the darker colors of winter. Seriously, these nails are the perfect spring-time look!
If you are looking for more spring nails, check out Spring Nail Ideas, Designs, Colors.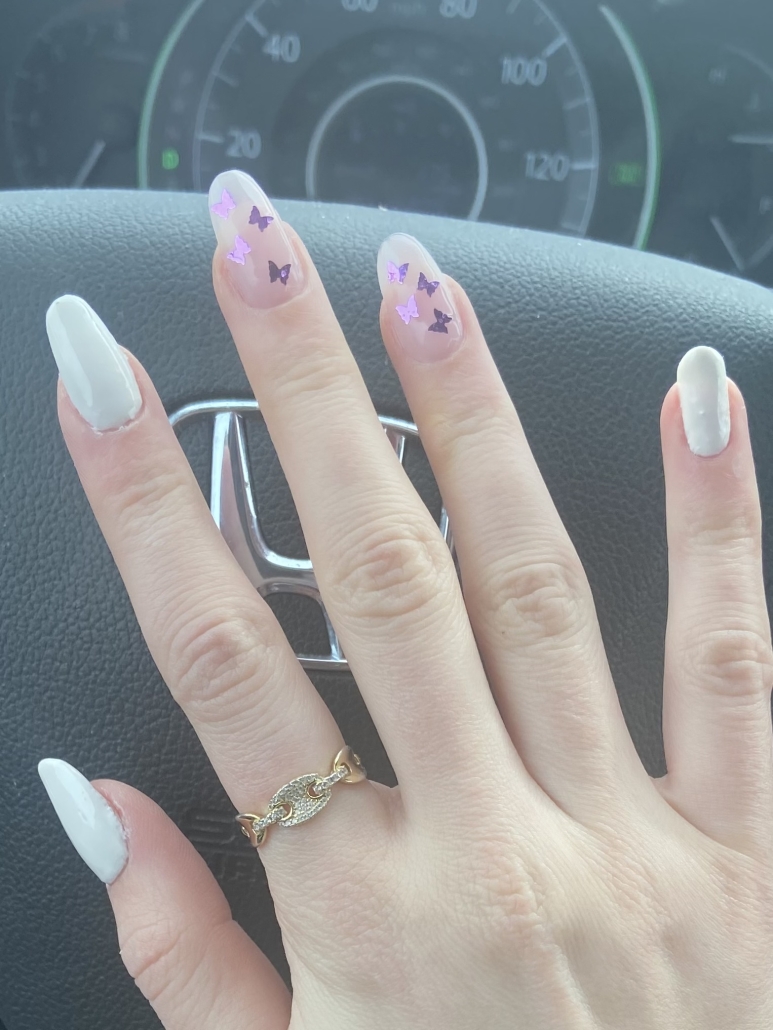 These are also the best vacation nails! If you are thinking about what nails to get for your next vacation, this fun purple butterfly look is a great option. These nails will look great in any picture that you take! White nails go with practically any outfit, and the purple butterflies will add a fun and festive touch.
If you are looking for more vacation nails, check out Spring Break Nail Ideas, Designs, and Colors.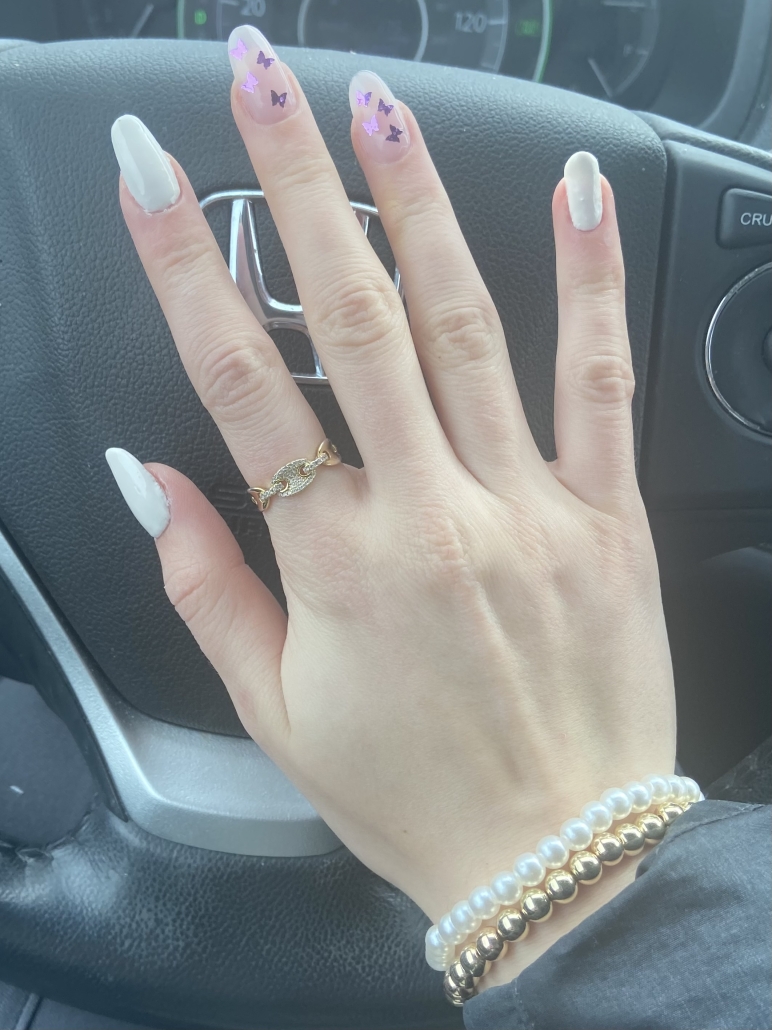 These stunning purple butterfly nails are so easy to recreate! You will need a true white nail polish, a clear nail polish, and purple butterfly stickers. You can buy these stickers on Amazon or at most nail supply stores. Here are my favorite butterfly stickers that you can buy from Amazon for just $6.99: Butterfly Stickers.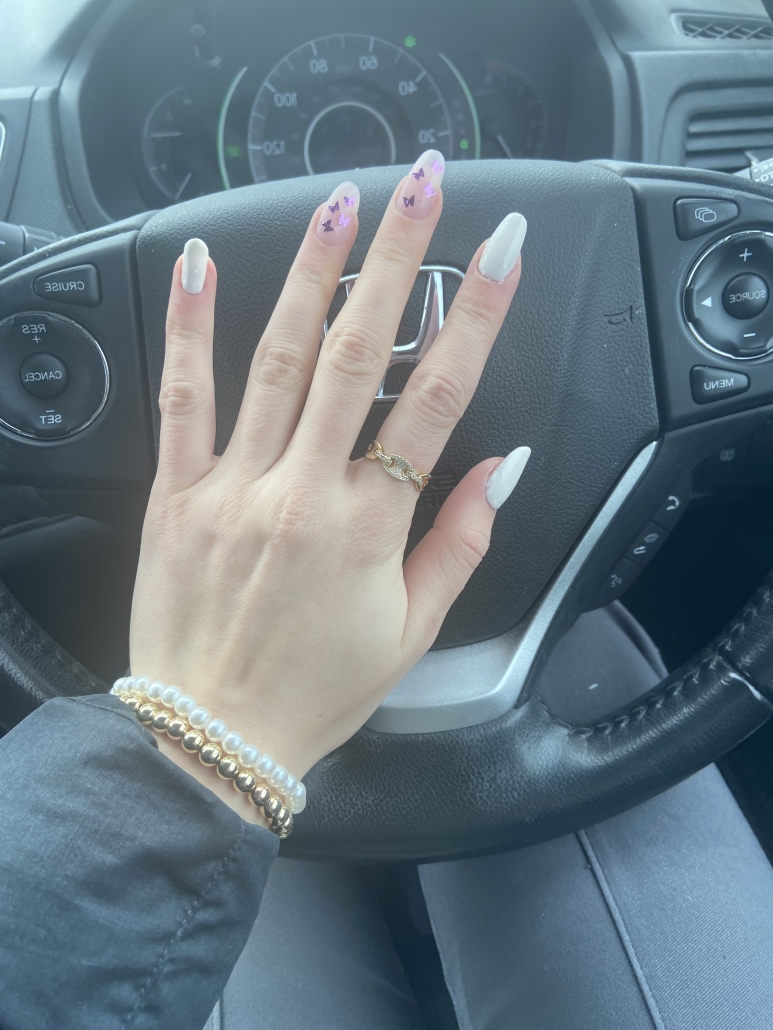 To start, paint on the white color on the thumb, index, and pinky finger. You may want to paint on 2 layers to get a bright white color. Paint on the clear polish on your middle and ring finger. Let the polish completely dry. Next, apply the purple butterfly stickers on the middle and fourth finger. You will want to place 4 butterflies on each nail all scattered across. To apply the butterflies, place them gently on the nail and make sure that you are happy with their location before pressing them down further.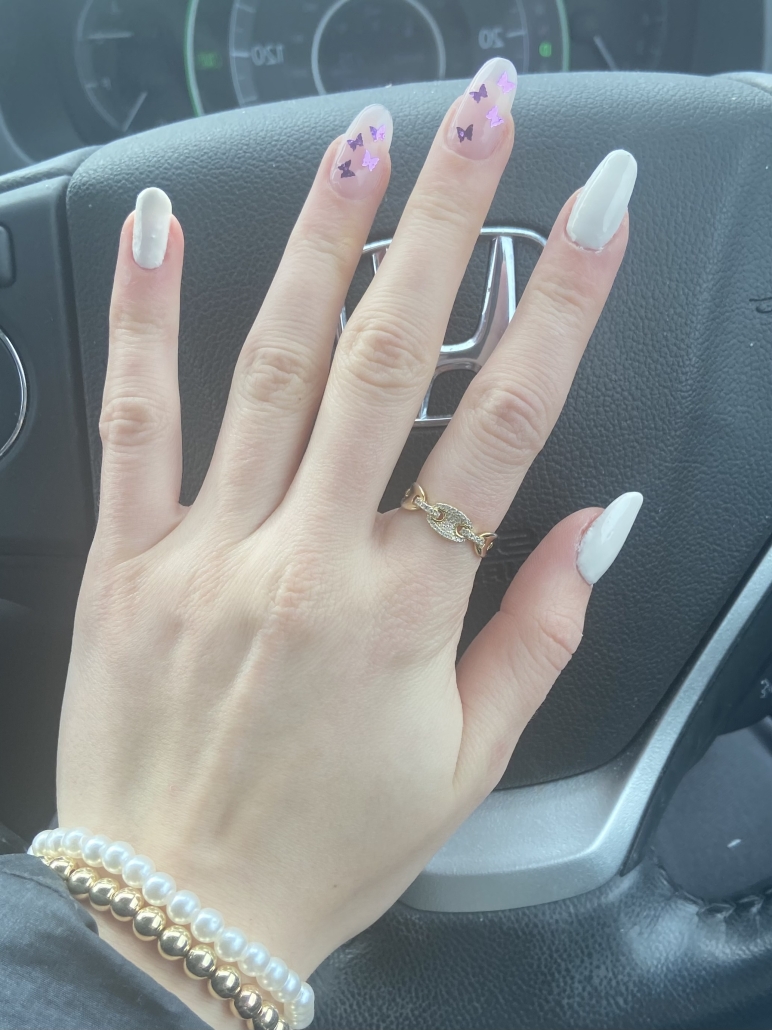 There are so many different ways to get creative with these fun purple butterfly nails! If you are loving the purple, you can paint the non-design nails purple rather than white. Or you can also change up the color of the stickers. If you're not feeling purple, you could do fun pink stickers, or do white or clear butterflies. The possibilities of these nails are endless, so don't be afraid to get creative! Have fun with your new butterfly nails!
https://vibrantguide.com/wp-content/uploads/2023/04/28C9074D-8AAC-4227-B3D8-6CFBFF5026E0-scaled.jpeg
2560
1920
Anna
https://vibrantguide.com/wp-content/uploads/2019/01/logo2.png
Anna
2023-04-09 18:54:23
2023-04-09 18:54:23
Purple Butterfly Nail Design With White Nails