Neon Yellow And Pink Nails Design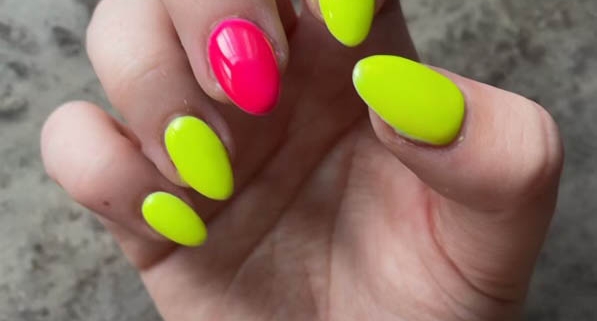 This hot pink and neon yellow nail design is absolutely perfect for summer! Summer is the best time to take your manicure to the next level and get a little bold or creative. Vibrant and tropical shades are trendy and fun, pairing perfectly with summer events and activities.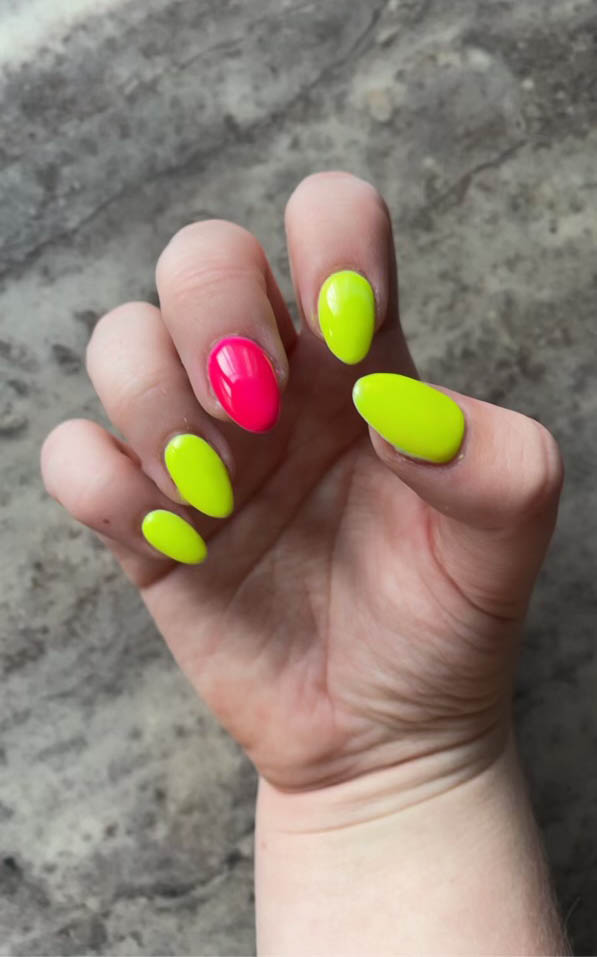 Summer Nail Designs
Whether you are a DIY manicure newbie or a seasoned pro, you can nail this bold and trendy manicure idea! Pairing hot pink and neon yellow polishes is a simple nail design that makes a statement!
This simple nail design is easy to do, giving you more time to enjoy your vacation or weekend at the beach; while still looking and feeling your summer best.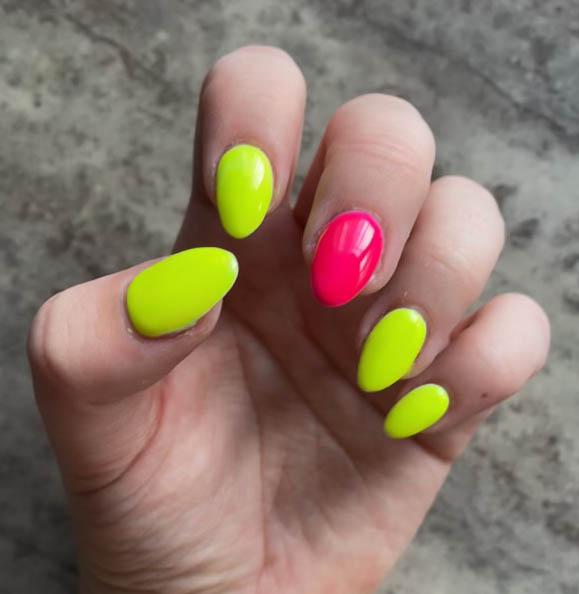 DIY hot pink and neon yellow manicure steps
In the summer, you can't go wrong with bright nails, and bold shades look great on all nail shapes. I went with an oval/almond shape nail to have a bit of length while not losing durability.
To create an almond-shaped nail, first file your nail at an angle from each side to a point just off the center of the nail tip. Leave a small flat tip at the end to round out.
Next, file the corners to remove the sharp edges and soften the look by rounding out the angles and blending the shape. The nail should be smooth and visually soft.
Paint your index finger on each hand in neon pink polish. Let it dry completely, then paint a second coat.
Then paint the remaining nails in neon yellow, again letting them dry completely before applying the second coat.
Always finish with a top coat to protect your nail design. Especially during summer, when your schedule is full of activities and events that may lead to chips.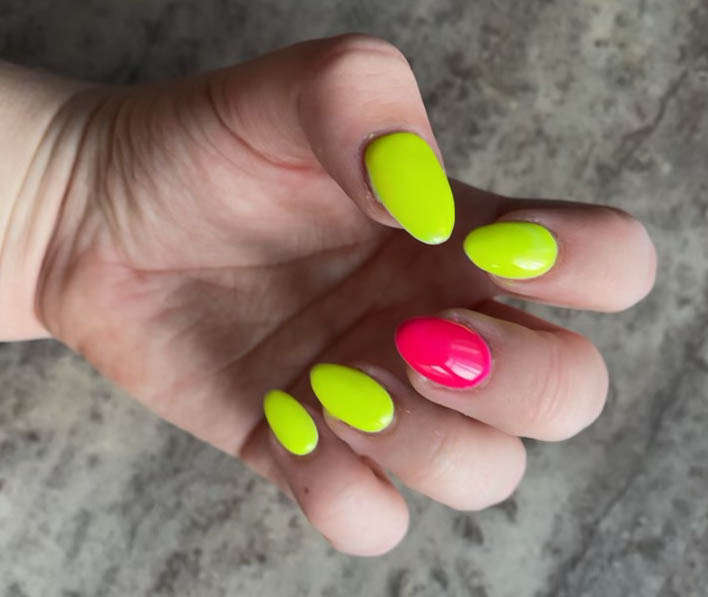 Choosing bold neon nail polish shades
Neon shades come in many undertones, be sure to hold up a few options to your skin and see which shades flatter your skin tone best.
Some neon polishes can even be a little tricky, appearing bright in the bottle but drying more dull or flat. If you want the brightest neon colors for this nail design, start with a pure white base coat. Then, once it's dry apply your neon color over it.
Your nail bed is flesh-toned (obviously) which can sometimes compete with the neon polish color, especially neon yellow. By starting with a white basecoat you create a true neutral base so your neon nail design can pop!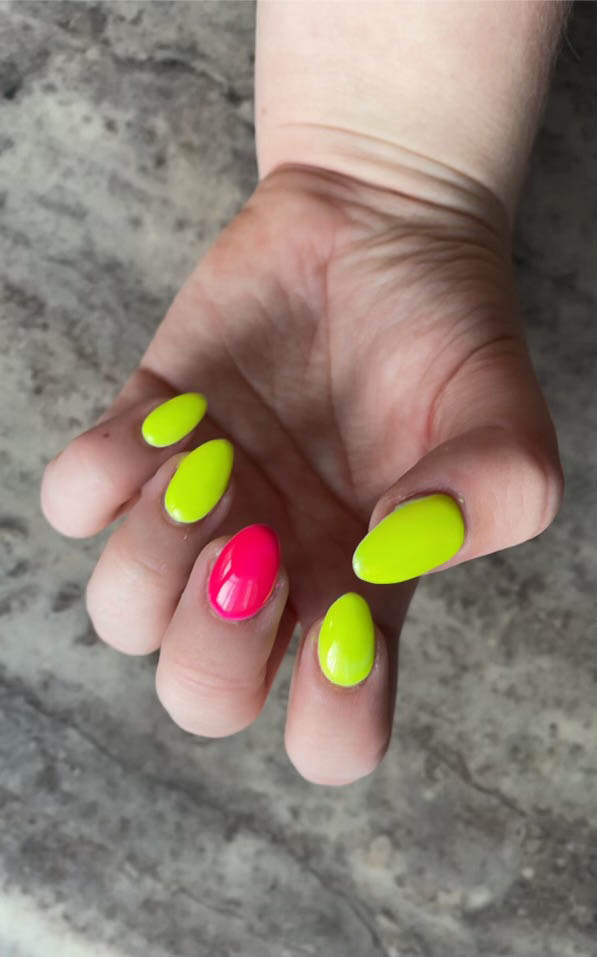 How to style hot pink and neon yellow nails
Pink and yellow nails are a perfect nail design to elevate any summer outfit. The bold neon shades look stunning on medium and dark skin tones and even light warm skin tones.
Pair your bold nails with more neutral outfits to look chic and modern. Nudes, whites, and black outfit pieces will create contrast and pop your neon pink and yellow manicure.
If you're not quite ready to commit to full neon nail designs but love a bold look, try a neon french manicure or a neon swirl on nude nails.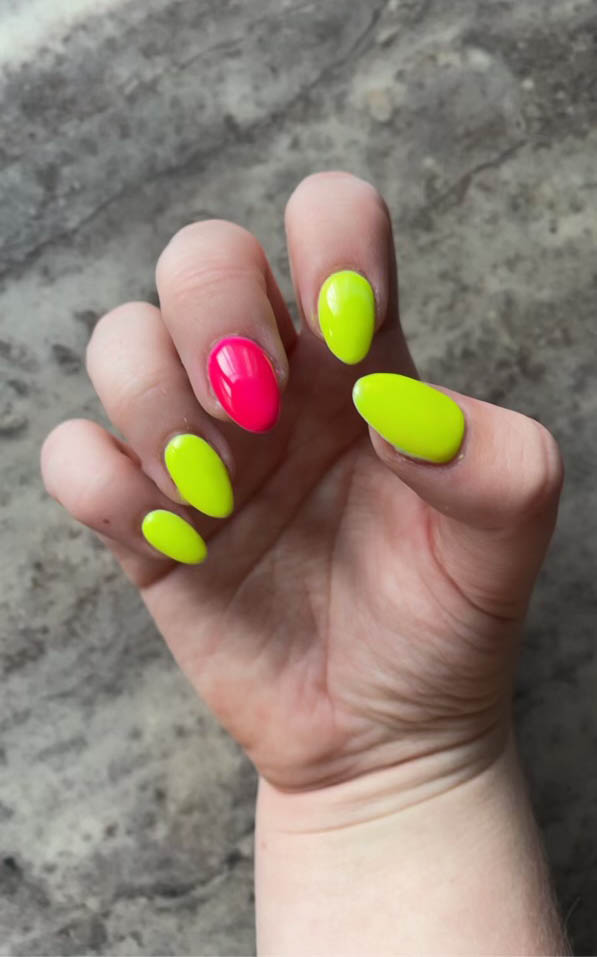 https://vibrantguide.com/wp-content/uploads/2022/05/neon-yellow-pink-nails.jpg
957
597
Anna
https://vibrantguide.com/wp-content/uploads/2019/01/logo2.png
Anna
2022-07-29 08:50:34
2022-07-27 17:00:52
Neon Yellow And Pink Nails Design