Hot Pink And Neon Green Nails Combo Idea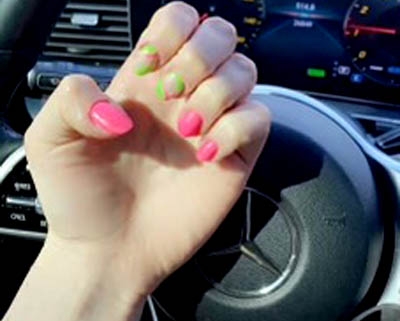 This hot pink and neon green nails combo mani is so perfect for the hot summer season! Summertime is full of sunny days, fruity drinks, and bold manicures.

Hot Pink And Neon Green Nails Combo Inspiration
A hot pink and neon green nail design is so fun and fresh. Adding a modern swirl design with the neon green polish on this DIY mani elevates the nail design to a whole new level.
Neon Green is the perfect choice for the accent nails on this manicure because it is absolutely trending lately. Neon green nail designs have been seen on celebrities, insta influencers, and everyday fashionistas.
The hot pink and neon green combo mani suits all complexions and is easy to create. Add a colorful pop to your summer style with this fresh nail design.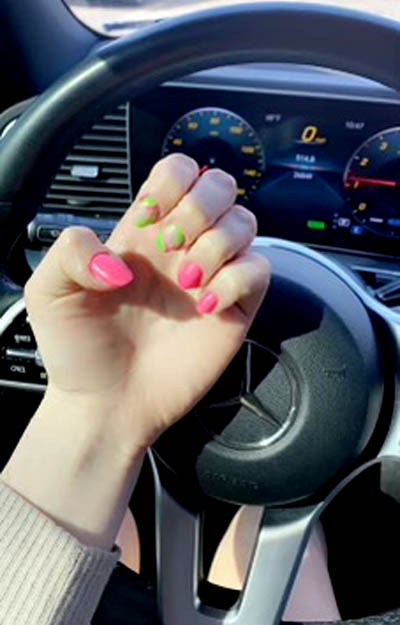 How To Do Hot Pink And Neon Green Nails Combo
For this DIY manicure, you'll need:
A Fine Grit Nail File
Neon Green Nail Polish
Hot Pink Nail Polish with cool undertones
Clear Top Coat Polish
A Thin Nail Art Brush
Because we are working with neon colors, opt for more opaque and thick polishes over sheer options to get the brightest color. You can also start with a white polish base coat to amp up the pigment power of your neon colors.
Pairing neon green and hot pink will either look amazing or clash terribly. The determining factor is the undertones. Undertones are what make a hot pink polish feel warm or cool. Neon green is a cool-toned color, making it important to choose a hot pink with cool undertones. Avoid coral and orangey hot pinks.
Hold the polish colors up together and ask yourself if they seem to coordinate or clash. Choosing a hot pink with cool undertones will ensure your DIY nail design looks phenomenal.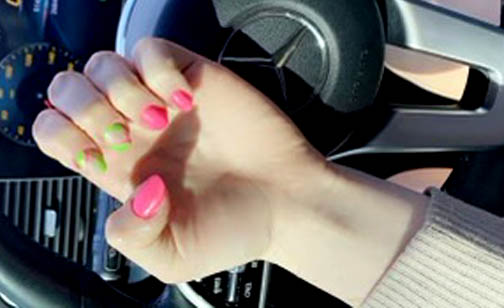 How To Do Hot Pink And Neon Green Nails Combo: Almond Nail Shape Tutorial
First, trim and file your nails. For this summer nail design, I chose a shorter almond shape. The almond-shaped nail trend originated on screen when actresses Elizabeth Taylor and Lucille Ball popularized the almond shape for manicures. Fashion magazines quickly picked up on the new style, and the almond shape became the trending shape for everyday women's manicures.
An almond nail shape visually elongates fingers and has a feminine vibe. It pairs beautifully with the modern swirls on the accent nails. To create the almond shape, equally file both sides of your nail towards the center of the nail tip, leaving a small flat tip. Then round out the sharp corners of the nail tip to create a soft, blended arch.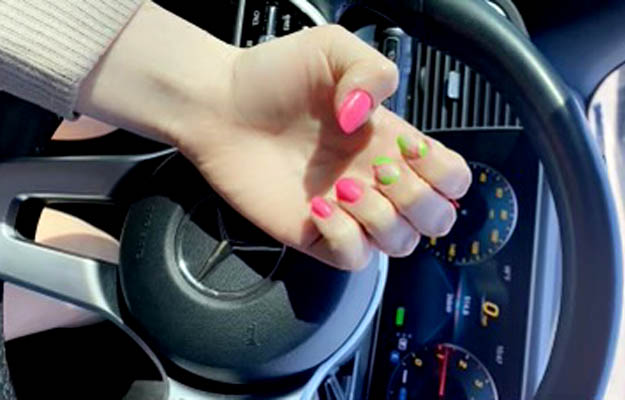 How To Do Hot Pink And Neon Green Nails Tutorial
For this manicure, I painted two coats of hot pink nail polish on my thumb, ring finger, and pinky. Once the pink polish has dried, take the nail art brush and paint two organic swirling lines at a diagonal on your accent nails. Fill in the lines on the cuticle side and on the nail tip side to create two blobs of neon green with negative space in the center.
Allow the lines to flow organically, don't be too stressed about getting it perfect. This is a time to let your creativity flow. You can fill in the neon green areas with a second coat if it is too sheer.
Finish your DIY manicure with one or two layers of a clear top coat to protect your nail design. You can also use a silver-based glitter clear coat as a top coat to mix it up even more.
Other swirl nail design ideas you'll love: Yellow And Orange Summer Swirls Nails, Nude Nails With White And Gold Swirls, Pastel Summer Nails Swirls Design, Abstract Swirls Nails, Pink & White Swirls On Nude Nails, Blue Nails With Ring Finger Design, Lavender Nails Design, Beige Nails With White Swirls, Hot Pink Nails With Swirl Accent, Purple French Nail Design With Swirls And Flowers.

Hot Pink And Neon Green Nails Combo Style Ideas
Nail designs in hot pink and neon green are bold and fun, and this accent nail design is creative and fashionable.
This manicure is bold, so you can play it up with more bold colors. Neon colors all coordinate with each other. You could wear a hot pink summer dress and heels with this mani to stand out at an urban insta photo shoot or a party.
Or, if you want to tone down the look a bit, pair this bright mani with neutrals and nudes. Think dark denim and a white top with gold jewelry for a lunch date with friends.
If you love bold and bright nail designs, don't miss Summer Stripes Nail Design, Neon Yellow And Pink Mani, Black And Gold Nail Design Idea With Blue Nails Combo, Pink Flames Fire Design On Coffin Nails, Aqua Blue Nails, Pink And Orange Ombre Nails, and Shades Of Pink Nails With Ring Finger Swirl Design.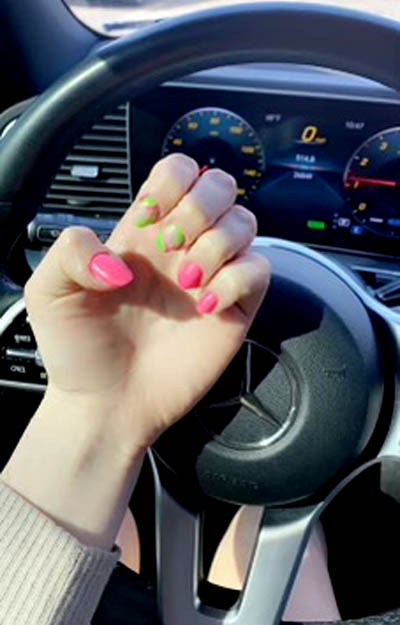 https://vibrantguide.com/wp-content/uploads/2022/07/pink-neon-green-nails.jpg
625
400
Anna
https://vibrantguide.com/wp-content/uploads/2019/01/logo2.png
Anna
2022-09-12 19:35:52
2022-09-16 21:34:53
Hot Pink And Neon Green Nails Combo Idea