Light Blue Short Coffin Nails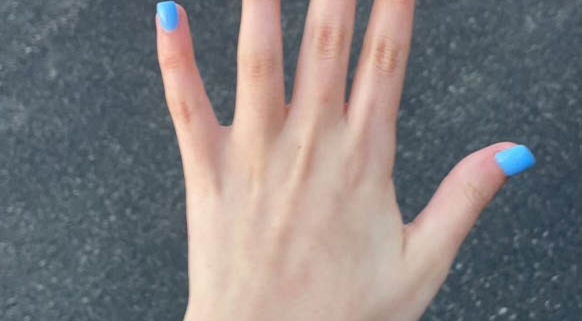 Light blue nail designs are timeless, feminine, and stylish. A light blue manicure is a classic option, but the nail design has been trending for the warmer seasons in the last few years.
Somehow both classic and trendy, this light blue short coffin nail design is perfect for both new DIY nail artists, the experienced home-mani-girls, and to show at the salon for your nail design inspo.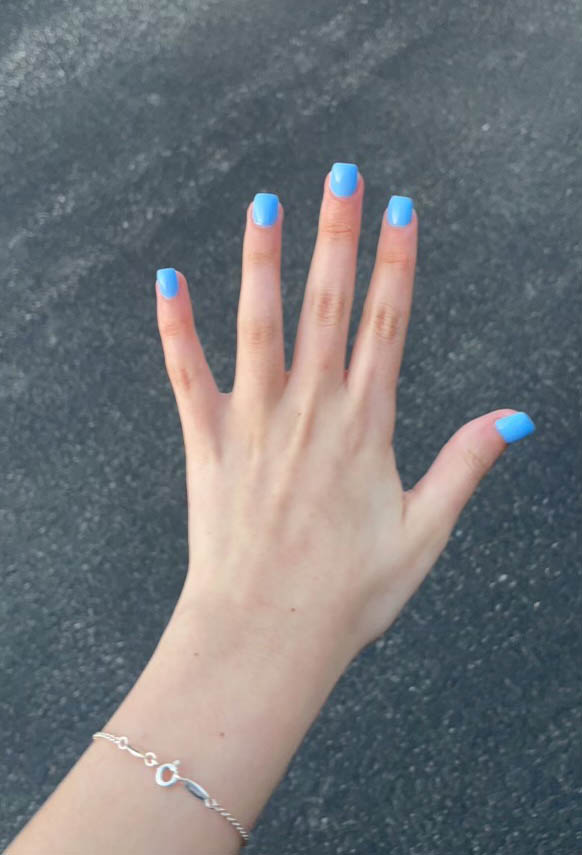 What Is The Meaning Of Light Blue Nails?
Light blue nail designs traditionally symbolize femininity, calmness, serenity, and youth. This nail design is having its moment lately, trending especially in spring and fall the last few years. Possibly linked to the viral Sky Blue Nails Trend TikTok Theory where women ask their male significant others to suggest a color for their manicure and are often answered with light blue.
Although not exactly a scientific study, there's something to the overwhelming popularity of light blue amongst boyfriends and husbands leading to a 'hidden meaning' of a light blue nail design signaling someone is in a committed relationship. It may be a coincidence or simply a TikTok trend, but it certainly has made waves.
Wearing a light blue nail design doesn't officially signal a relationship status. Many people may be unaware of the light blue nails meaning trend on TikTok, and people just like light blue for its aesthetic. Feel free to wear a light blue manicure regardless of your relationship status.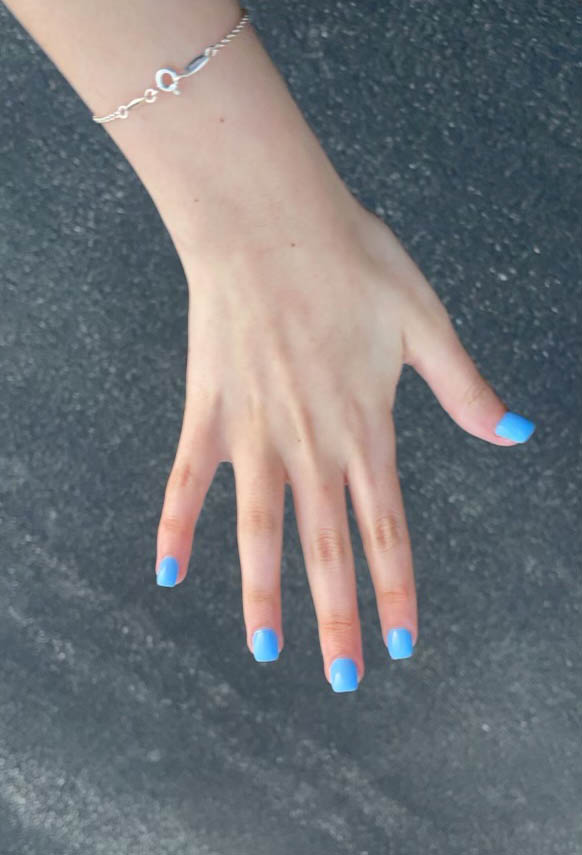 How To Do Light Blue Short Coffin Nails: Shape Nails
For this nail design, I chose a short coffin nail shape. This nail shape has a fashion-forward feel to it. Even the name 'coffin nail' sounds bold. A newer nail shape sturdy enough for everyday wear. They are angular, slim, and chic.
Coffin-shaped nails are typically long, but I chose a short nail length for this design. First, trim your nails to your desired length. Then, file the nail at a slight angle, filing outward from the nail base to a center point at the tip. Then, file the nail tip straight across into a blunt edge, just as you would a square nail.
If you plan to shape a longer coffin nail on natural nails, you will want them to be as strong and healthy as possible to prevent breaking. Apply a strengthening base coat before the polish steps.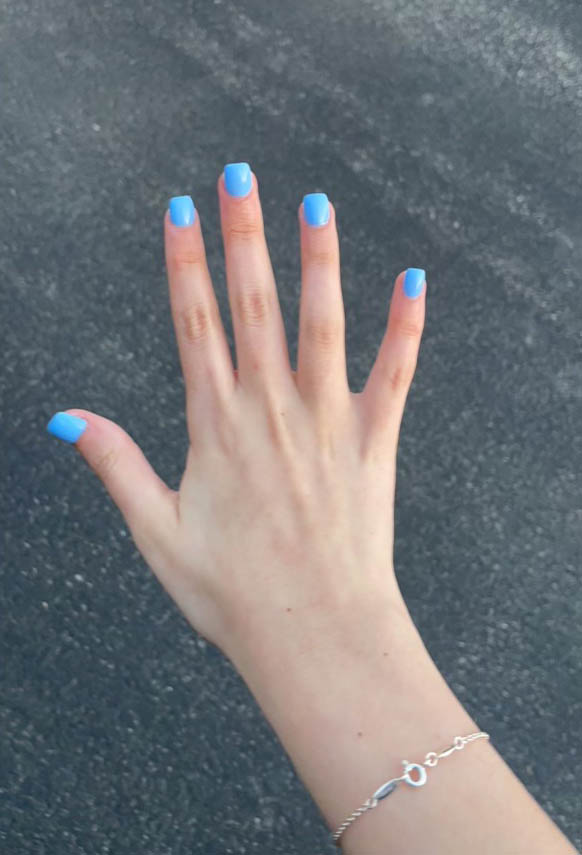 How To Do Light Blue Short Coffin Nails DIY Manicure Tutorial
For this nail design, only need a light blue nail polish and a clear topcoat are needed. If you are painting natural nails, start by applying a base coat of your favorite type (growth, strengthening, etc).
Then, paint two thin coats of light blue polish on all nails. Allow the color to dry completely before applying the next coat of polish. If you are newer to DIY manicures or have a shaky hand, you can carefully apply a thin layer of petroleum jelly to your cuticles and the skin around your nails to protect them from polish smudges.
Finally, finish this manicure with a protective topcoat to prevent chips and damage. Always give nail polish time to dry completely before applying multiple coats.
If you want to add an accent nail to this design, a simple swirl design is such a fun option.
More coffin shape nail designs to check out: Hot Pink Flames Fire Nail Design, Pink & White Swirls On Nude Nails, Brown Long Coffin Nails, Summer Stripes Nail Design, Purple Nails With Abstract Design, Gray And Silver Metallic French Manicure, and White Nails With Gold Foil Accent Finger.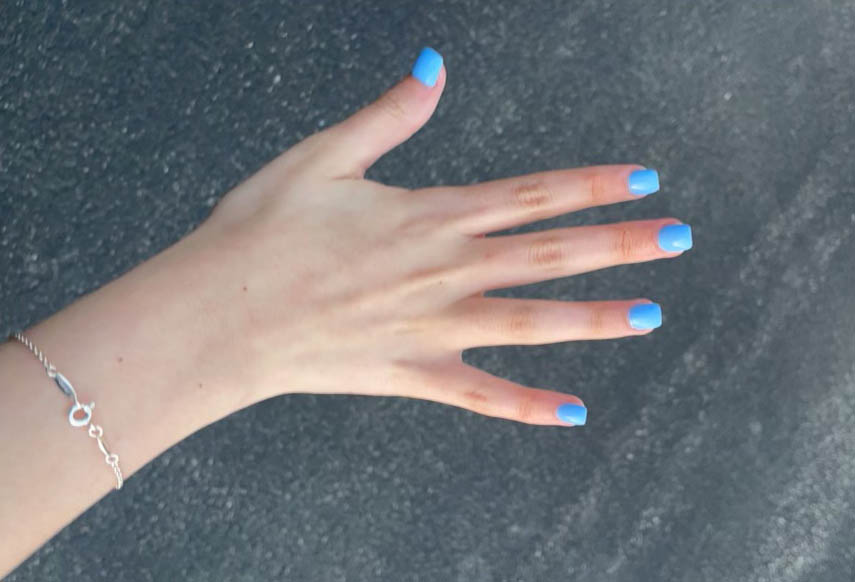 Light Blue Short Coffin Nails Style Inspiration
Light blue looks best with other cool tones, jewel tones, and nudes (including whites, creams, and tans). You can pair your light blue nail design with peachy hues and pinks for a complementary vibe. Light blue short coffin nails are stunning in spring but can be worn year-round. A peachy summer dress and sandals would be just as pretty as a silver sweater and dark denim outfit in winter.
This light blue short coffin mani is a pretty, feminine nail design. It is sure to give you a calm and classic aesthetic.
More blue nail designs you will love: Sky Blue Coffin Nails, Cobalt Blue Nails With Heart Design, Aqua Blue Nails, Light Blue With Swirls Nail Design, Lotus Flower Blue And White Manicure, Blue And Beige Ombre Nails, Light Blue Butterfly Nails, and Black And Gold Nail Design Idea With Blue Nails Combo.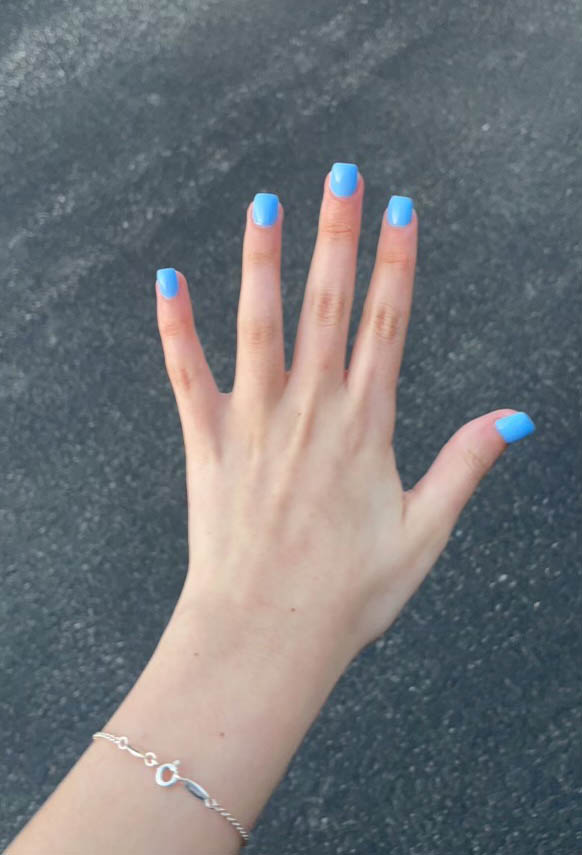 https://vibrantguide.com/wp-content/uploads/2022/05/light-blue-short-coffin-nails.jpg
855
582
Anna
https://vibrantguide.com/wp-content/uploads/2019/01/logo2.png
Anna
2022-09-13 07:17:24
2022-09-16 21:36:03
Light Blue Short Coffin Nails