Light Blue Butterfly Nails Design Idea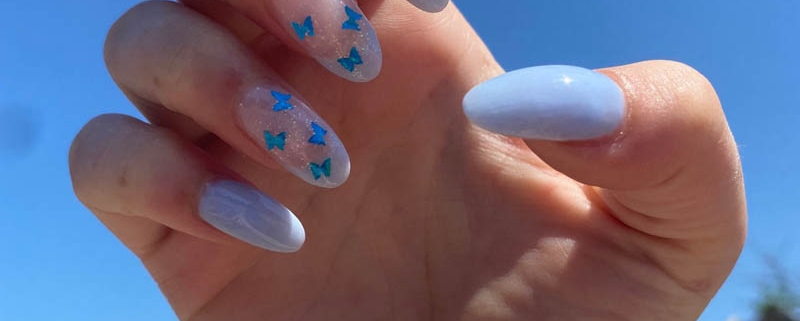 This blue butterfly nail design is so easy to replicate and looks amazing! Light blue manicures work year-round, but this light blue butterfly nail design is so perfect for spring and summer!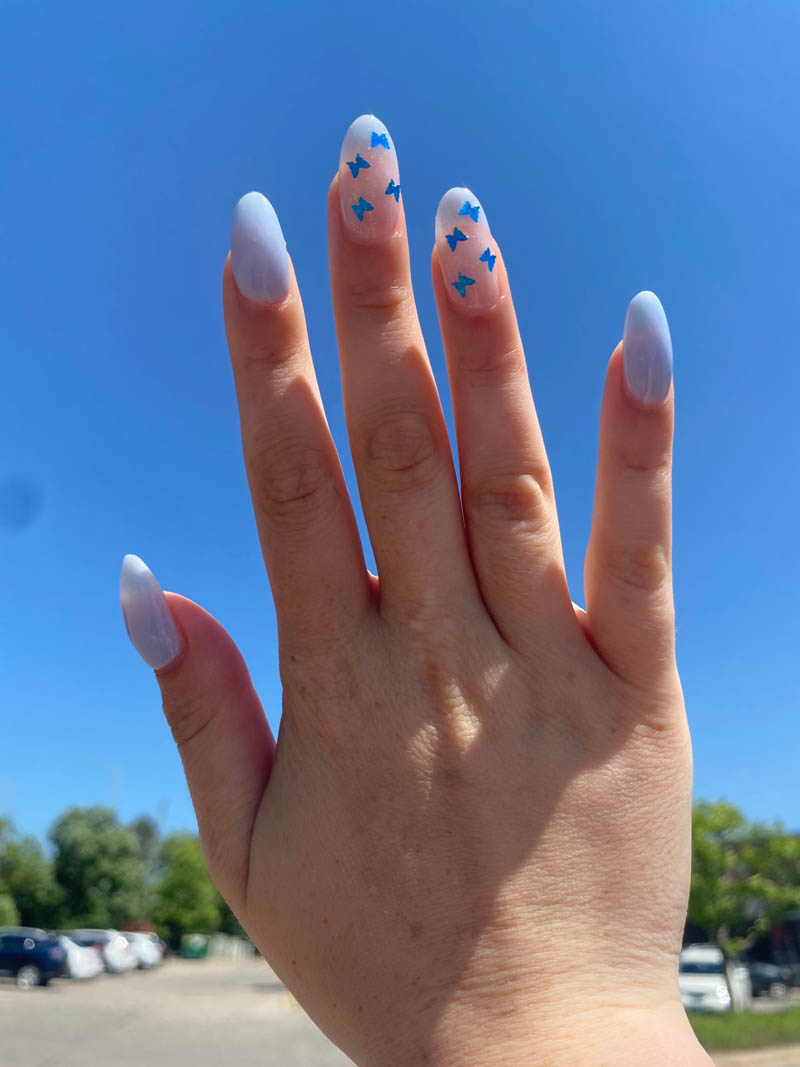 Blue is the most popular favorite color worldwide. Blue, especially lighter tones, has a positive calming effect on people. Blue symbolizes peace, tranquility, and even creativity.
What do light blue nails mean?
If you've been on TikTok for more than ten seconds, you'll know about the 2020 theory that if you ask a guy what color nails you should get, they will say 'light blue. Light blue nails can signal that you've got a boyfriend or are in a committed relationship.
Light blue nails can also mean that you just like light blue. After all, many people asked in the viral trend had no idea what hidden meaning blue nails held.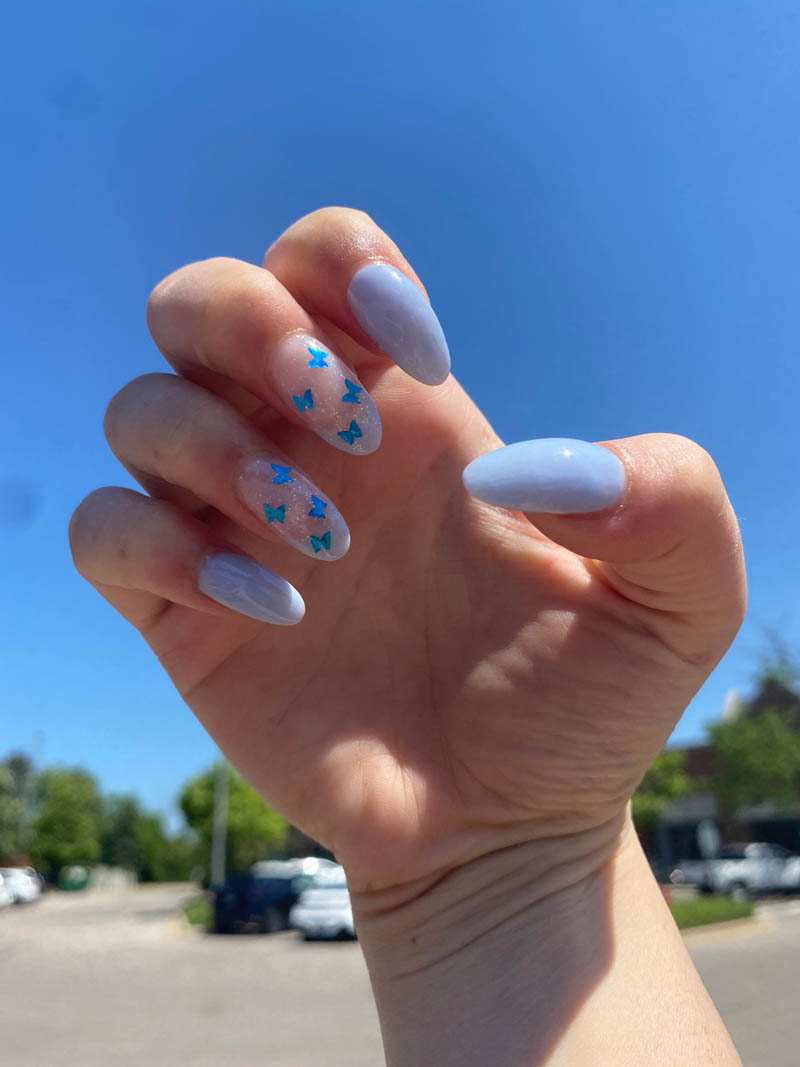 How To Do Light Blue Butterfly Nails Design: Almond shape nails
For this nail design, I chose to do two accent nails, my index and ring finger. You can do just one accent nail on your ring finger, or really any combination.
A longer almond-shaped nail gives plenty of space to showcase the gorgeous butterfly nail decals. Almond-shaped nails are a great choice to lengthen the look of your hands and are unlikely to snag clothes or chip polish with their rounded tip.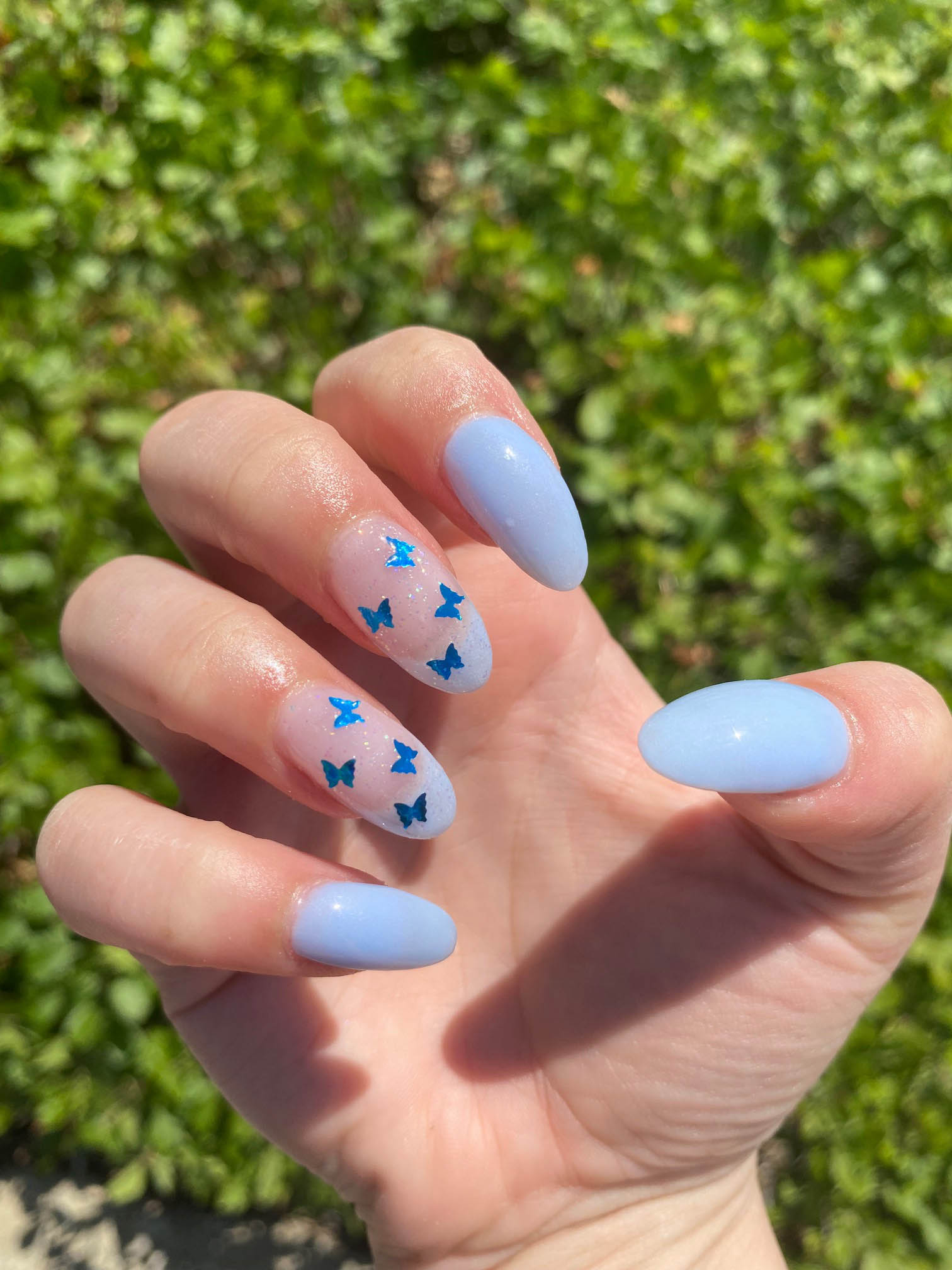 How To Do Light Blue Butterfly Nails Design: Accent Nails
Paint one to two thin coats of clear glitter polish on all accent nails. Allow the polish to dry completely before applying the butterfly nail decals to prevent smudging.
We will use butterfly nail stickers for the accent nails. Nail stickers typically come on sheets with various sizes or designs to have the most versatility.
Choose stickers that will fit fully on your nail bed to prevent the need to cut or file them. Some stickers can be filed off if they hang over your nail shape, but others will tear or crumple.
Using a set of tweezers, remove the nail sticker from the sheet. Gently place the nail sticker on your nail in the exact position you want it. Once the sticker touches your polish, you cannot move it without disrupting the polish. Gently smooth the sticker down, being careful not to smudge your polish.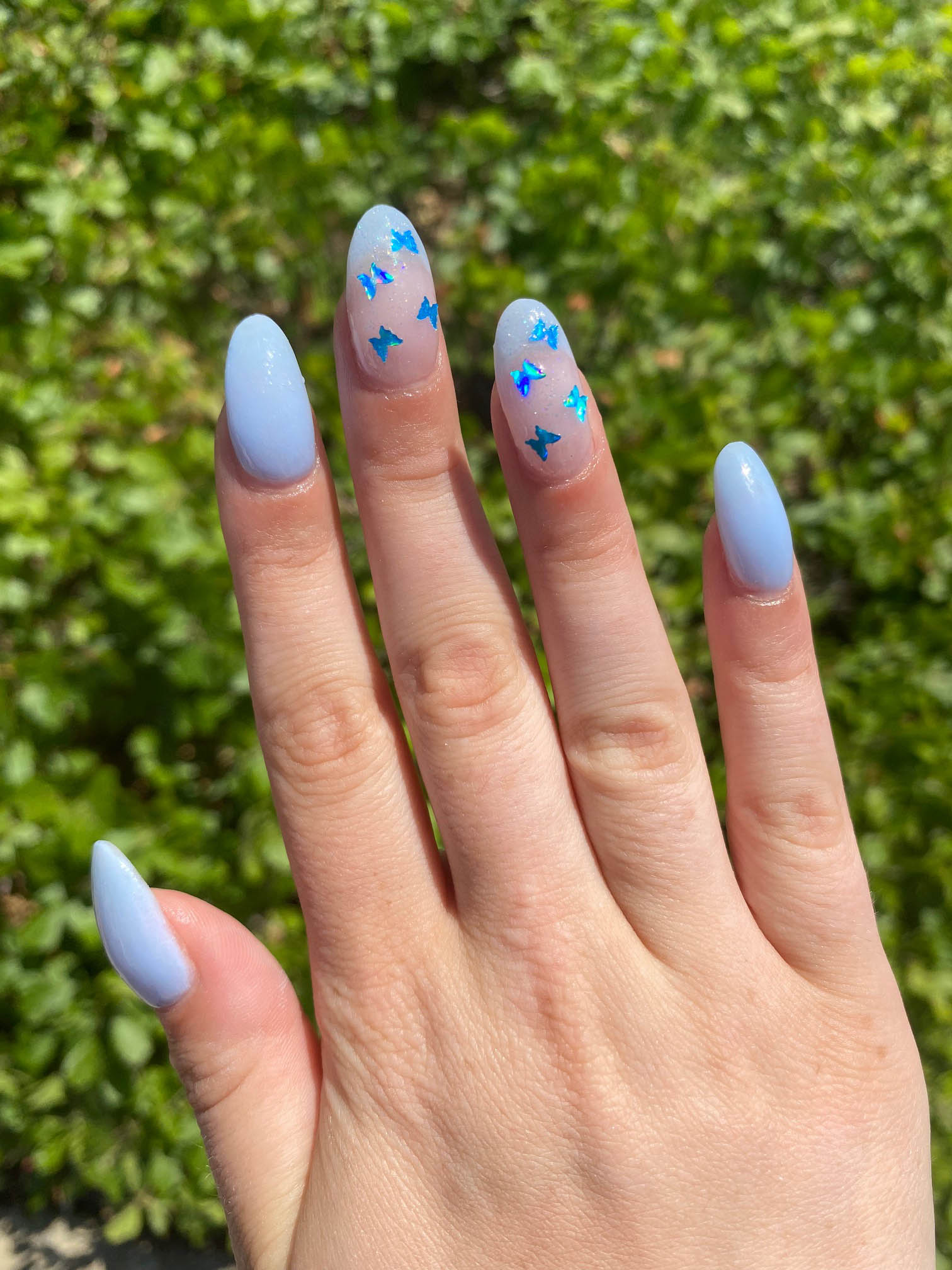 Once the nail decal sticker is placed, apply a clear topcoat to secure the butterflies and protect your nail design. If you skip the topcoat, your nail decals will likely peel up and even peel completely off. If you feel like the nail finish is too bumpy due to the thickness of the butterfly decal stickers, paint an additional top coat to smooth over the difference.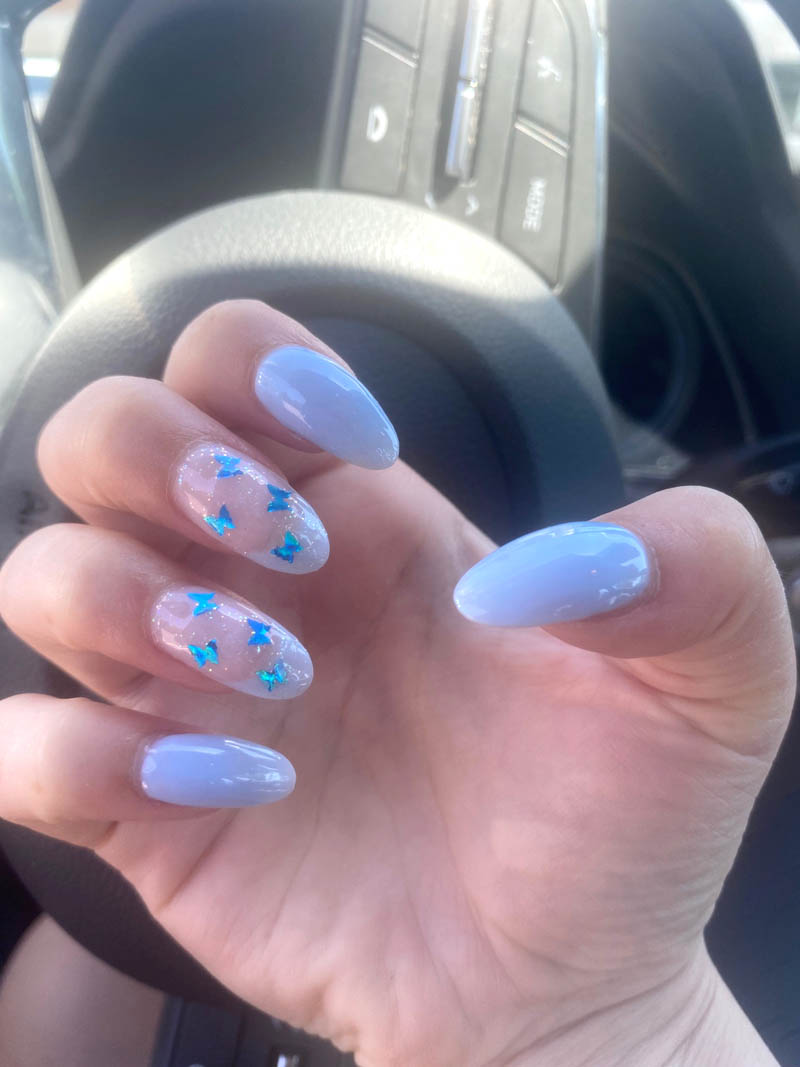 How To Do Light Blue Butterfly Nails Design: Blue Nails
Paint two thin coats of the light blue polish and allow it to dry completely before painting a clear topcoat.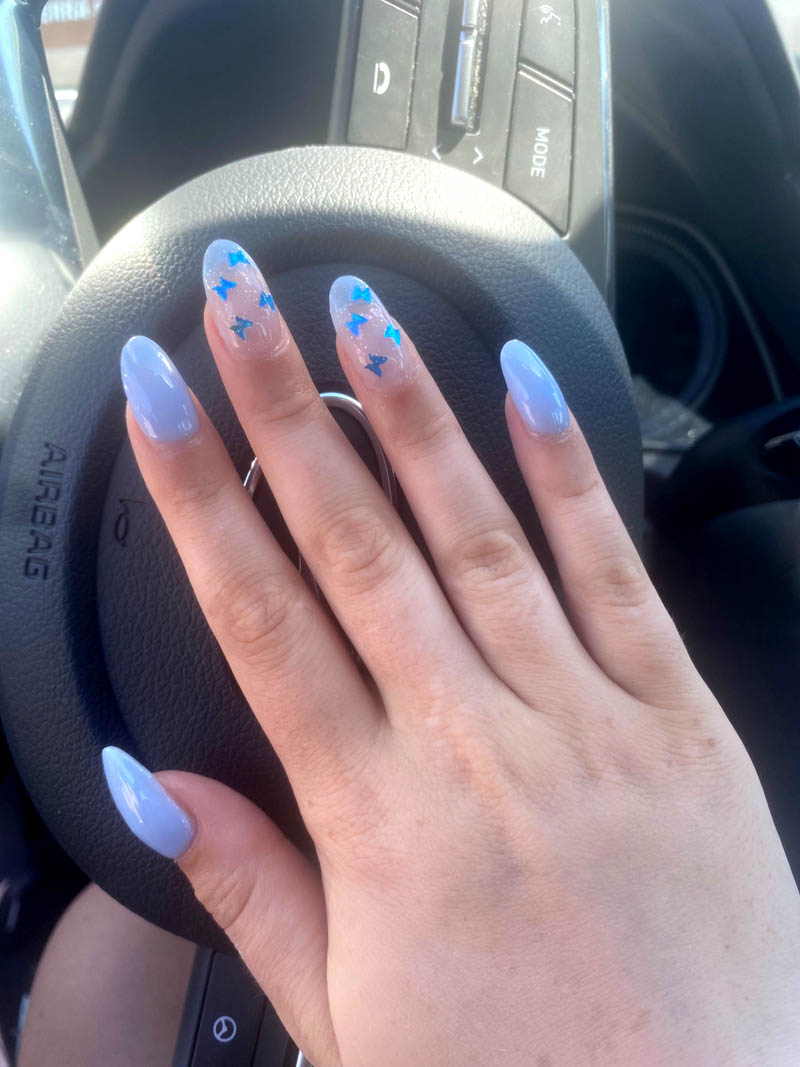 How To Wear and Style Light Blue Butterfly Nails Design
Light blue is a near neutral and looks so pretty with white, cream, beige, and gray outfits, although it looks good with most colors. It also partners beautifully in monochrome outfits, especially royal blue.
Light blue has been trendy since 2020, one of the most popular spring and summer colors year after year; a periwinkle blue is even the Pantone Color of the Year 2022. Light blue nail designs have become a timeless shade that is easy to wear and effortlessly chic.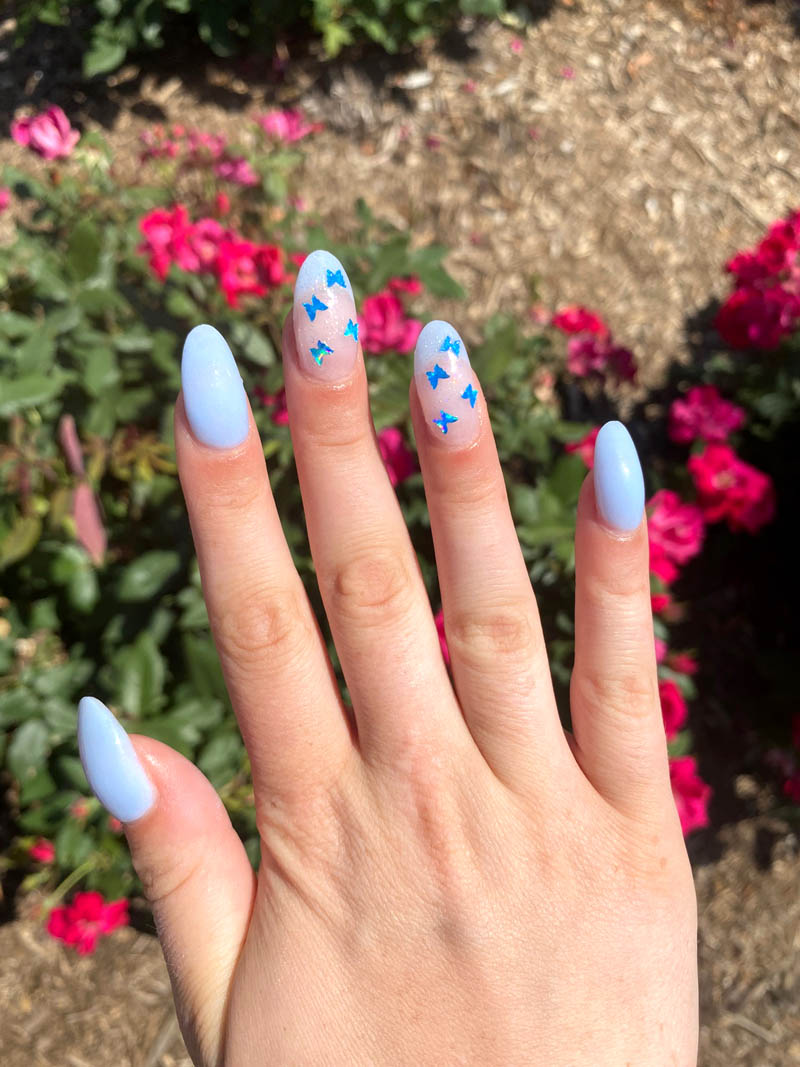 If you like blue nail designs, you will love Sky Blue Coffin Nails, Cobalt Blue Nails with Hearts, Aqua Blue Manicure, and Light Blue with Swirls Nail Design.
Love butterflies, but want a different color? See a similar butterfly nail design in white!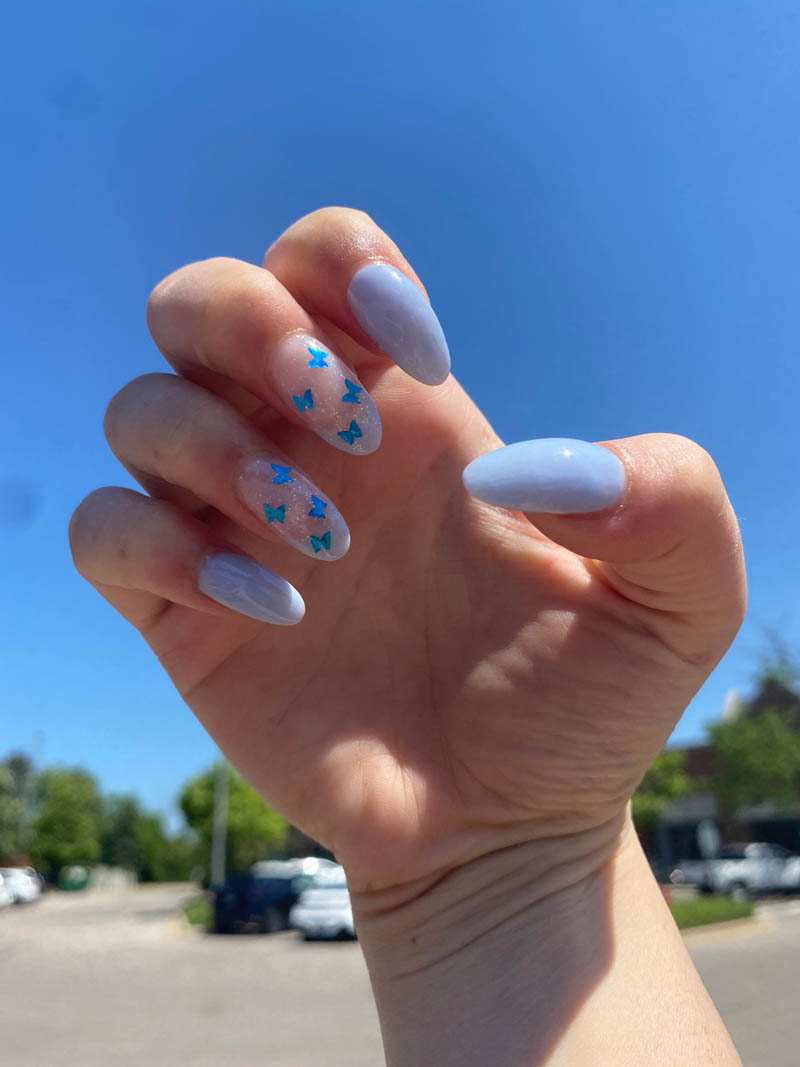 https://vibrantguide.com/wp-content/uploads/2022/07/blue-butterfly-nails-7.jpg
1067
800
Anna
https://vibrantguide.com/wp-content/uploads/2019/01/logo2.png
Anna
2022-08-12 18:44:30
2022-08-13 01:49:25
Light Blue Butterfly Nails Design Idea