Purple Nails With Smiley Face And Abstract Design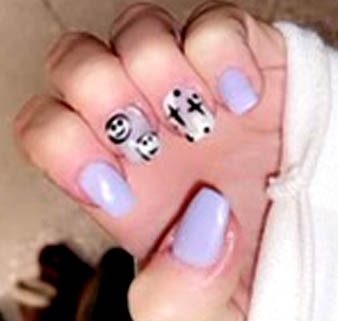 Get creative with this DIY nail design featuring hand-drawn smiley faces and abstract nail art accent nails. Light purple is soft and feminine but has a spunky vibe when paired with hand-drawn accent nails.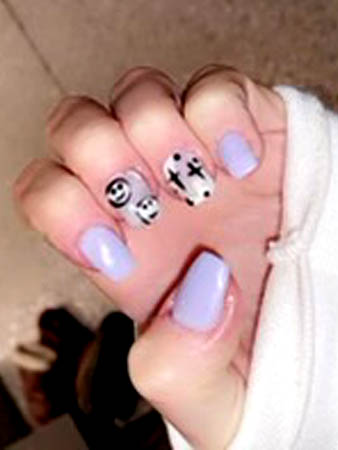 How To Paint Purple Nails With Smiley Face And Abstract Design
A medium square nail shape is the perfect base for the abstract nail art. This nail design would also look great on a coffin-shaped nail. A square nail shape is simple to create. Simply file the nail in a straight line, and take care not to angle the nail file when shaping the nail. Gently round out the corners just enough to remove any sharp edges, or round them out more for a squoval nail shape.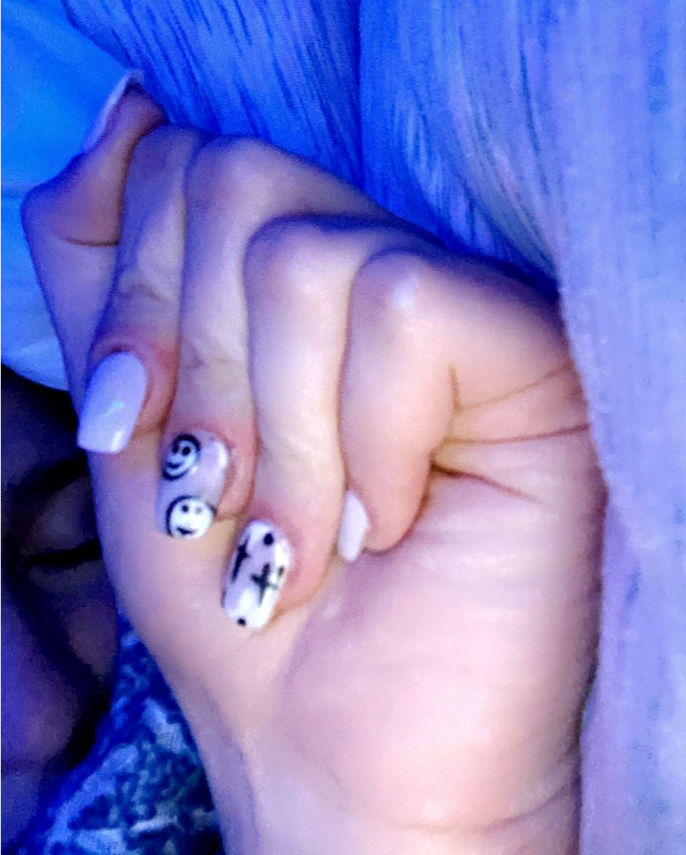 Purple Nails With Smiley Face And Abstract Design Tutorial
For this nail design you'll need:
A light purple nail polish
A semi-sheer white nail polish
Black nail art polish pen, fine tip
A clear topcoat
On the pointer finger, pinkie, and thumb apply two thin coats of a light purple polish. Allow the polish to dry, then paint the base coat of the remaining accent nails.
For the accent nails, paint an organic swish of sheer white polish on each nail. Keep the design abstract. If you prefer, you can paint the whole nail white.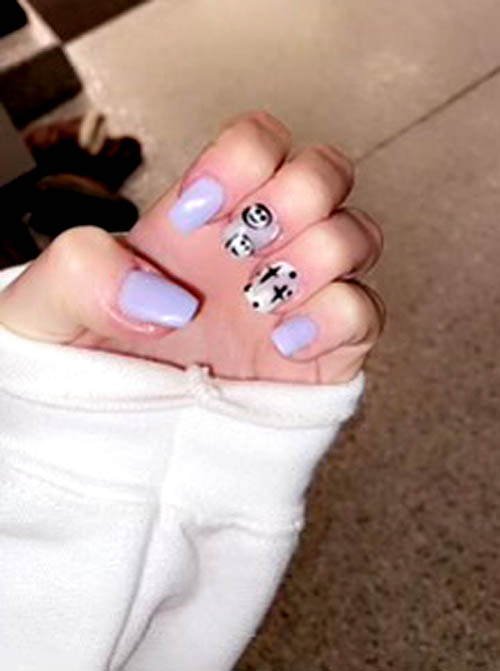 Smiley Face And Abstract Design Tutorial
Next is the abstract design accent nails. First, check to confirm the white polish is completely dry to prevent ruining both the nail design and the polish pen.
Confirm that the cap is on the polish pen well and shake the pen well to mix the polish inside. Nail art pens have a fine tip that is great for detailed designs but can be tricky to use for the first time. You may want to practice making designs on a piece of paper before committing to your nails. Practicing on paper first will help you get used to how the pen works and allow you to map out your design.
If you have a felt tip style pen, apply moderate pressure and practice finding out how hard to push. If you press too hard, the pen could leak out too much polish, leaving a blob of paint behind.
Once you feel comfortable using the pen, work slowly on one nail at a time. For the smiley design, draw a circle first, and then fill in the face. For the pictured abstract design, paint two crosses on each nail, then simply fill in the negative space with some fun dots.
Don't worry if you get a little polish on your skin or cuticles; it will come off with a bit of nail polish remover. If you're feeling lucky, you can even clean up a mistake on the nail itself by quickly using a cotton swab saturated with nail polish remover.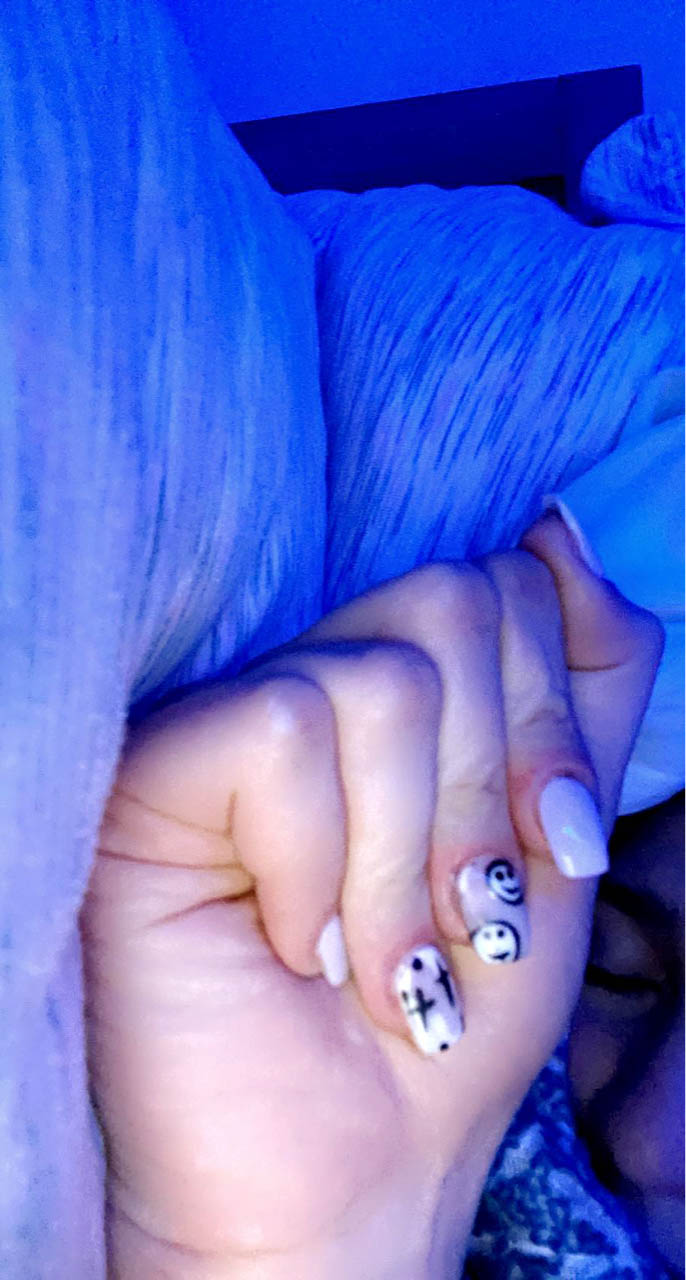 Purple Nails With Smiley Face And Abstract Design Style Inspiration
This nail design is refreshing and fun. The soft purple hue coordinates well with neutrals and other lighter cool tones. Beiges and blue tones compliment the purple nails and coordinate with the nail art design creating a put-together look.
Avoid warm tones like reds and oranges in your outfits while wearing this nail design. Silver jewelry looks best with purple tones, but with the graphic nature design, gold accessories would work just as well.
This nail design is classy yet funky, perfect to show off your big personality in a little way.
If you like nail designs in purple hues, you'll love Light Purple Nails With Flowers, Abstract Pastel Nail Design, Purple Gradient Nails, Pastel Gradient Swirls Nails, Purple and Green Nail Design, and Easy Lavender Nail Design.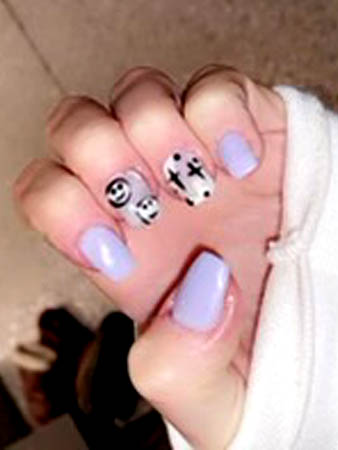 https://vibrantguide.com/wp-content/uploads/2022/07/purple-nails-smiley-face-2.jpg
450
338
Anna
https://vibrantguide.com/wp-content/uploads/2019/01/logo2.png
Anna
2022-08-16 08:18:11
2022-08-18 01:04:35
Purple Nails With Smiley Face And Abstract Design