Simple White Nails Design With Light Purple Green Color Block

This simple white manicure upgraded with light purple and gentle green color block makes a fresh and fun manicure. The lilac purple and mint green combination evokes a delicate and sophisticated aesthetic perfect for the spring and summer season.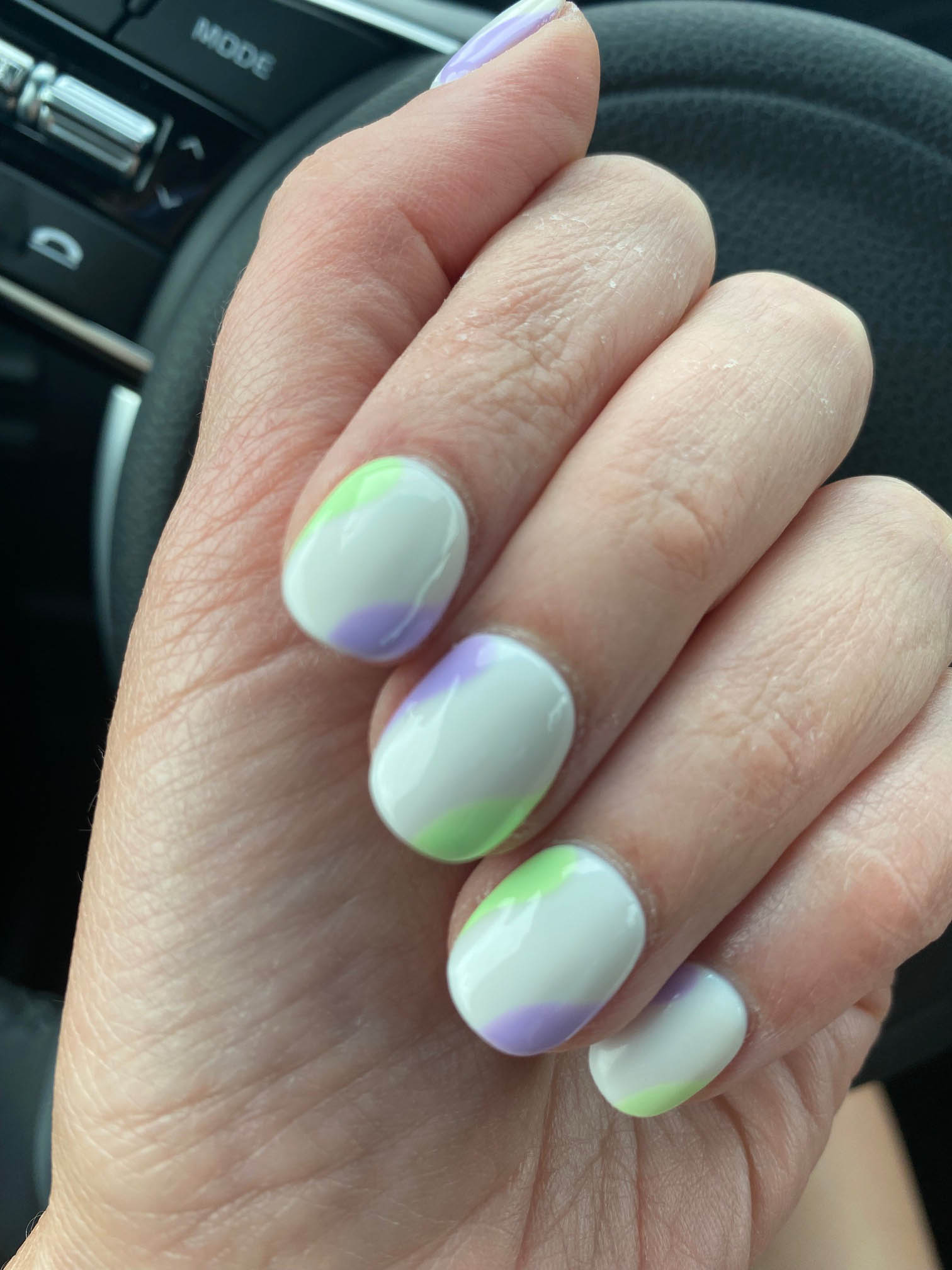 How To Paint Simple White Nails Design With Light Purple Green Color Block
To get the perfect look, start by choosing opaque pure white polish for the base. Choose a white polish that has neutral or even cool undertones to match the cool tones of the soft purple and mint green polish colors.
Then shape your nails; I chose a short round nail shape for this design. Round nail shapes are an evergreen classic but are having a big moment as shorter round nails are trending this year.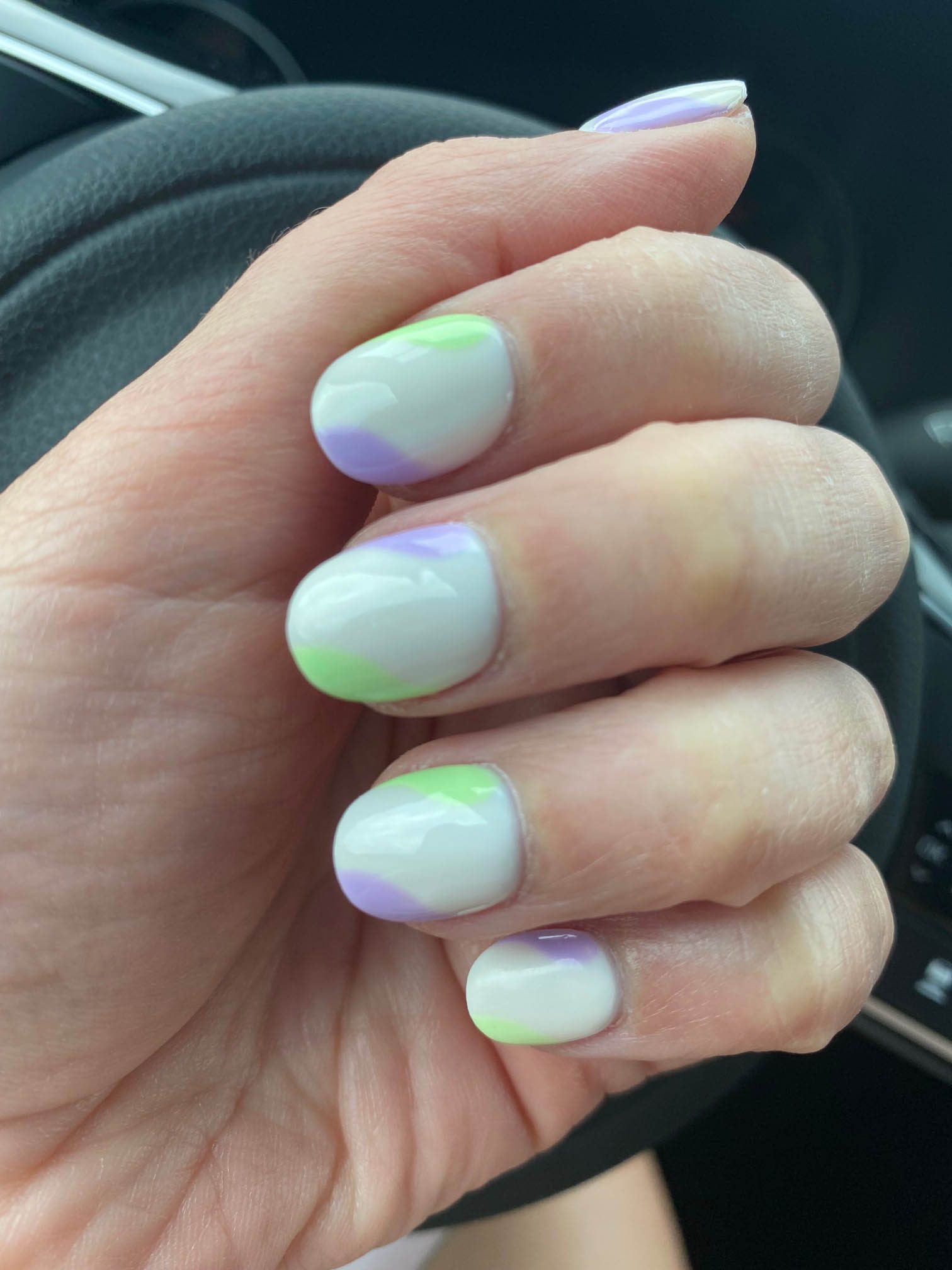 Simple White Nails Design With Light Purple Green Color Block Tutorial
For this nail design you'll need:
A bright lilac purple nail polish
A soft mint green nail polish
A truly opaque white nail polish
A clear topcoat (always!)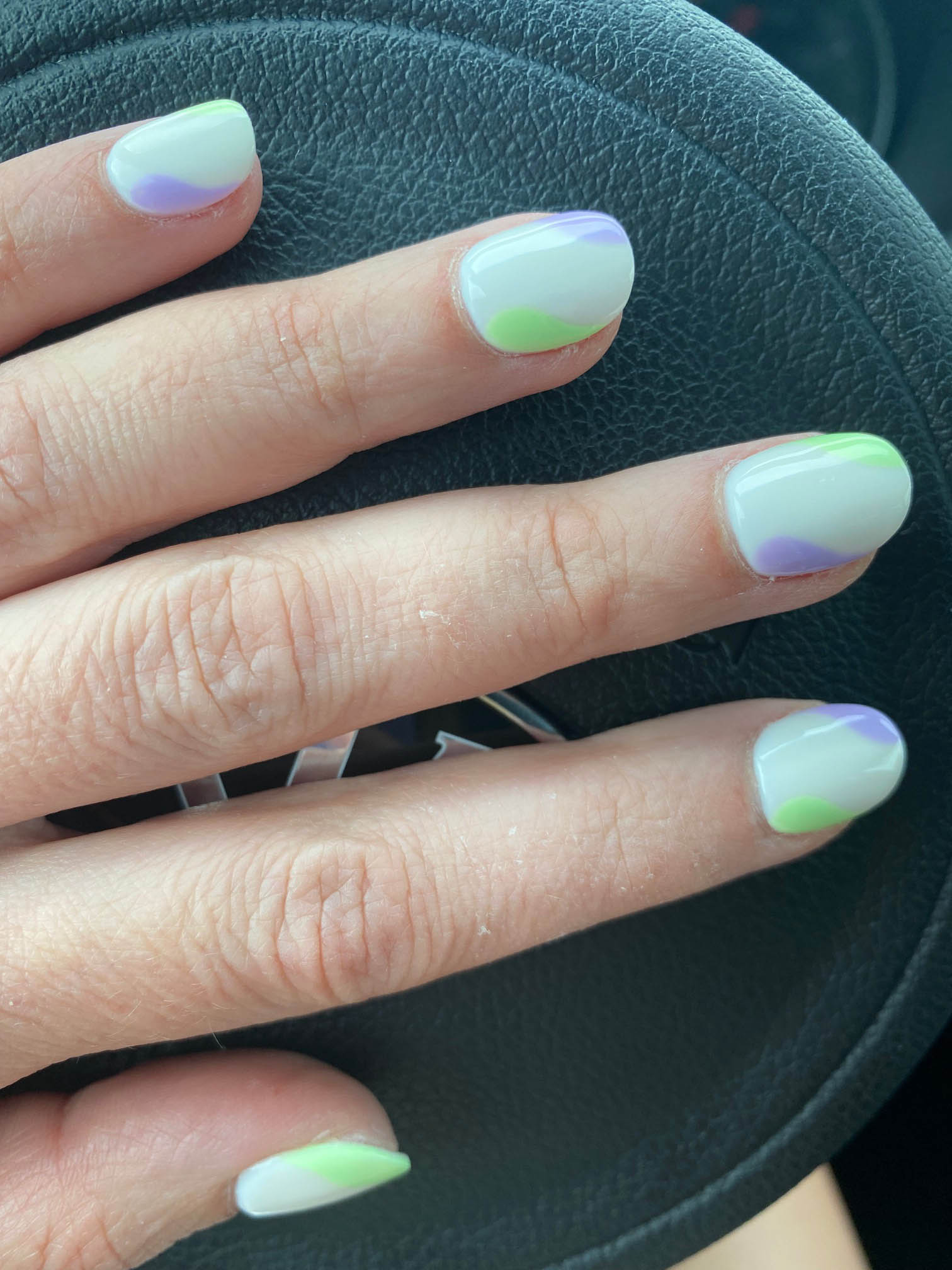 Once your nail is shaped and clean, apply two thin coats of white nail polish to all nails. If your white polish is not super opaque you may need an additional coat. Allow the polish to dry completely, especially if you've painted more than two coats.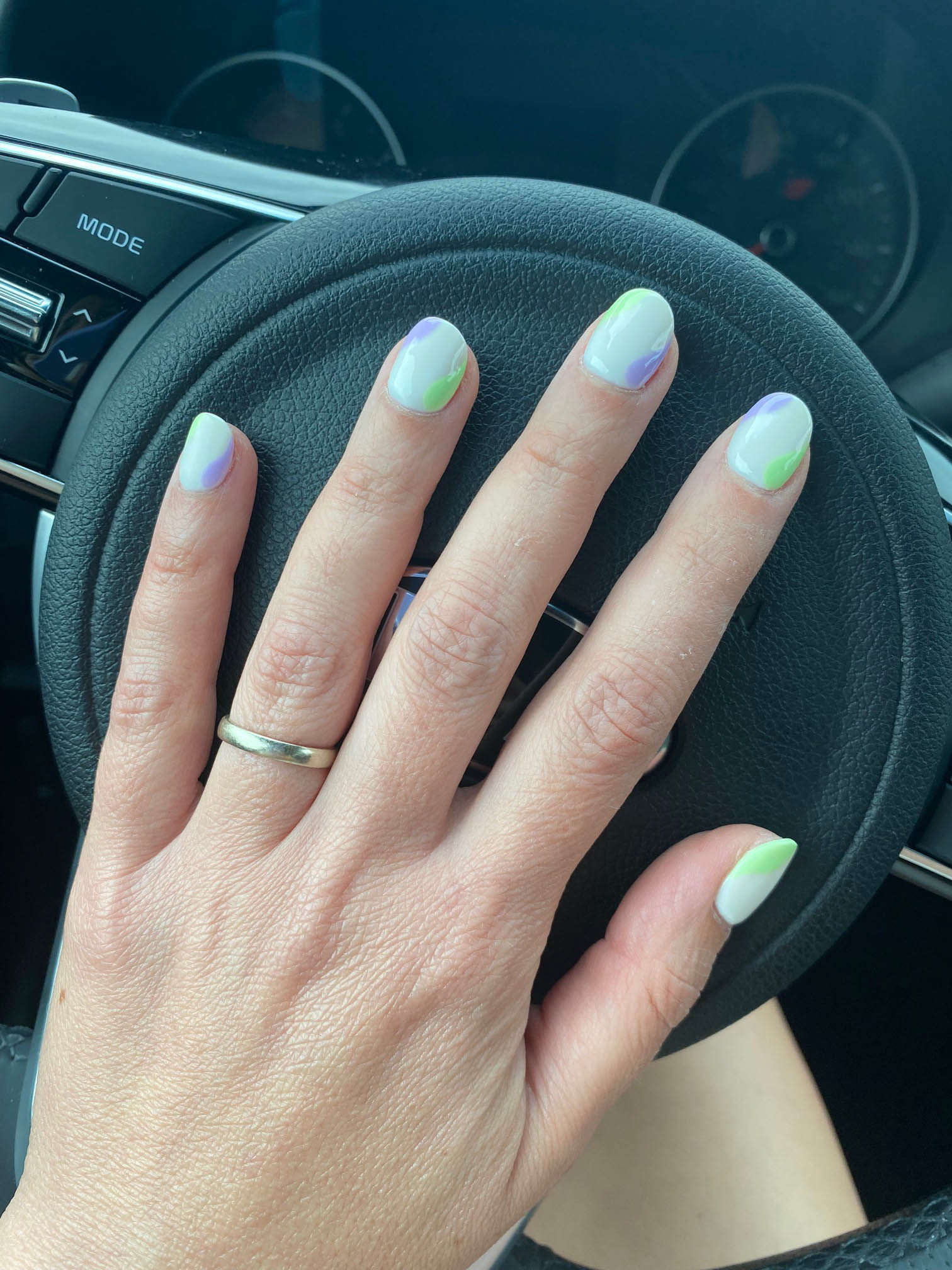 Next, is the color blocking. Similar to stripes and swirls, color blocking is a simple and creative way to combine colors in your nail designs.
Starting with the lilac purple polish, paint a swipe of polish on one corner of each nail. Make an organic curve with your polish brush, and don't worry about being too perfect with the placement.
I chose to alternate the colors on each nail but you can do the same color placement on all nails too. Either option gives you a unique nail design.
Then do the same technique with the mint green polish on the opposite corner of each nail, taking care not to smudge the purple polish. Keep your color block sections to less than around twenty percent of the total nail space for each color to ensure the white polish shows through most of the nail design.
Always finish nail designs with a clear topcoat to protect the polish and get the most longevity out of your new mani!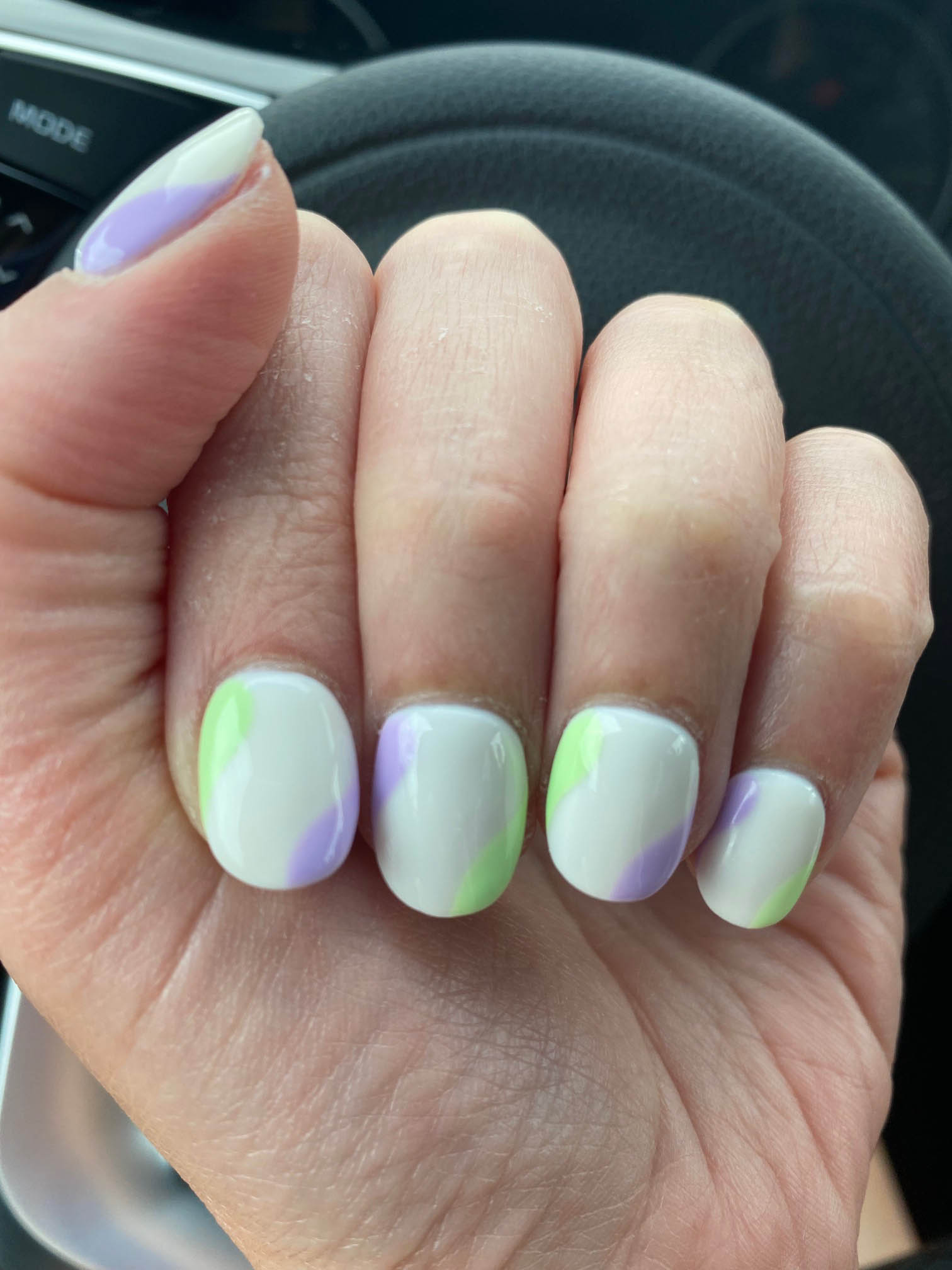 Simple White Nails Design With Light Purple Green Color Block Style Inspiration
This nail design is refreshing and uplifting, perfect for spring. The soft color palette will look perfect with outfits in neutrals or pastel tones. White, beige, violet and royal blue will all look stunning with this DIY manicure.
Avoid harsh and bold colors which will clash and take attention away from the softer tones of this manicure. Try a floral dress with lilac tones and tan strappy sandals to perfect your look with this unique nail design.
If you like more delicate and soft aesthetic nail designs in purple hues, you'll love Purple Flower Nails, Pastel Swirl Nails, Pastel Summer Manicure, and Lavender Nails With Swirls.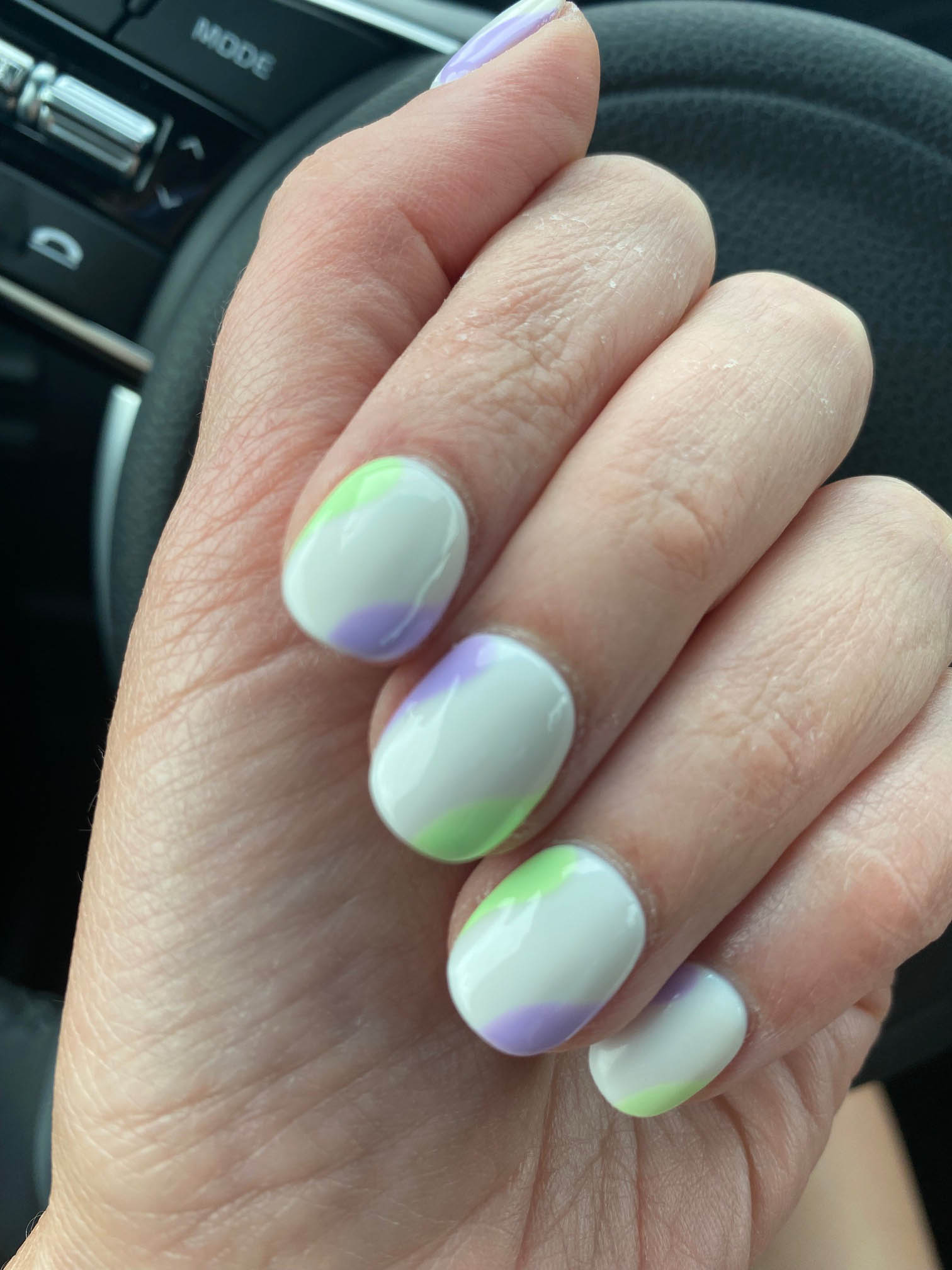 https://vibrantguide.com/wp-content/uploads/2022/07/white-nails-green-purple-2.jpg
2016
1512
Anna
https://vibrantguide.com/wp-content/uploads/2019/01/logo2.png
Anna
2022-08-09 19:01:49
2022-08-13 01:48:43
Simple White Nails Design With Light Purple Green Color Block