Light Green Nails Flower Design Idea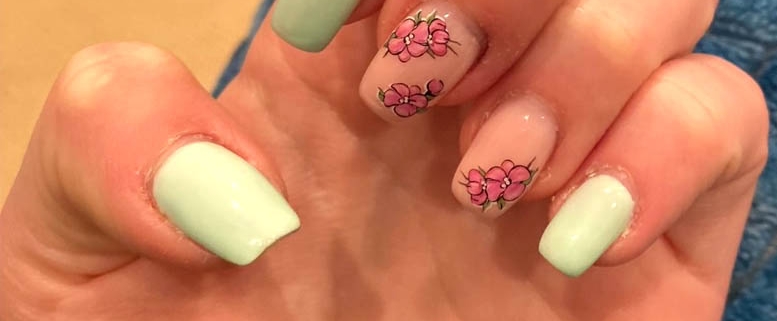 A fresh and feminine manicure, this light green and nude flower decal nail design is almost as simple as it is beautiful. The soft colors paired with pretty flower decals inspire a cheery design.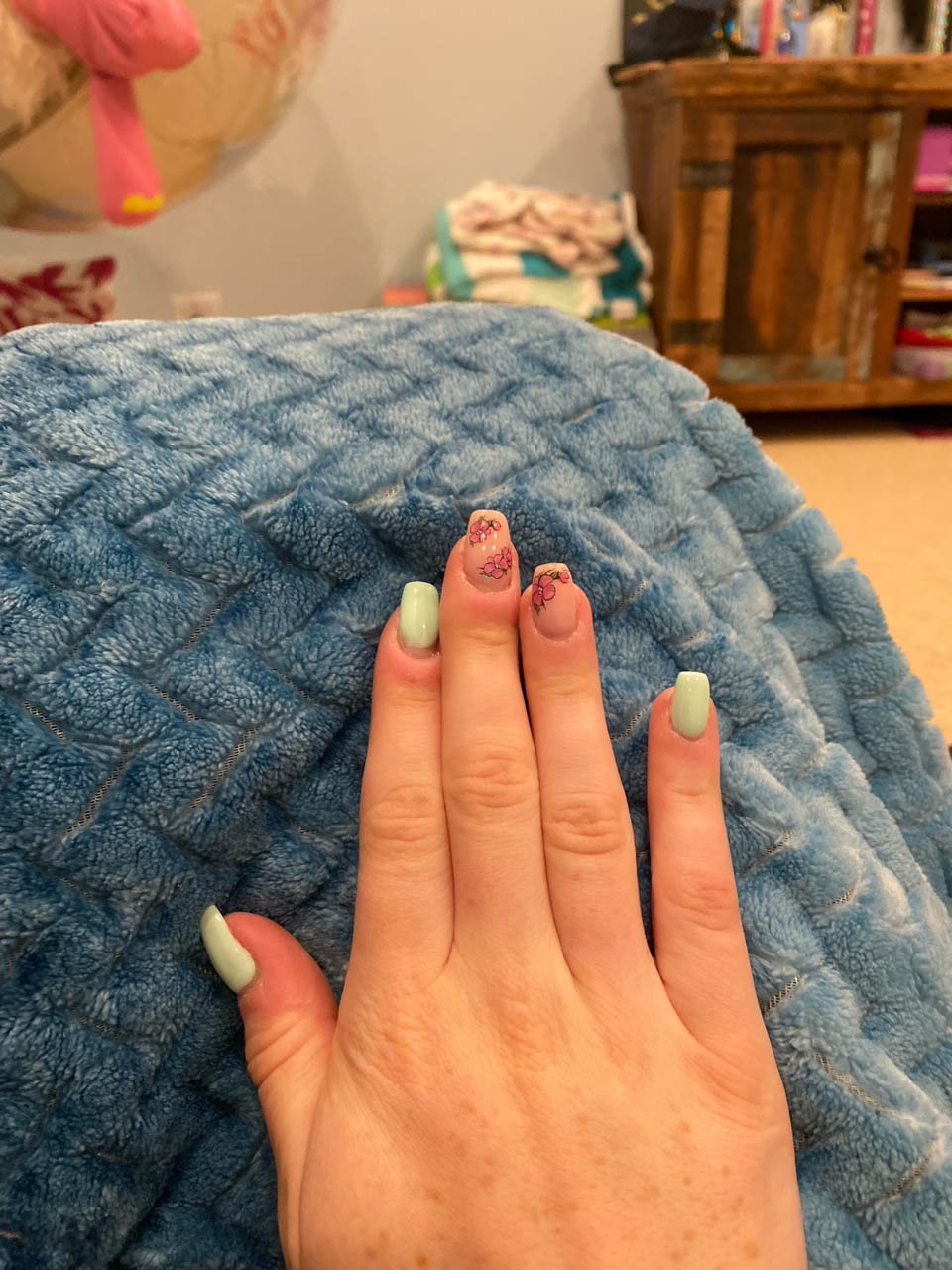 How To Paint Light Green Nails With Flower Design: Main Nails
For this nail design, I chose a squoval nail shape to balance the soft hues and feminine flowers. To file a square nail shape, file the nail tip at a straight line parallel with your nail bed base. Make sure you aren't filing at an angle or letting the file touch your skin under the nail. For a squoval shape, slightly round out the corners.
On the main nails (pointer finger, pinkie, and thumbs) paint two thin coats of a minty light green polish. If your polish is sheerer, you can paint a third coat. Always allow your polish to fulaly dry before moving to the next step.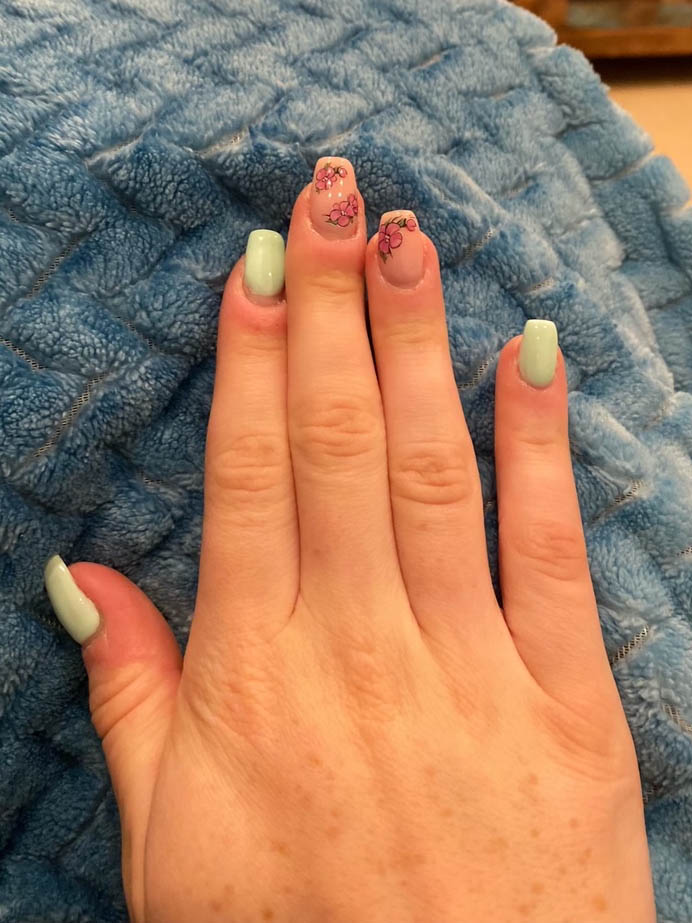 Light Green Nails With Flower Design Tutorial: Accent Nails
On the index and ring fingernails, paint two thin coats of a neutral or cool-toned nude polish. Allow the polish to dry one hundred percent before applying the decals to prevent smudging.
Nail decal stickers are trending right now. They are available at most beauty stores and online. Etsy even has custom options. Most come with multiple styles and sizes on one sheet.
For this design, choose flower stickers that fit on your nail bed. Some nail designs look great with cut and partial decals, but for this design, solid flower decals look best.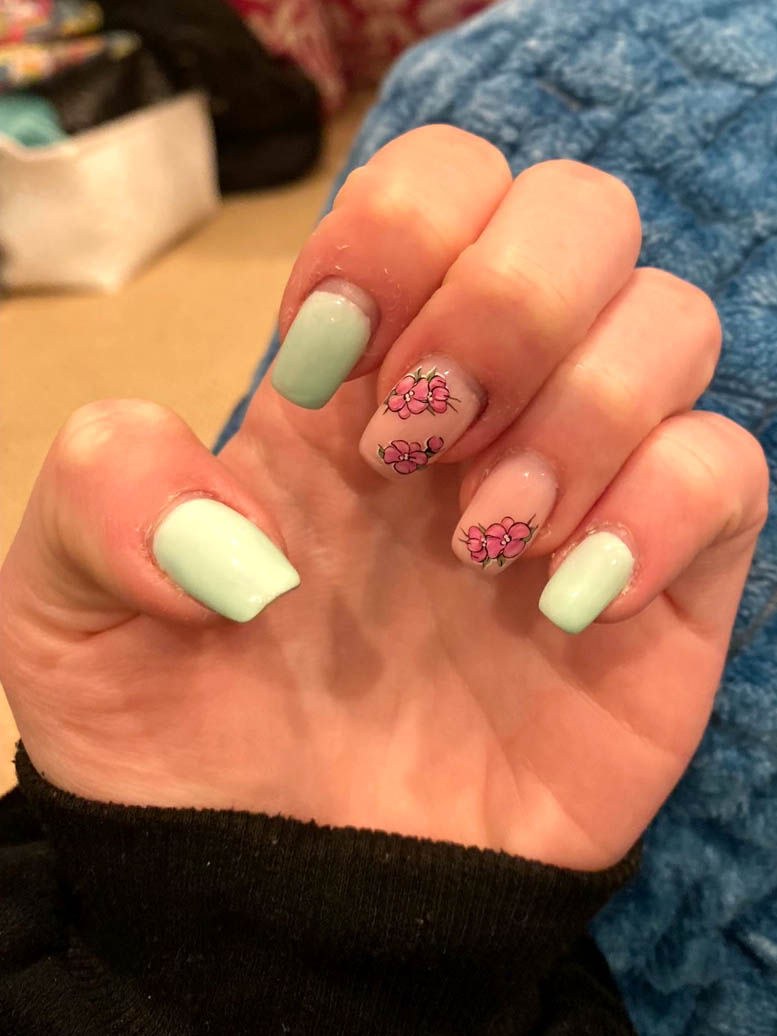 Remove the chosen decal from the sheet using flat-tipped tweezers. Carefully place the decal on your nail. Decal stickers are usually permanent and may pull up even dry polish, so be specific when placing them. With a clean finger, oh-so-gently smooth the sticker down, adhering it to your nail.
Once all the flower decals are placed and smoothed down, complete the nail design with a clear topcoat. Topcoat protects your polish from chipping and will secure the decals to your nails and prevent peeling edges.
If you'd like, paint an additional top coat to smooth over and dampness if the flower decals are a bit thicker or if you simply prefer a smooth topcoat.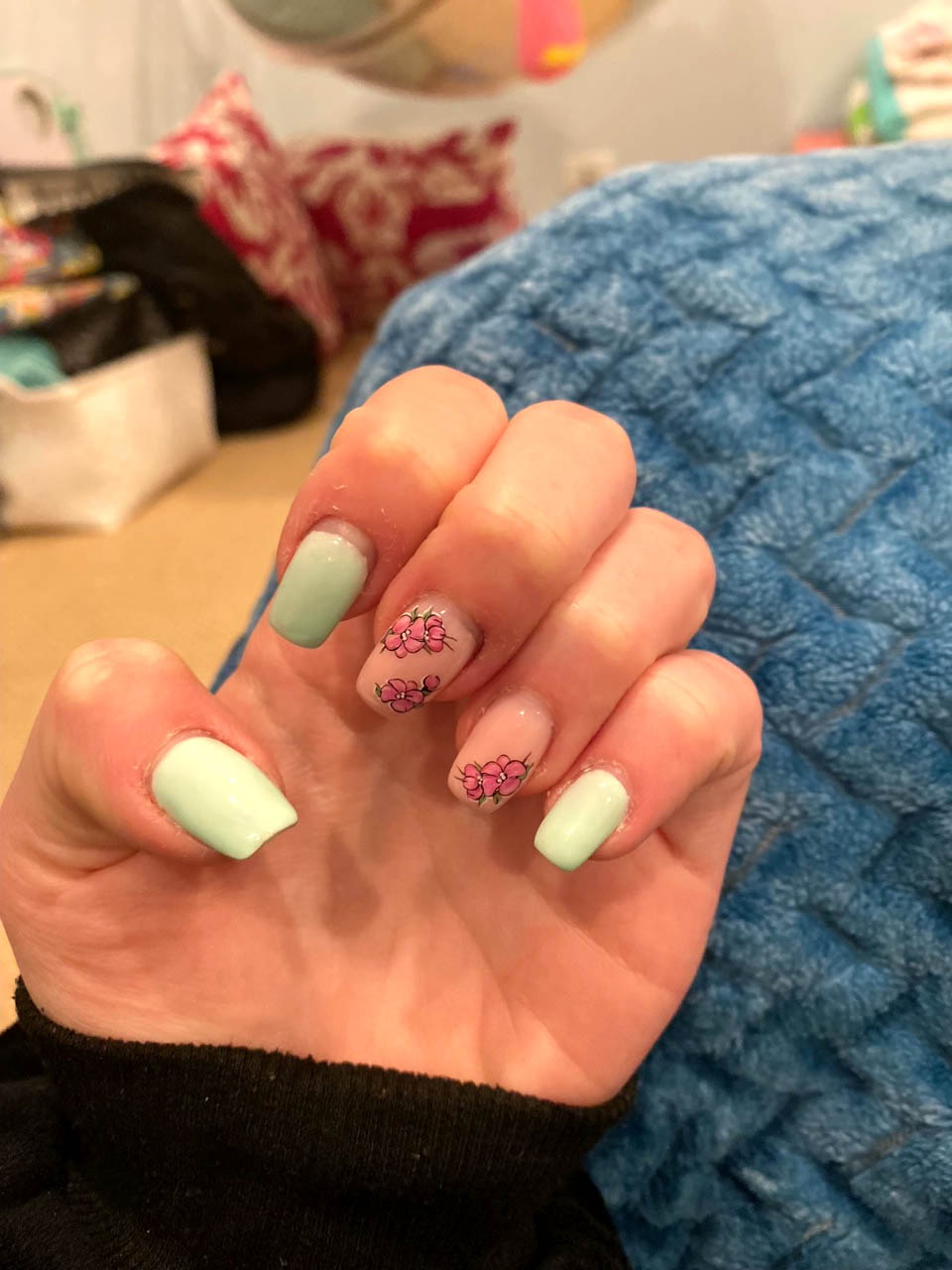 How To Style Light Green Nails With Flower Design
All shades of green are having a big moment in the fashion world this year, from deep forest greens to light shades like this nail design. Styling options are vast; all neutrals will look fresh and stylish with this nail design.
Take inspiration directly from the colors in this nail design and choose a pastel or dusty rose or a soft minty green spring dress. A floral dress is a perfect feminine fashion choice to pair with this nail design.
Add tan or animal print accessories and silver jewelry to finish the look.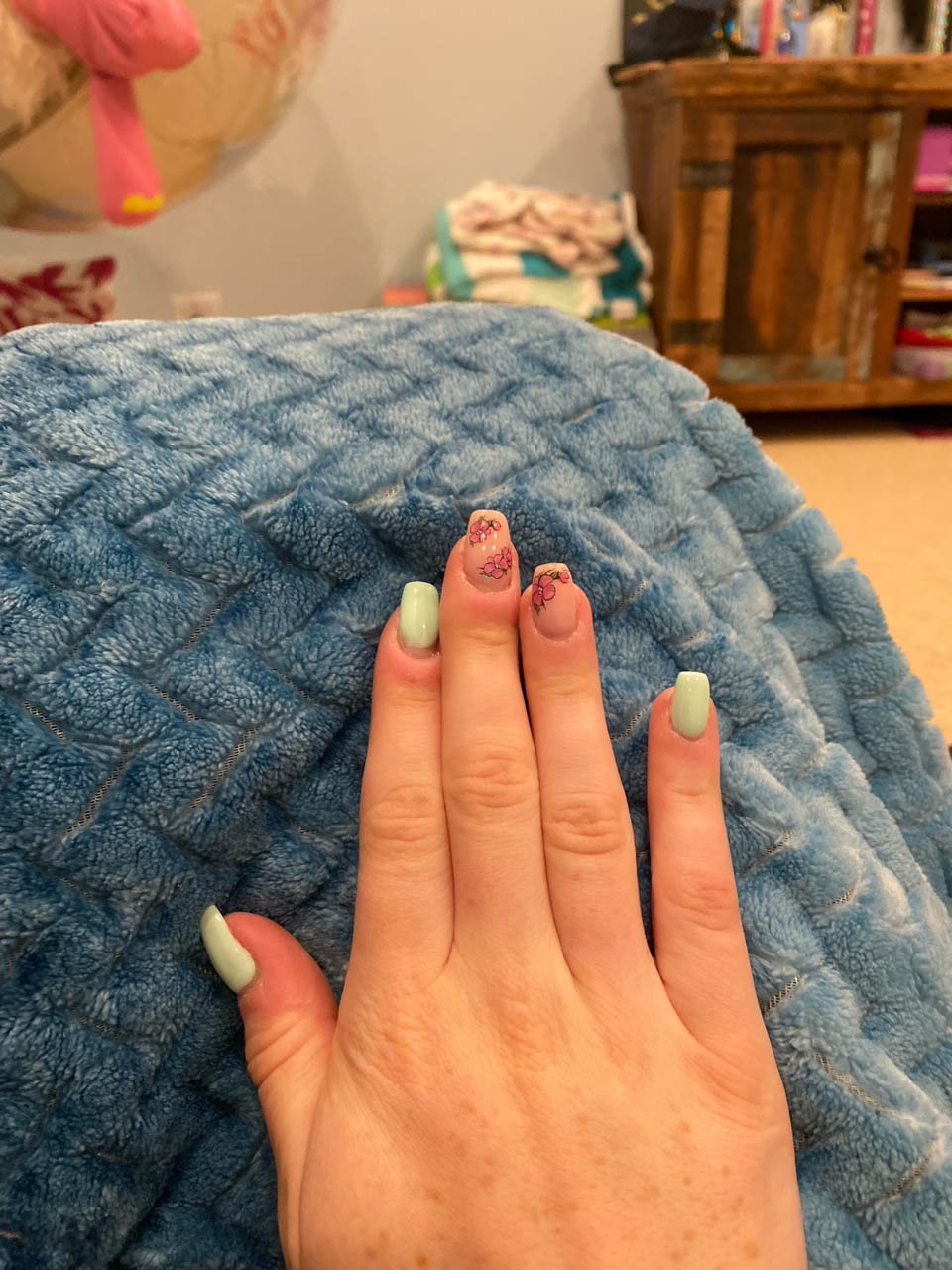 If you like soft and colorful nail designs, you will love: Simple White Nails Colorblock Design , Light Purple Flower Nails, Pastel Summer Nails Idea, Light Pink Nails With Gold Foil Floral Accent, Light Pink French Tips, and Abstract Swirly Nails.
Nail decal stickers are having a big moment, these Light Blue Butterfly Nails and White Nails With Butterfly Stickers Nail Design are so pretty!
If your looking for more flower nail designs check out Flower Nails – Designs and Ideas.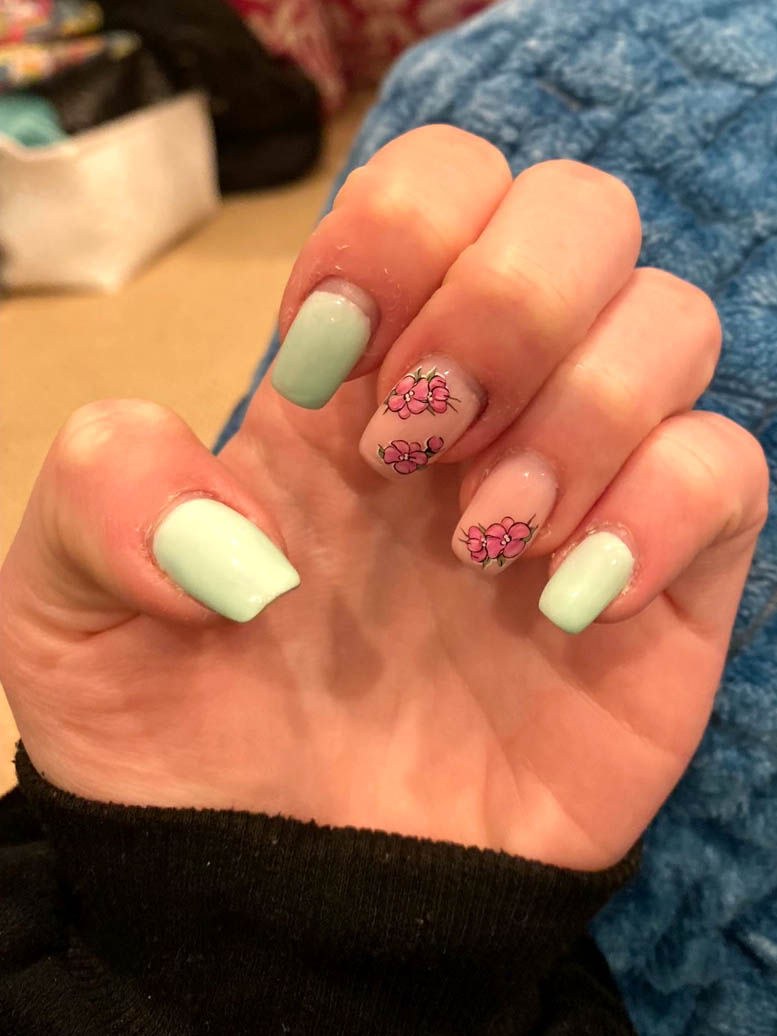 https://vibrantguide.com/wp-content/uploads/2022/07/light-green-nails-flower-design-3.jpg
1036
777
Anna
https://vibrantguide.com/wp-content/uploads/2019/01/logo2.png
Anna
2022-08-17 08:03:27
2023-04-09 20:57:48
Light Green Nails Flower Design Idea