Purple French Nail Tips With Flowers And Glitter Design

This soft and feminine nail design features shades of pretty purple hues with silver glitter polish and hand-drawn flower designs. It is so perfect for a spring look or a soft summer aesthetic.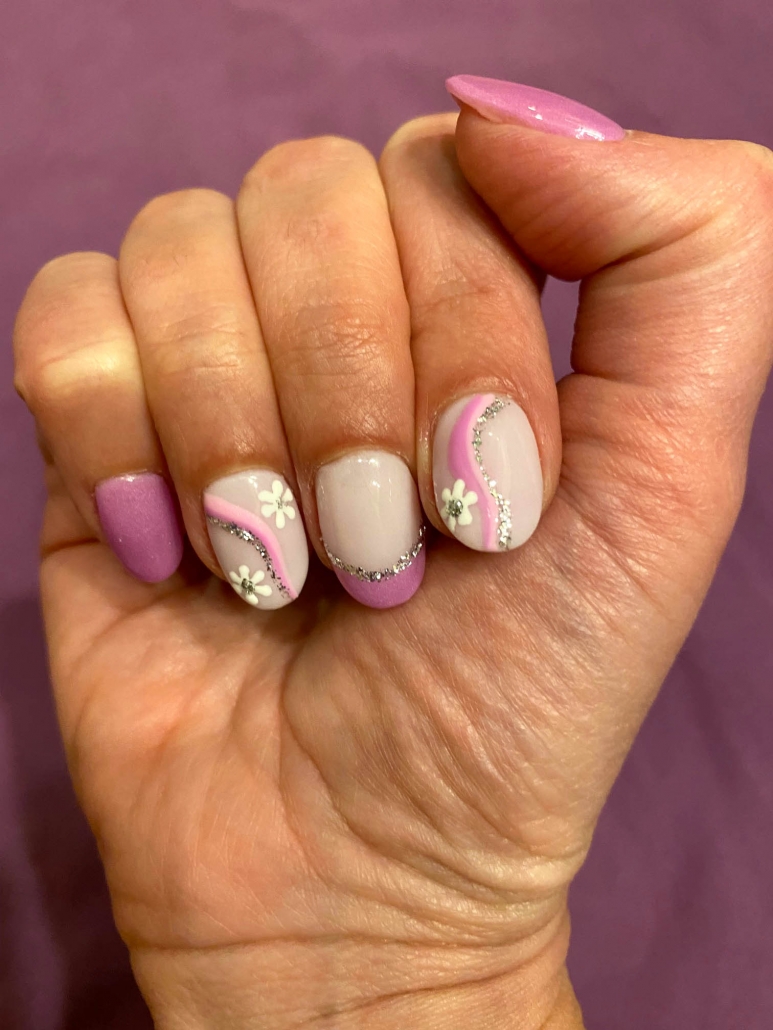 Purple French Tips With Flowers And Glitter Nail Design Inspiration
The flowers and swirl nail designs on this DIY manicure are great any time of year but are especially chic in spring when you're feeling fresh and bright. Hand-drawn accent nail designs can seem intimidating, but even beginners can create this nail design.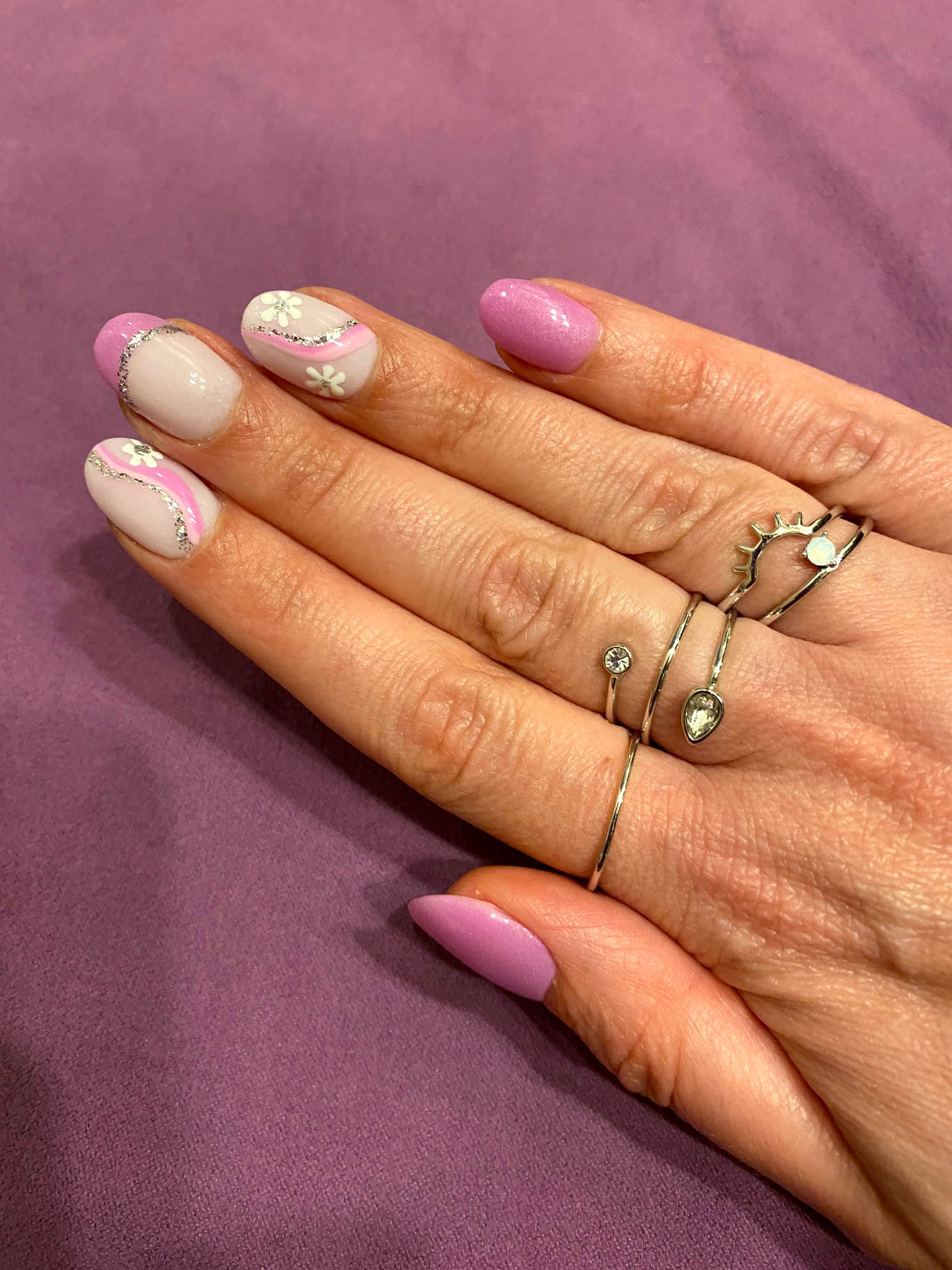 How To Paint Purple French Tips With Flowers And Glitter Nail Design
First shape your nails, for this nail design a soft nail shape looks best. I chose a round nail shape, but this spring nail design would look great on oval nails and even almond nails. All three nail shape options are flattering for all, whether you have long fingers or short.
Round nails are easy to shape; simply file your nails in one direction, following the natural shape of your fingertip. Or you can mirror the natural shape of your nail bed. The round nail shape is classic and easy to maintain.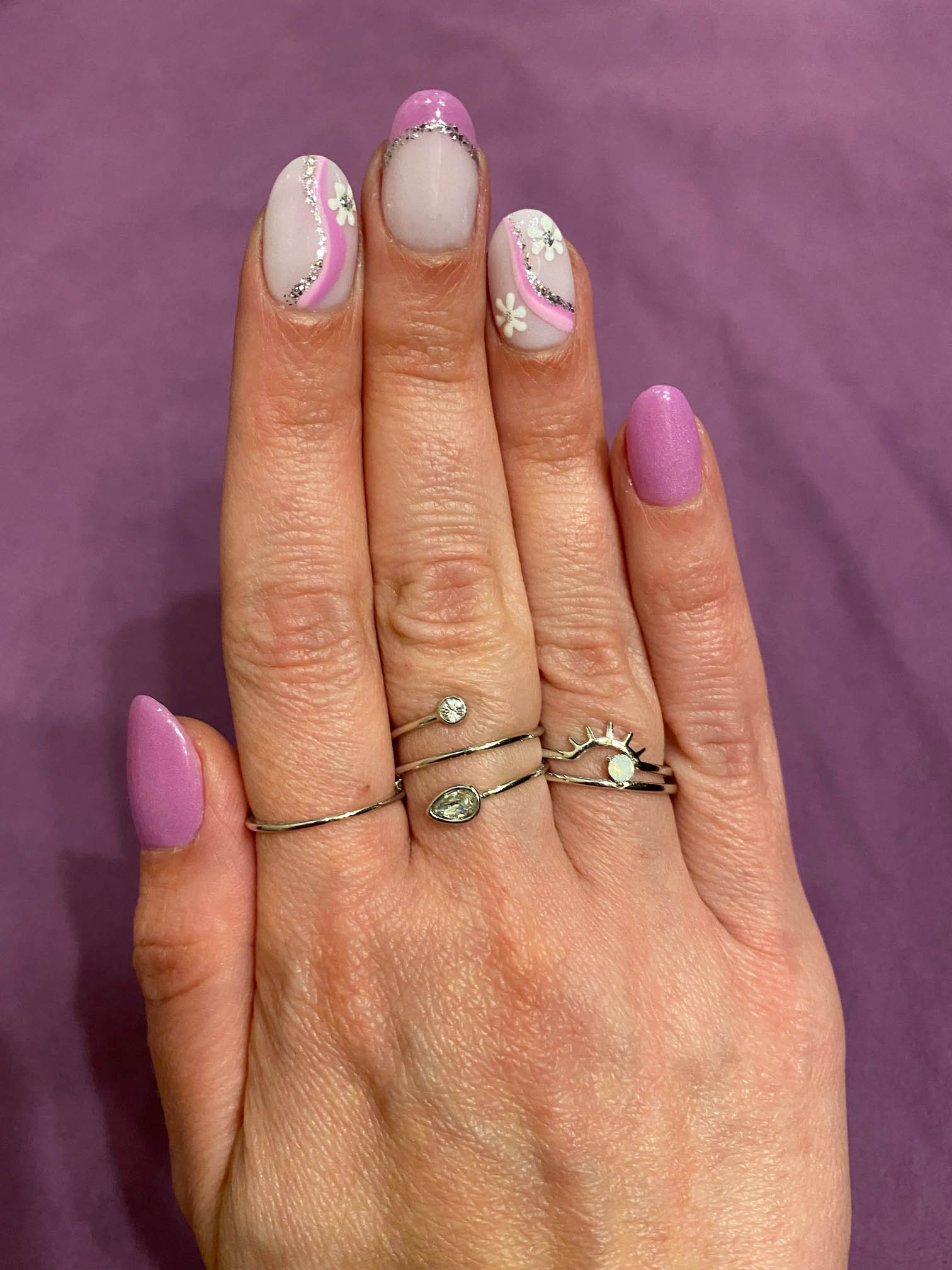 Purple French Tips With Flowers And Glitter Nail Design Tutorial Tips
For this nail design you'll need:
A medium purple nail polish
A light purple nail polish
A baby pink nail polish
A silver glitter nail polish or striping polish
An opaque white nail polish
A detail brush, or a few
Toothpicks and/or bobby pins
A clear topcoat
On the thumb and pinkie fingernails only, apply two thin coats of a medium purple polish. For the pointer, index, and ring fingers, apply two thin coats of light purple polish. Allow the polish to dry completely before moving to the next steps to prevent smudges while creating the accent nail designs.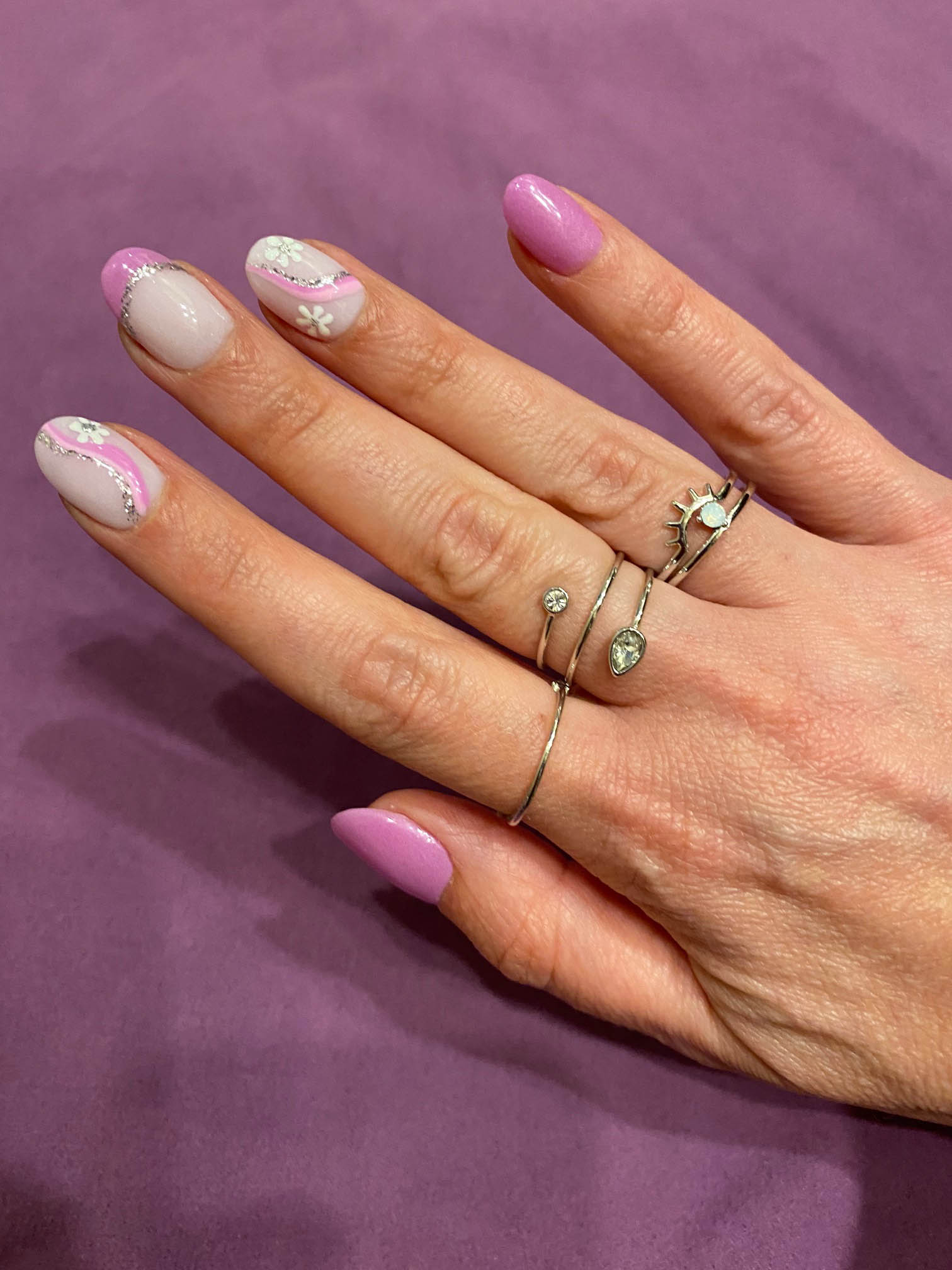 Purple French Tip Accent Nail Design Tutorial
To create the purple french tip accent nail use the medium purple polish. In one organic swooping stroke connect each of the natural growth points on your nail bed, letting the polish curve with your natural nail shape. If you need a second coat, let the first coat dry completely first.
Once dry, follow the curve of the purple line with the silver glitter polish using a thin detail brush or a striping polish.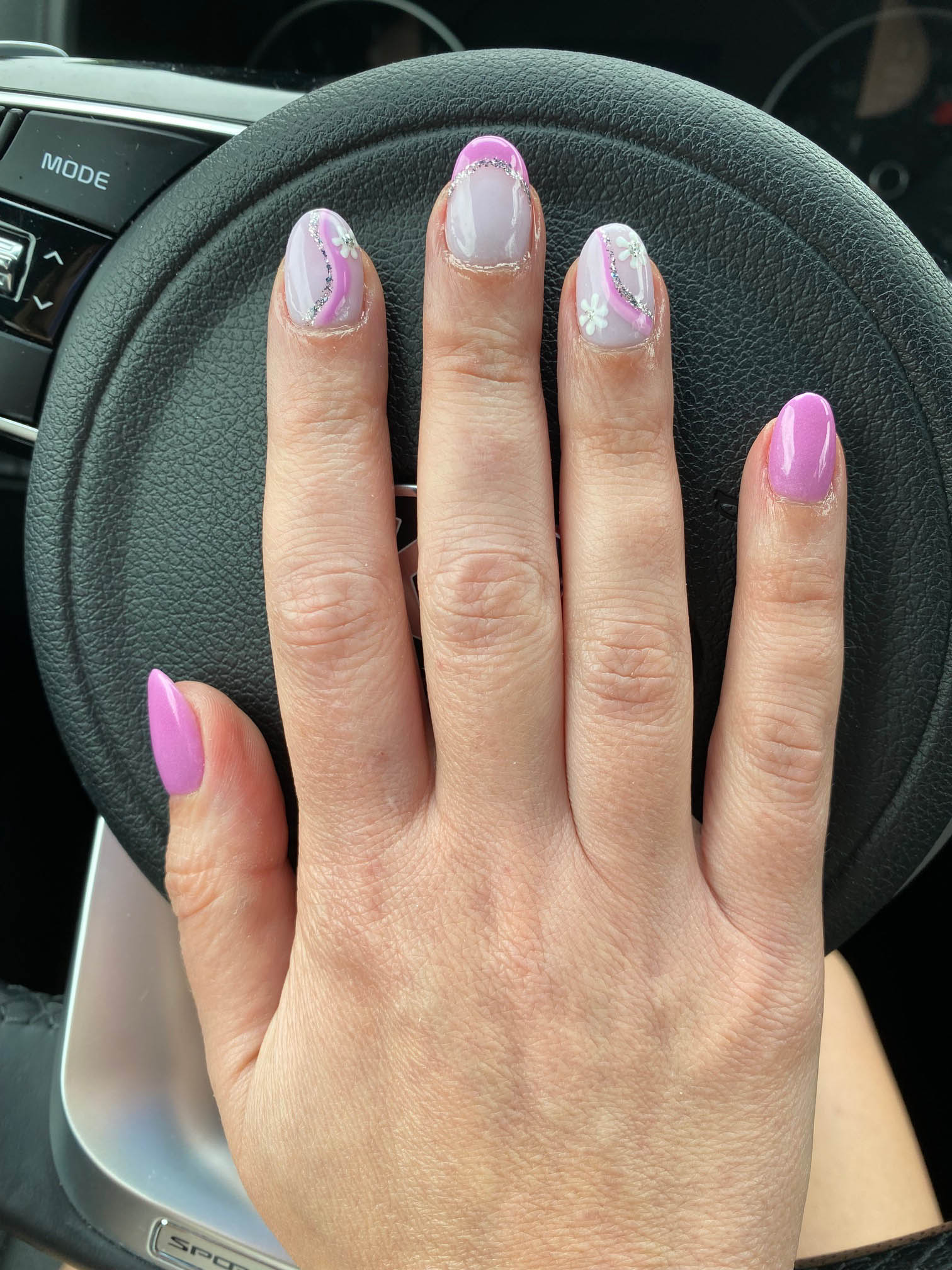 Purple Nail Design Silver Glitter Swirl Accent Nail Design Tips
Swirls are one of my favorite accent nail designs because it is a beautiful design and so easy to create. Don't overthink this step! Simply take a long thin nail polish detail brush in one swooping motion, and pull the polish across the nail in an organic curve, starting from the base of your nail to the tip.
I chose two accent nails for the stripes: my pointer and ring fingers. Always start with the lightest polish color when doing multiple color stripe designs. First, paint the pink stripe on each finger. You can paint it very thin, thick, or a varying thickness. Let your creativity flow.
Next, either fully clean out your nail detail brush or grab a new one. Dip it in the medium purple polish and follow the shape of the pink stripe making a flowing organic design.
Again, let the polish dry completely before each next step to prevent smudging or flooding the polish. Finally, paint a stripe in the silver glitter following that purple swirl.
Other swirl nail design Ideas you'll love: Nude Nail Design With White And Gold Swirls, Multi Color Swirls Nail Design, Blue Swirls Nail Design, Pink and White Swirls on Nude Nails Design, Summer Swirls Nail Design, Lavender With White And Silver Swirls Nail Design, Light Purple and Green Swirls Nail Design, and Nude with Simple White Swirls Nail Design.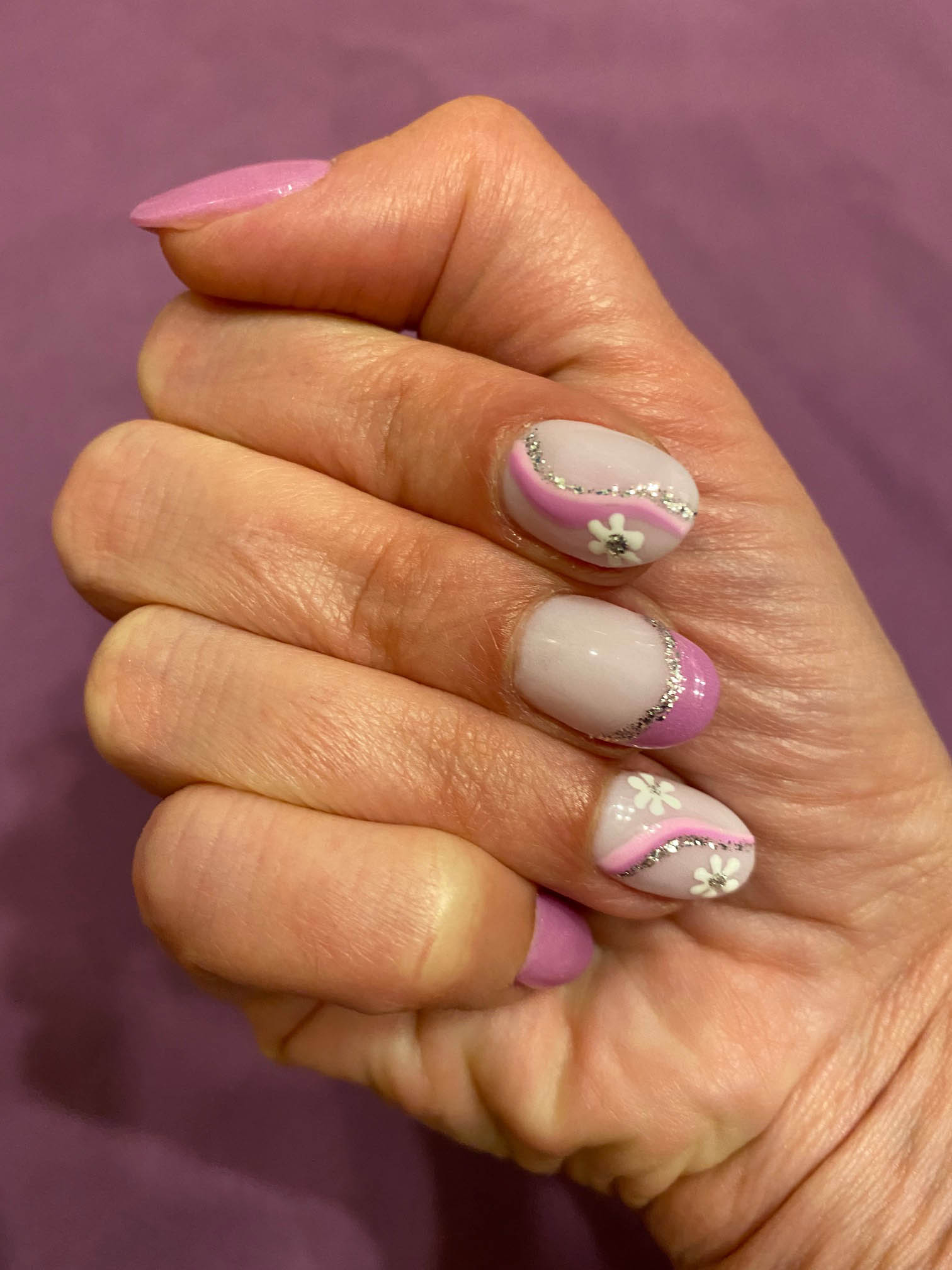 Purple Nail Design Flower Accent Nail Design Tutorial
For this nail design, I mixed up the number of flowers on the accent nails. You can mix it up with more or fewer flowers, do one accent nail or paint a floral design on every nail.
Flower designs like this are easy to create if you have an ultra-thin nail art brush, a toothpick, or even a bobby pin. (If using a bobby pin, bend it open, straightening it to use as a dotting pen tool.) Toothpicks are great options for smaller flower designs.
Dip the tip of your nail art brush or the toothpick into your white polish. Dot five or six equally spaced blobs of white polish to make the flower petal edges. Wipe off the excess paint from your brush, or grab a new toothpick/bobby pin and pull the polish from each dot towards the center point of the flower, creating elongated petals. Don't worry about getting the petals perfect. We are going for a general flower shape; it can have character.
Using a new tool, dip the tip into the silver glitter polish and carefully dot the center of your flower petals to complete the flower design. Give the polish time to dry, at least ten minutes.
Once you have all the accent nail designs painted, finish this manicure with one or two coats of a clear topcoat on all nails.
Floral nail design inspiration: Purple Nails with Flowers, Pink Nails with Flowers and Gold Foil, Orange French Tips with Flowers, Summer Swirls with Flowers Nail Design, and Light Green Nail Design With Flowers.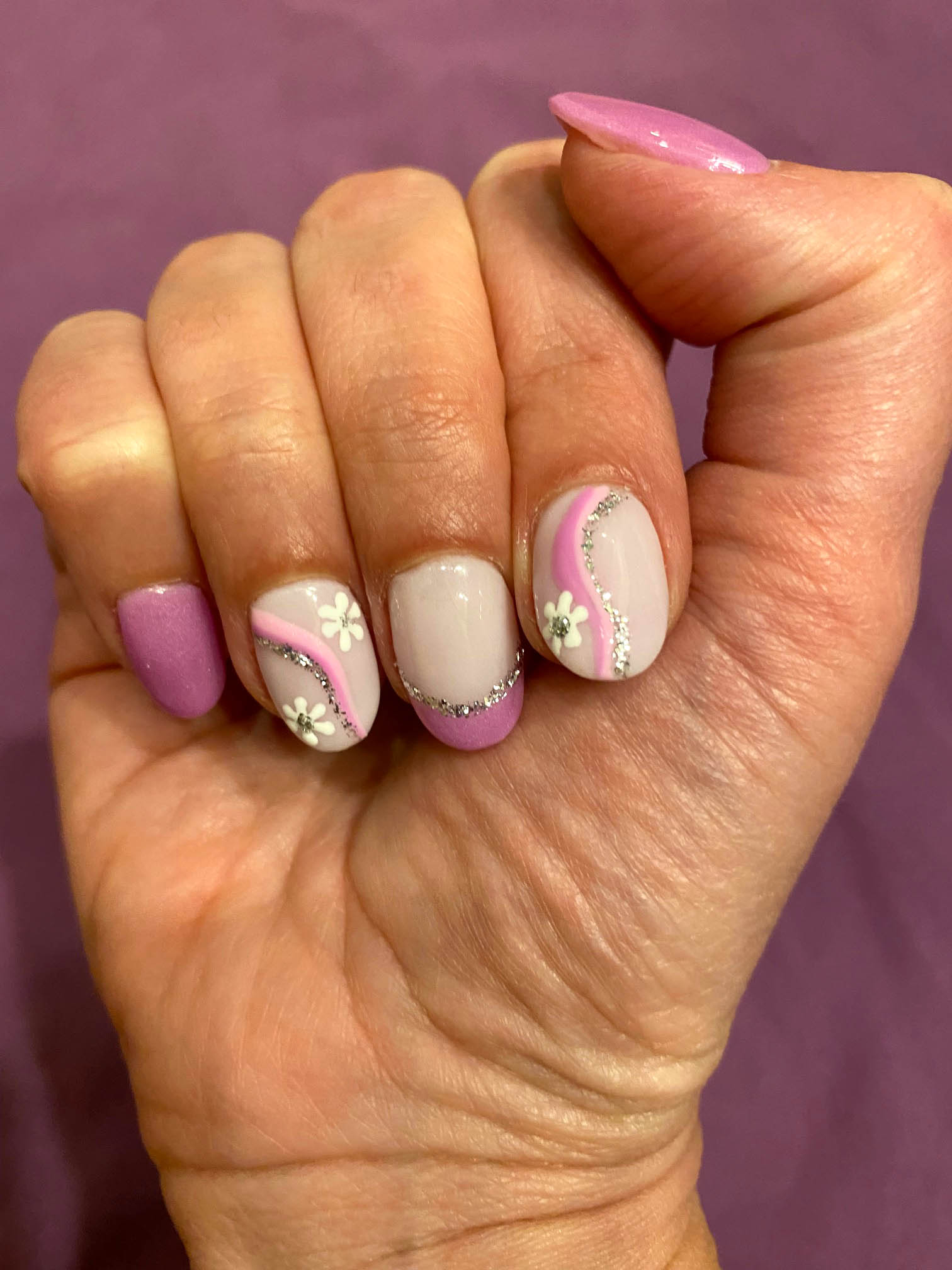 How To Style Purple French Tips With Flowers And Glitter Nail Design
The pretty purple monochromatic nail design will shine when styled with outfits in neutrals and other cool tones. Beiges, tans, and blue-purple tones are top choices with this nail design.
Avoid warm tones like reds and oranges in your outfits while wearing purple nail designs. Silver jewelry looks best with purple hues, especially with the silver glitter in this nail design.
If you like nail designs in purple hues, you'll love: Light Purple Flower Manicure, Pastel Nails Swirls Design, Gradient Purple Nails Designs, Pastel Summer Nails, Simple White Nails With Colorblock Design, Lavender Nails With Swirls, Purple Nails With Smiley Face.
If your looking for more flower nail designs check out Flower Nails – Designs and Ideas.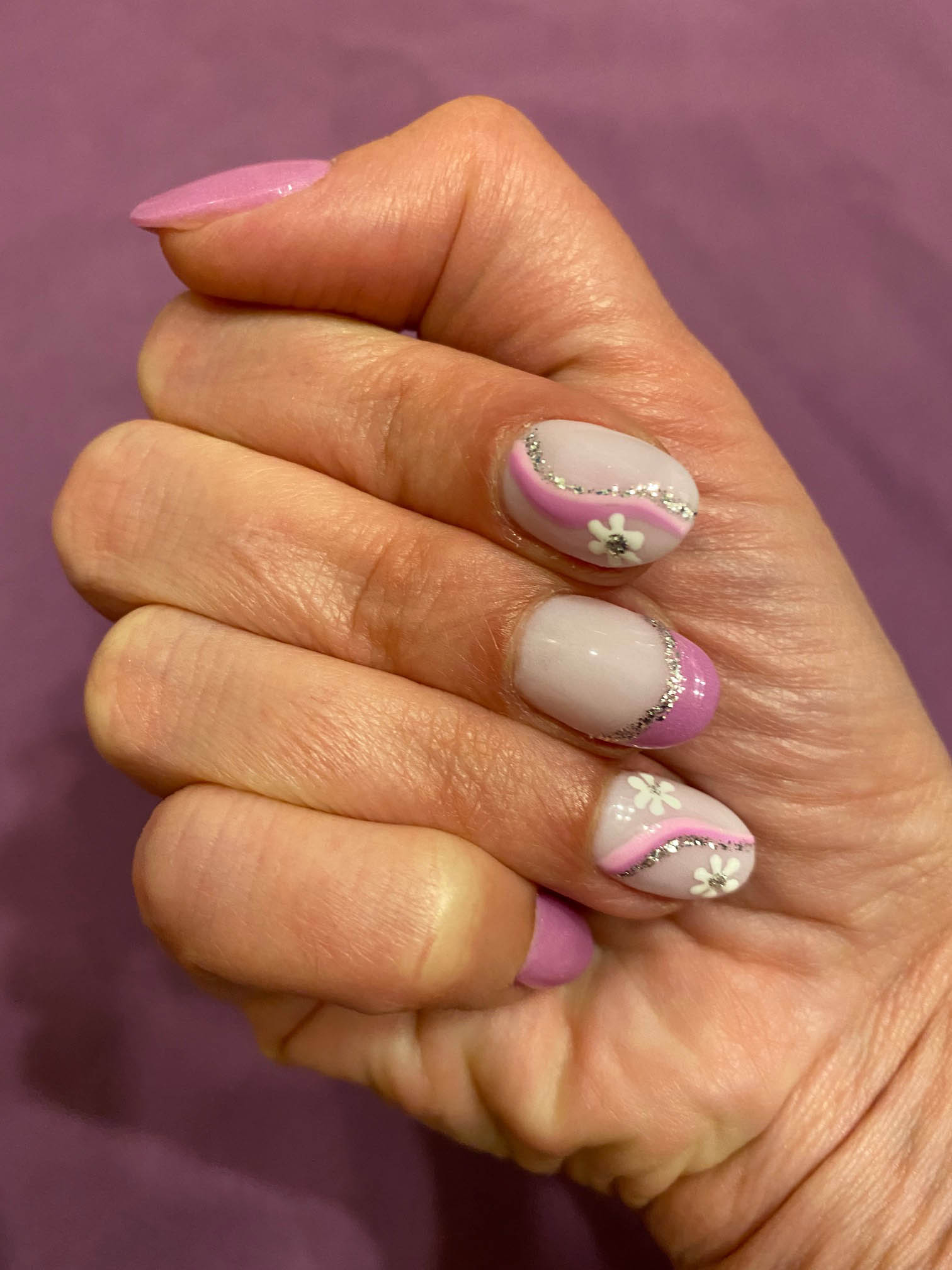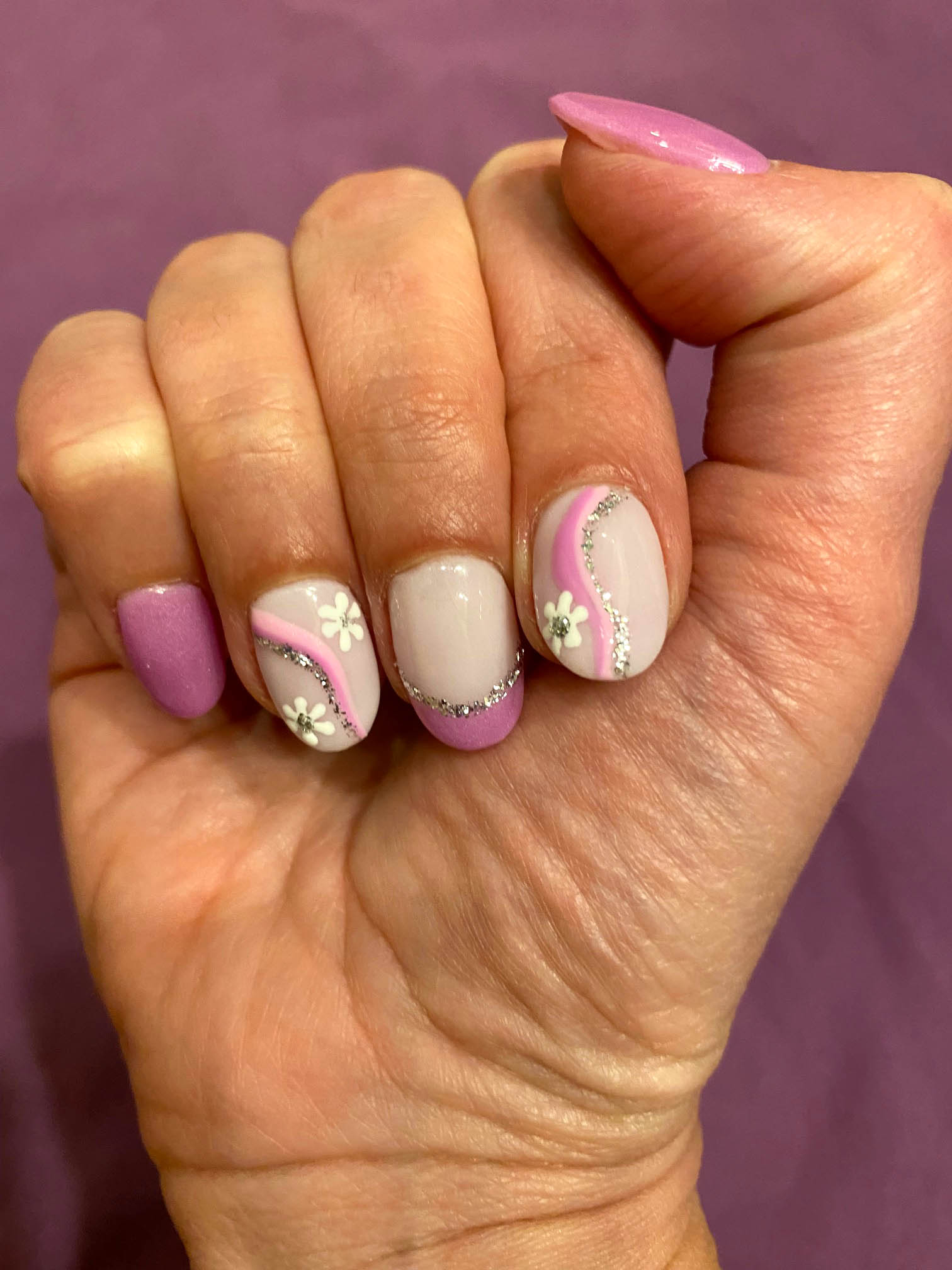 https://vibrantguide.com/wp-content/uploads/2022/08/purple-nails-glitter-french-flowers-5.jpg
2016
1512
Anna
https://vibrantguide.com/wp-content/uploads/2019/01/logo2.png
Anna
2022-09-09 20:22:05
2023-04-09 20:57:26
Purple French Nail Tips With Flowers And Glitter Design