Orange French Tips Nails Manicure With Flowers Design

Sherbet orange and pink are an iconic summer duo. The warm tones in this nail design feel like a tropical mocktail or a beachy sunset.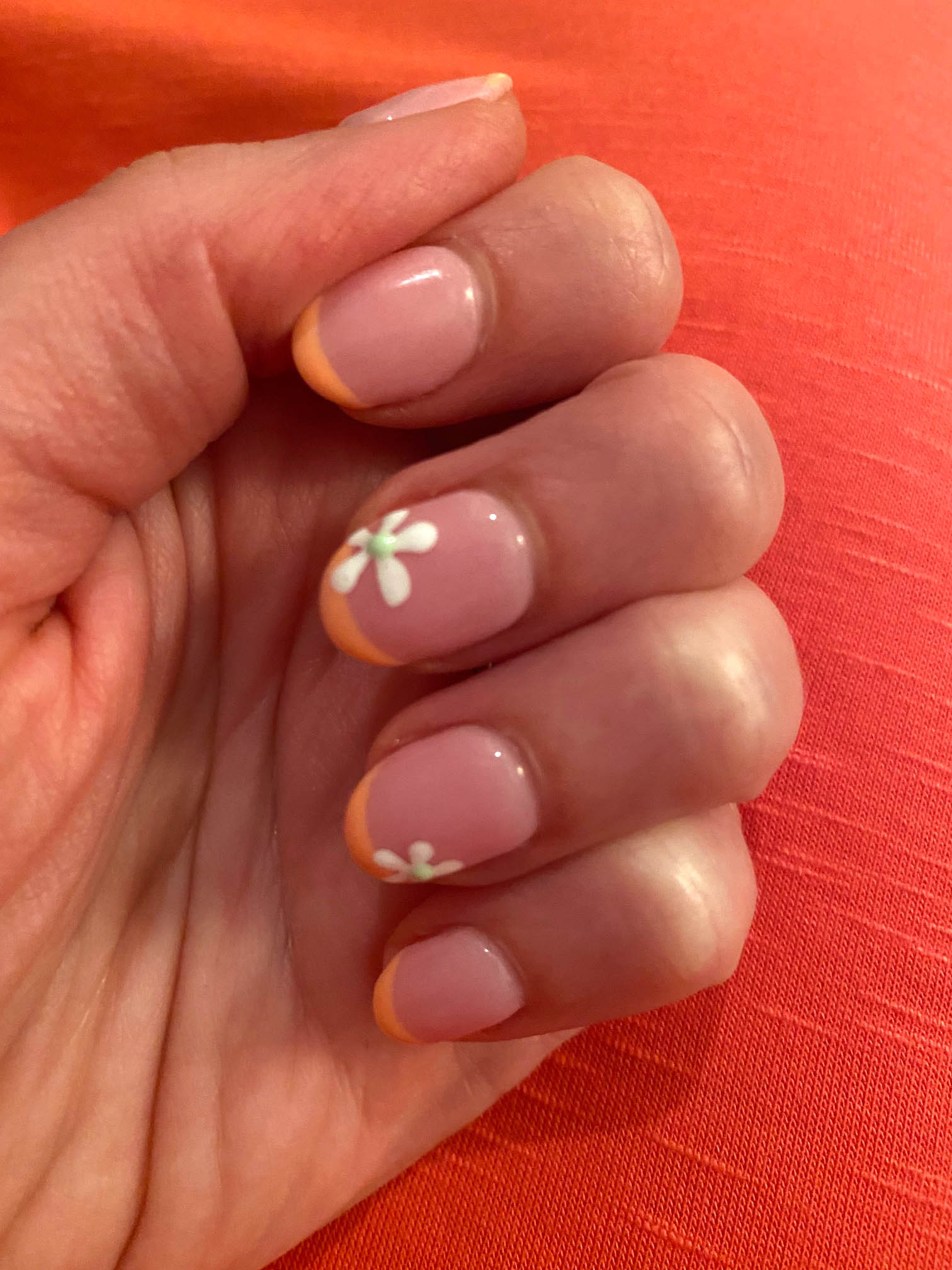 How To Paint Orange French Tips Nails Manicure With Flowers Design
First, trim and shape your nails. For this tropical french tip design, I chose a shorter round nail shape. Round nail shapes look great with french manicures as the nail shape mirrors the natural curve of the finger. Gently file your nails in one direction, following the curve of your fingertip or mirroring your nail bed curvature.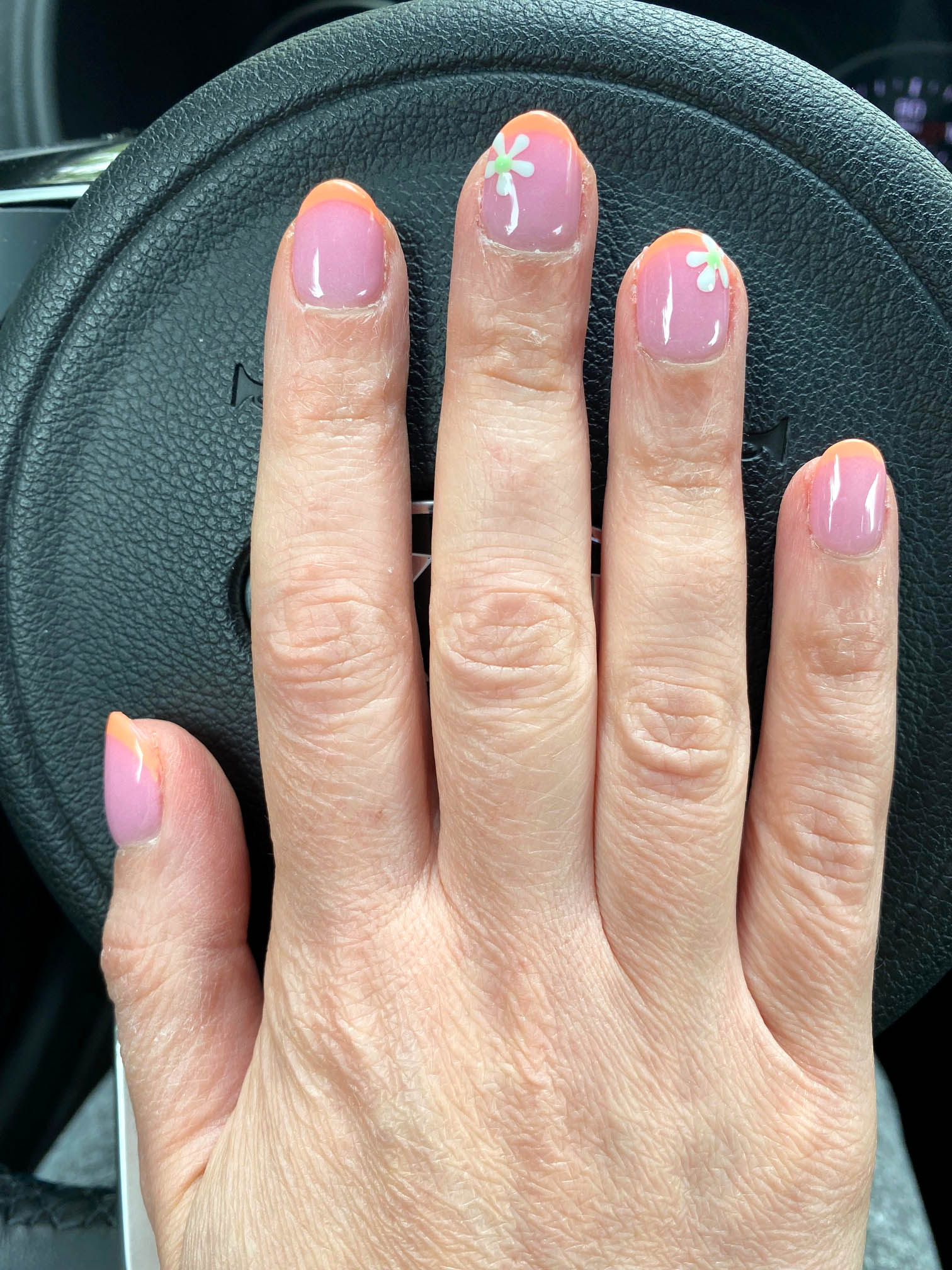 Orange French Tips Nails Manicure With Flowers Design Tutorial And Tips
For this nail design you'll need:
A bright sherbet orange nail polish
A warm medium pink nail polish
A truly opaque white nail polish
A lime green nail polish
A clear topcoat
1-2 ultra thin nail art brushes or toothpicks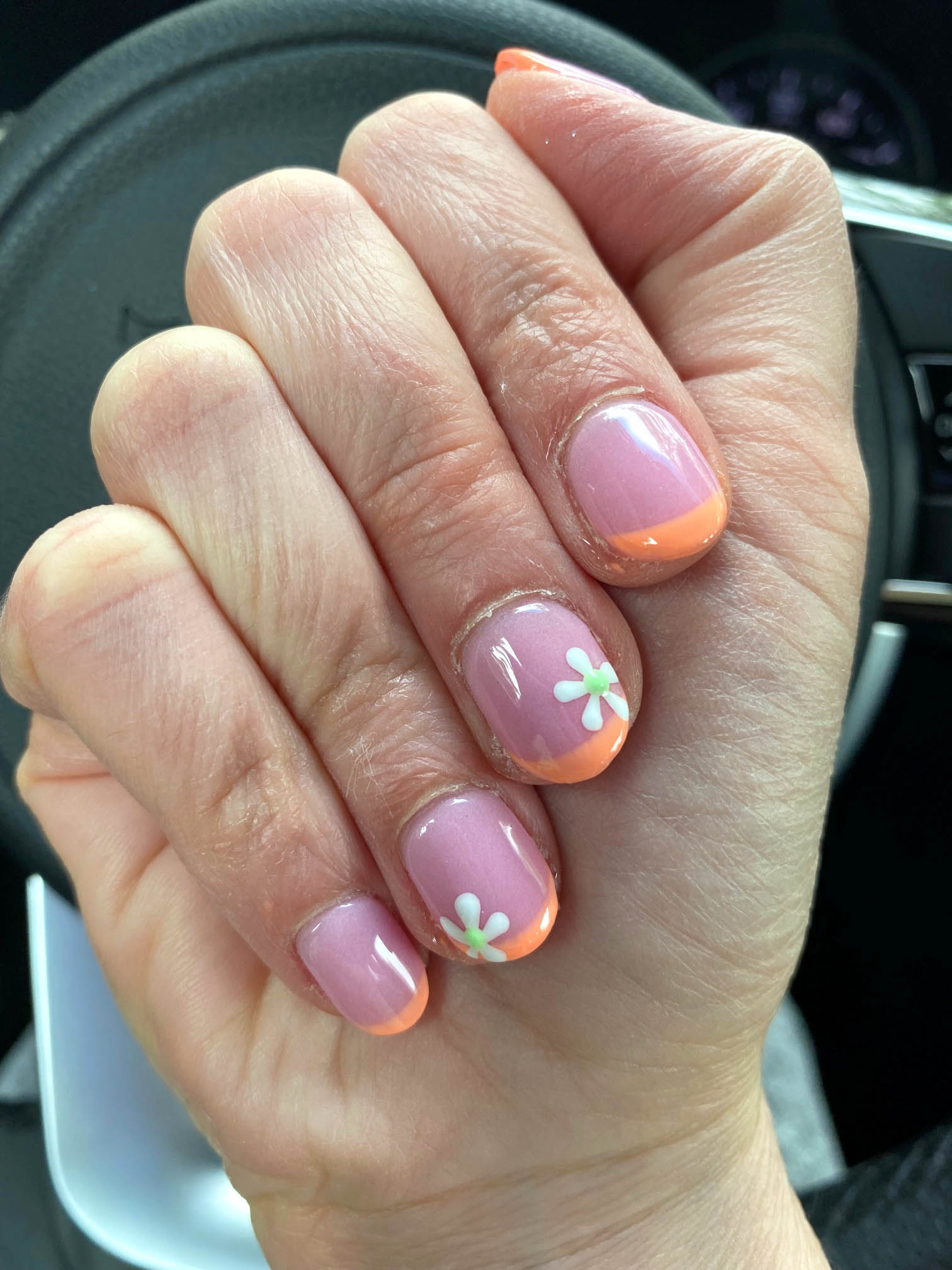 If you are shopping for polishes for this nail design, choose the orange first. Look for a somewhat muted orange that isn't too fluorescent. Then match up a coordinating pink polish; look for a medium pink that is warm-toned and not too sheer. Bonus points if it has a little sparkle!
Begin by painting one or two thin coats of a warm pink polish on all nails. You could use a warm nude polish if you don't have a pink tone that vibes with the orange. Allow the pink polish to dry completely to prevent smudging.
Then take the orange polish and in one swooping motion, paint a smooth curved line following the shape of your nail tip. Paint in one direction, from the edge of the nail bed to the other. If you need a more opaque orange, wait until the first layer is totally dry and paint a second coat, following the first line as closely as possible. Again, take a break and let everything dry completely.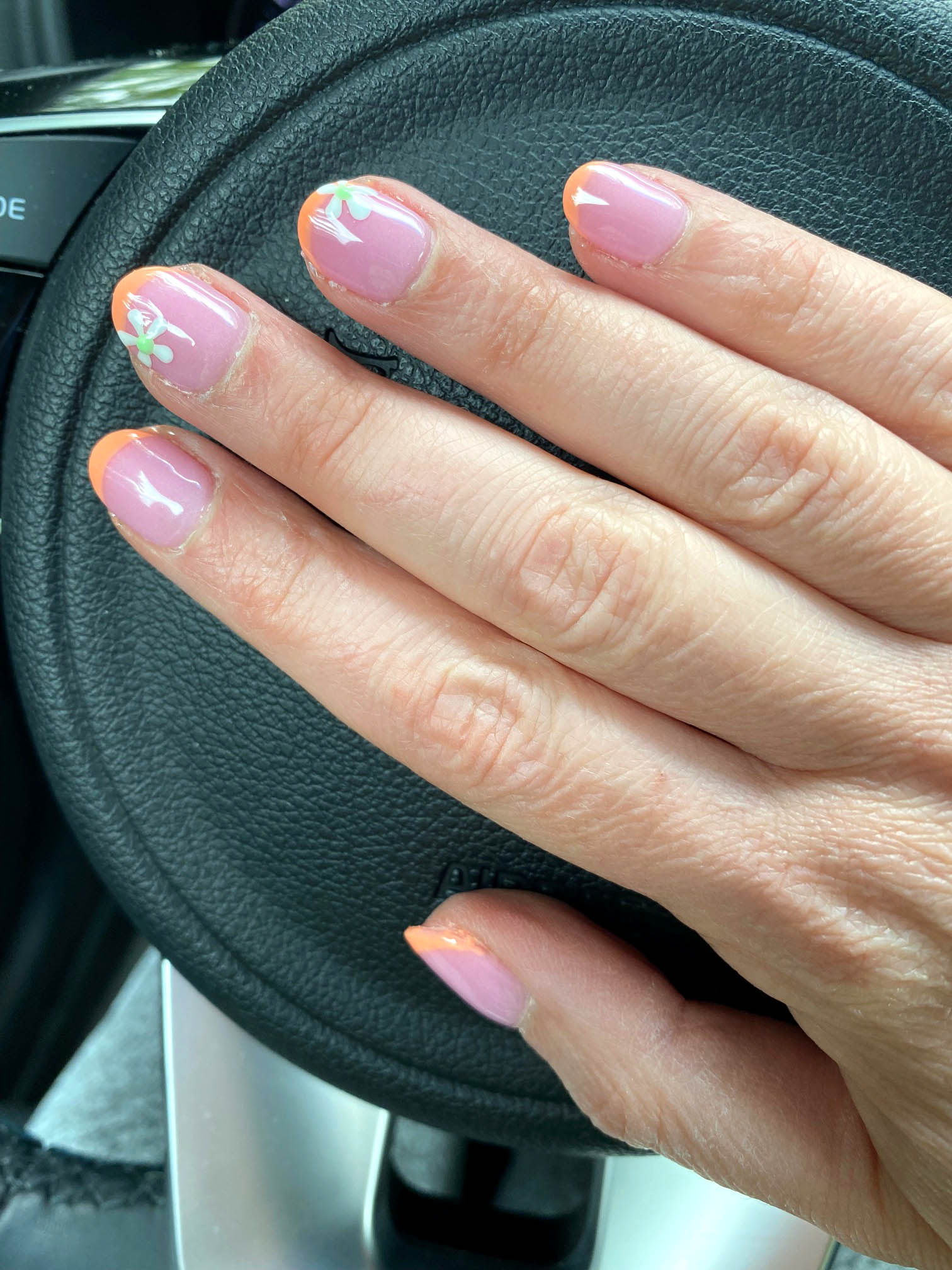 How to paint flower nail designs
For this nail design I added a flower accent nail on two of my fingers. You can do one accent nail or paint a floral design on every nail.
Flower designs are easier to execute than they may seem. For the floral nail design, you will need either an ultra-thin nail art brush or a toothpick.
Dip the tip of your nail art brush or the toothpick into your white polish. Dot five equally spaced blobs of white polish to make the flower petal edges. Wipe off the excess paint from your brush, or grab a new toothpick and pull the polish from each dot towards the center point of the flower, creating elongated petals.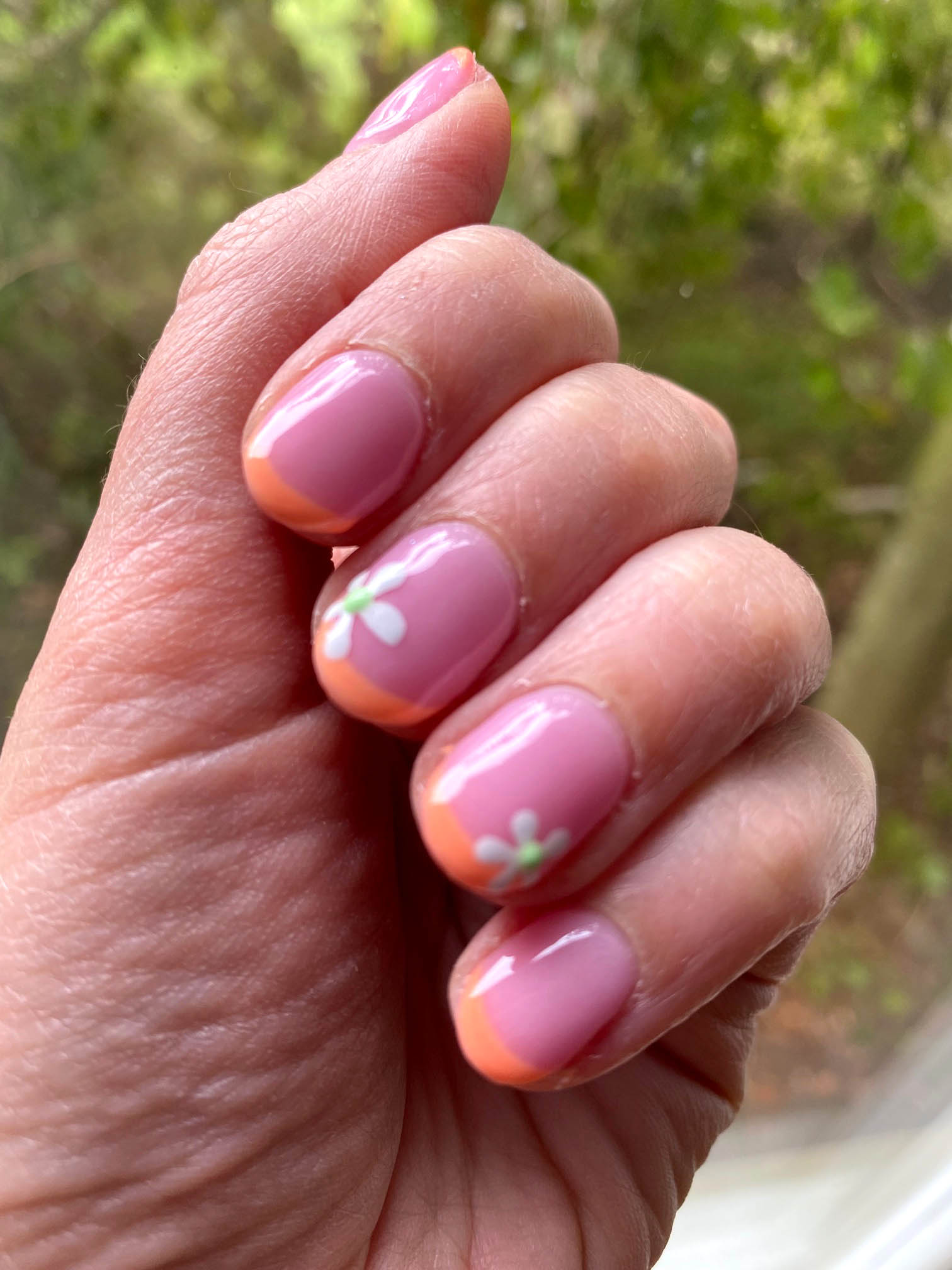 If you feel brave you can, very carefully, move to the next step. If you want to be sure to not smudge, wait for the white polish to dry.
Using a new toothpick, dip the tip into the lime green polish and dot the center of your flower petals to complete the flower design. Now be sure to let everything dry completely. Finish up with a coat or two of clear topcoat.
More summery floral nail designs you'll love: Purple Nails with Flowers, Pink Nails with Flowers and Gold Foil, and Pink and White with Leaf Nail Design.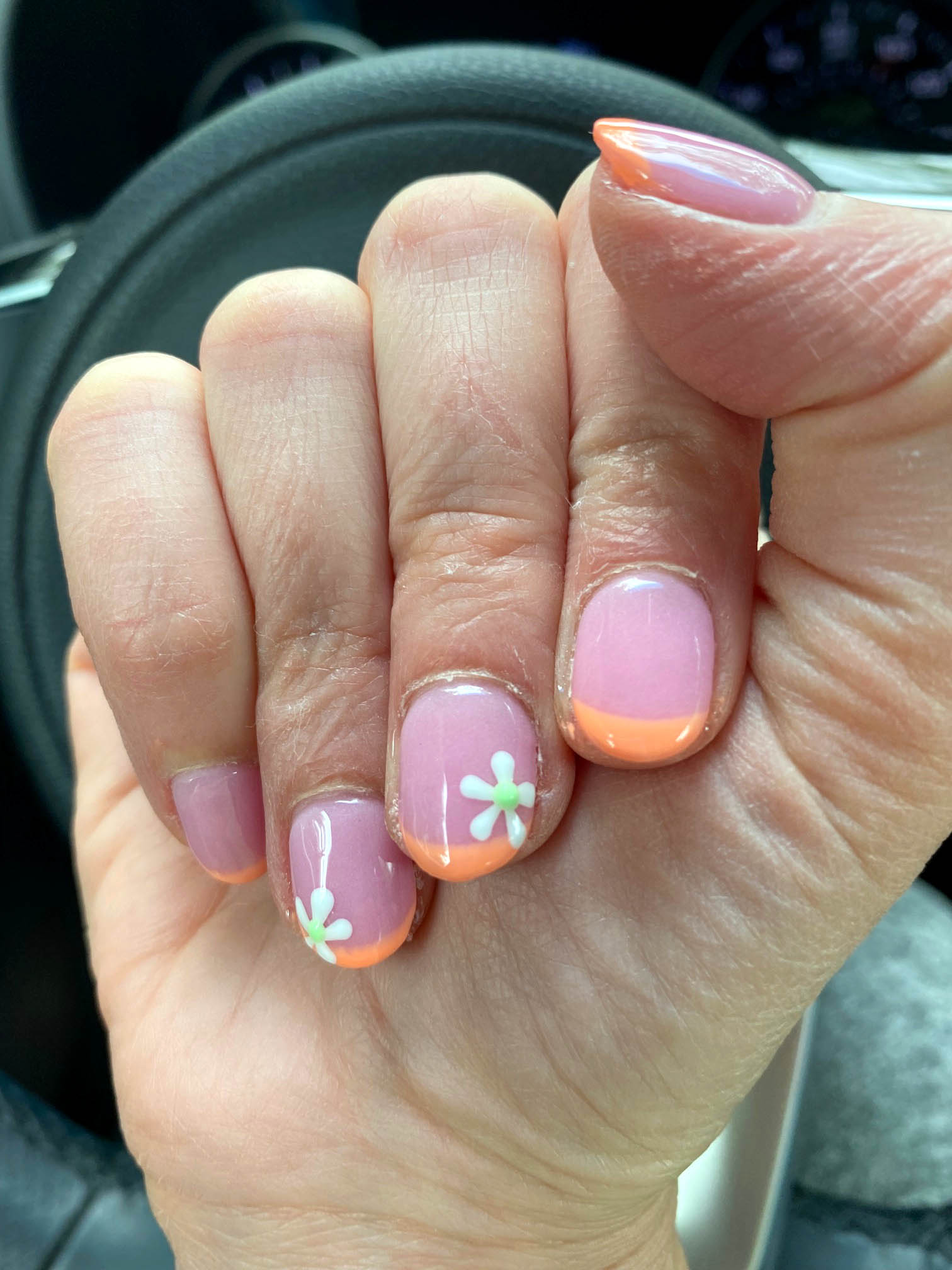 Orange French Tips Nails Manicure With Flowers Design Style Inspiration
Summer is the perfect time to wear these orange french tips nail design, plus the flower accents are so fun. This manicure would look fresh at the beach or pool, on vacation, or on a tropical insta photo shoot.
Pair your pink and orange french manicure with similar summer colors for a bold look. Or with neutrals for a more refined aesthetic. A pink swimsuit coverup or a white sundress would make this DIY manicure pop.
More pink and orange nail designs you can't miss: Pink and Orange Ombre Sunset Nail Design and Tropical Swirls on White Nails Design.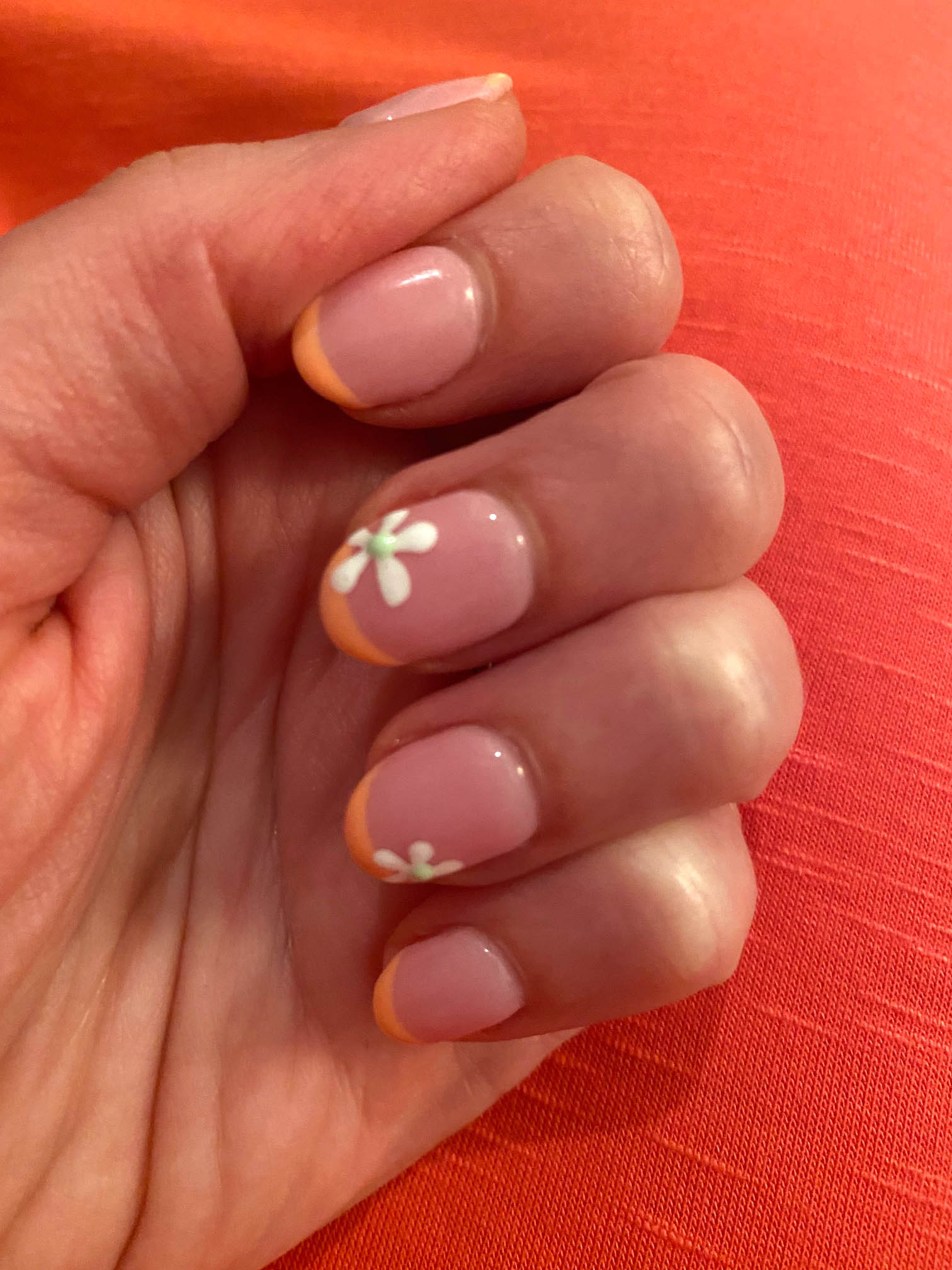 https://vibrantguide.com/wp-content/uploads/2022/07/pink-french-nails-orange-tips-8.jpg
2016
1512
Anna
https://vibrantguide.com/wp-content/uploads/2019/01/logo2.png
Anna
2022-08-10 18:51:57
2022-08-13 01:48:58
Orange French Tips Nails Manicure With Flowers Design