Short Nails White French Tips Manicure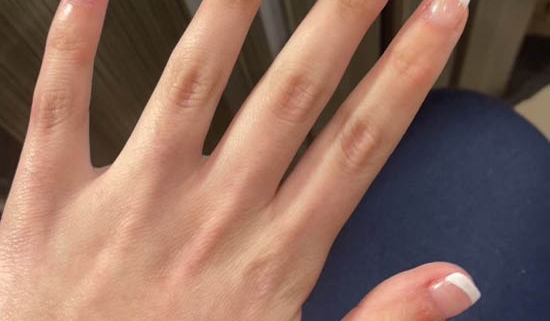 This is a versatile manicure that will keep you looking chic for any occasion. It is perfect for the girl-on-the-go, professionals, clean-girl looks, and anyone looking for pretty and simple nails.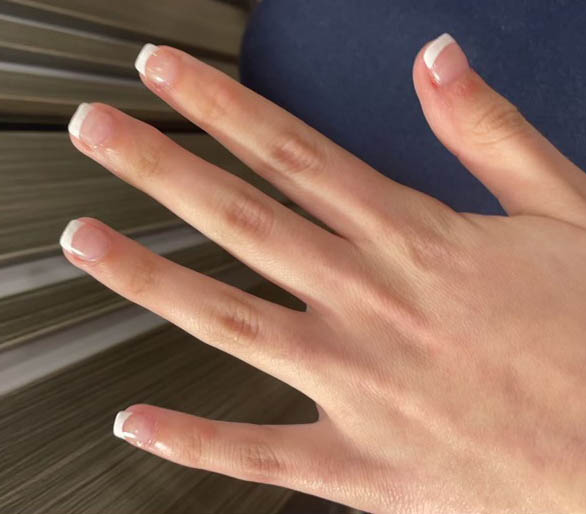 The French Manicure is a classic and timeless nail design
Are you looking for a neutral color that will transition seamlessly between seasons, outfits, and styles? White french tips are the perfect option! White french tip nails look great with every complexion and outfit. There are so many shades of white nail polish, so you can find one that perfectly matches your skin tone. If you're in doubt or want a crisp look, go with a pure white and nude french tip.
There are nearly endless nail polish colors, and each color has so many shades and tones. Color and style trends come and go, but white french tips are a timeless classic. This look originated on Hollywood movie sets in the mid-70s and has been a clean and elegant nail design staple ever since.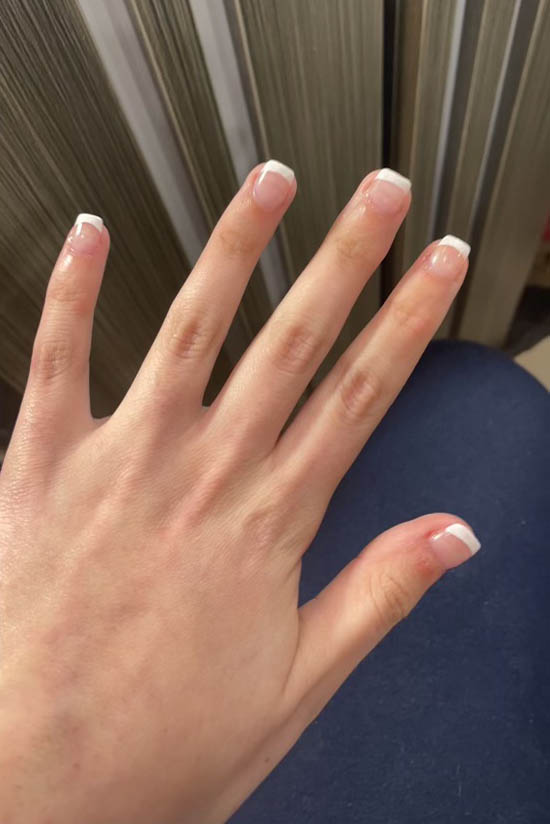 DIY White French Tips Manicure step 1: shape your nails
For this nail design, I chose a short square / squoval nail shape. Square nails are the most popular shape for all manicures. The nail shape is stable and sturdy because the edge spans the entire width of the nail bed.
First, trim your nails to the desired length. Short nails are the perfect choice for your white french tips this summer:
They're easy to wear.
They compliment literally every skin tone and complexion.
They can be worn for any occasion.
They will look stunning even during summer activities that may not be suitable for longer nail designs.
Then file nails in one direction straight across the entire nail. Keep an eye on your filing angle to keep your nail tip straight across and not angled. Lastly, file very lightly around the edges to soften any roughness.
This shape looks great on everyone but works best on those with long fingers. If you have shorter fingers, you may prefer a squoval nail shape. Simply round out the corners of your square shape to visually (and literally) soften the nail shape.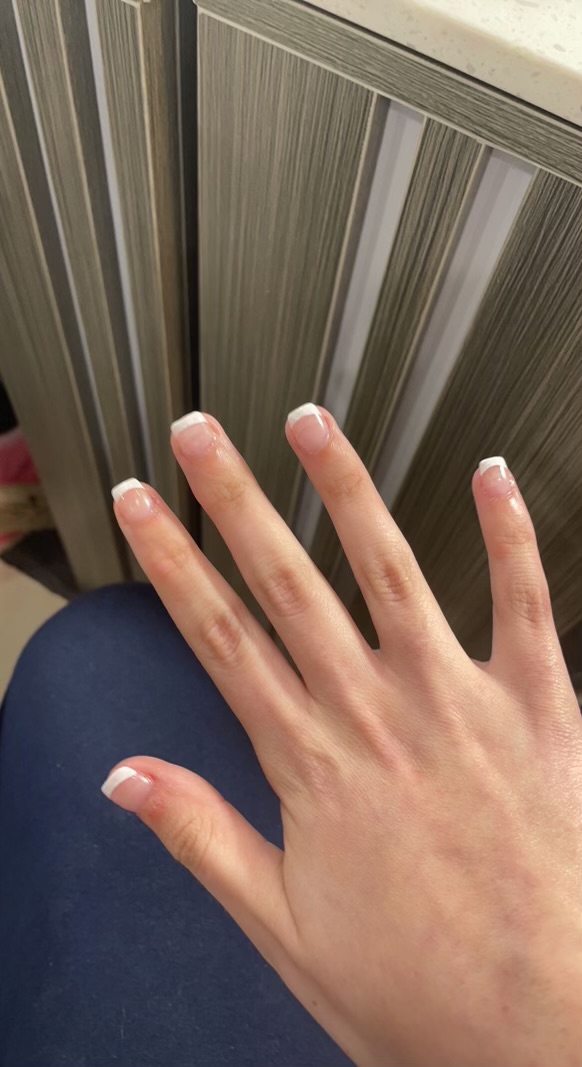 DIY White French Tips Manicure step 2: Polish your nails
To achieve the perfect white French tips first wash your nails well and remove every bit of old nail polish. If needed, you can use a cotton swab or a manicure wood stick with the end covered in cotton and dipped in nail polish remover for the edges.
The next step is pivotal. Using your white polish, start from the natural growth point on your nail bed and connect it to the growth point on the other side of the nail. If you want your nails to appear longer, let the polish curve with your natural nail shape; this will create the illusion of longer nails.
Once the white polish is completely dry, top the entire nail in a sheer nude or pink polish. Using nude or pink rather than clear will help hide any imperfections or staining from previous colors. One or two coats, depending on your personal preference.
DIY White French Tips Manicure step 3: Don't forget the top coat!
Lastly, follow up with a clear topcoat being sure to paint around the nail tip to protect against damage and make your DIY manicure last.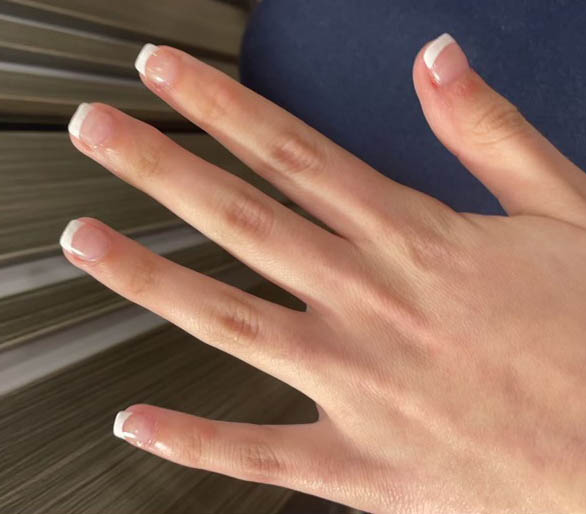 The perfect "clean girl" aesthetic: White French Tips
A white French tip manicure is a great way to add a bit of glamor and sophistication to your look. It's a simple nail design and pairs with every outfit from brunch to date night.
If you love the white and nude combo nail designs, this nude nail with white swirls design might be perfect for you. Take it up a notch by adding gold swirls to the nail design.
If you want to mix it up but love the french tip look, you can try it in pink and blue too!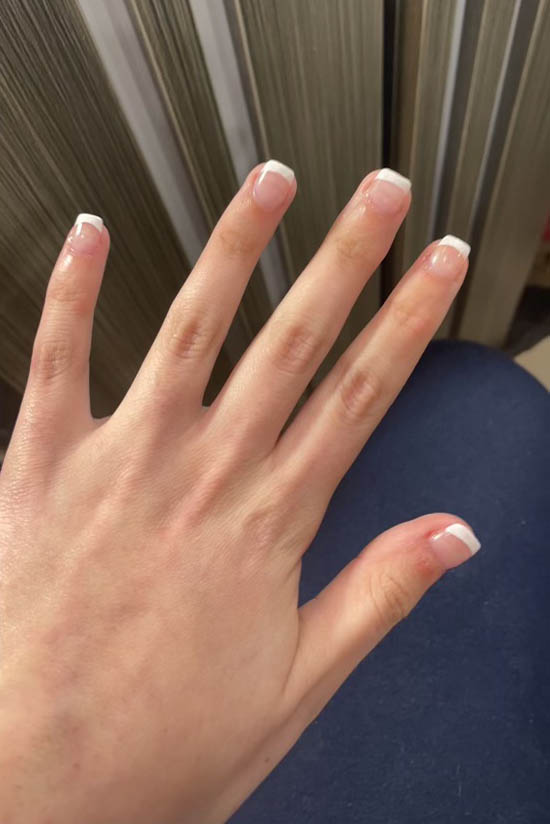 https://vibrantguide.com/wp-content/uploads/2022/05/short-nails-french-tips-4.jpg
824
550
Anna
https://vibrantguide.com/wp-content/uploads/2019/01/logo2.png
Anna
2022-07-28 07:28:54
2022-07-27 17:01:50
Short Nails White French Tips Manicure