This is a flexible nail design that will keep you looking chic for any occasion from Valentine's Day to summer vacation nails to fall and even Christmas manicures. This nail design could not be more versatile.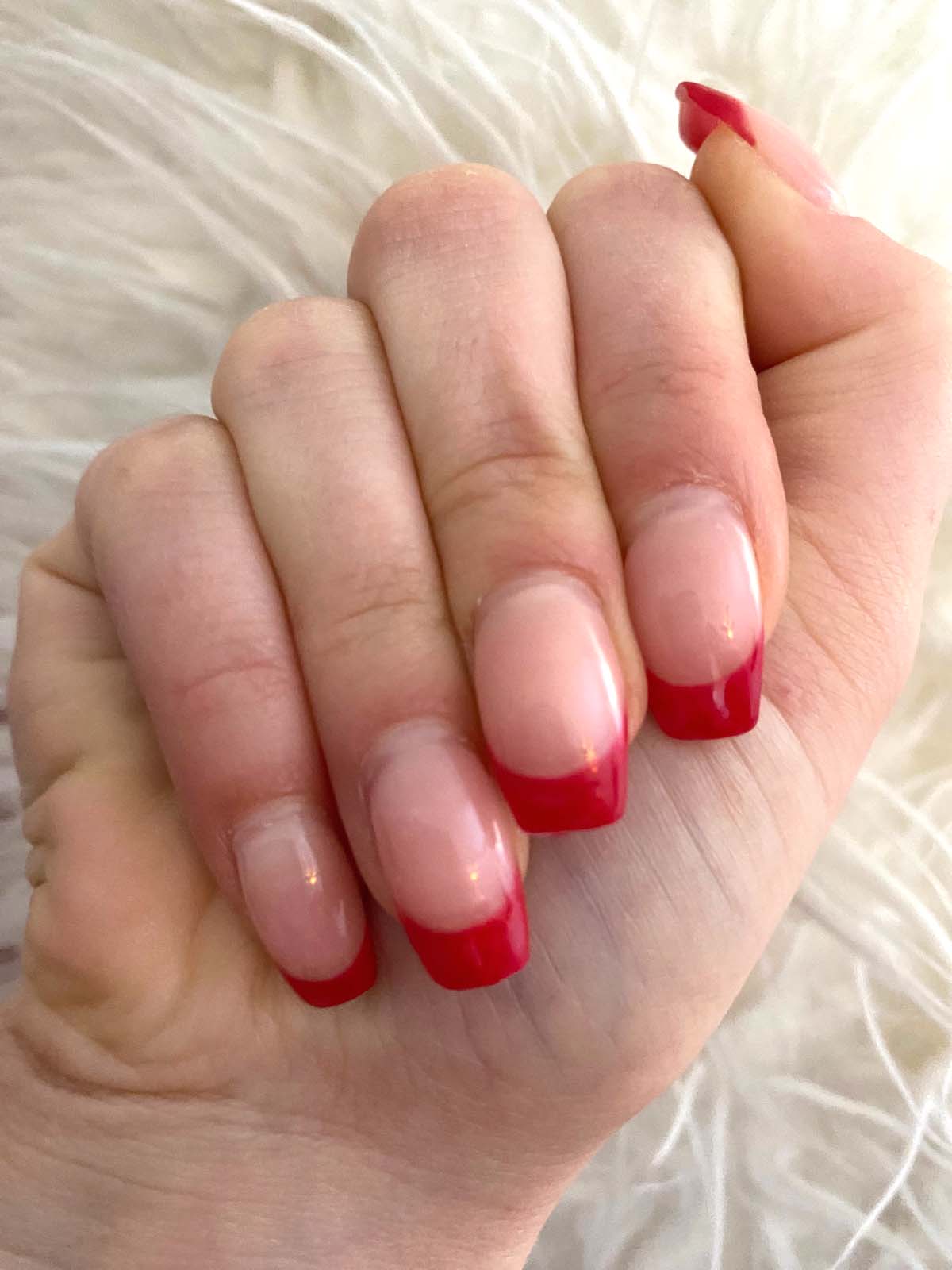 The French Manicure Is A Classic And Timeless Nail Design
French tip nails are a clean and classy manicure design that originated on Hollywood movie sets in the mid-70s and has been a base for countless nail designs ever since from the classic white tips to two-tone french designs and multi-color french tips. The possibilities are endless!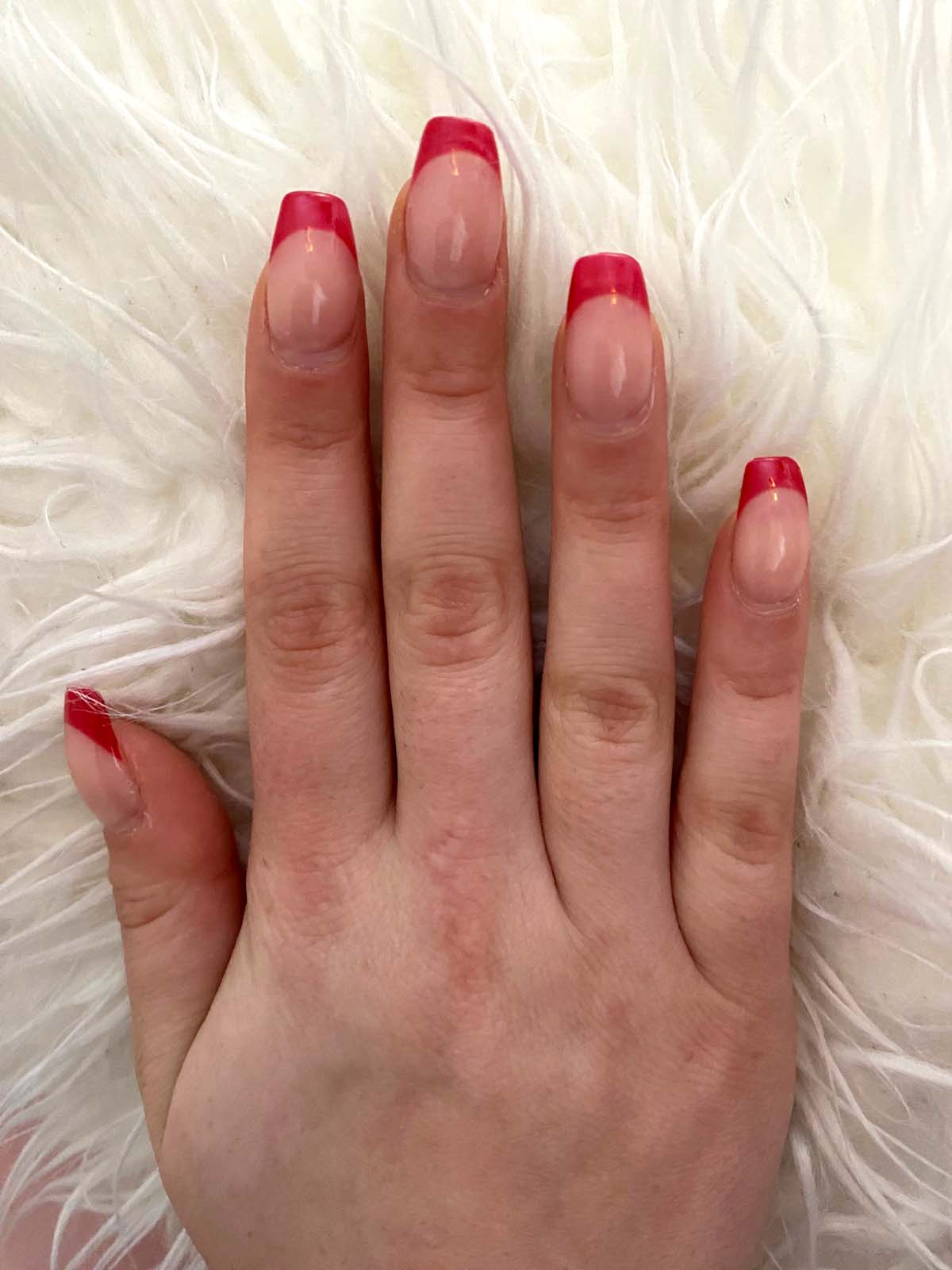 Red French Tip Almond Nails
Almond nails are being spotted as a potential trend this year, almond shaped nails first became popular in the 40s as a perfect combination of style and practicality. This red french tips nail design would look stunning on almond nails!
To create an almond shape file each side of your nail at an angle towards a center point at the tip while leaving a bit of a flat tip to round out. Then smooth out and blend sharp corners into a soft and rounded almond shape.
If you love the look of almond nails, check out:
Champagne Nails With White Design
Baby Pink Nails With Lines Design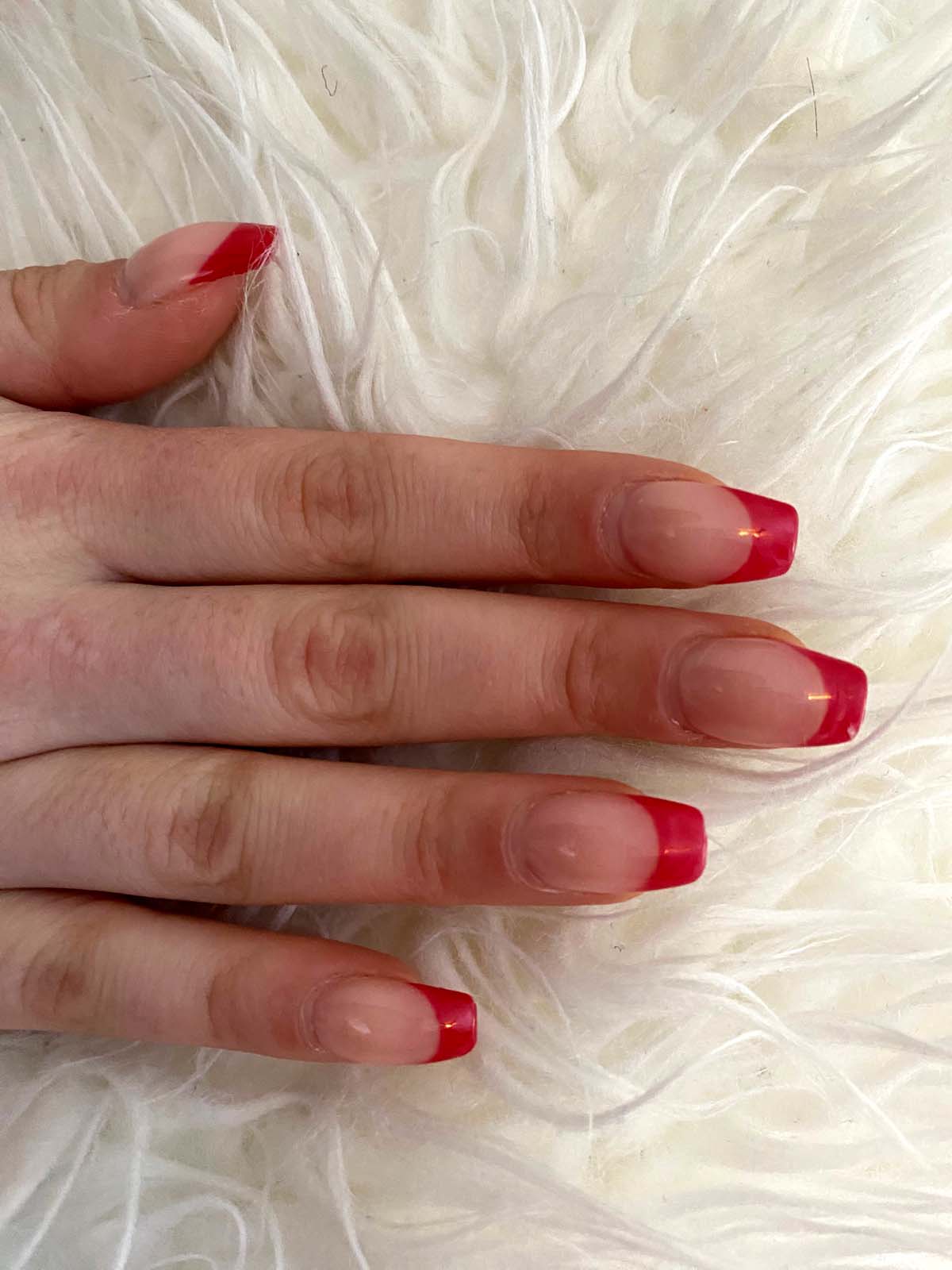 Red French Tip Coffin Nails
Coffin nails have exploded in popularity in the last few years since being spotted on influencers and celebs. The long length and large overall shape make coffin nails the perfect shape for bold red french tips. To create red french tips on coffin nails, follow my coffin nail tutorial.
If you love the look of coffin nails, check out these nail designs: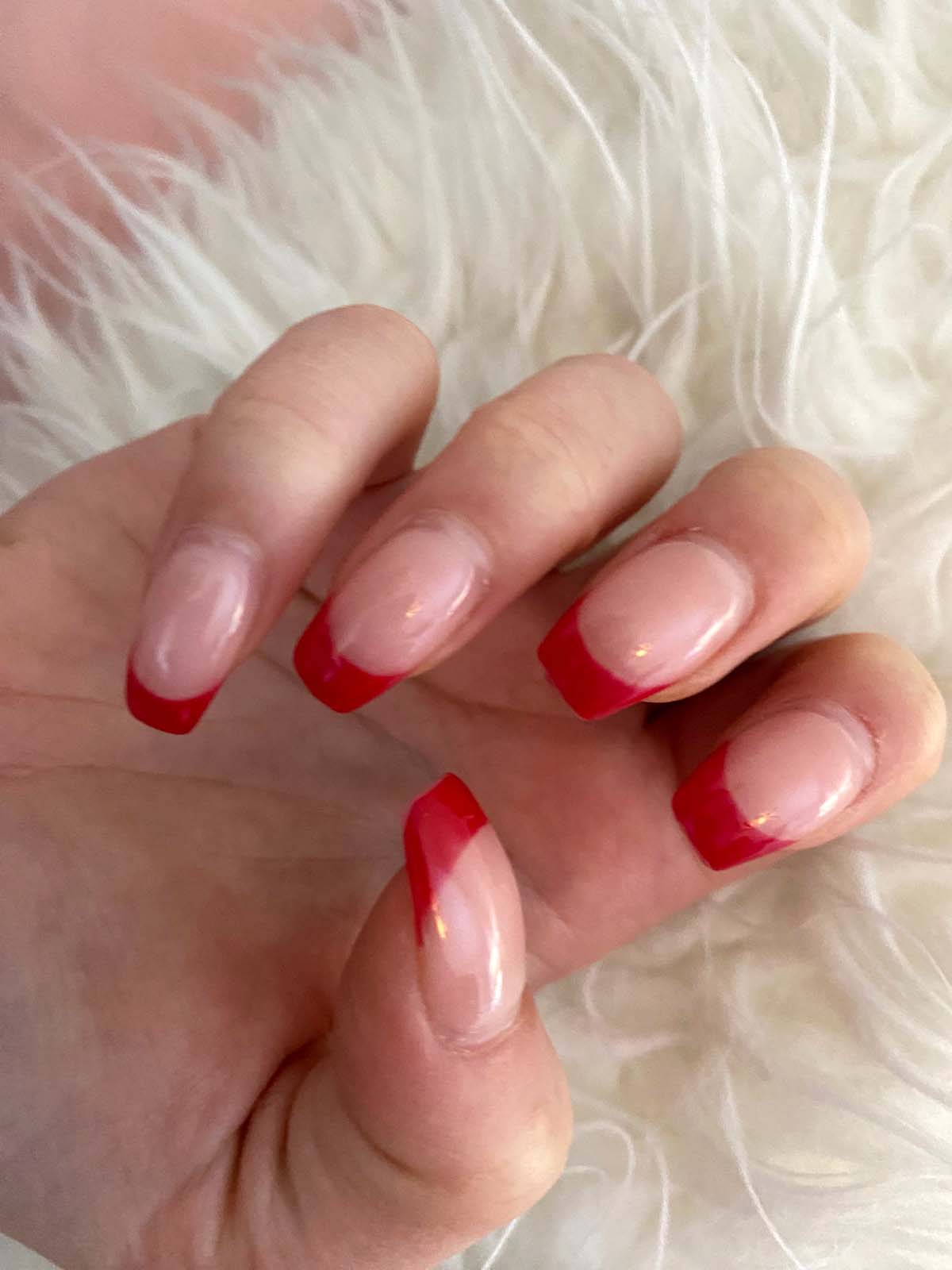 DIY Red French Tips Nails Tutorial
You'll need just a few items to create this Red French Tip nail design:
A bold red nail polish
A clear top coat or very sheer pink nude
If you prefer a sheer nude base rather than clear, choose a pink toned nude to coordinate with the red tones of the tips. Once you've chosen your polishes, clean and prep your nails by shaping them into almond or coffin tips.
To get a smooth and perfect French tip, first completely remove any residual polish and wash your nails well. If you have residual polish in your cuticles or nail edges use a cotton swab dipped in polish remover to get into the smaller areas.
Then, start with your red polish, in one single motion swoop the polish from the natural growth point on your nail bed and connect it to the coordinating point on the other side of the nail.
Once the red polish is fully dry, coat the entire nail in the clear or sheer polish. Using a sheer pink (rather than clear) will provide coverage for any flaws on the nail base. One or two coats, depending on your personal preference. Let it dry, and you're done!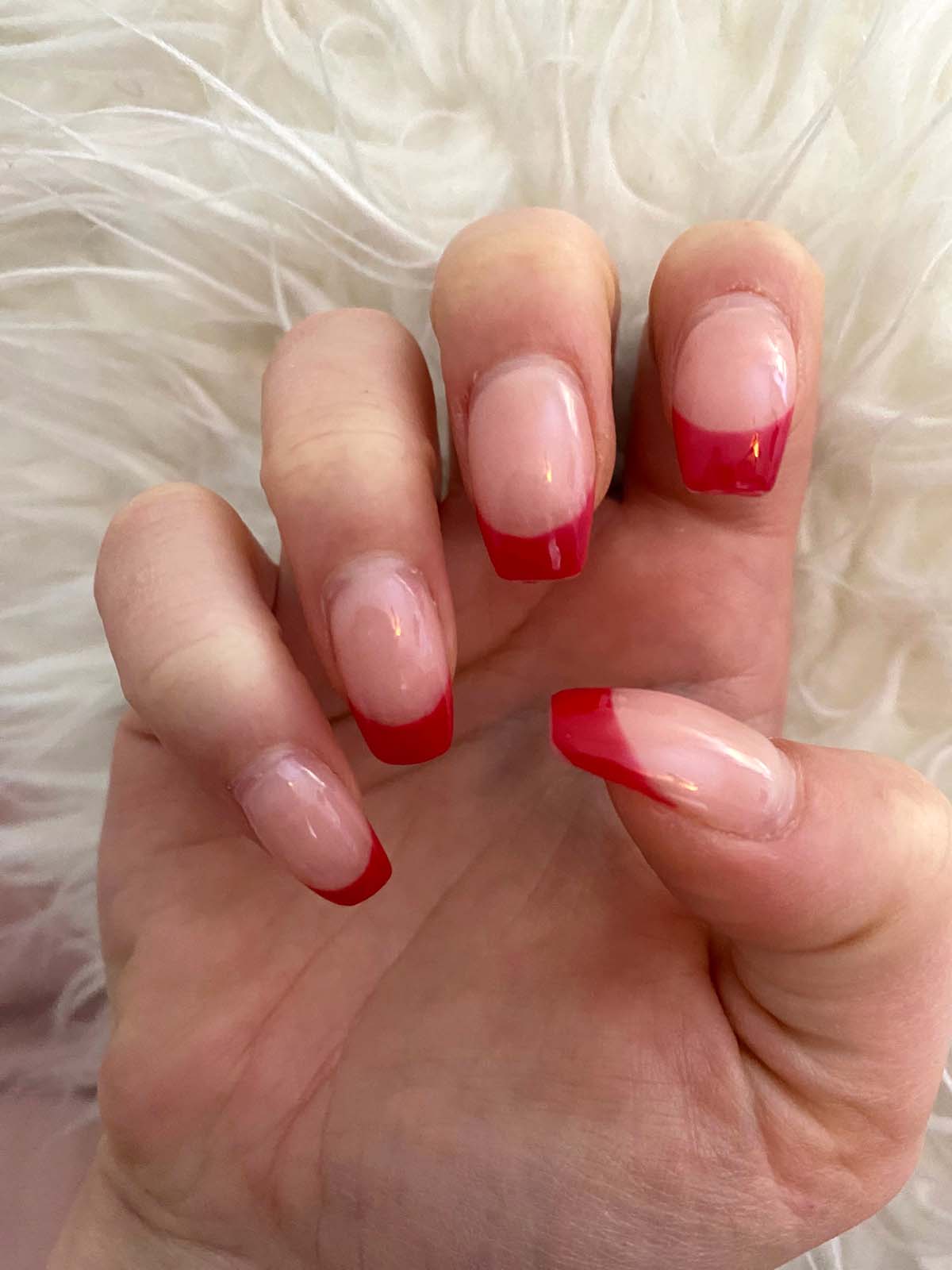 Red French Tips Nails
Red nails are a classic look and go with almost any outfit styling but truly shine with classic neutrals or bold reds and blues. If you love a classic style with a pop of color, red french tips are perfect for you!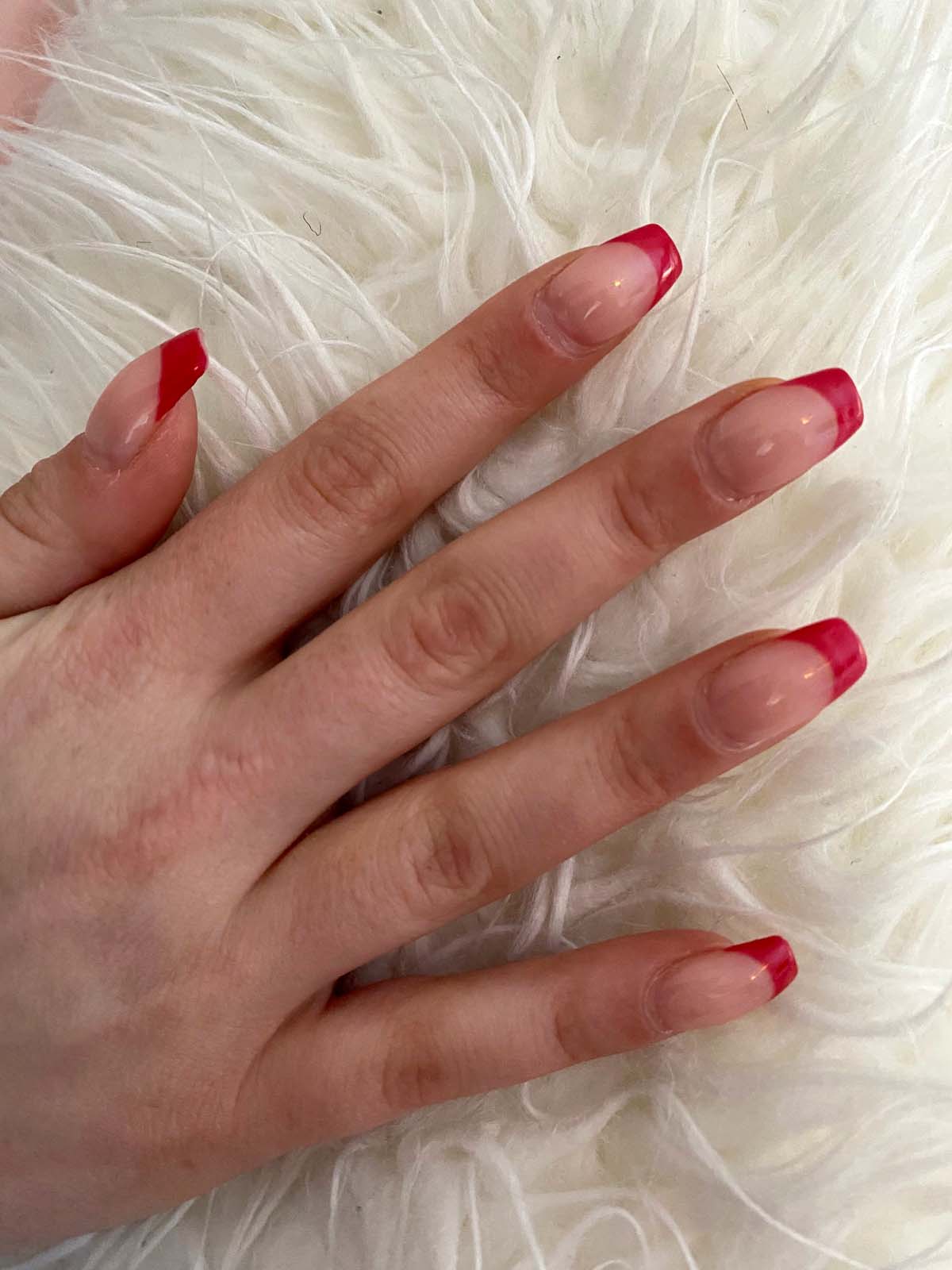 https://vibrantguide.com/wp-content/uploads/2023/01/red-french-tips-nails-6.jpg
1600
1200
Anna
https://vibrantguide.com/wp-content/uploads/2019/01/logo2.png
Anna
2023-01-24 19:48:42
2023-03-28 16:08:55
Red French Tip Nails