Champagne Gold And White Nails Design

This Champagne Gold And White Nails Design is a perfect DIY manicure idea if you like high-end gold and white holidays nails inspiration. Or if you simply love a lavish champagne gold nail look. Gold and white is a classic combo that creates feelings of luxury and class. A lovely look anytime but especially perfect for 2022 holiday nail ideas.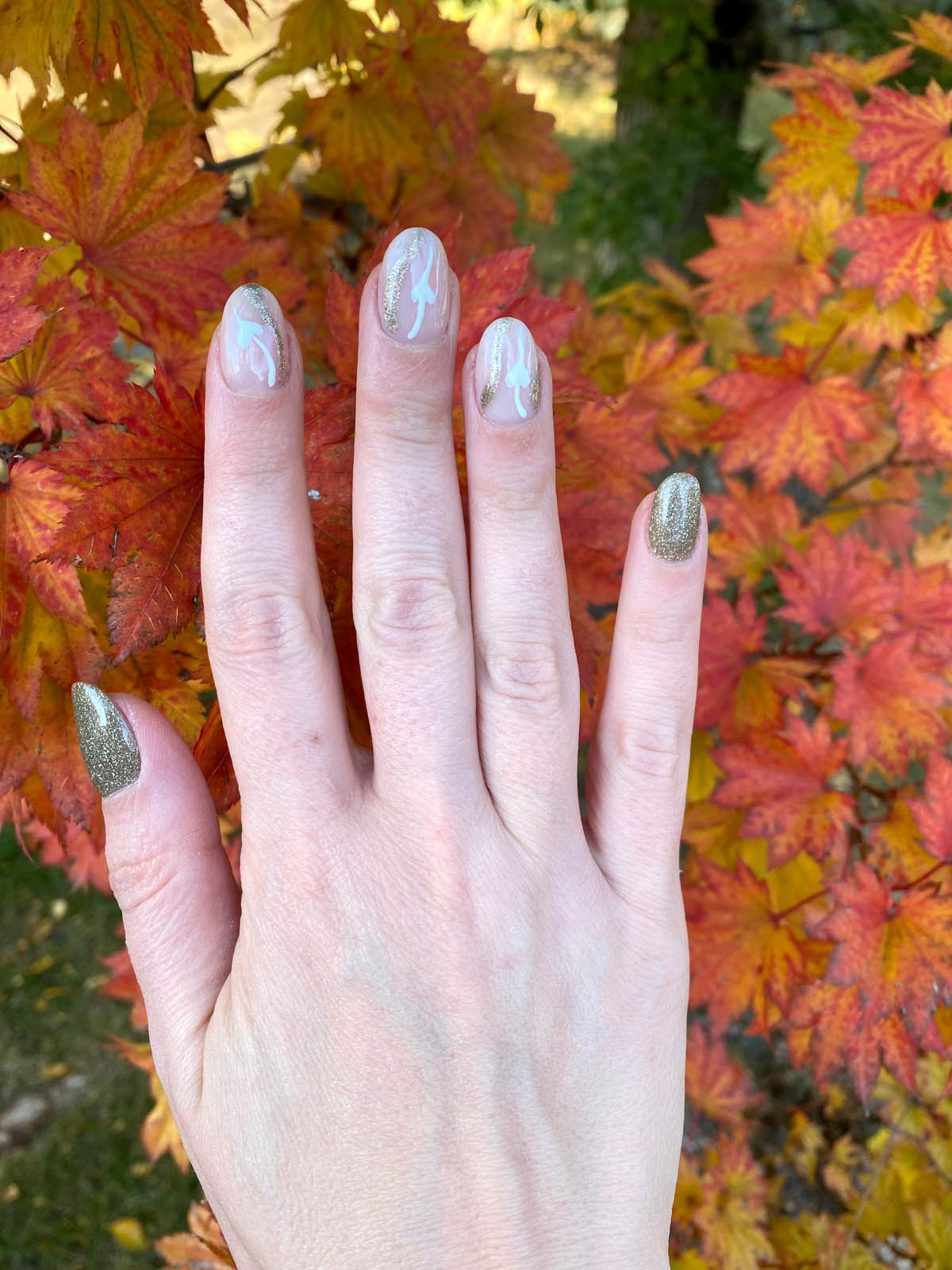 Champagne Gold And White Holiday Nails Design
Gold and white are a festive and luxurious color pairing perfect for the winter holidays, especially a classy gold and white Christmas nails look.
You can also opt for a variation of rose gold and white nails to hint at a more classic Christmas nails design. If you want more color on your Christmas nail designs but love this glittery look, try it out as gold and white New Year's or NYE nails!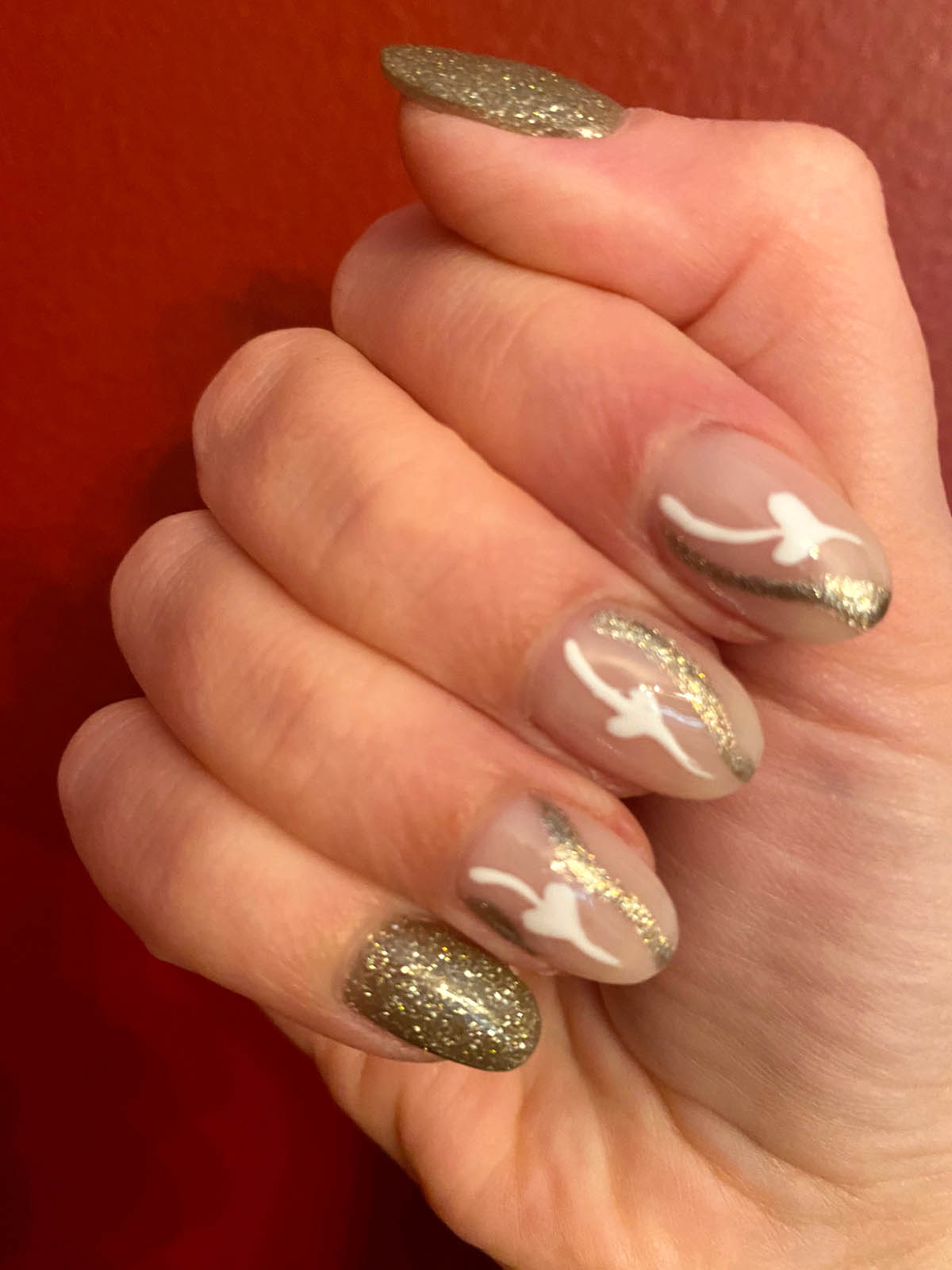 How To Do Champagne Gold And White Nails Design: Shape Nails Into The Almond Shape
A soft almond nail shape or long oval nail shape is the perfect canvas for hand-painted account designs. This gold and white holiday nails design would look stunning on all rounded nail shapes. To match this look, start shaping your nail from each side of the base to a point just off the center of the tip. Leave a small portion of the nail tip to be rounded out. This creates the almond shape. Once you have your almond tip shaped, smooth out all corners and sharp angles. The almond nail shape is blended and soft.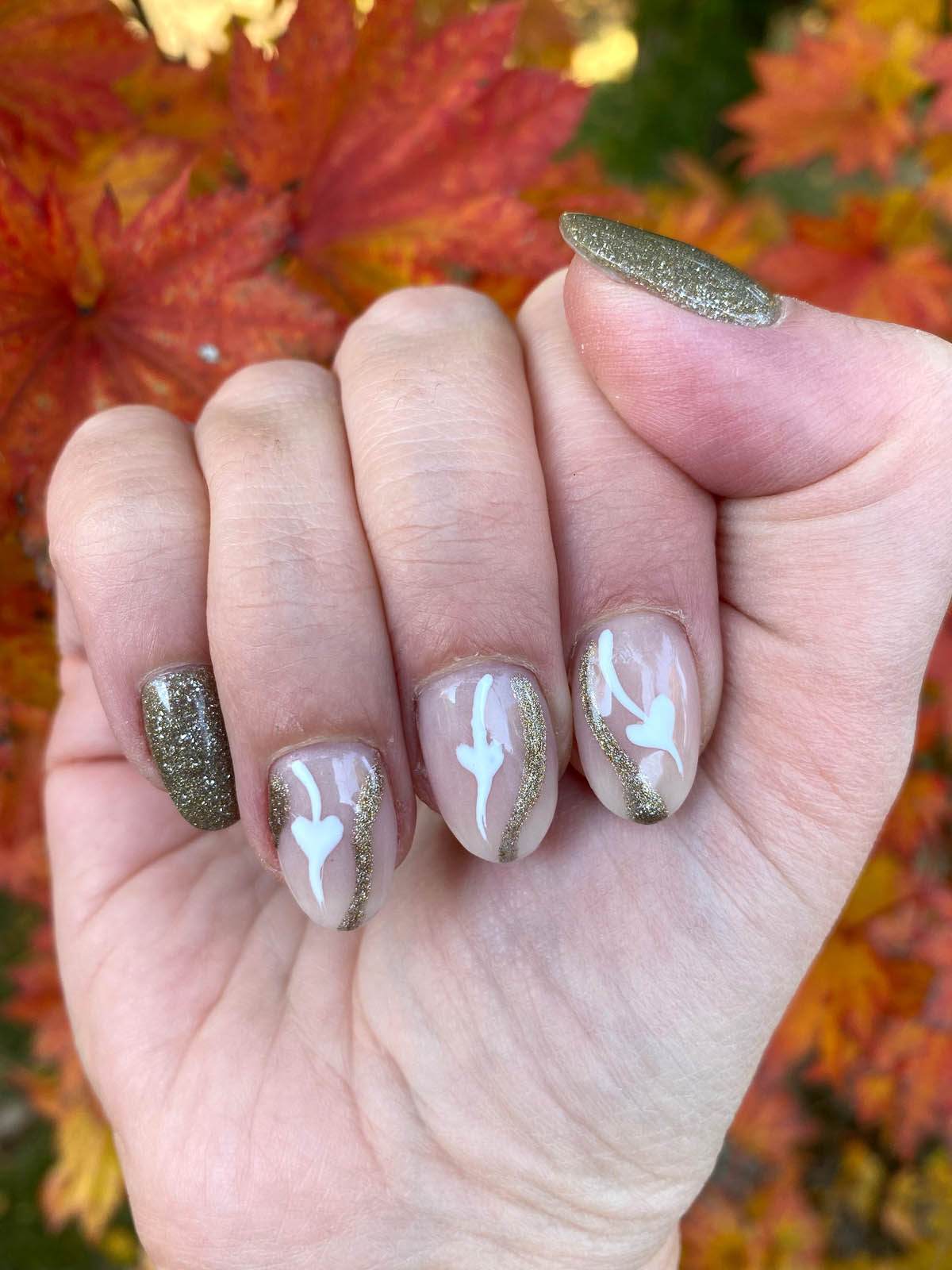 Champagne Gold And White Nails Design Tutorial
For this champagne gold nails and white manicure you'll need :
A sheer nude nail polish
An opaque white nail polish
A champagne gold nail polish (or sub with rose gold nail polish!)
An ultrafine nail art brush
A clear top coat
First, paint two to three thin coats of champagne gold nail polish on your thumb and pinky nails. Be sure to let each coat dry fully before applying the next. This is especially important with glitter-based polishes.
Then paint one to two coats of your sheer nude polish on the remaining nails. For the most cohesive look, be intentional in choosing your nude nail polish. Since this nail design uses champagne glitter polish, choose a nude that coordinates with the neutral-to-slightly-warm tones of the champagne glitter. Avoid nudes that are too pink.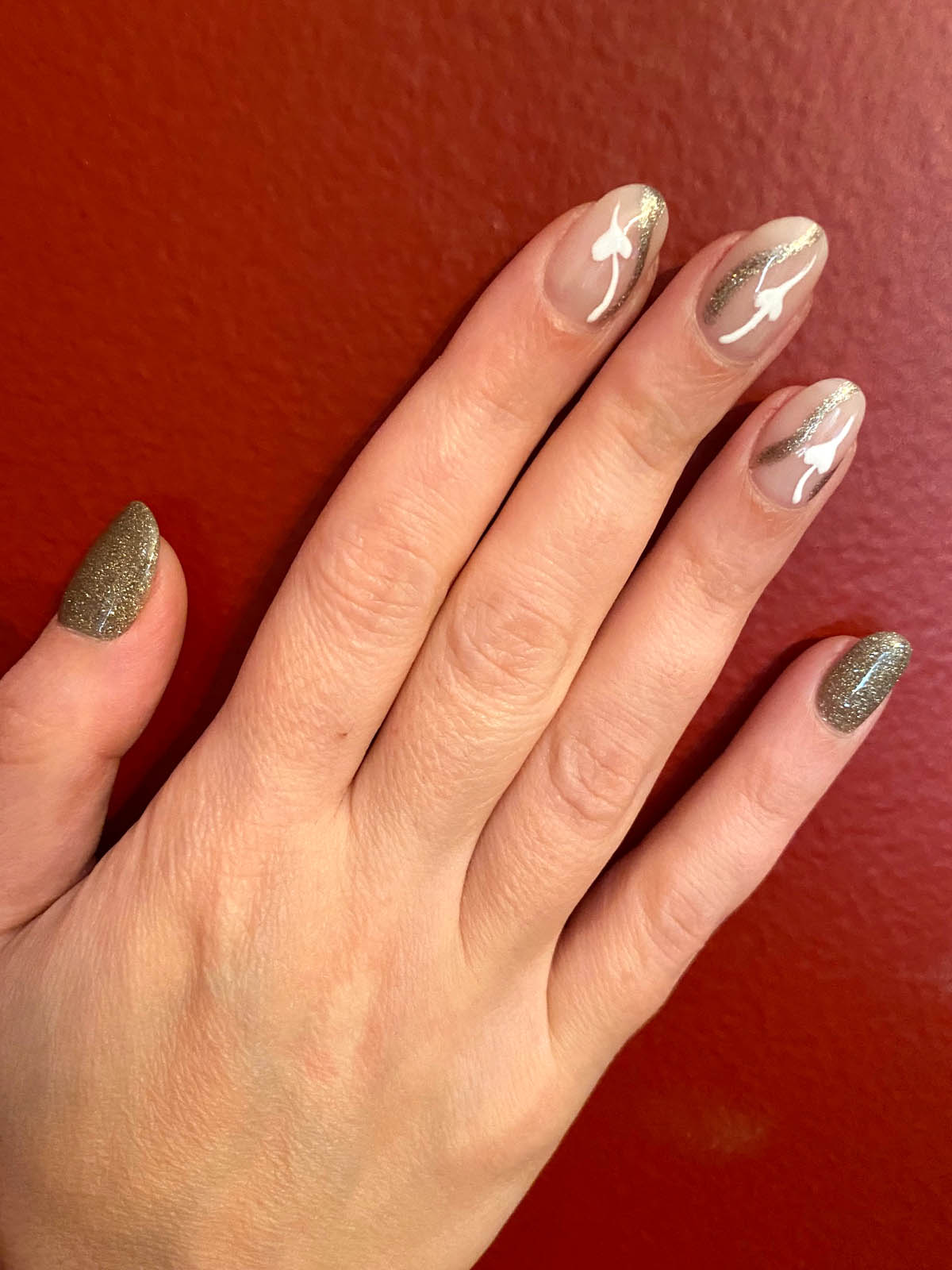 Champagne Gold And White Nails: Gold Swirls Tutorial
To paint the champagne gold nail polish lines, use the tutorial in the Purple Nail Design Silver Glitter Swirl Accent Nail Design post.
Swirls are a fun and feminine way to make accent nails stand out. Plus they are so easy to paint. Just dip your ultrafine nail polish brush into the champagne glitter nail polish and paint a swirl from the nail base to the tip. Make your swirl in one singular stroke, pulling the polish brush back and forth to make the organic swirl shape.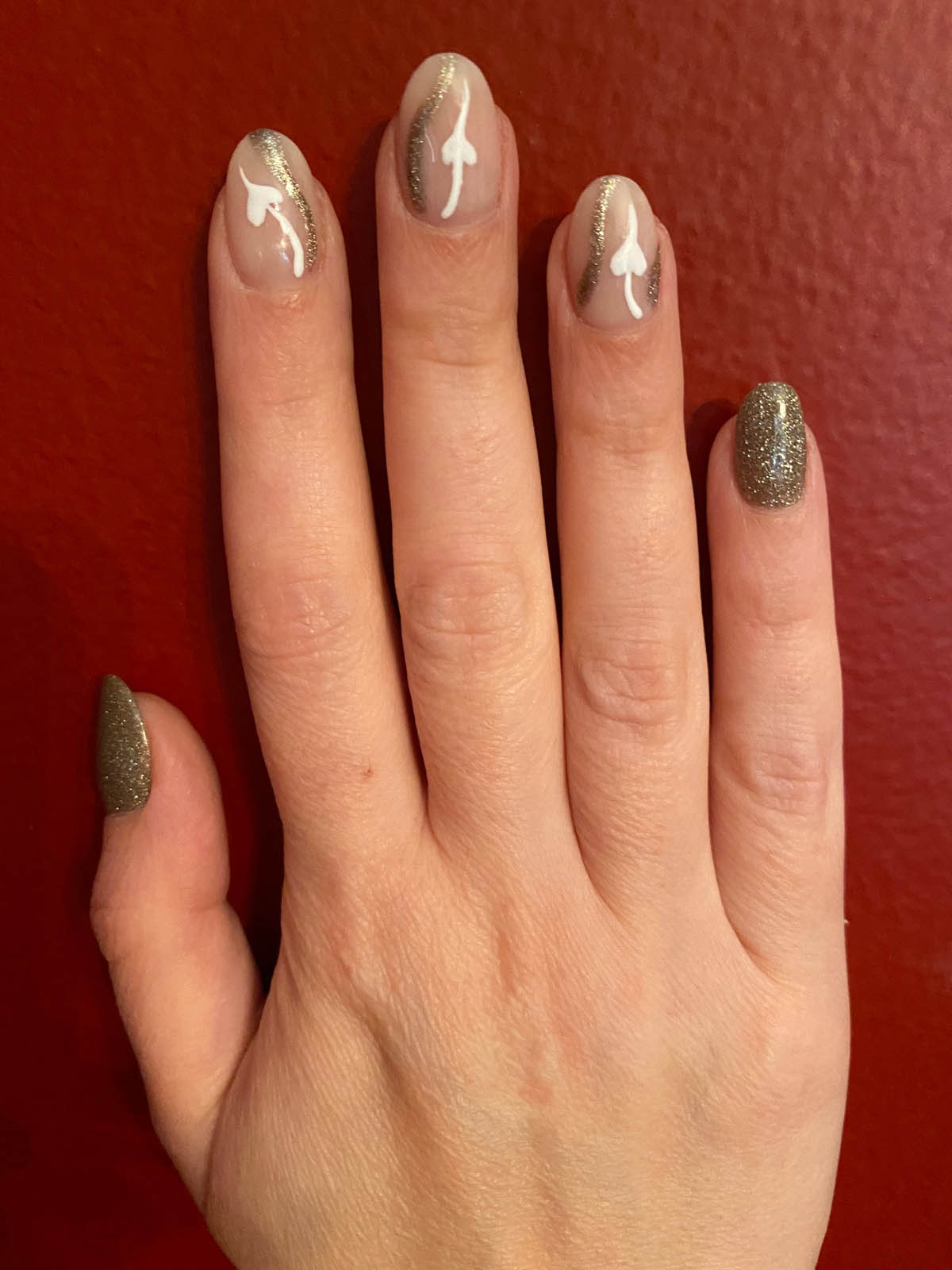 For these gold and white holiday nails, I painted one accent stripe in champaign gold on all of my accent nails and pumped up the look by painting a second stripe on my ring finger nail. Mix it up and have fun with your design! You can paint the stripes very thin or use a little more pressure for a thicker, more bold swirl line. Wait for your gold glitter swirl lines to dry fully before moving to the white swirls.
Other white and gold nail design inspo you'll love: White And Gold Glitter Nails Color block Design, White Nails With Gold Foil Accent Finger, and Nude Nails with White And Gold Swirls.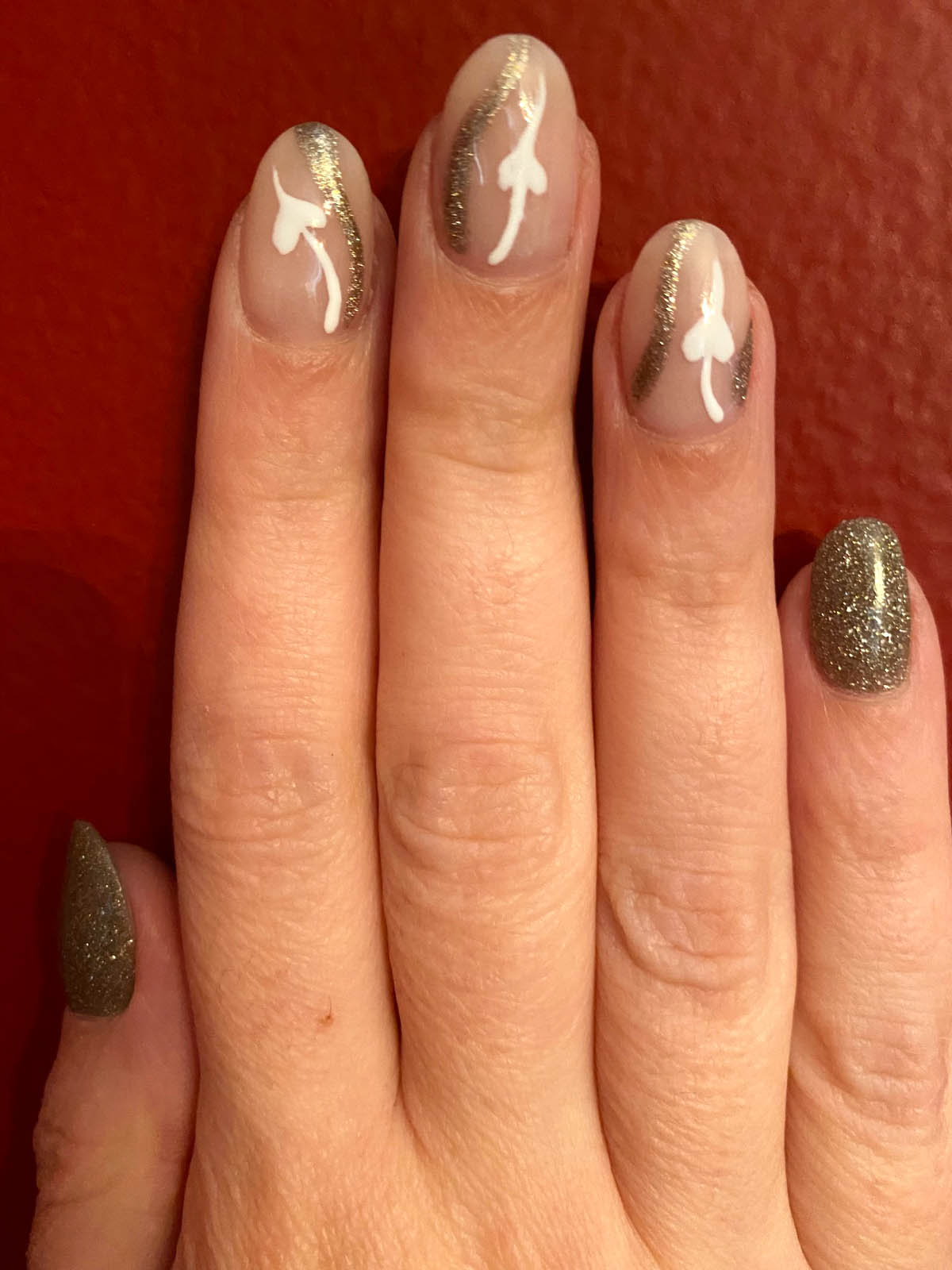 Champagne Gold And White Nails: White Swirls With Hearts Tutorial
Next, clean your nail detail brush well with acetone (or grab a new one). Dip it in your opaque wither polish and paint a new swirl line that somewhat flows with your champagne gold glitter line. You don't need to make them match perfectly. In fact, I think this nail design looks better when the swirl lines are each doing their own thing.
To prevent smudging the white swirl lines allow them at least fifteen minutes to dry, then you can make the accent hearts! If you feel confident in your hand drawing abilities, you can take a short fine nail polish brush and simply draw the heart shapes onto your nails, centering the points on the swirl line. Then carefully fill in with the white polish.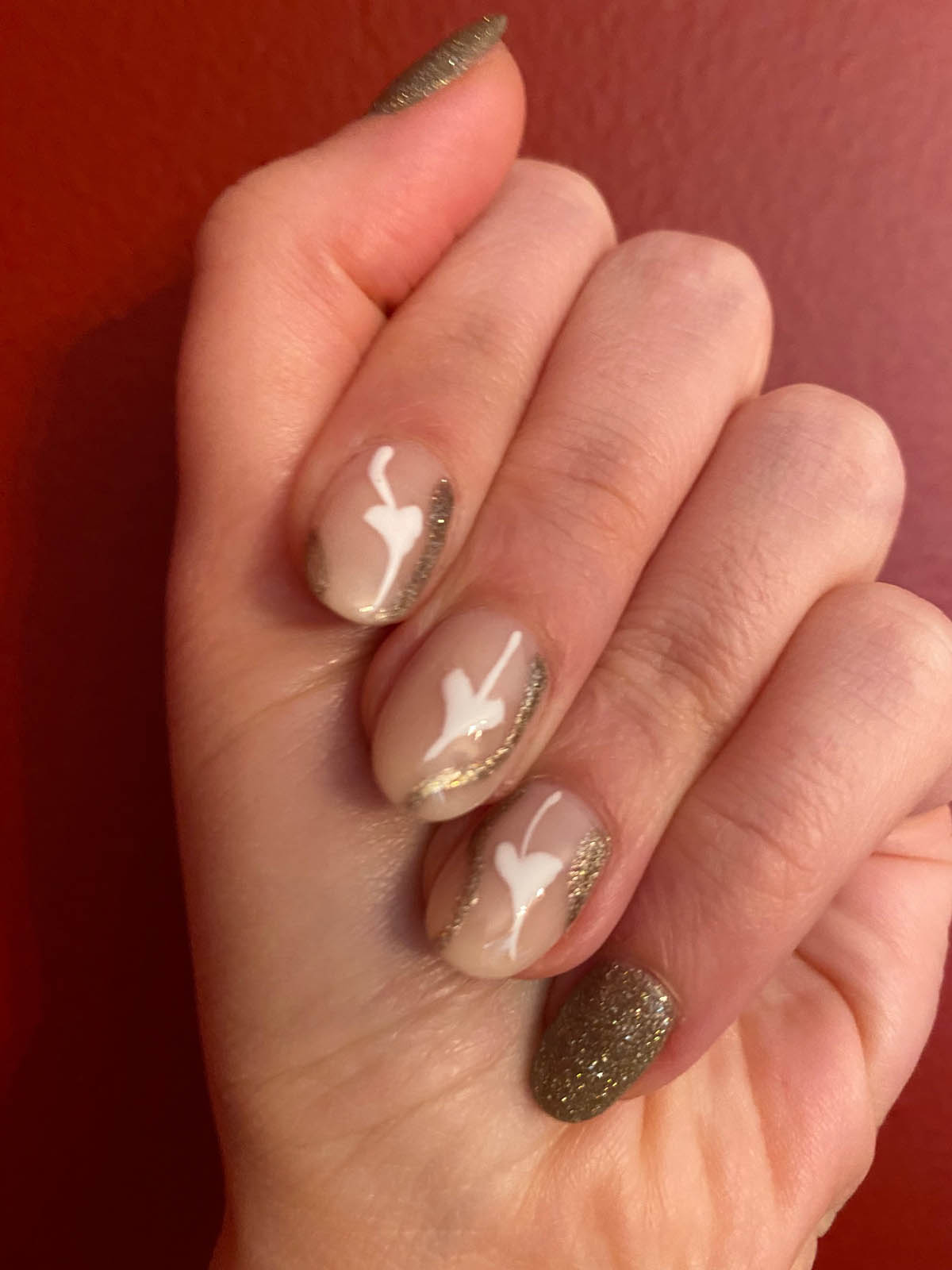 If you prefer a more structured approach, grab a few toothpicks or bobby pins, dip one in the white polish and then place two dots of polish on your nail where you want the heart to be. With a new clean tool, connect the dots by pulling the blog of polish down and towards the center point between them. You can also use a nail art pen to make the stripes.
Once your hand-drawn hearts are dry, finish your Gold And White Nails Design with one or two coats of top coat, remembering to seal the sides of the nail design.
Other swirl nail design Ideas you might love: Blue and White Nail Designs, Bright Orange Nails With White Swirls Design, Summer Swirls Mani, Abstract Pastel Swirls, Pastel Summer Swirls Nail Design, Hot Pink and White Swirls, Lavender Swirls Nail Design, Nude Nails with White Swirls, Light Blue Nails with Swirl Design, and Shades of Pink With Swirl Nail Design.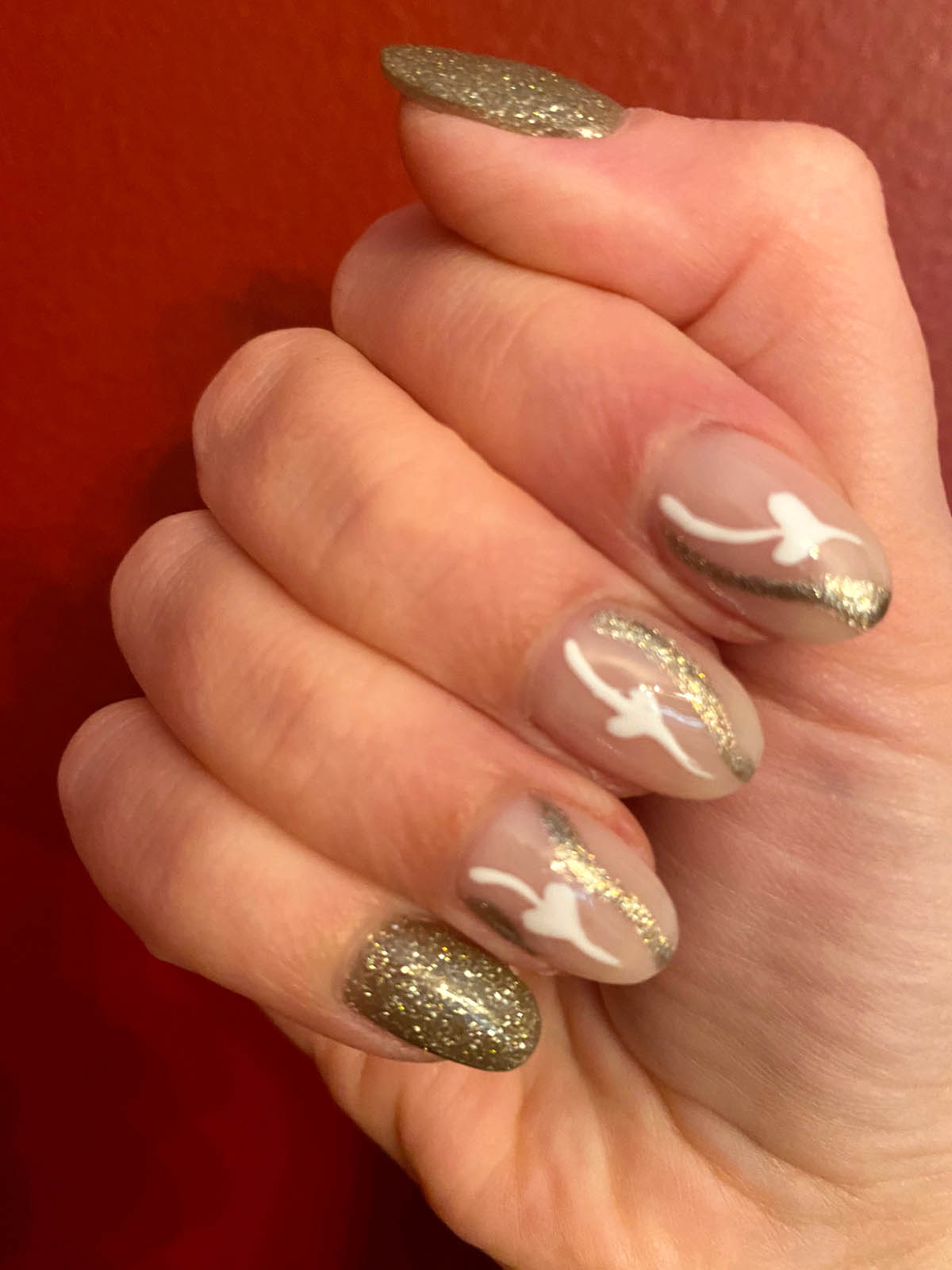 https://vibrantguide.com/wp-content/uploads/2022/10/gold-and-white-nails-3.jpg
1600
1200
Anna
https://vibrantguide.com/wp-content/uploads/2019/01/logo2.png
Anna
2022-11-02 15:36:17
2022-11-02 15:44:30
Champagne Gold And White Nails Design