Burgundy Dark Red Nails Design With Gold

Burgundy dark red nails are a bold and fun manicure idea. Burgundy nails are a versatile look for girls who love cute red nail designs. A warm burgundy is perfect for fall nails or a deep wine red burgundy for Christmas nails.
Dark red nails come in many shades, and burgundy is a classic and luxe option, invoking feelings of classic Christmas and winter aesthetics.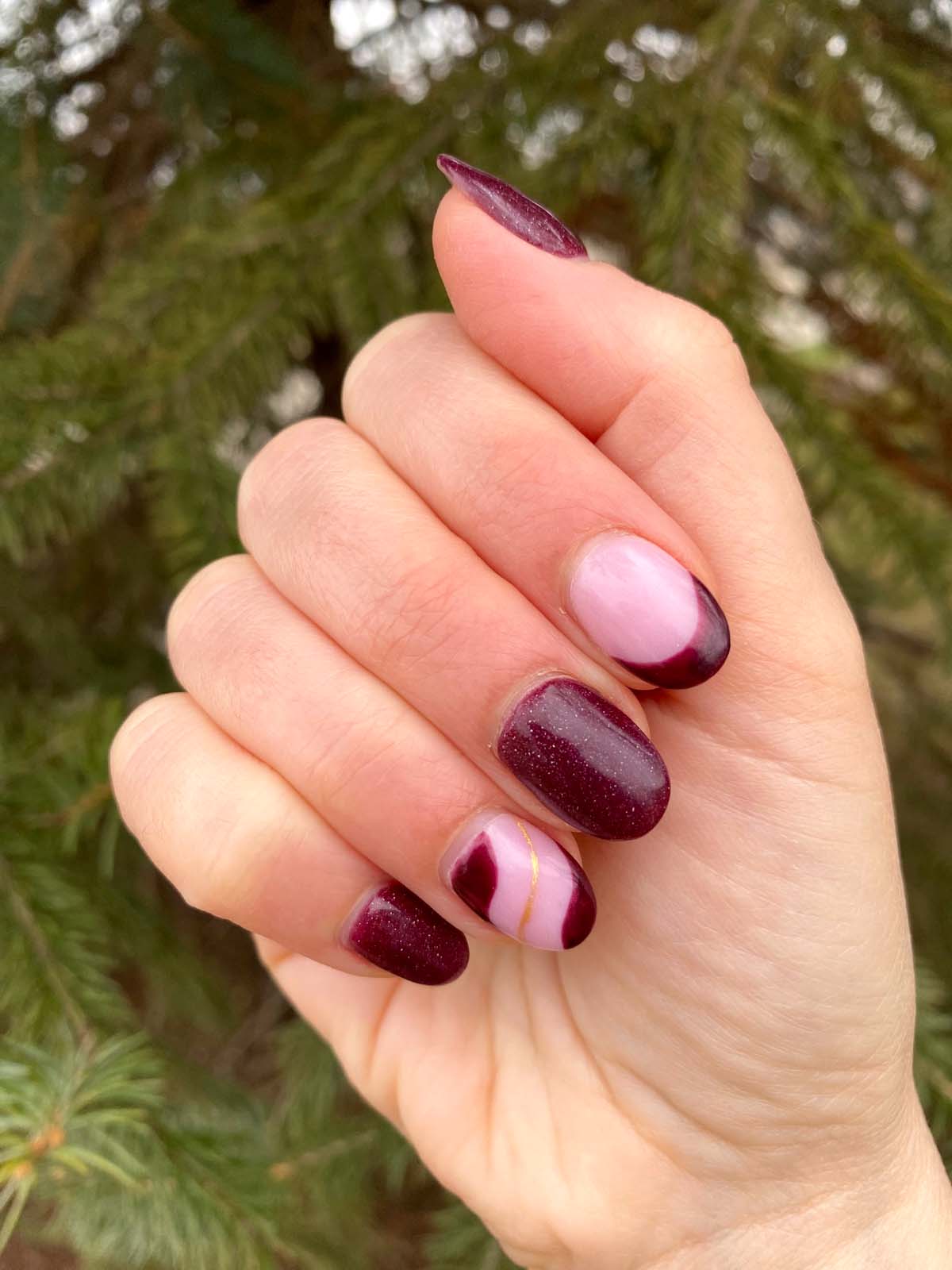 How To Do Burgundy Dark Red Nails Design: Shape Nails Into The Oval Shape
Because the gold swirl and burgundy color block design is very organic, this nail design will look best on oval or round nail shapes. Oval and round nails are almost identical with the difference being all about the sides. Round nails actually have straight parallel sides while oval nails have an arched and rounded shape starting throughout the entire tip.
When filing oval nails, be sure to finish up with a fine-grit file to smooth out any snags for a truly classic look. Shorter oval nails are extremely durable and resistant to chips and snags. Perfect for the busy holiday season.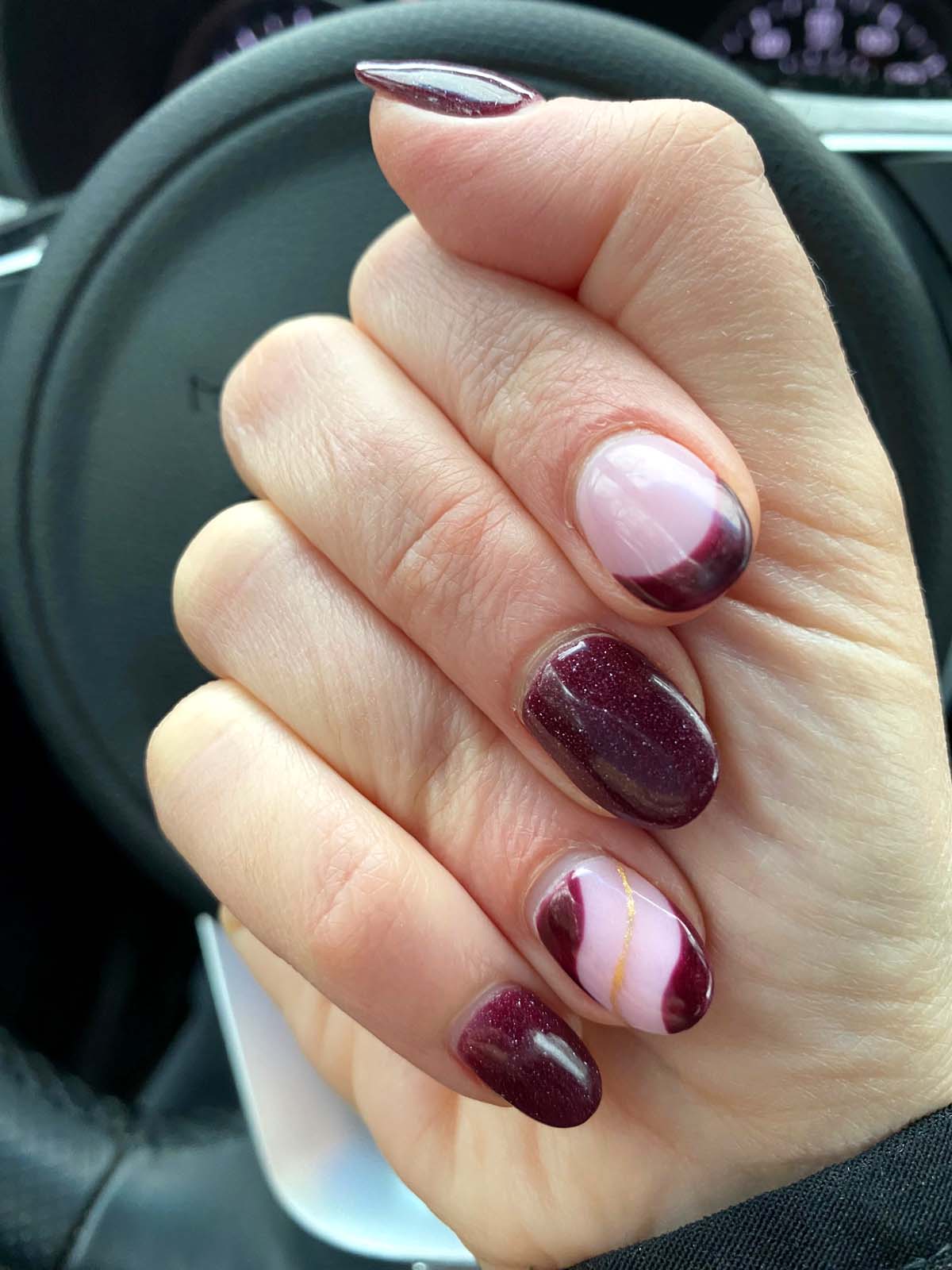 Burgundy Dark Red Nails Design Design Tutorial
For these burgundy Christmas nails design you'll need:
A deep burgundy-red nail polish
A pink-toned nude nail polish
A metallic gold nail polish
A silver glitter nail polish
A clear top coat
An ultrafine nail art brush
Paint two to three thin coats of burgundy polish on the nails of the thumb, index, and pinky fingers.
Next, paint one or two coats of the pink-based nude on your remaining nails. Allow all polish time to dry so that you don't smudge on the next steps.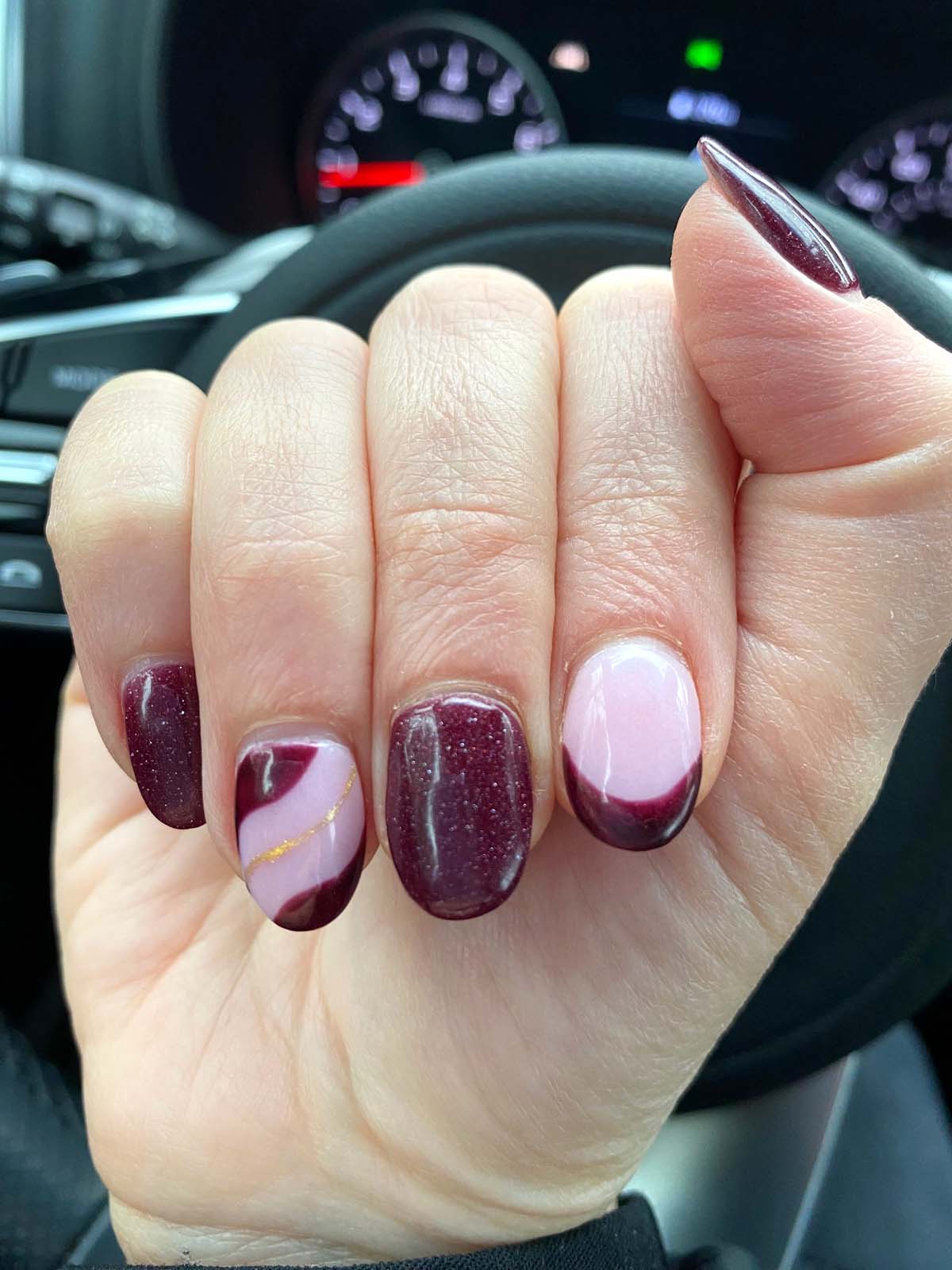 Dark Red Nails: Burgundy French Tutorial
To create the purple french tip accent nail use the medium purple polish. In one organic swooping stroke connect each of the natural growth points on your nail bed, letting the polish curve with your natural nail shape. If you need a second coat, let the first coat dry completely first.
To make your nails seem longer, curve the polish of the french tip along with your natural nail shape.
If you want to add a little something extra to this dark red nail design, add a white or gold stripe along the line of the french tip, similar to the style of the Brown French Tip Nails.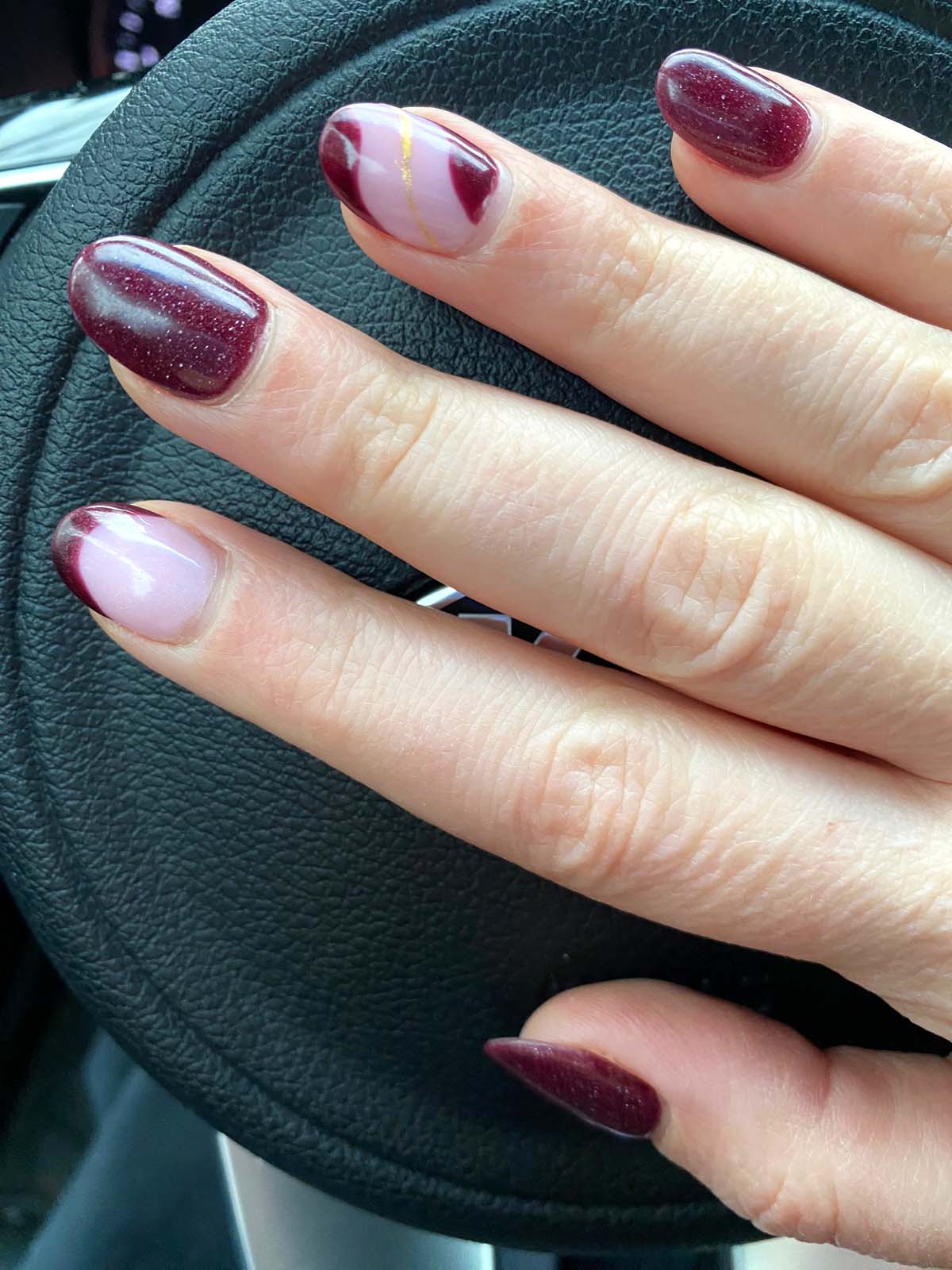 Burgundy Christmas Nails: Accent Nails with Organic Shapes
Following the tutorial for the Simple White Nails Design With Light Purple Green Color Block, we will paint the abstract dark red polish first. Allow your creativity to flow and don't worry about making the shapes perfect. The beauty in abstract nail art is in the imperfections.
When painting your lines to create the organic color blocking, keep in mind that you want to divide the nail space into thirds.
Paint a swirling line about one-third of the way from the nail base and carefully fill it in with the burgundy polish. Then on the opposite side of the nail, paint another swirl about one-third of the way in from the nail tip.
You can mirror the shape of the first shape or make a unique new shape. Again fill in with polish from the swirl line to the nail tip.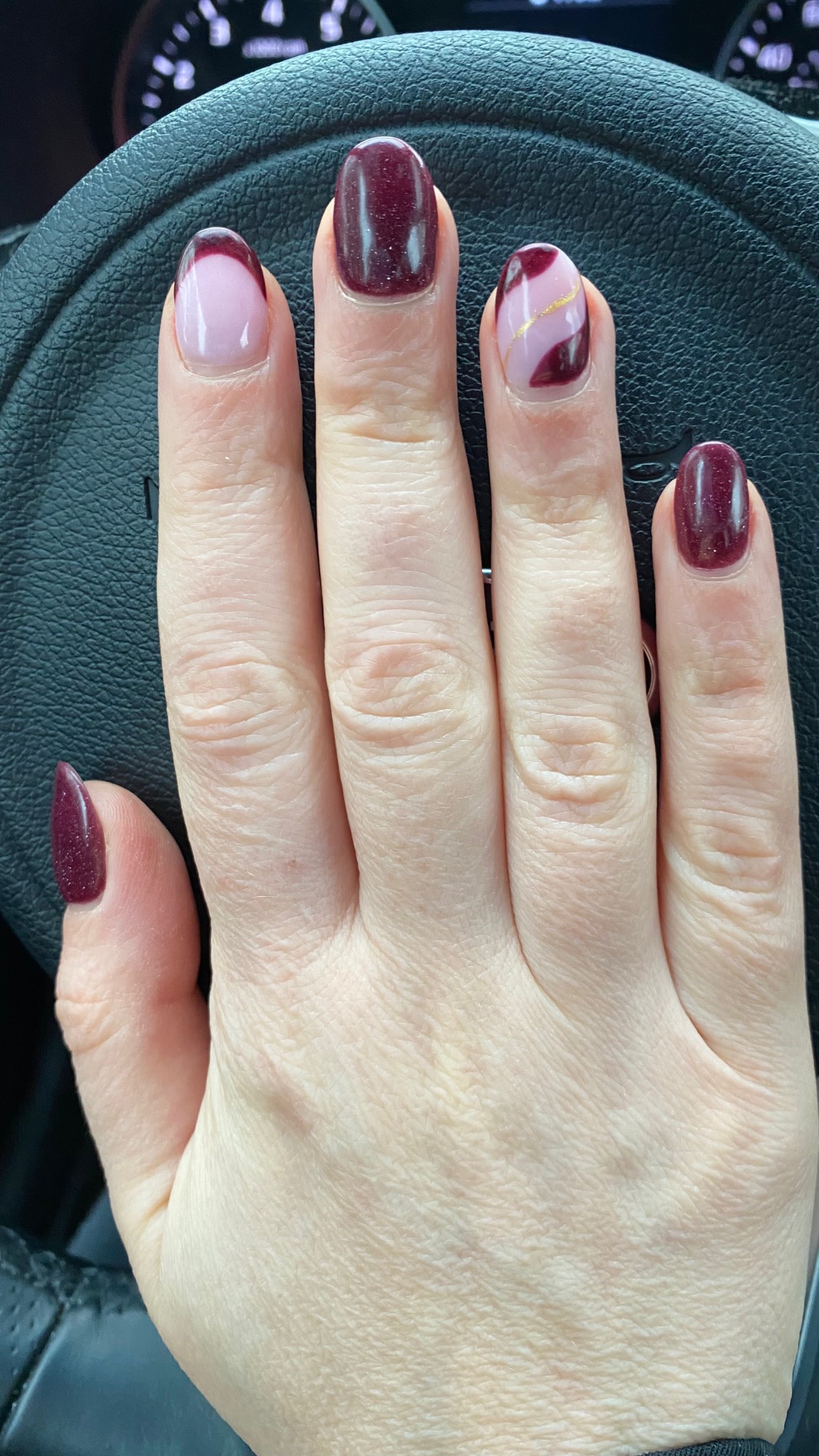 Wine Red and Gold Holiday Nail Design Tutorial
The gold swirls on this nail design elevate the whole look to date night or even Christmas party level!
To make the gold swirls, use the ultrafine polish brush. Use one smooth motion to make your line, and avoid making multiple strokes the line art won't be smooth and clean. Follow the flow of the burgundy lines you painted for a cohesive look.
Once all the swirl art has had time to fully dry, finish the look with the silver glitter polish on the solid burgundy nails and a high-quality top coat to protect your artwork and nourish your nails.
You can also use a nail art pen to make the gold stripes. Nail art pens are designed specifically for more intricate nail art. If you've never used a nail art pen before, the Purple Nails With Smiley Face And Abstract Design post has great tips!
If you love line art and swirl accent nails, these nail design ideas may inspire you:
Yellow Orange Nails with Flowers or Swirls
Nude Nails With White And Gold Swirls
Pastel Summer Nails Swirls Design
Blue Nails With Ring Finger Design
Hot Pink Nails With Swirl Accent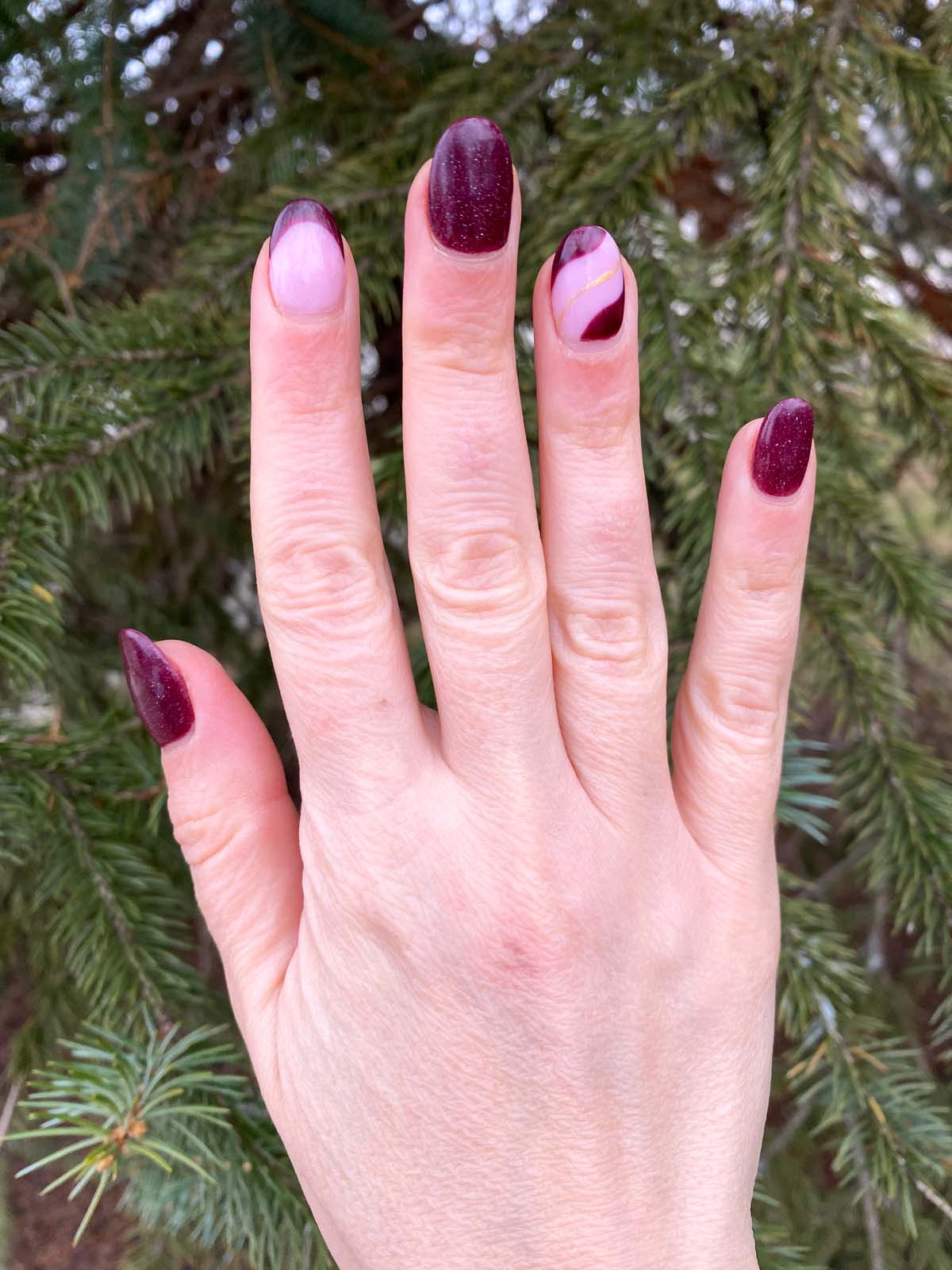 Burgundy And Gold Nails For Christmas And New Year
Dark red nails tend to be universally flattering for all skin types and burgundy is no exception. This burgundy and gold nail design is a style you can wear year-round but is especially stylish for fall nails or Christmas nails.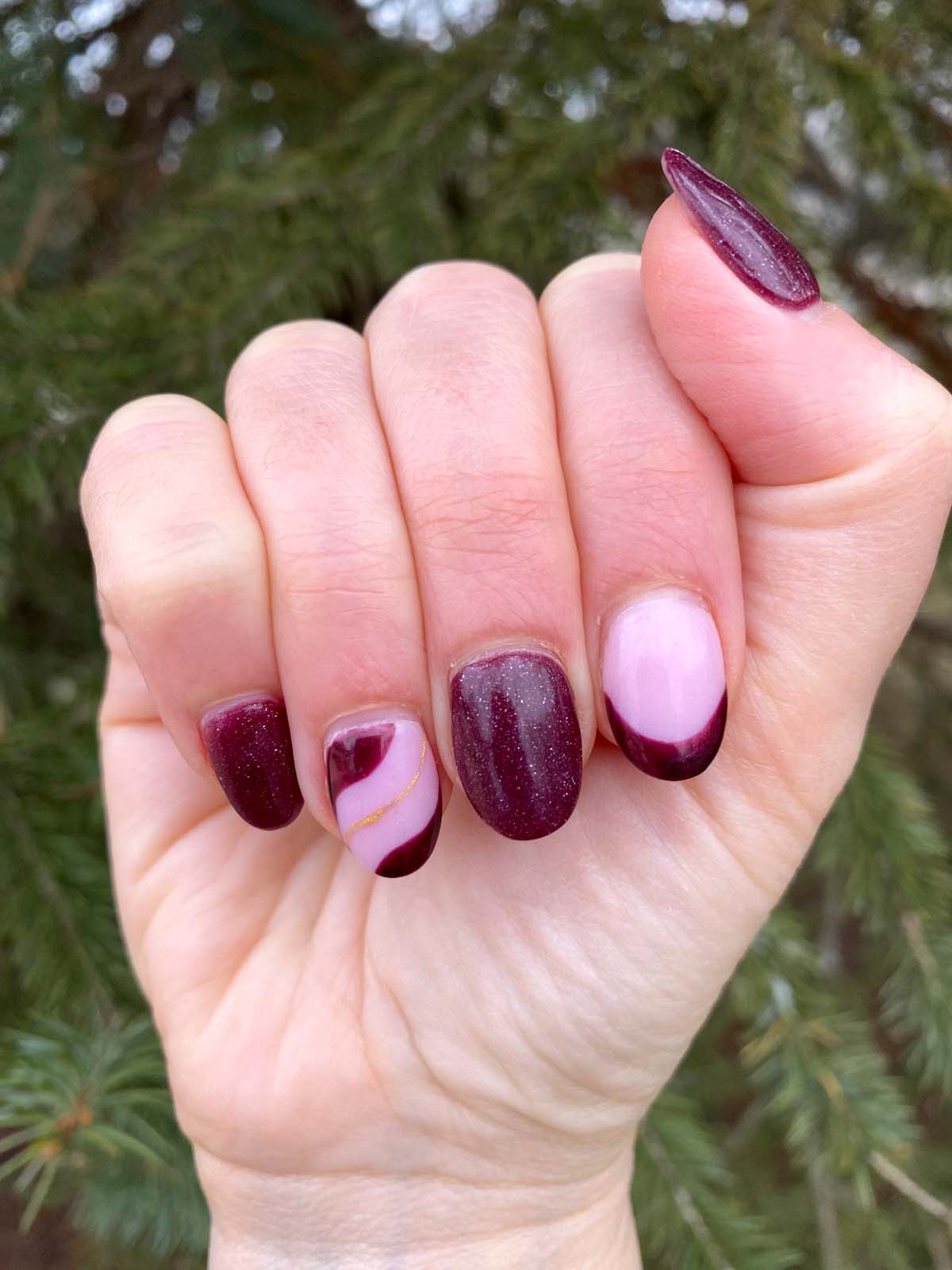 The rich, warm color of burgundy complements the other popular seasonal shades like gold, emerald, silver, and gold.
Dark red nails come in many shades, and burgundy is a classic and luxe option, invoking feelings of classic Christmas and winter aesthetics.
If you love holiday and Christmas nail designs, you'll love:
Christmas Candy Cane Nails Design
Champagne Gold And White Nails Design
Grey Silver Metallic Nails Design Idea With French Combo
White And Gold Glitter Nails Colorblock Design
White Nails With Gold Foil Accent Finger
Winter Snowflake Nail Design With Blue French Tips
Emerald Green and Gold Nail Design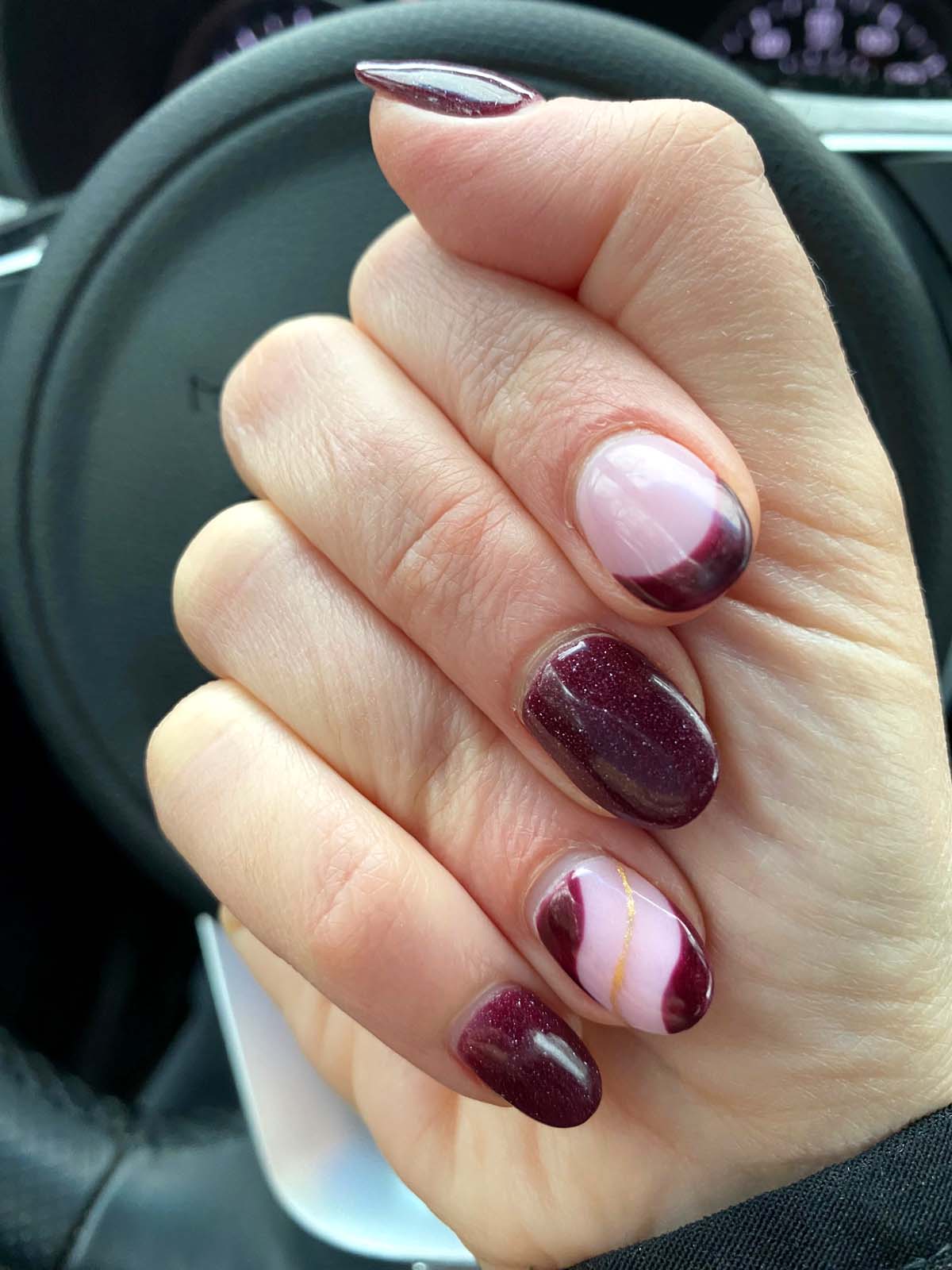 https://vibrantguide.com/wp-content/uploads/2022/12/wine_red_nails.jpg
1600
1200
Anna
https://vibrantguide.com/wp-content/uploads/2019/01/logo2.png
Anna
2022-12-09 17:35:36
2022-12-16 22:25:24
Burgundy Dark Red Nails Design With Gold