White French Tip Nails With Design

This white french tips nail design is an absolute clean girl inspiration, elevated with the white and gold swirl accent nails. The nude base keeps this manicure classy and understated while the sparkly gold glitter is eye-catching. Truly, this is the perfect combination of classic and creative.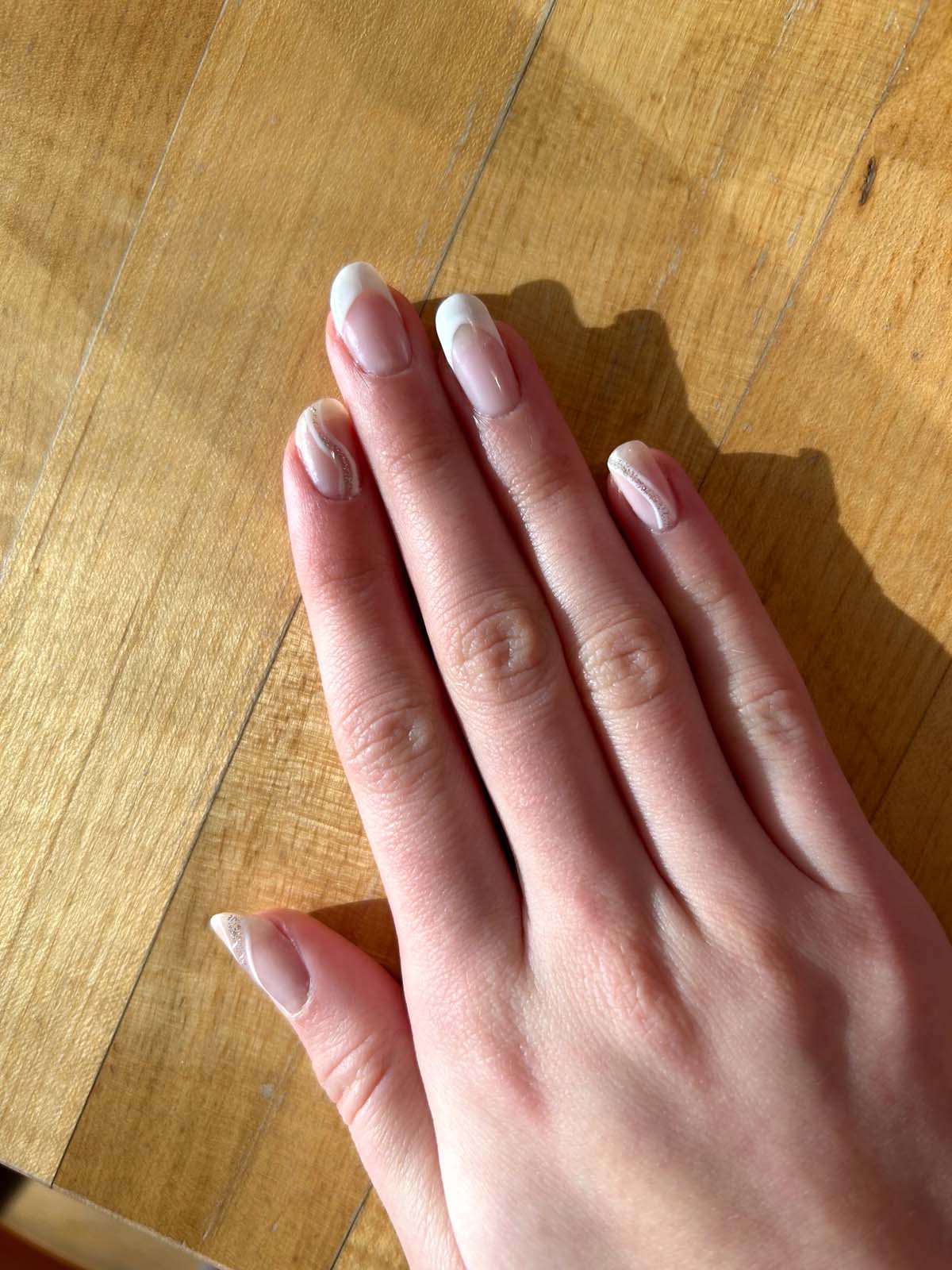 Create an Oval Nail Shape
This nail design is so versatile that it will look stunning on literally any nail shape. I like to pair swirl designs with soft shapes like oval, round, and almond.
For this understated mani, I chose an oval nail shape. Oval nails are flattering for all hand shapes and are classic and feminine.
An oval nail is really an elongated version of the round nail shape. To create an oval shape nail file from both nail base edges to a center point keeping the tip rounded. If you get too angular with your edges you will work into an almond nail shape.
With rounded nail designs, always finish with a fine-grit file to create a smooth flawless edge. If you love the look of oval and round nails, check out:
Emerald And Gold Nails Inspiration
Blue And White Swirl Nails
Hot Pink Lightning Bolt Nails Design
Pink Nails With White Accent Lines Nails
Burgundy Nails With Gold Accent Nails
Shades Of Blue Nails Design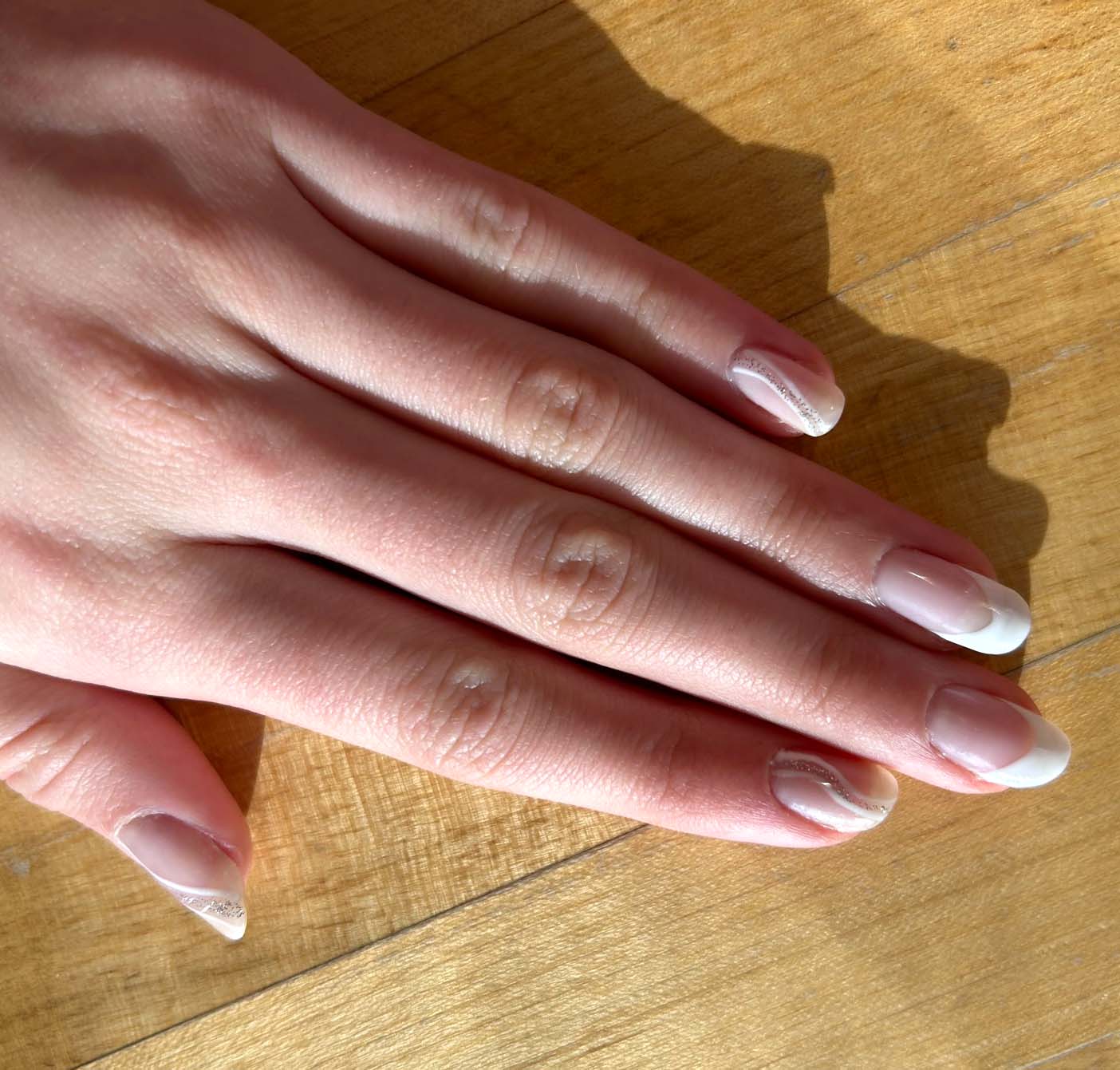 White French Tips With White and Gold Swirl Accent Nails Tutorial
For this nail design you'll need:
A gold glitter nail polish or striping polish
An opaque white nail polish
An ultra-fine detail brush
A clear polish or topcoat
To create the white french tip nails, grab the white polish first. I chose to go with the french tips on only my index and ring fingers.
To mimic my design you will make two sweeping strokes of polish starting at each nail edge where the nail meets the cuticle growth point. Paint in a gentle curve towards the tip of the nail. If you need a second coat, let the first coat dry completely first.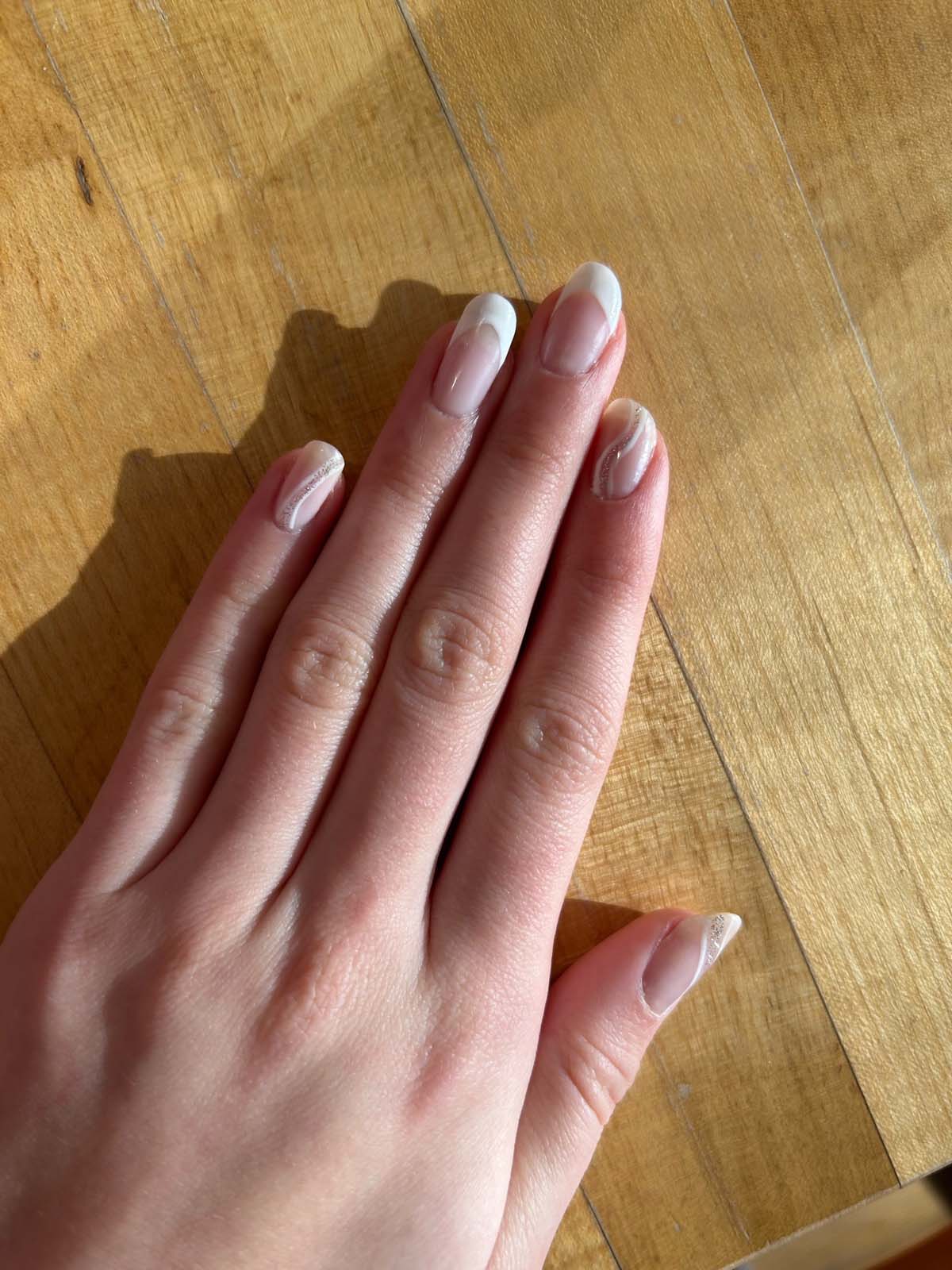 White and Gold Glitter Swirl Accent Nails tutorial
Start with a bare nail or a single coat of clear nail polish.
Swirls are one of my favorite accent nail design choices. They add so much artistic flair to a manicure and could not be easier to create. If you're using striping polish it will come with a thin detail brush, if using traditional polish use a very thin detailing brush rather than the brush that comes with the polish.
It's important to paint your swirls and stripes in one sweeping line rather than multiple shorter strokes to have smooth lines. Don't overthink it and commit to the line, starting from the base of your nail and moving towards the tip.
Always start with the lightest polish color when doing multiple color stripe designs. For this design that's the white. First, paint one white stripe on each finger, allowing it to dry fully to prevent smudging. Then, follow that line with a second leaving a small space where the gold glitter will go.
Next, either fully clean out your nail detail brush or grab a new one. Dip it in the gold glitter polish and color in the lines! If your gold glitter polish is a bit thinner you can get away with a second coat but only if all polish is fully dried first.
Finally, finish with one to two coats of clear polish or topcoat on all nails to protect your polish.
Swirl accents make you swoon? Don't miss:
Nude Nails With White And Gold Swirls
Pink & White Swirls On Nude Coffin Nail Idea
Tropical Orange Coral And White Nail Design
Abstract Swirls Pastels Manicure Idea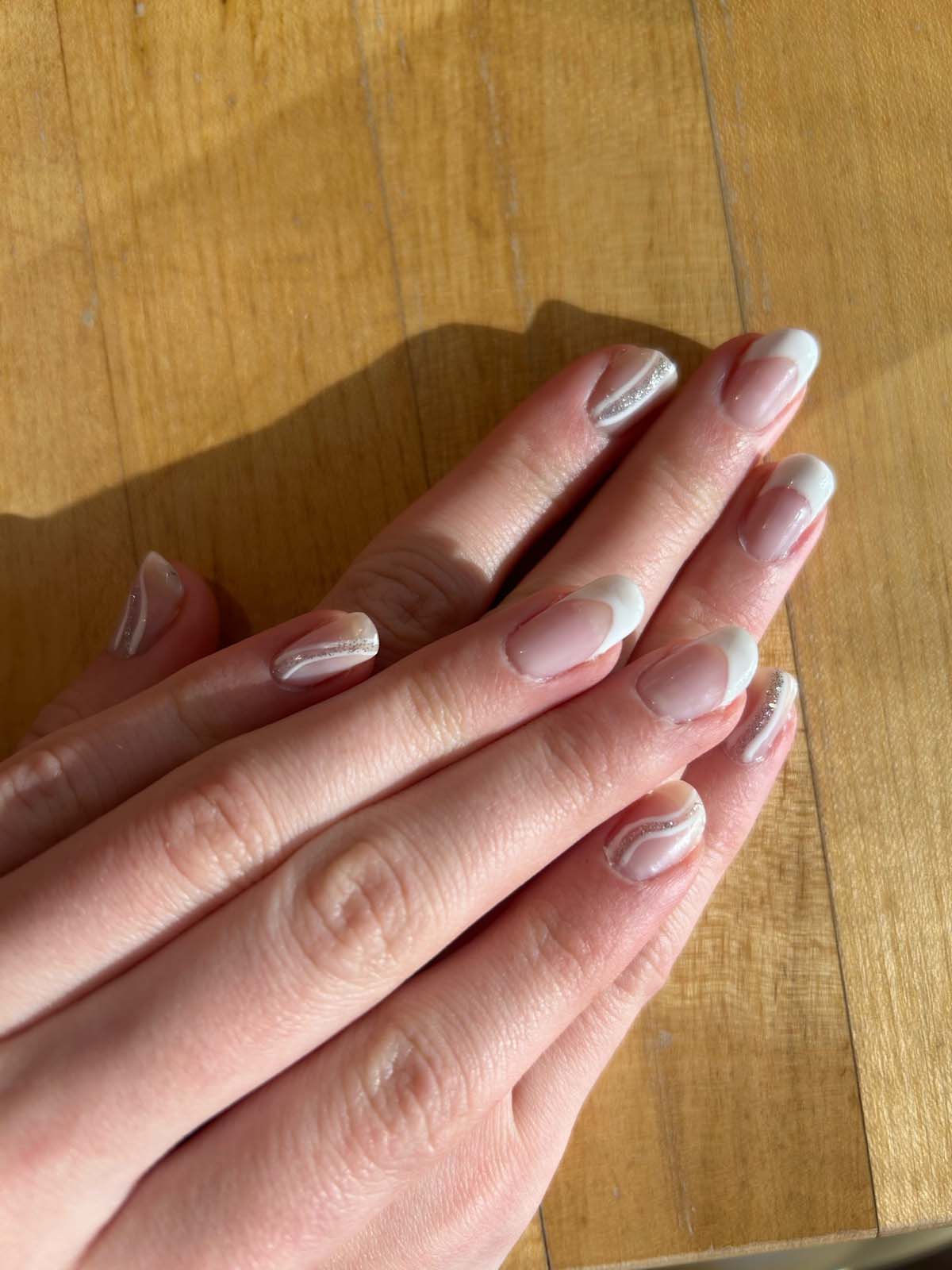 How To Style Purple French Tips With White French Tips With White and Gold Swirls
The clean and classic tones of this nail design will shine when styled with outfits in neutrals. However, you can absolutely wear it with anything, from a casual and cute matching set to a fancy night on the town the gold and white swirls are as versatile as they are beautiful
If nude and white nails are your vibe, you'll love:
White and Nude Swirl Nails
White Nails with Gold Accent Design
https://vibrantguide.com/wp-content/uploads/2023/01/white-french-tip-nails-with-swirl-design-2.jpeg
1600
1200
Anna
https://vibrantguide.com/wp-content/uploads/2019/01/logo2.png
Anna
2023-03-22 01:15:03
2023-03-22 18:46:09
White French Tip Nails With Design