Easy Cute Coffin Nails Design – Pink & White Swirls On Nude Nails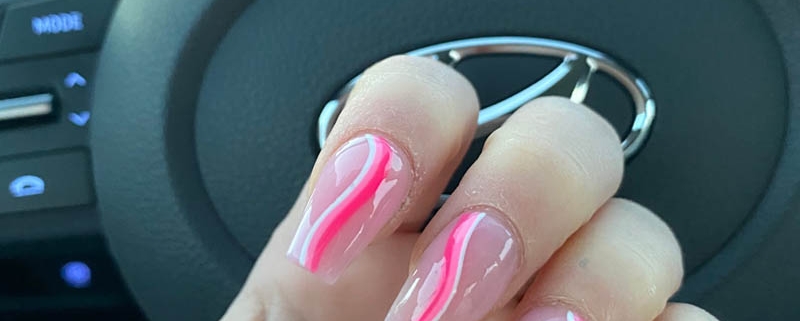 This easy coffin nail design is so cute and trendy! With white and pink swirls, you will absolutely love these nails!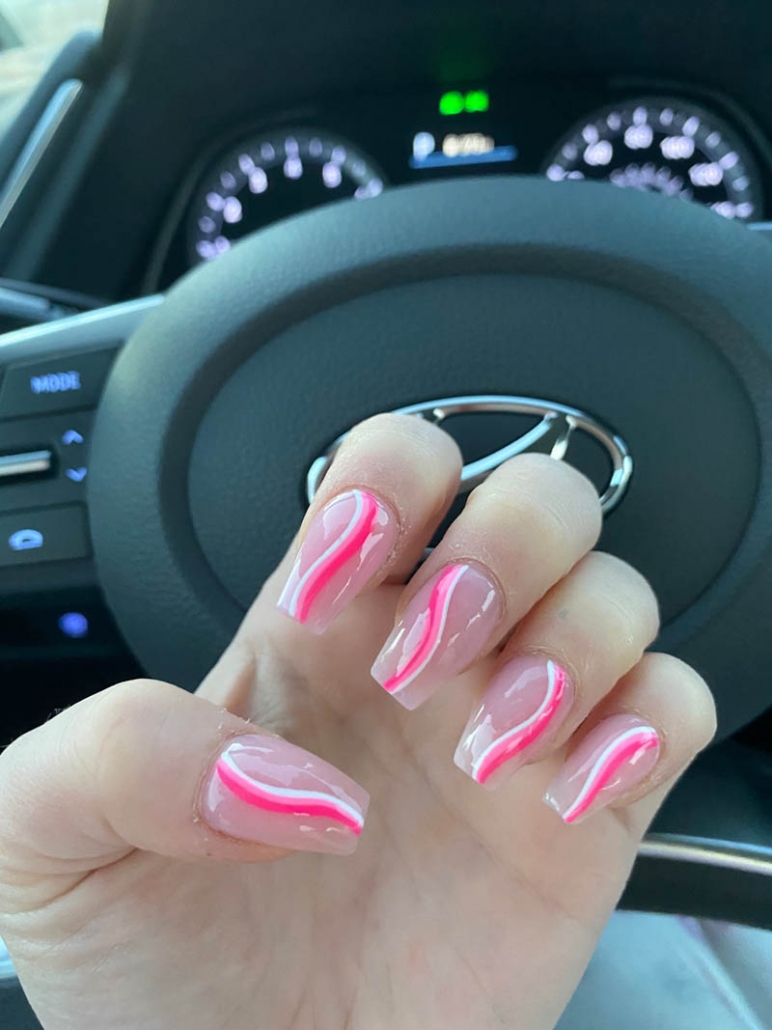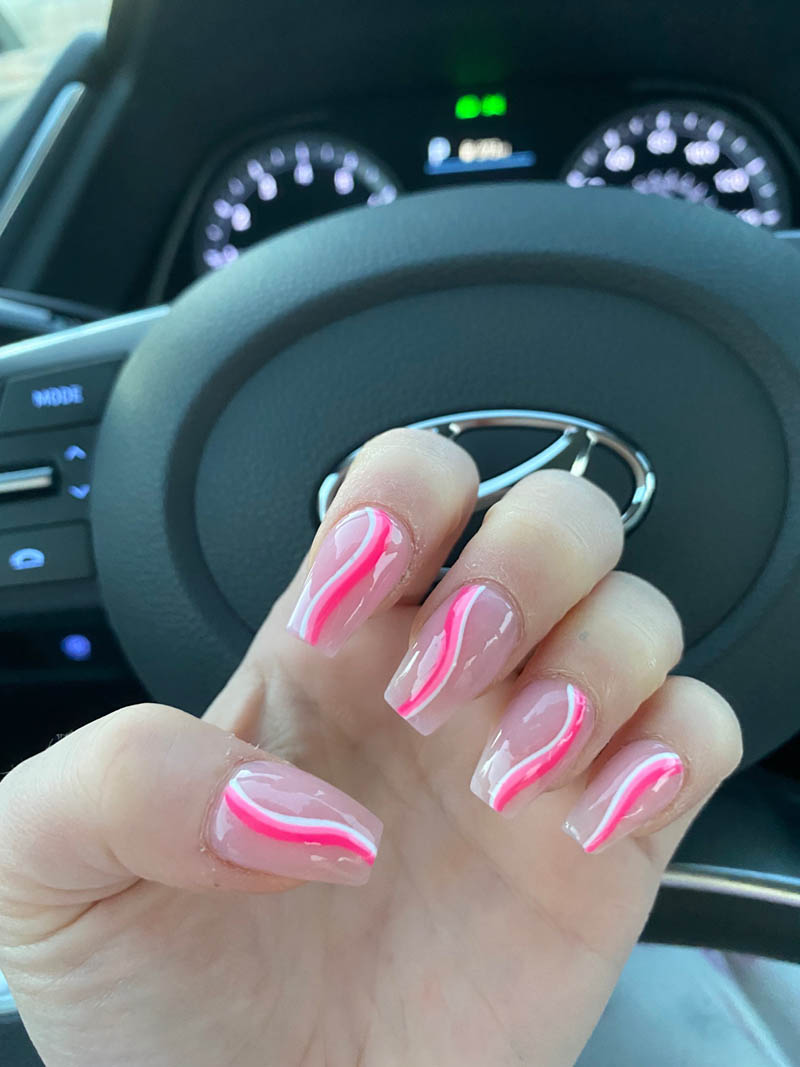 These swirl coffin nails are created by first taking a nude-pink base coat and painting it on. Once the base coat is completely dried, using a thin nail polish brush, Take a hot pink and paint a swirl. Once the hot pink is completely dry, take a light pink and paint a swirl right besides it, following the line of the hot pink. Lastly, take a white nail polish and paint on a third swirl following the line of the light pink. From there, finish the nails with a shiny top coat! That's all there is to these beautiful nails!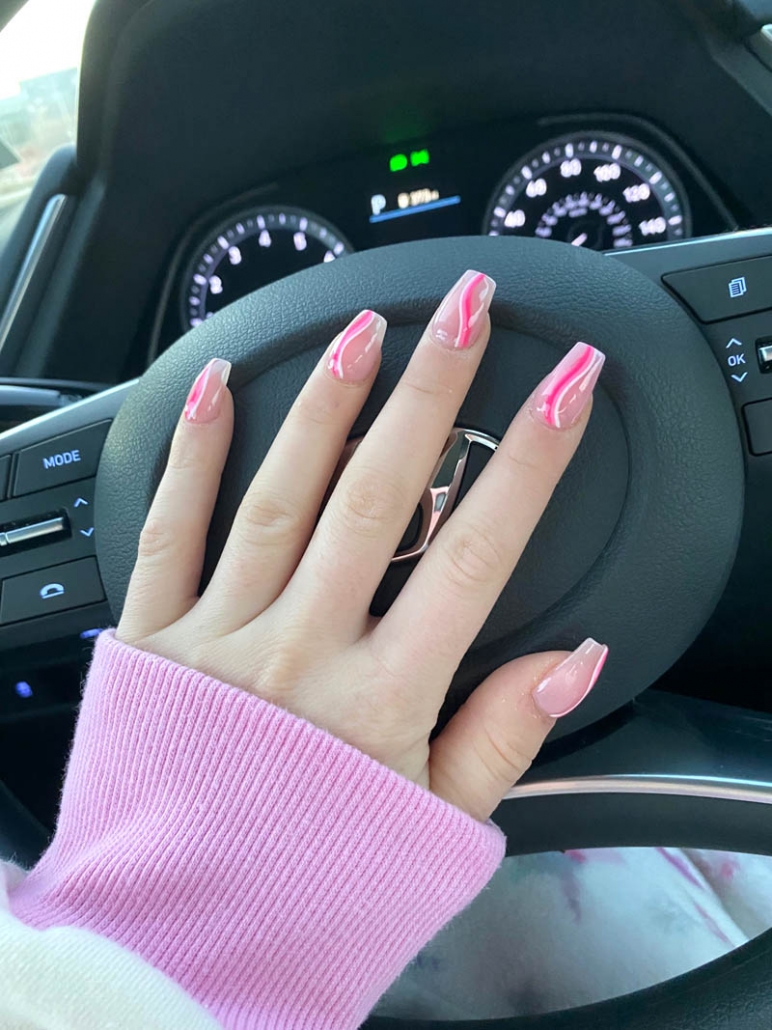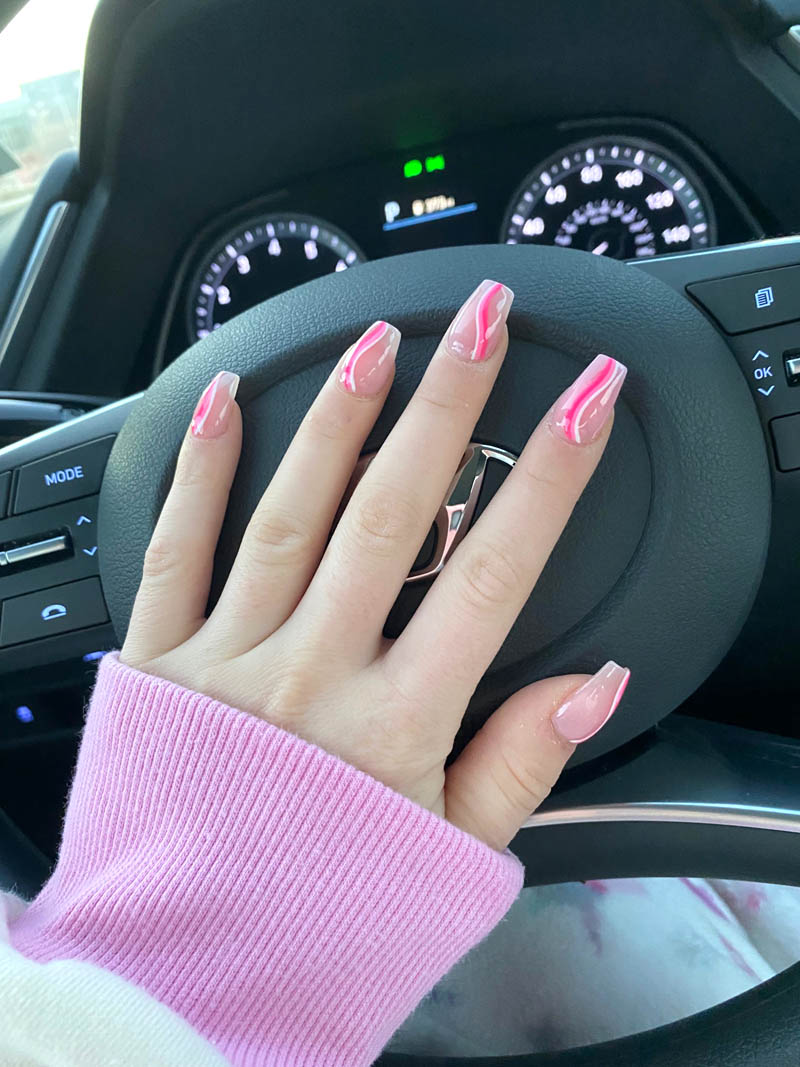 Despite their appearance, these nails are quite easy to make! To make the swirls easier to create, you can use a very thin nail polish brush for designs. In addition, you do not have to worry about the swirls being perfect. They are swirls not straight lines, so there is room for error. If you are looking for a design that you can create from home, this is the perfect design!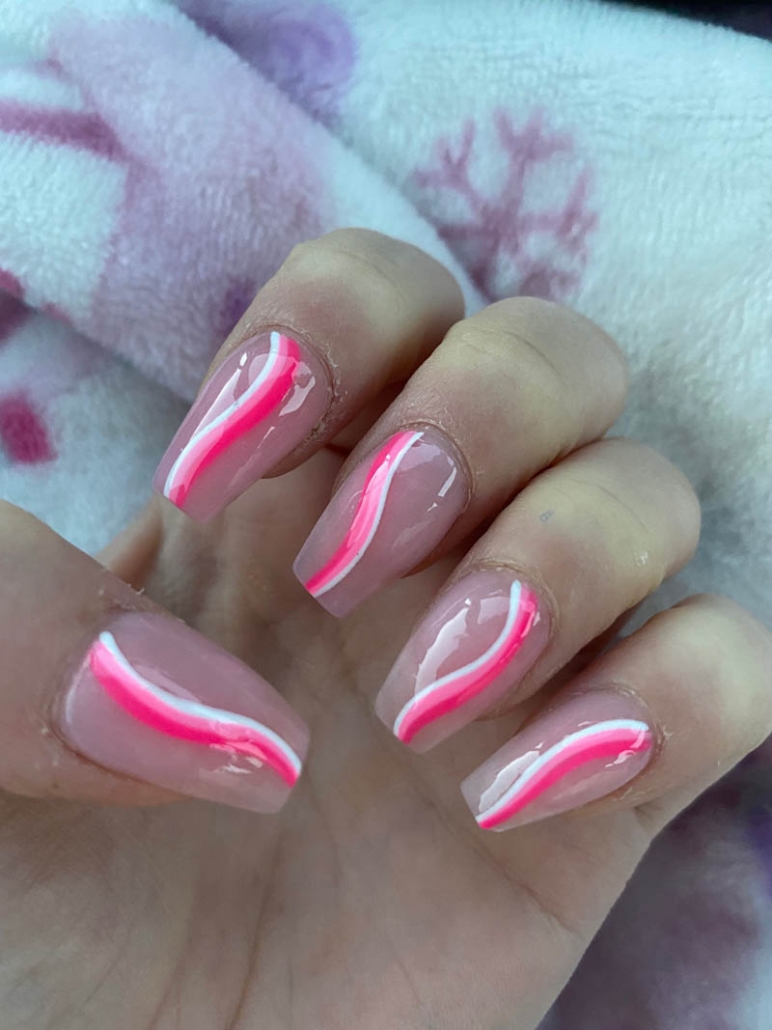 This pink swirl coffin nail design is perfect for any occasion! These pink nails are so bright and cheerful, so they are perfect for summer. In addition, these nails are great for tropical vacations! They will add an amazing pop of color in all of your vacation pictures! These nails are also perfect for parties or festivals, as they are so happy and bright! These nails are perfect for so many occasions!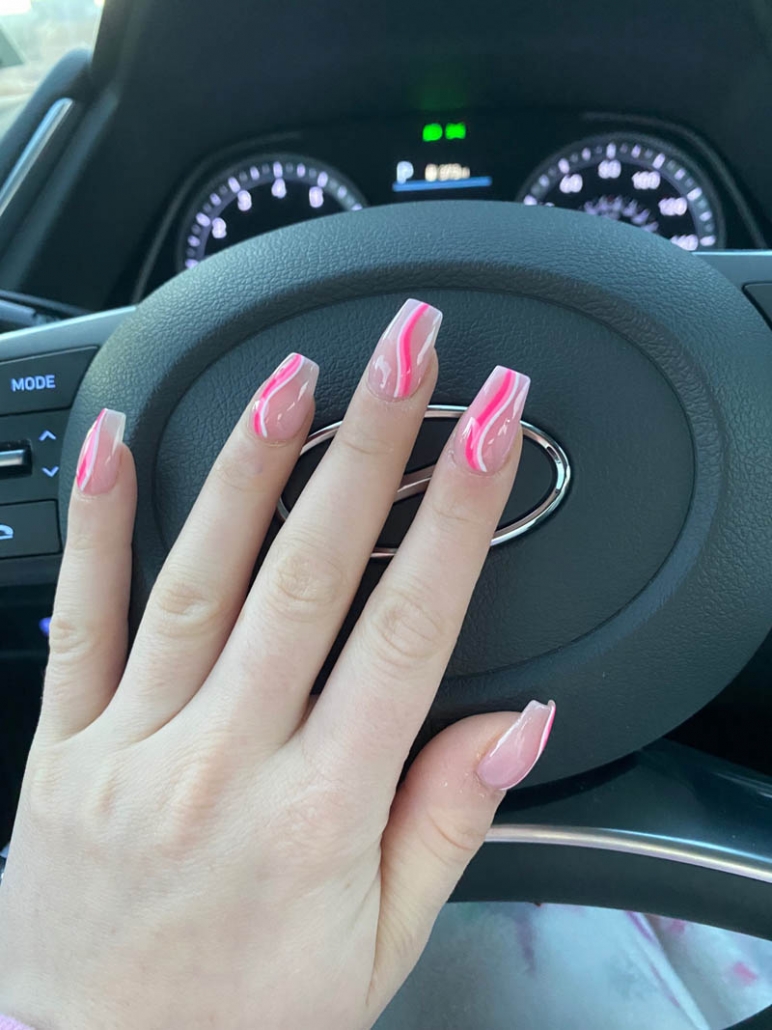 There are so many different things that you can do with these pink swirl coffin nail designs. You can change up the base coat to be any color! You can do a pink base coat, to completely math the pink theme, or do a white base coat to add more contrast. You can also go for a darker base coat such as red, for a dramatic look. In addition to changing up the colors of the basecoat, you can also change up the colors of the swirls. Just decide on a color, and then find a dark version and light version of the color. You can also add sparkles instead of white for the third swirl. If you are going for a more wintery look, you can start with a white base coat, then take a dark blue, light blue, and sparkles as the colors for the swirls.
You can also change up the amount of swirls you do! For example, you can only add swirls on your ring finger, or do swirls on every other finger. You can do a swirl on one finger, and do different designs on the rest. In addition, you can change up the shape of the nail from coffin to almond, oval, square, pointed, or any other shape. There are so many ways to get creative with these nails.
These swirl nail designs are so trendy and cheerful, and are perfect for vacations and summer days! These nails are easy to create, and you will absolutely love them!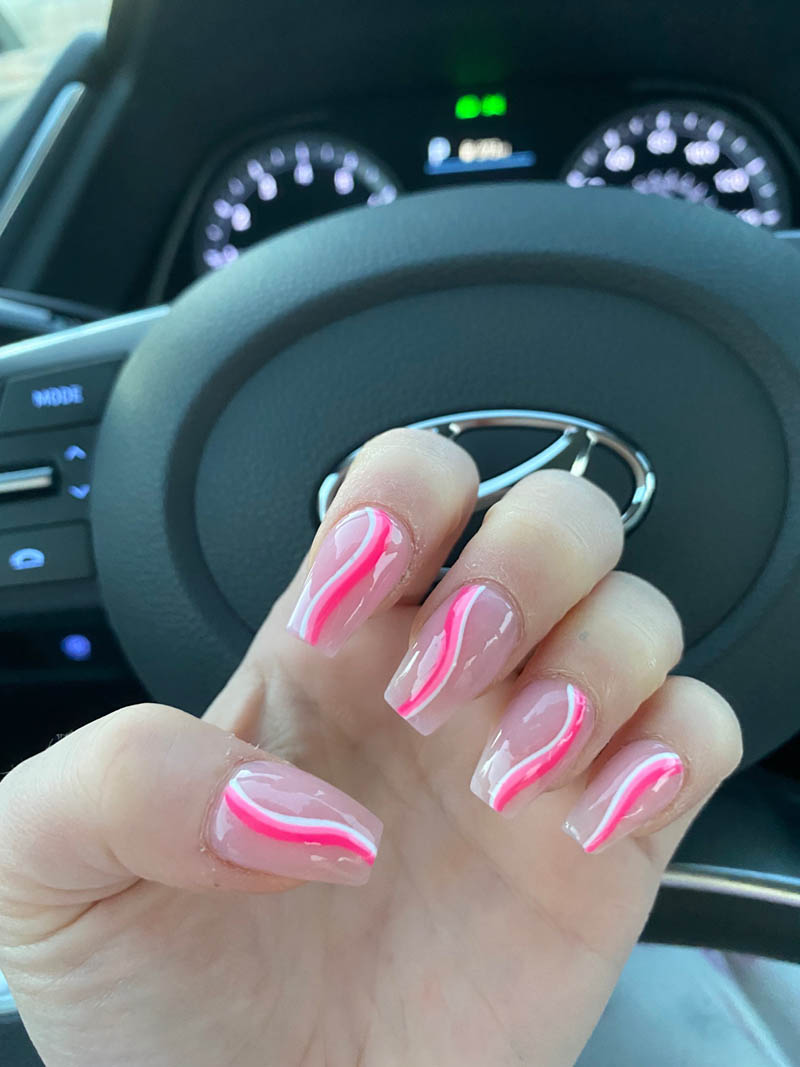 https://vibrantguide.com/wp-content/uploads/2021/12/pink-swirls-design-coffin-nails-2.jpg
1067
800
Anna
https://vibrantguide.com/wp-content/uploads/2019/01/logo2.png
Anna
2022-01-08 19:01:55
2022-01-06 19:18:44
Easy Cute Coffin Nails Design – Pink & White Swirls On Nude Nails