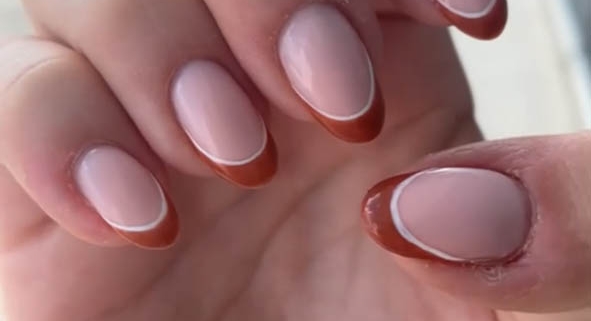 These brown french tip nails are a classy and stylish nail design. Its elegant white stripe is a fun accent on a manicure that oozes a luxury vibe. Brown signifies strength and reliability in personality traits. Plus brown french nails are perfect for Fall!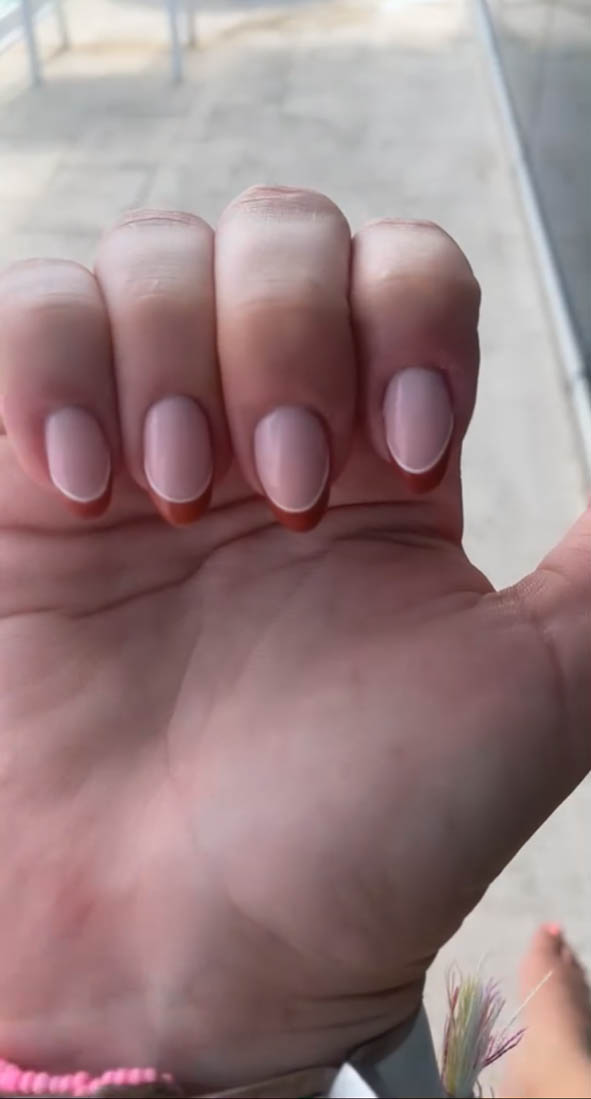 Pairing the classic French manicure design with neutral tones creates a minimalist manicure that feels fashionable and chic without trying too hard. The almond-shaped nails add an extra level of elegance and luxury to this sophisticated nail design.
Double French Manicure
In these creative brown french nail design, we have added a white line to french tips. This white line goes right under the brown tips (between the brown tips and nude base). White line accentuates the brown french tips and creates a nice contrast between the tips and base.
Brown French Tip Nails Tutorial
You'll need the following items to create this brown French Tip nail design:
A neutral nude nail polish
A brown nail polish for the french tips
An opaque white polish or a nail art pen
A clear top coat
When choosing your nude and brown shades, coordinate with your skin tone to prevent the polish from visually disappearing. Lighter skin tones can lean towards softer shades of nudes and tans. Medium complexion girlies chose taupes and caramels. Girls with darker skin tones reach for the rich browns and coffee hues.
Once you've chosen your polishes, clean and prep your nails by shaping them into almond or oval tips.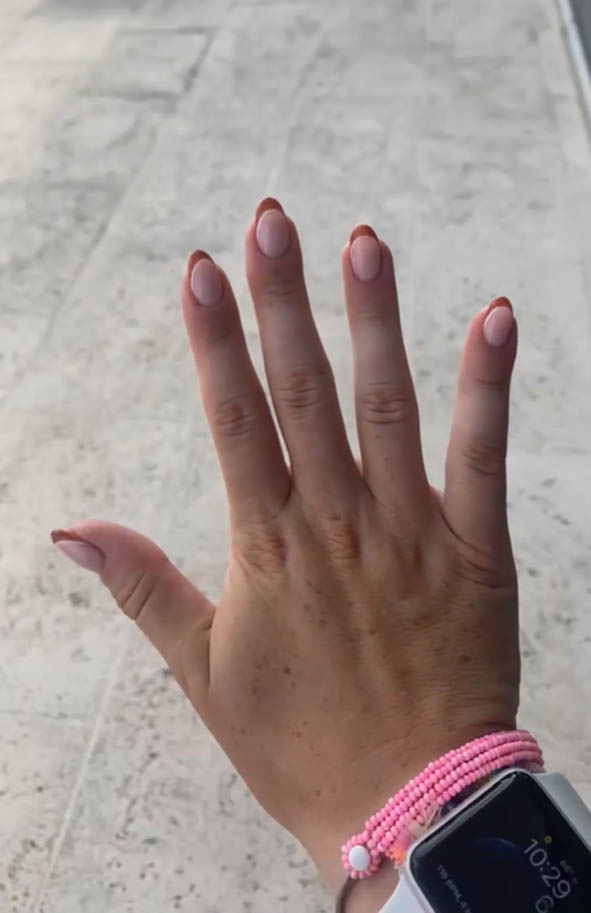 Brown French Tip Almond Nails
Brown French Tips can look beautiful on most nail shapes. For maximum elegance, I chose an almond shape. Almond shape is the best nail shape for french tip nails, with oval shape being the next best option.
Almond nails are universally flattering and visually elongate the look of your hands. A popular choice for many DIY manicures, the almond nail shape is a classic option.
To create the almond tip, diagonally file the angle of the nail tip, gently creating a soft rounded tip. If you round the nail sides too much, you will create an oval nail shape, so keep those sides straight and parallel.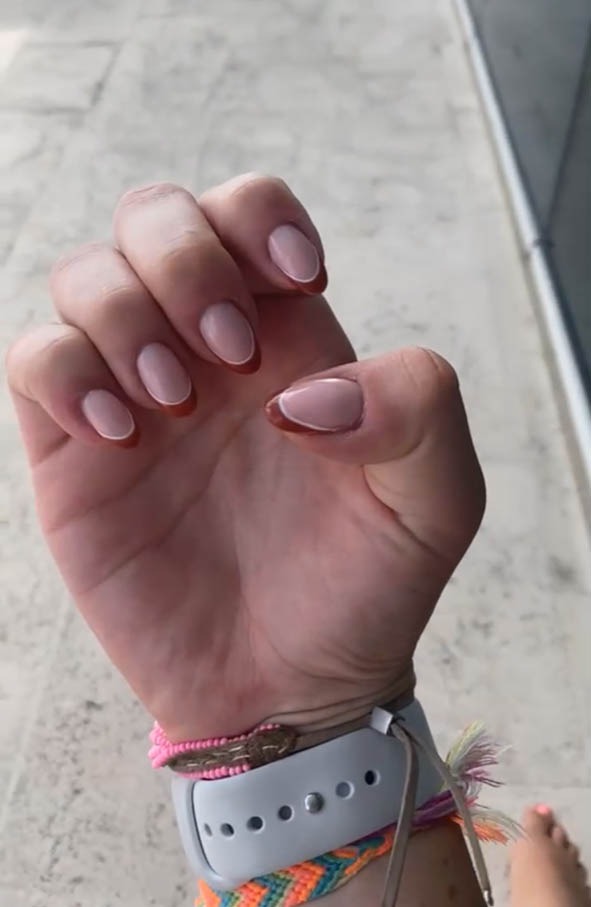 Brown French Tip Nails Tutorial and Tips
First, we will paint the brown tips. Using your brown polish, paint an organic swooping 'smile line' across the nail tip by starting at one side of the nail base and pulling the polish to the other side. If you have a steady hand, you can also begin painting from each side of the nail base and meet in the middle, creating a soft rounded line.
If you aren't the most even-handed or are new to French Tips, use a solid surface, like a tabletop, to stabilize your fingertip. You can also do the mirror method where you rotate your nail rather than the brush. This works best on your non-dominant hand.
Allow your tips at least fifteen minutes to fully dry, then paint one coat of your nude polish over the entire nail. Covering the tip polish in the sheer base polish makes the colors look more cohesive.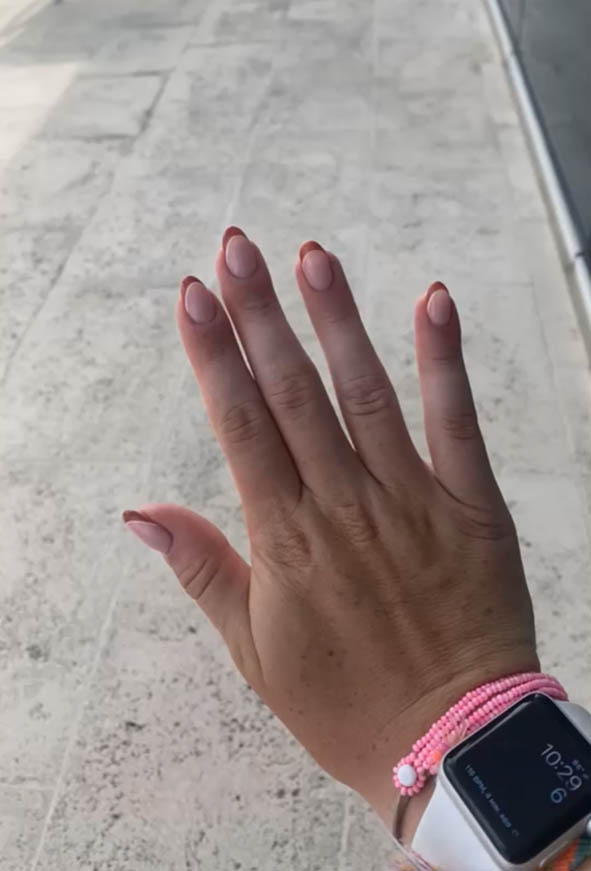 Painting The Double French White Line
The hint of white in the lines creates a pop of style, elevating this manicure design without being flashy on these brown french tips.
To paint the white line using a nail art pen, simply follow the edge of the brown french tip line. If the paint is too sheer you can follow up with a second coat only once the first is completely dry.
If you have an opaque white polish, opt for an ultra-fine polish brush to paint on the white stripe. Carefully remove any excess polish from the brush before starting, and again follow the brown french tip line with the white polish, keeping your hand light for a thin line.
If you want to up the luxury factor, even more, swap out the white stripe with a gold glitter stripe.
More French Tips nail designs: Orange French Tips, Purple French Tips, Short White French Tips, Winter Snowflake French Manicure, French Manicure with Pink Tips, French Manicure with Heart Design, and Metallic Nails with French Accent.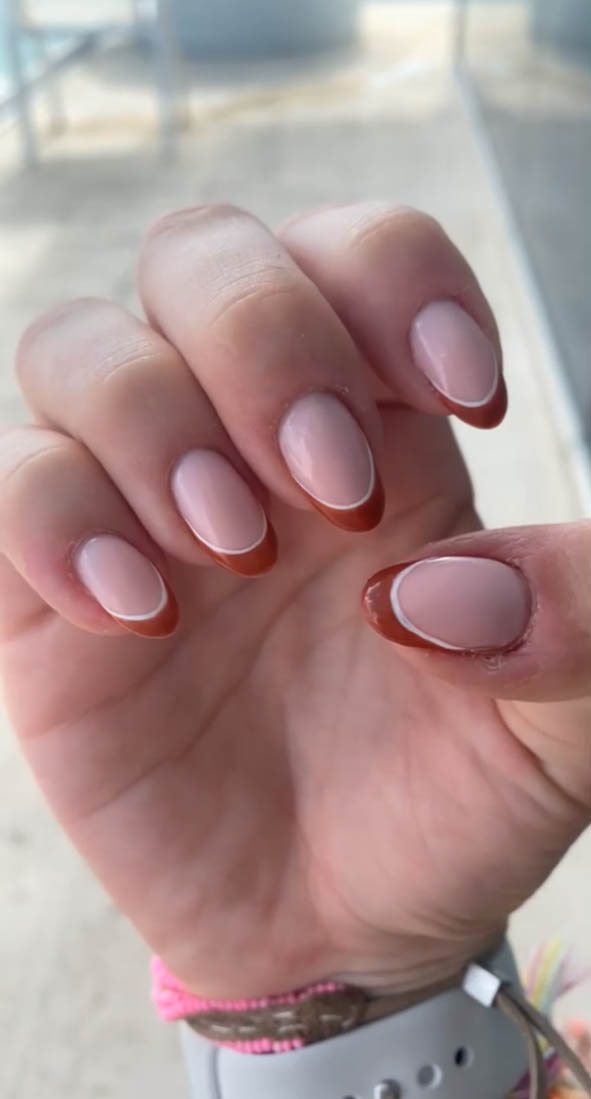 Brown French Tip Nails Styling Inspo
This brown DIY nail design is a true neutral, making it versatile. Outfits in whites, creams, tans, and brown tones will look especially great with brown french tips. This nail design is fit for casual, everyday wear, and formal events due to its elegant minimalist styling.
Brown, thanks to its neutral hue is a perfect shade to transition from summer to fall and wear well into the autumnal season. From caramel, nudes, toffee tones, and even darker espresso and chocolate browns, a brown French Tip is the summer to fall transitional manicure choice.
If you love nail designs in neutral earthy hues, check out Nude Glitter Nails, Brown Fall Nails, Nude Nails With Glitter Swirls, and Nude Nails With White Swirls.
Other French Tip Nail Designs
If you like french nails, you will also love these french tip manicure ideas: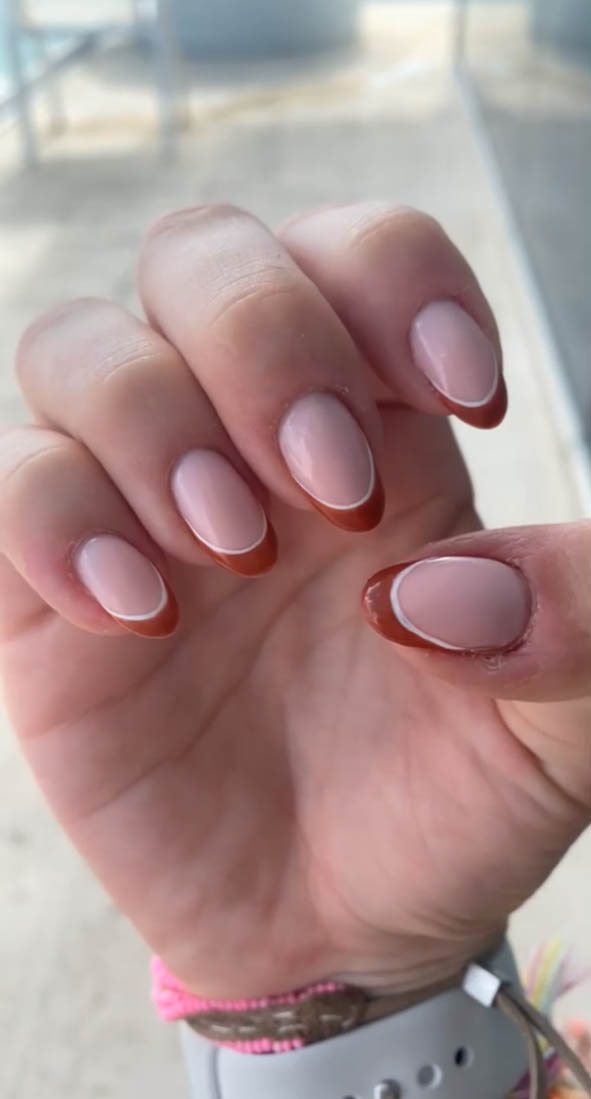 https://vibrantguide.com/wp-content/uploads/2022/09/brown-french-tips-nails-3.jpg
1099
591
Anna
https://vibrantguide.com/wp-content/uploads/2019/01/logo2.png
Anna
2022-10-06 18:50:50
2022-10-06 18:50:50
Brown French Tip Nails