Multi Color French Tips Nails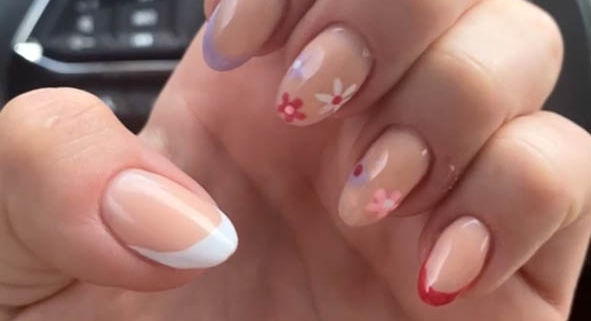 This multi-color french tips nails design with flowers accent nails is a fun twist on the classic french manicure. The french manicure is one of few nail designs that has been an evergreen choice. French tips in different colors and floral accent nails give this DIY manicure a fun and fresh vibe perfect for spring and summer.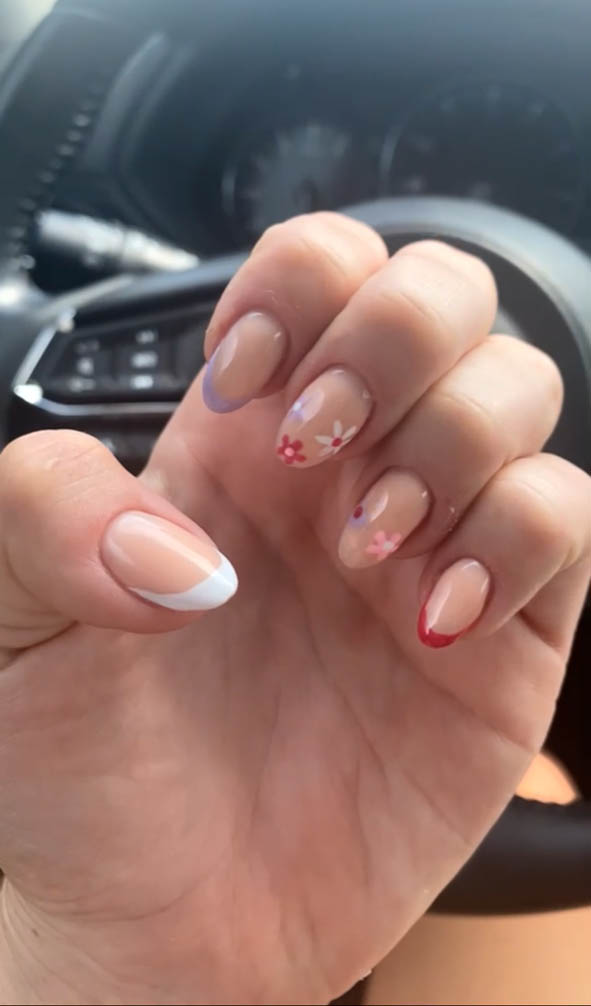 Almond Shaped Multi Color French Tips Nails
Many nail designs are versatile and can be created on many, if not all nail shapes. This multi-color french tips nail design looks best on almond-shaped nails. Almond-shaped nails complement all hand shapes, have a feminine feel and are durable.
To create an almond-shaped nail first file the fingernail at an angle into an elongated round tip. Work towards an egg shape, filing from both nail sides to the tip center. Finish with a fine-grit file to create a seamlessly smooth edge.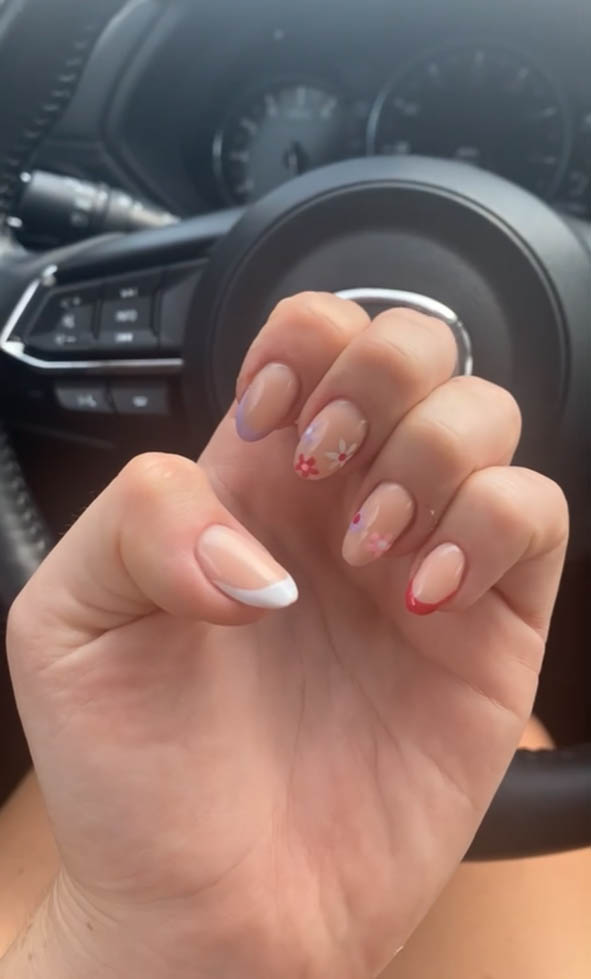 Different Color French Tip Nails Tutorial
For this multi-color french tips manicure, you'll need:
A neutral nail polish can be a sheer nude or pink, or even clear polish
Multi-color polished for the tips, I chose white, red, and lavender
Additional polish colors for the accent flowers, I chose a light pink
A beauty blender (yes, really!)
A clear top coat
An ultra-thin nail art brush or a few bobby pins
French tips can be created in a few different ways. Typically this nail design is created by hand painting a curve in white on the nail tips. A new french tips hack surfaced on TikTok recently, and it's brilliant. The key is a silicone nail stamper or an old (but clean!) beauty blender sponge.
But first, you want to ensure your nails are perfectly clean of any old polish, your cuticles are pushed back and smoothed out and your nail is shaped up. French manicures are as much about the base layer as the tips.
Then, paint two thin coats of your base coat of polish. I chose a semi-sheer nude, but you can use a sheer pink or even clear polish for the base layer. If your natural nails are stained from a dark polish (or have imperfections), choosing a semi-opaque polish over a clear option will help to cover any issues.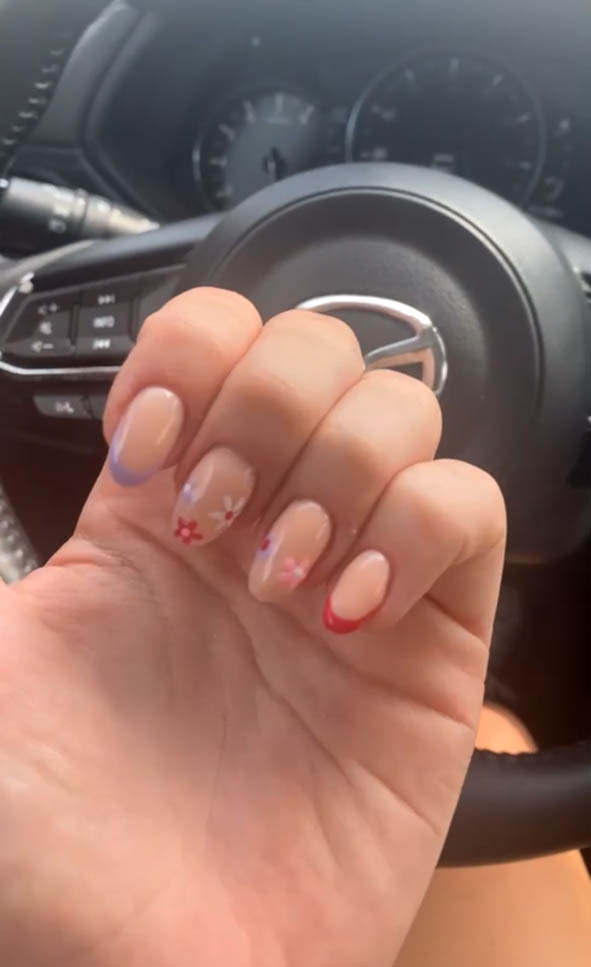 Colorful French Tips Curve Tutorial: The Beauty Blender Method
This viral french mani hack is easy, beginner-friendly, and pretty clean as the polish won't require any cleanup. Paint several coats in one even line of polish directly onto your beauty blender sponge. Paint enough coats so that the blender doesn't soak up too much of the polish.
Then, press your nail tip into the middle of the polish line at a forty-five-degree angle, tipping forward. This will help the polish to coat the front, or top, of the nail rather than coating the underside.
Push harder into the line for a thicker tip line, and lighter for a thinner tip. You can use this method to get a squared-off french tip shape by pushing it straight onto the beauty blender. Or, roll your finger back and forth for a more organic, oval shape.
This technique works best on medium and long nails. Using the beauty blender french tip technique on short nails can get messy if the polish transfers to your fingerpad skin.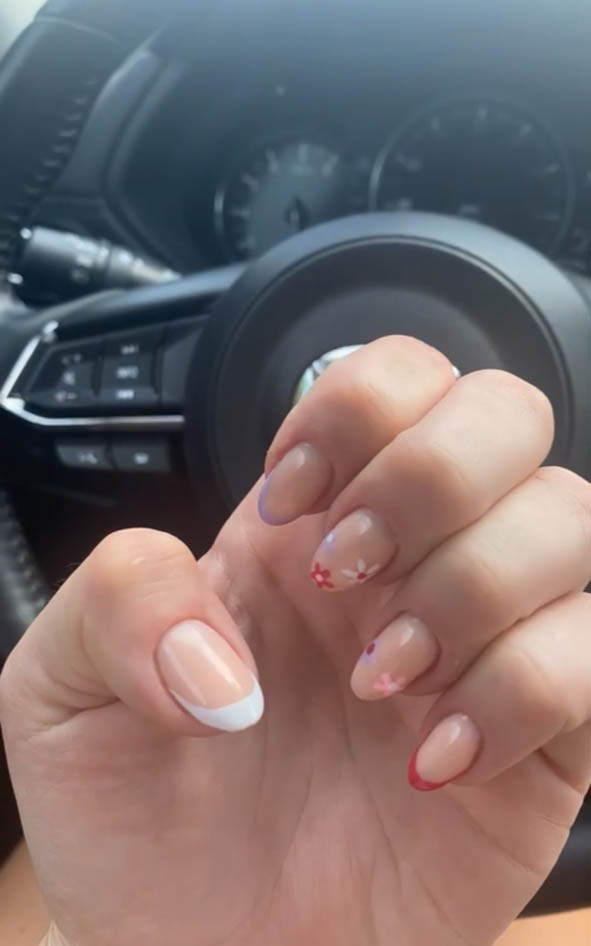 French Tips Curve Tutorial: Nail Polish Brush Method
Using a tip polish color, create a smile line starting from one side of your nail at the growth point and connecting it to the other. Curve the polish to match or exceed the angle of your nail tip. For a super smooth line, keep the polish brush still and roll your fingertip.
Lastly, finish your DIY mani with a clear topcoat on all nails. Don't forget to paint the nail tip edges. This will protect the bold colors on the tips from damage or chips.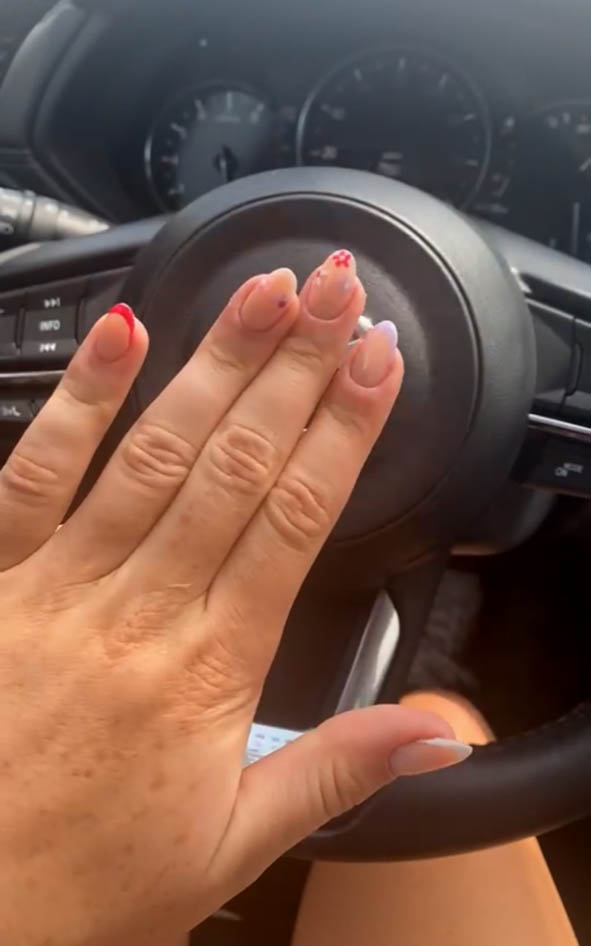 Flowers Design Tutorial For Accent Nails
Hand-painted florals create a feminine and pretty accent to the color french tips mani. Painting flowers is easier than it seems. Use either an ultra-thin nail art brush or just a few spare bobby pins.
Start by creating the petals, not the center. Take your petal color and dab four or five dots of polish in a circle. You can leave them to dry as is or, using your brush or bobby pin, very gently drag each of the dots to the center of the circle. This creates a more natural petal shape and can even make the flower look more substantial.
Once the petals are fully dry, simply dot one dot of polish for the center. Allow time for the polish to fully dry, then finish with a clear top coat.
Flower accent nail design inspo: Orange French Tips With Flowers, Light Green Nails With Flower Design, Summer Swirls Nail Design, Purple Nails with Flowers, Pink Nails with Flowers and Gold Foil, Light Purple with Flowers Mani, and Lotus Flower Nail Design.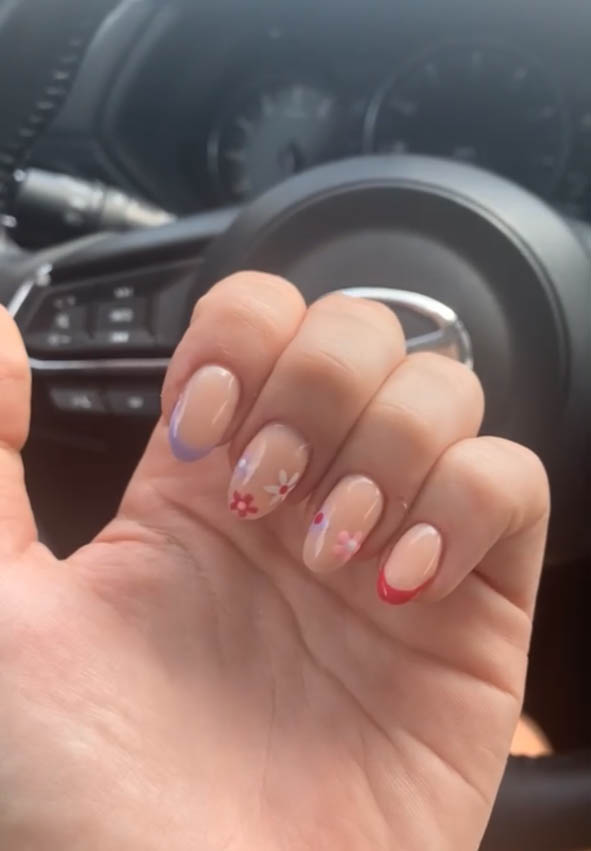 French Nails Different Colors – Style Inspiration
French tips are a classic manicure option; mixing it up with colorful tips and floral accent nails makes for a fresh and fun nail design. Outfit pieces in neutrals and any colors in your french tips will pair perfectly with this nail design.
Perfect for spring and summer, this DIY manicure is ready for anything; from spring dances to summer parties, the multi-color french tips are versatile and stylish in any setting.
French Tip Nail Designs
Love french manicures? Here are some more tutorials of french tip nails in many different colors: Short White French Tips, Winter Snowflake French Manicure, French Manicure with Pink Tips, French Manicure with Heart Design, and Metallic Nails with French Accent.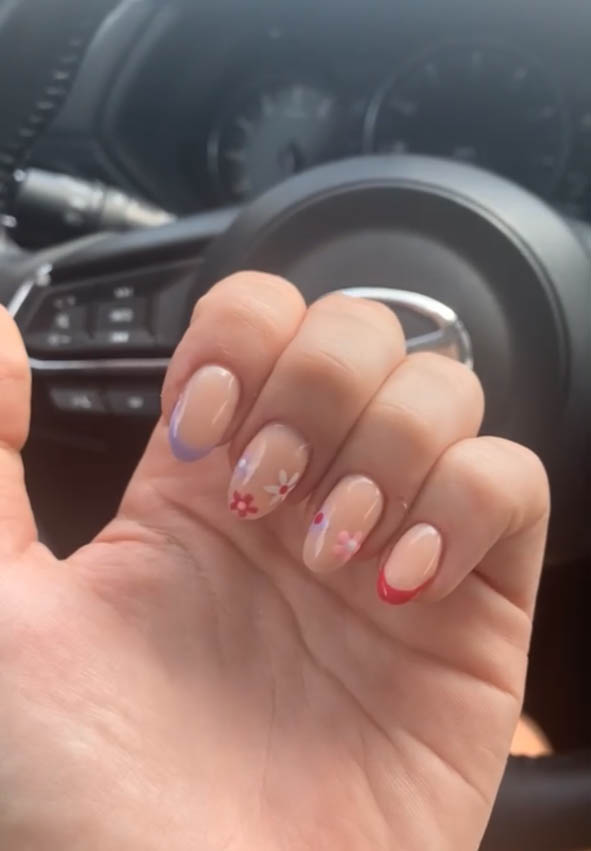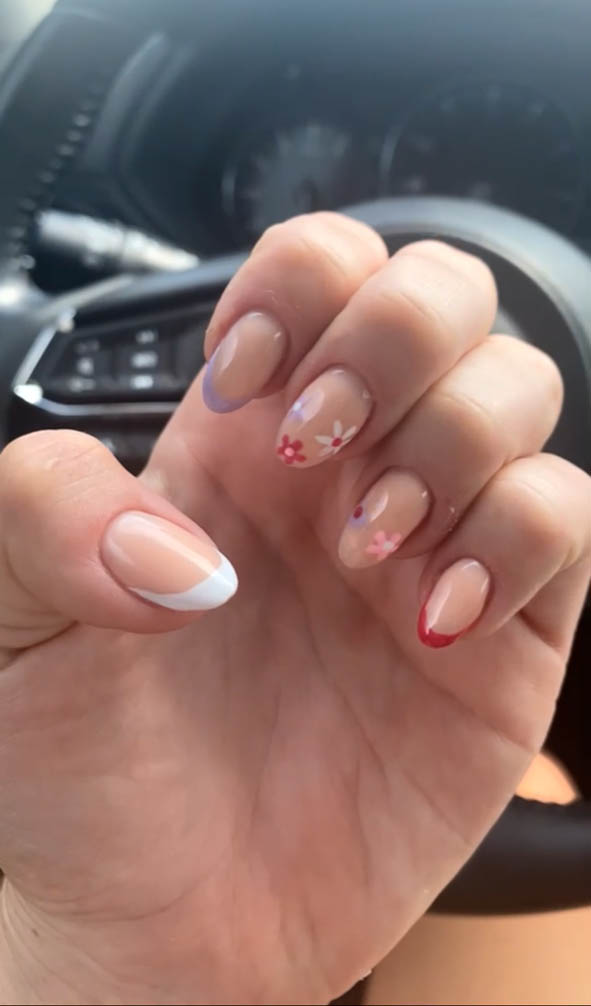 https://vibrantguide.com/wp-content/uploads/2022/09/multicolor-french-tips-nails-design-1.jpg
1006
591
Anna
https://vibrantguide.com/wp-content/uploads/2019/01/logo2.png
Anna
2022-10-06 19:09:27
2022-10-06 19:09:27
Multi Color French Tips Nails