Lotus Flower Nail Design Blue And White Manicure

Light blue nail designs are versatile and a truly complementary color for everyone. Pairing it with a neutral base in this blue and white manicure with lotus flower accent nails is a botanical beauty.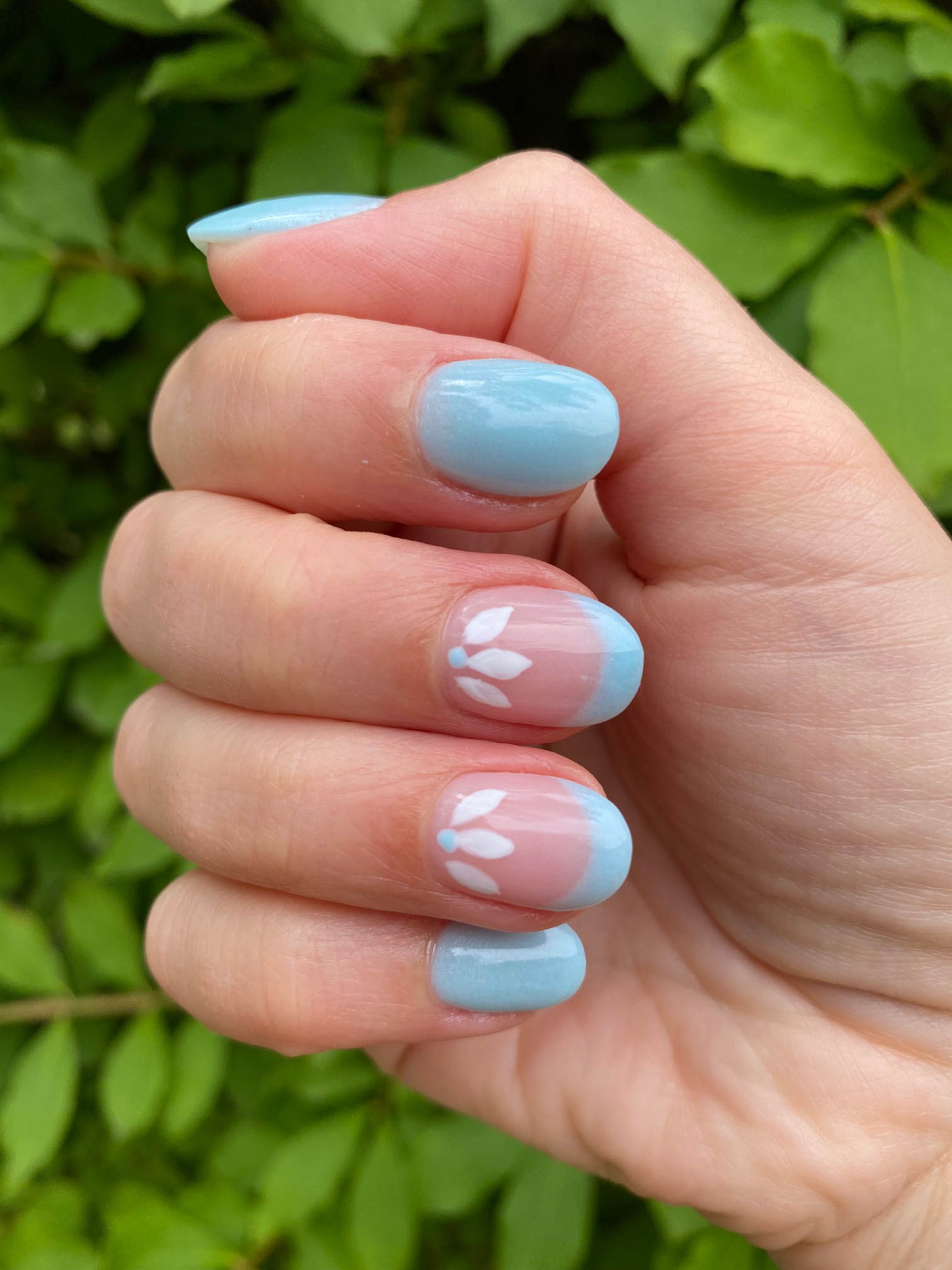 Lotus Flower Nail Design Blue And White Manicure Inspiration
For this spring design, a shorter oval nail shape felt right. The oval nail shape suits everyone and is one of the most durable nail shapes thanks to its smooth edge. For floral nail design ideas, I like to choose softer and rounder nail shapes like round, oval, and almond nail shapes.
The oval nail shape can be less rounded, following closer to your natural nail shape, or more angular as almost an almond shape. File your nail diagonally from one side of the nail bed to the other, keeping the tip of the nail longer than the sides to maintain a natural rounded curve.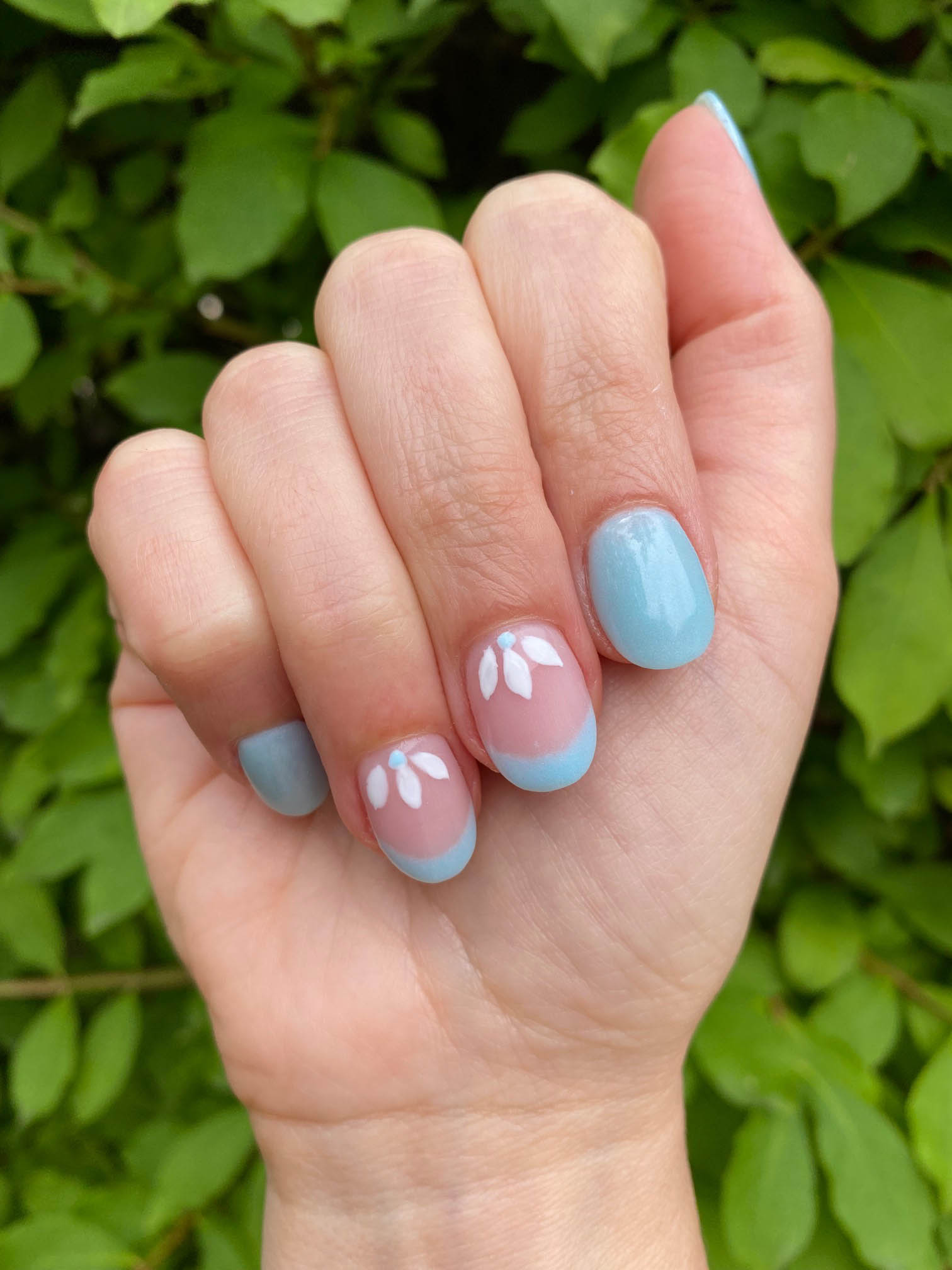 How To Do A Lotus Flower Nail Design Blue And White DIY Manicure
For this nail design you'll need:
A cool toned or neutral nail polish
A sky blue nail polish
An opaque white nail polish
A clear topcoat
1-2 ultra thin nail art brushes or a bobby pin or toothpick
Choose a nude polish with cool undertones to pair with the truly cool-toned blue polish. Paint two thin coats of the sky blue nail polish on the thumb, pointer, and pinky nails only. Always let the polish dry completely before moving to the next step.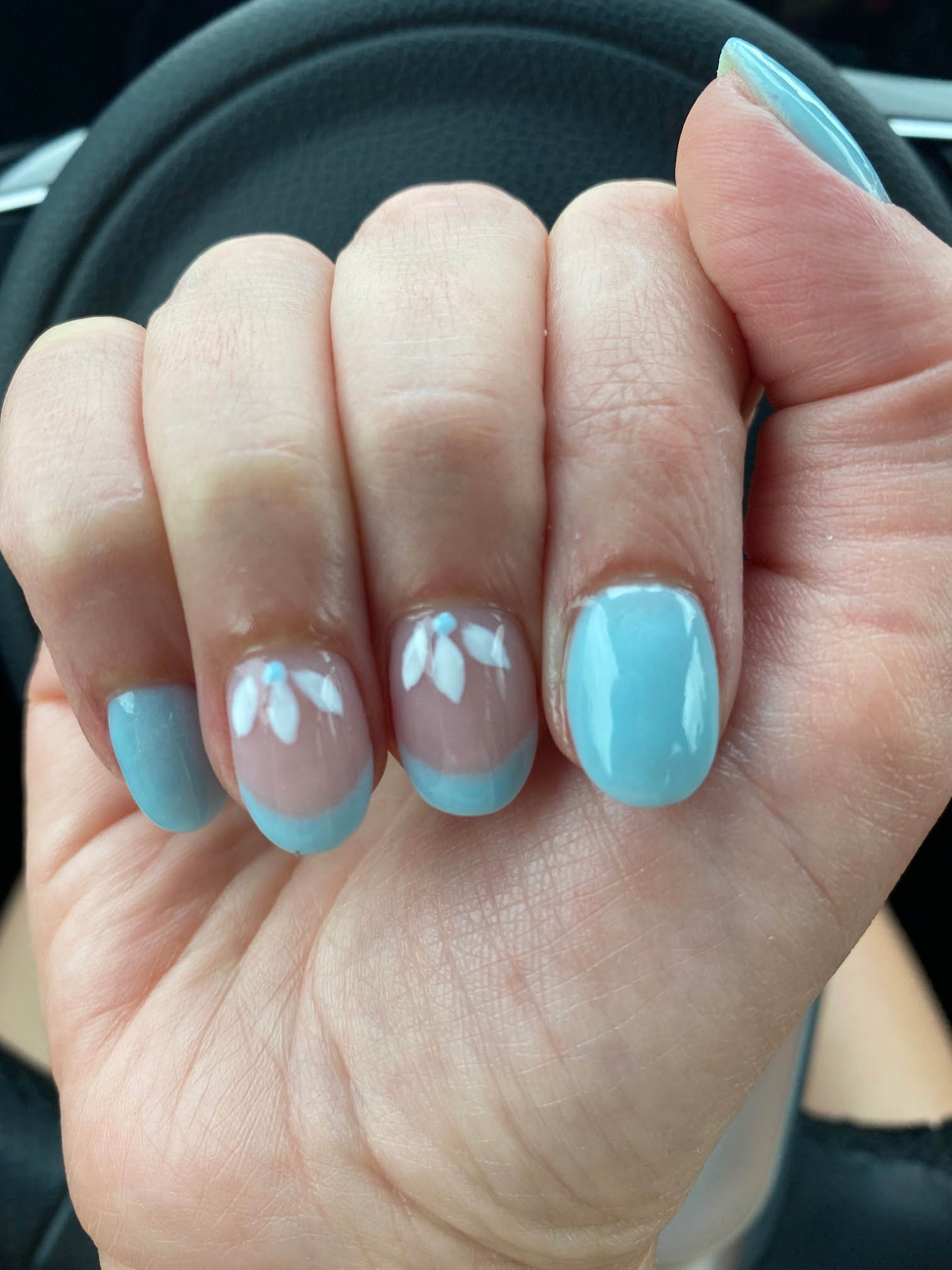 Blue French Tips Accent Nail Design Tutorial
The accent nails on this manicure are nude with blue tips. Start with a coat or two of the nude polish, letting it dry fully. You can also choose a clear polish for this step.
Next, take the blue polish and paint the french tip by making a single stroke and drag the polish from the growth point of one side of your nail to the center of the nail tip. Repeat this step from the other side of the nail, meeting in the middle or overlapping the first coat a bit.
Try to keep the positioning and curve as similar as possible on both accent nail designs. If you want to apply a second coat, be sure the first coat is fully dry first. The blue tips can be painted straight across the nail tip or follow the natural curve of the nail tip if you want to create an elongated look.
Lotus Flower Nail Design Tutorial
I chose my index and ring fingers as accent nails for this DIY manicure. An ultra-thin nail polish design brush is best for painting floral accent nails, but a flattened-out bobby pin or even a few toothpicks can be a great stand-in tool.
Flower designs like this accent nail start as some intentionally positioned dots. To make the lotus flower design, use the art brush or the tip of the bobby pin and make three dots close together at the center of the base of your nail. Leave a bit of breathing room for the blue center dot we will paint later.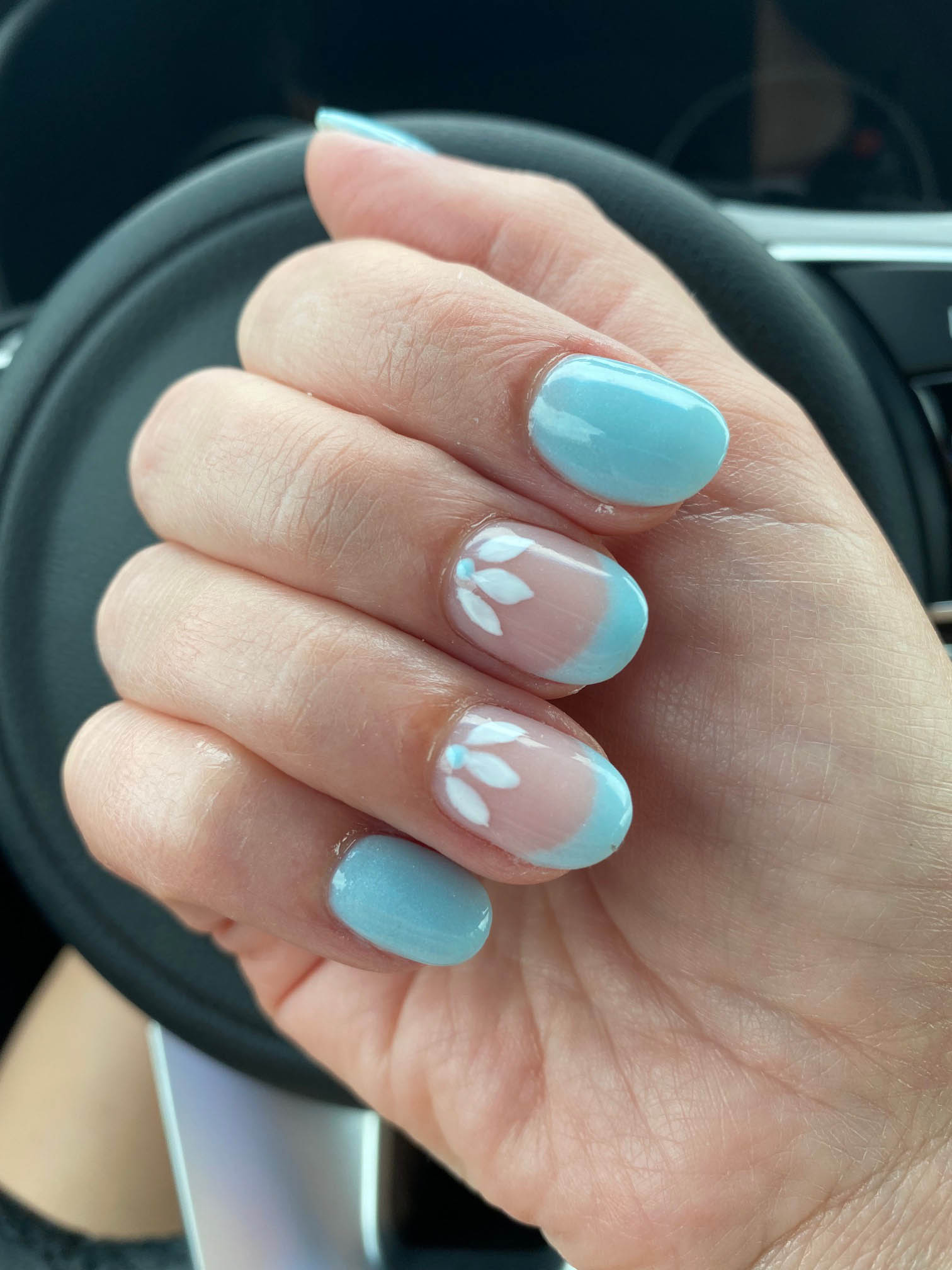 Then take the art brush or a toothpick and pull each of the dots of polish outward to create a lotus petal shape. Do one accent nail at a time so the polish doesn't dry more quickly than you can work with it. Once the white polish is dry, use a clean nail brush or the bobby pin/toothpick to make a center dot of blue polish on each lotus flower.
Once you're sure the design is totally dry, paint a clear topcoat on all nails to protect the manicure.
More floral nail designs you'll love for spring and summer: light green nails with pink flowers, yellow and orange summer nails, orange french nails, and light purple nails design idea.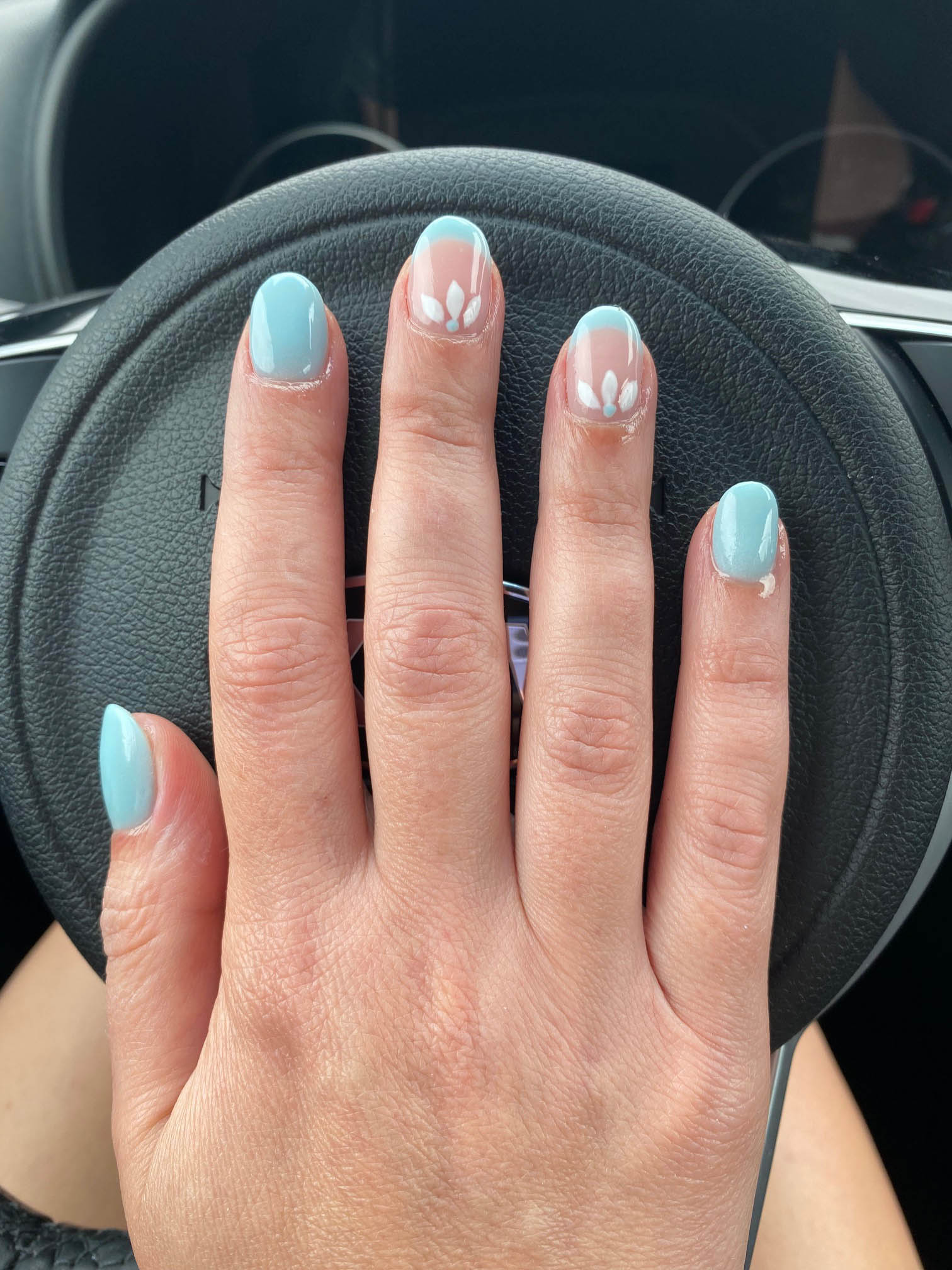 Styling Lotus Flower Nail Design Blue And White Manicure
Blue nails are flattering for all skin tones and look stunning with neutrals like creams and whites for a sophisticated chic look. While light purples, pink shades, and all blue shades will make this blue manicure bright and fun.
The soft blue hue and lotus flower accent nail design make this DIY manicure perfect for spring, but it can be worn year-round. Silver jewelry would shine with the cool tones in this blue nail design.
More Blue Nail Design Inspiration: black and gold nails, bright blue nails with simple hearts, simple light blue nails with swirls, blue gradient nail design, light blue butterfly nails, blue ombre nail design, sky blue coffin nails, winter blue and white snowflake nail design, and simple aqua nails.
If your looking for more flower nail designs check out Flower Nails – Designs and Ideas.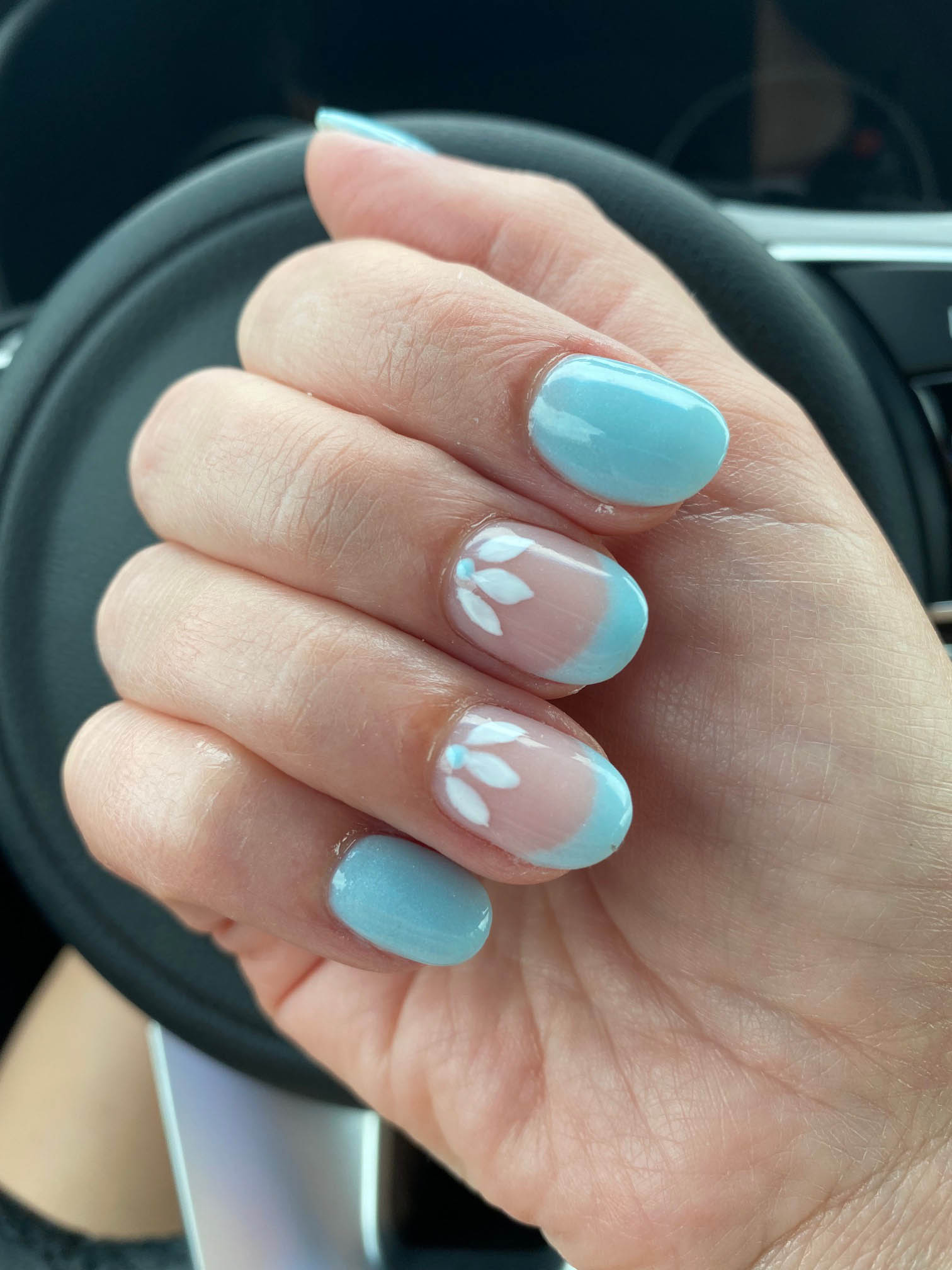 https://vibrantguide.com/wp-content/uploads/2022/08/blue-nails-lotus-flower-design-2.jpg
2016
1512
Anna
https://vibrantguide.com/wp-content/uploads/2019/01/logo2.png
Anna
2022-09-10 11:56:27
2023-04-09 20:57:04
Lotus Flower Nail Design Blue And White Manicure