Blue And Beige Ombre Nails With Solid Blue Accent Finger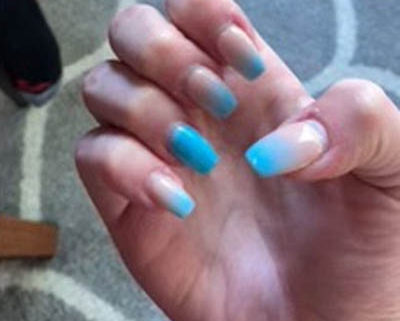 A bright and fresh blue and beige ombre nail design is perfect for the last days of summer! A cheery blue hue pairs wonderfully with a true nude beige in this ombre nail design creating a chic, modern manicure. The color combo of light blue and beige has a subtle beachy vibe that is so perfect for summer. This nail design will look fresh and fun at the pool or lake, summer brunch, or as the finishing touch of a festival look.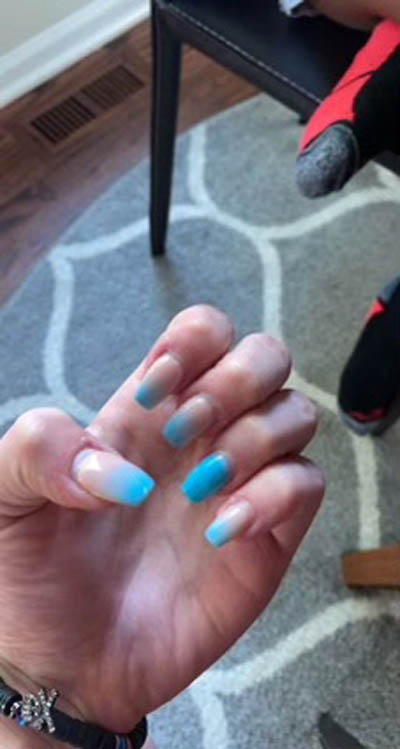 Solid Blue Accent Finger Nail Design
The accent nail on this design is the simple one! On the ring finger, simply paint two thin coats of the light blue polish and allow it to dry completely before starting the ombre step.
Blue And Beige Ombre Nail Design
Ombre designs are a somewhat advanced technique but don't be intimidated, we will follow the steps for ombre nails in the Black And Gold Ombre Nails.
To do the ombre nail design you'll need:
Light blue nail polish
Beige nail polish with cool undertones
A Makeup foam sponge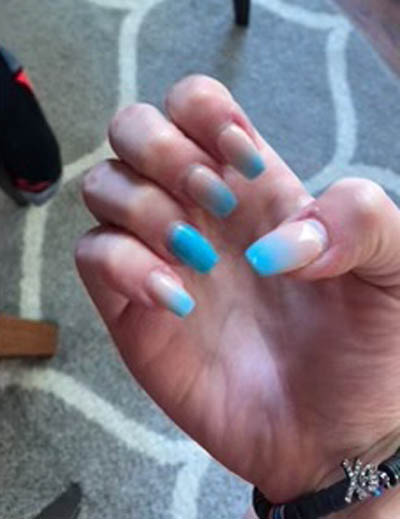 This ombre technique will get nail polish on your cuticles and the skin around your nails. You can use washi tape to tape off your skin and cuticles to protect from the polish or simply use nail polish remover and some cotton swabs to clean up the design.
For this design, you can start with a single coat of the beige polish on the nails or start with bare nails. Next, we will paint a makeup foam sponge rather than the nails, you can also start with a slightly damp sponge to help prevent any smudging.
Create a line of the light blue polish about the width of your nail on the sponge. Then paint a second line in the beige color touching the blue line. You want to be sure there is no gap between the polish colors. Saturate the sponge with two or more coats of each color of polish.
Very gently use the makeup sponge as a stamp, applying the polish onto one nail repeatedly, moving it slightly back and forth to blend the colors. Check your ombre design after every few stamps to see if the design is to your liking, continue stamping until the ombre gradient is well blended.
Repeat the paint and stamp process on your other ombre design nails. Finish the nail design with two thin coats of clear topcoat to protect your manicure.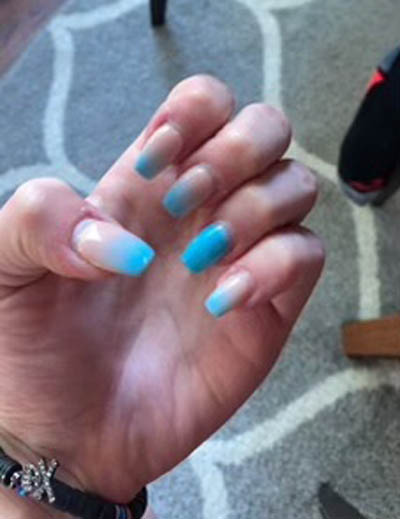 How To Wear Your Sky Blue Nails
This Blue And Beige Ombre Nail design is versatile, it would absolutely pop with many color combinations. For a bold look, build outfits including mustard or buttery yellow tones, like a bright yellow swimsuit for a late summer pool party.
If yellow is a bit out of your comfort zone, pairing blues with greens is a popular option! Try minty green or even a lime green. You can also include white and gray pieces for both yellow and green tones. A minty green sundress and tan espadrilles would be adorable for a patio brunch with the girls.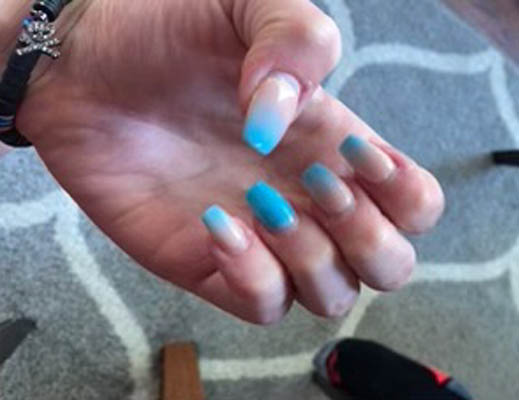 More of a true neutral style? White and blue is an absolute classic clean combination, especially lighter blues like this nail design. You can also take a more direct inspiration from this nail design and go with a nude/tan and blue outfit like a chambray top with tan shorts for a farmers market fresh look.
However you style your Blue And Beige Ombre Nail design, you'll look fresh and chic at all of your summer events! For another amazing ombre nail design, see sunset ombre nails.
Cool blue nail designs you will love: Sky Blue Coffin Nail Ideas, Bright Blue Nails with White Hearts, Aqua Blue Nail Ideas, and Light Blue Summer Nails.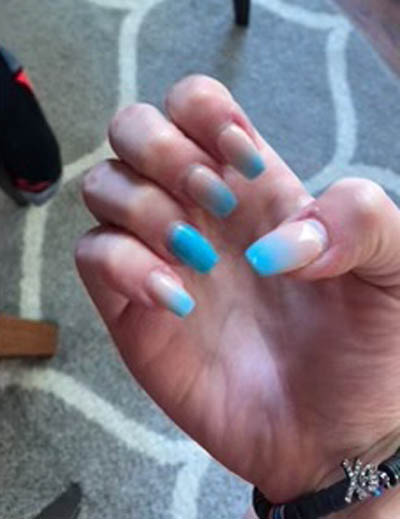 https://vibrantguide.com/wp-content/uploads/2022/07/blue-beige-ombre-nails-3.jpg
519
400
Anna
https://vibrantguide.com/wp-content/uploads/2019/01/logo2.png
Anna
2022-08-08 16:49:39
2022-08-13 01:48:18
Blue And Beige Ombre Nails With Solid Blue Accent Finger