Sky Blue Coffin Nails Manicure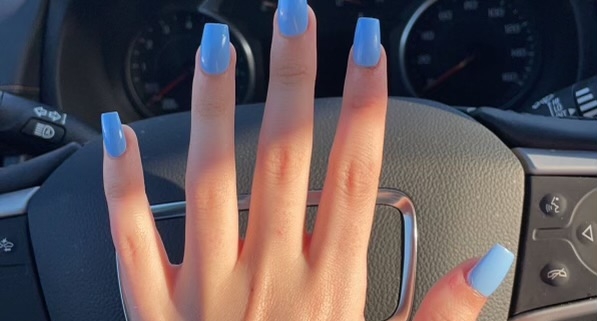 A sky blue manicure is a beautiful and tranquil color paired with coffin-shaped nails making this DIY manicure an inspiration. Not only will it look great on you, but it will also add a touch of clean-girl elegance to any outfit.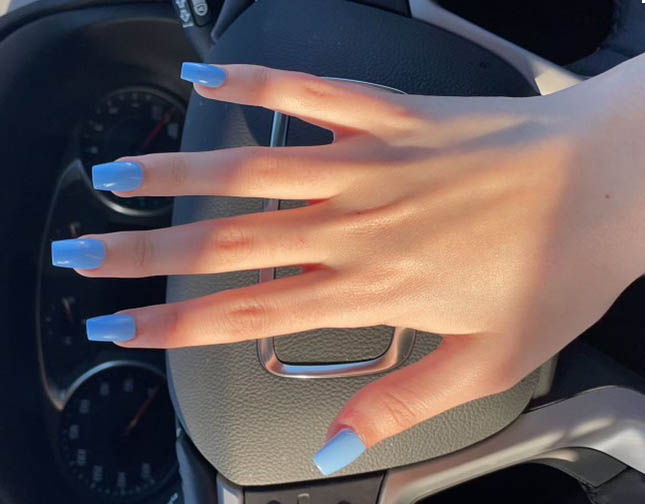 It's a classic manicure that's perfect for special occasions or if you just want to add a little something special to your look.
If you're looking for a timeless and beautiful manicure that will make a statement, look no further than sky blue coffin nails! This color is light but elegant and pairs perfectly with coffin nails, but you can do this nail design on any shape.
I also love it on a squoval shape or an almond shape. Anything works! It's a great choice to create an appearance of sophistication and class.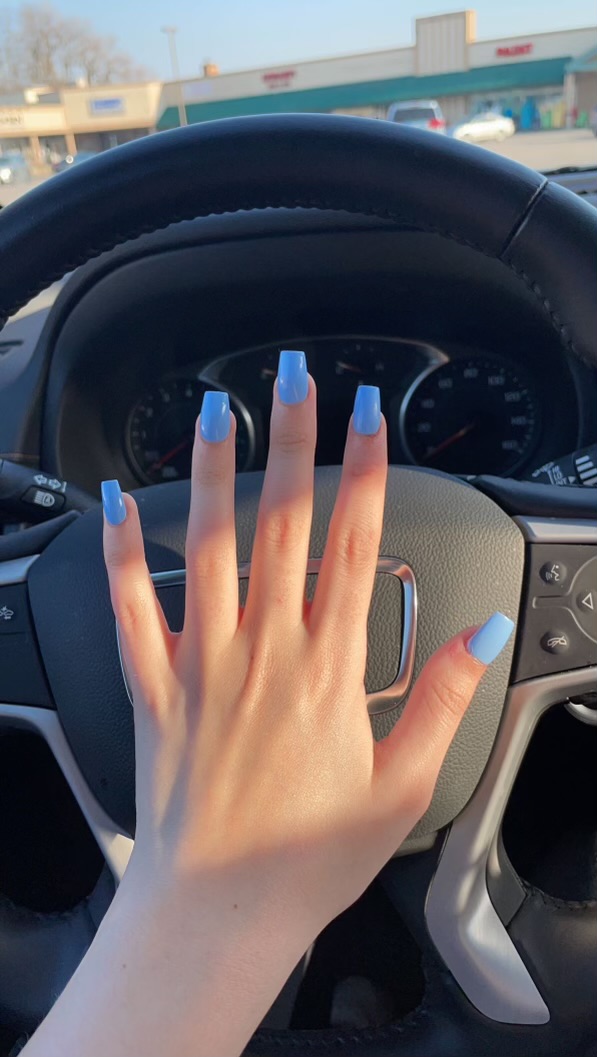 Sky blue color meaning:
Sky blue is peaceful and calming, and it's also thought to promote feelings of trustworthiness and reliability. So if you're looking for nail polish that will put you in a good mood, sky blue is a perfect choice!
Blue is also psychologically linked to feelings of tranquility; sky blue's gentle appearance means it is particularly likely to make that peaceful impression. If you want a bolder look, this nail design also looks great in aqua!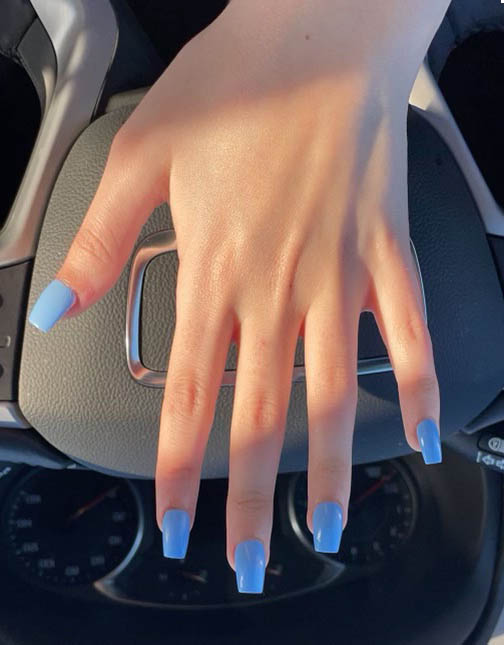 DIY light sky blue coffin nail design steps:
To get the perfect look, start by choosing a light sky blue color that compliments your skin tone. Then, shape your nails into the coffin shape (or your preferred shape) using a nail file, being sure to remove any snags. Coffin nails are also known as ballerina nails because they resemble a pointe shoe as much as a coffin shape.
To achieve this nail shape, begin by filing the nail at an angle from the sidewalls towards the center. Then, file the tip straight across into a noticeable edge.
Next, apply a base coat of your favorite nail polish to protect and enhance your natural nails.
Then, paint two coats of sky blue over the entire surface of your nails. Allow the color to dry completely before applying the next coat of polish.
Finally, finish the look with a clear topcoat to protect your polish from chips. Allow the nails to dry completely before applying your desired finish.
You can choose to enhance your sky blue nails by adding a fun design like this, but I love them as a solid sky blue. There's something about a simple manicure that looks classic and clean.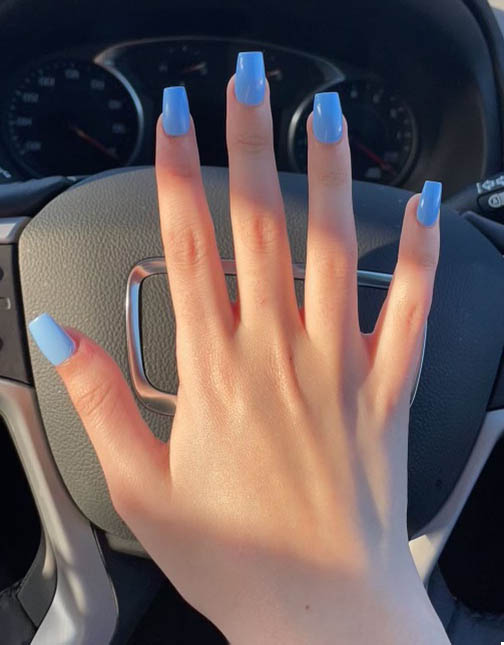 How to wear your sky blue coffin nails:
Sky blue nails look fantastic with jewel tones, creams, and whites. You can also wear peaches, pinks, and darker blue shades in your outfits to make the most of your sky blue nails.
You may think sky blue nails are a popular look around spring and summertime, but sky blue nails are so versatile and can be worn all year round! I imagine this manicure pairing well with a white summer dress, brown leather sandals, and gold accessories.
For a winter look this nail design pairs perfectly with a light gray sweater, dark denim, and silver accessories.
If you love the look of cool blue tones for your nails, I know you'll love my cobalt blue nails with a heart design too!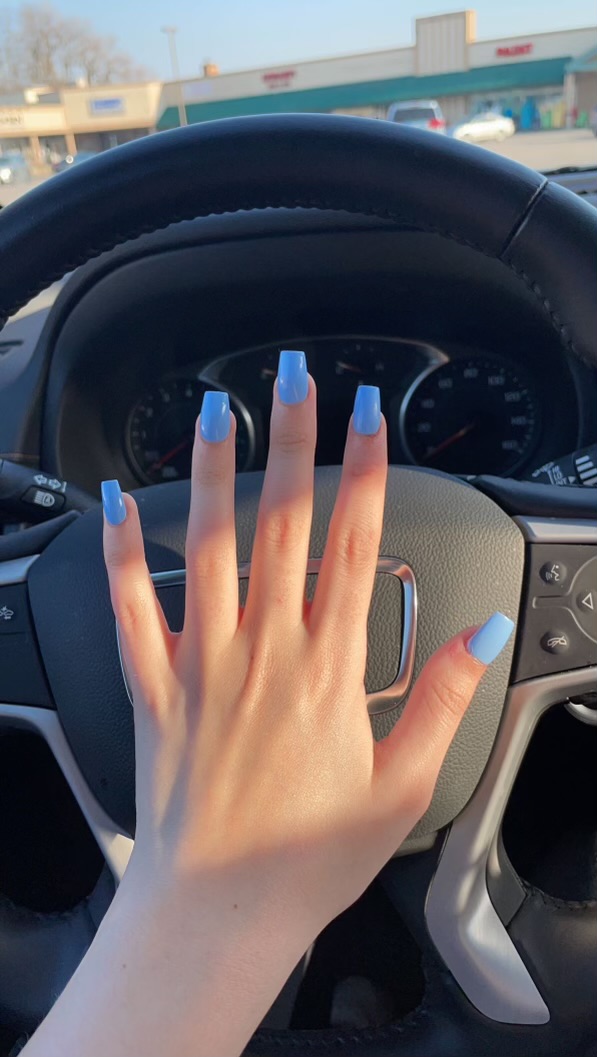 https://vibrantguide.com/wp-content/uploads/2022/05/sky-blue-coffin-nails-5.jpg
1057
597
Anna
https://vibrantguide.com/wp-content/uploads/2019/01/logo2.png
Anna
2022-07-28 08:23:36
2022-07-27 17:01:13
Sky Blue Coffin Nails Manicure