Blue Gradient Nails Design With Heart Accent Finger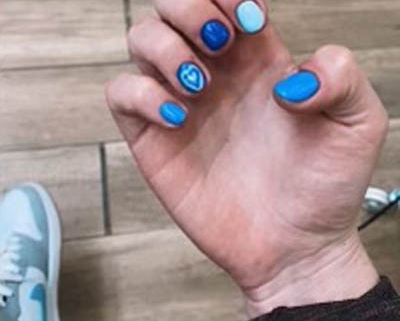 This blue gradient nail design with heart accent finger is fun but not too flashy to wear to class or work. The hand-painted heart accent finger design is absolutely insta-worthy. This DIY manicure is versatile enough to be worn year-round but shines in deep winter.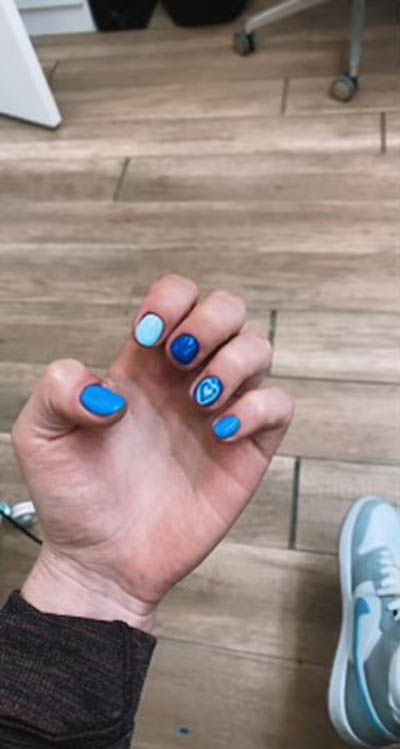 Blue Gradient Nails Design With Heart Accent Inspiration
Blue is a polish color that looks great on all nail shapes and lengths. It is typically considered a neutral, so if you typically go for more neutral or nude nails, blue is a great option to take a small step out of your comfort zone. Plus, blue manicures are very trendy this year.
How To Paint Blue Gradient Nails Design With Heart Accent Nail
For this nail design you'll need:
A light blue nail polish
A medium/cobalt blue nail polish
A deep blue nail polish
Toothpicks
A white nail art polish pen, variation / optional
A clear topcoat polish
First, shape your nails. I have short nails right now and went with a round nail shape to coordinate with the round heart design. A round nail shape is easy to create; simply file your nail, going in one direction only, to mimic the shape of your fingertip.
This nail shape is perfect for athletic or active women as it doesn't chip or crack easily due to its organic shape.
To create the nail design pictured, paint two coats of the light blue polish on only the pointer finger.
Then paint two coats of the deep blue polish on the index fingers only. Finally, paint two coats of the medium blue color on the remaining nails. Allow all polish to dry fully before moving to the next steps.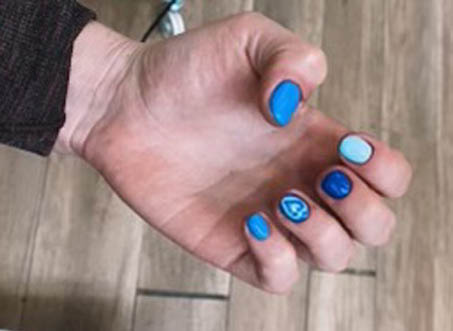 Hand Drawn Heart Accent Nail Tutorial
Once the ring fingernail polish is for-sure-totally-dry, it's time to create the hand-drawn heart. The heart design is easier to create than it sounds. If you're not confident, practice first on a piece of paper before committing to your nails.
First, take the light blue polish and dip a toothpick into the polish. Make a large dot on the upper right area of the nail. Then repeat the steps to Make a second dot next to it on the left side of the nail; this will be the top of the heart.
Using a clean toothpick, drag each of the dots down and together at a forty-five-degree angle towards the center of the nail tip. You may need to fill in with more polish depending on the size of your heart and the amount of polish in the initial dots.
Wait at least fifteen minutes to allow the heart design polish to dry. Repeat the heart tutorial steps in the medium blue, making a smaller heart inside the first heart, allowing it to dry completely. Repeat the steps again in light blue, creating the smallest heart shape.
Polish tends to dry from top to bottom, so as you paint more heart layers, work gently with the toothpick to not disturb the nail polish layers underneath.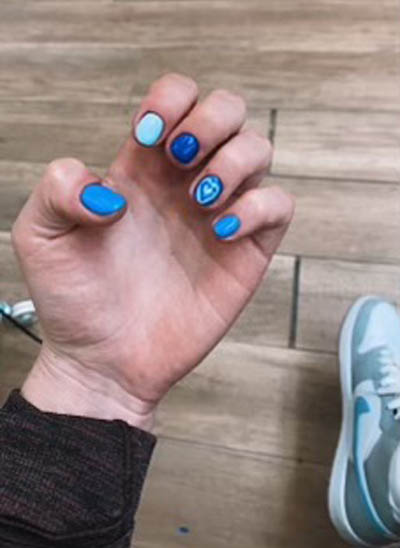 Hand Drawn Heart Nail Design Tutorial Variation
If you prefer to use a nail art polish pen, or are short on time, choose a white or silver color pen. Shake the pen well before starting. Simply paint a heart outline on your accent finger. Then paint another smaller heart in the center and fill it in with the polish pen.
If you've never worked with a polish pen before, see more details and tips on using nail art polish pens on the Purple Nails With Smiley Face And Abstract Design tutorial.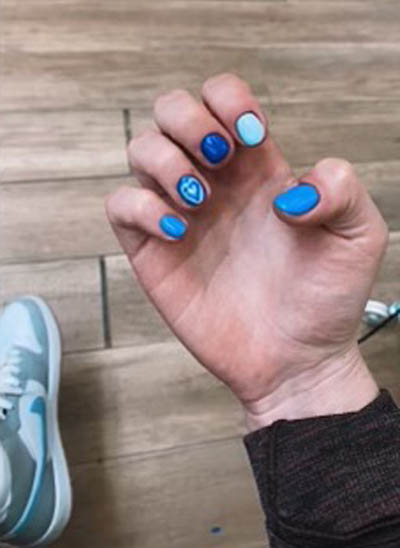 How To Style Blue Gradient Nails Design With Heart Accent Finger
This DIY nail design is all blue hues making it truly cool-toned. Wearing this nail design with other cool tones creates a monochromatic put-together look, giving it-girl vibes. A cobalt blue dress with tan accessories and silver jewelry would be stunning with this blue gradient nail design.
If you like more of a contrasting pop of color, mix in golden yellow, terracotta, and even black pieces.
White and gray pieces work with both monochromatic and color pop looks. You'll feel cool and confident with this DIY nail design inspiration.
More blue nail designs you will love: Sky Blue Coffin Nails, Bright Blue Nails with Heart Design, Aqua Blue Nail Ideas, Blue Butterfly Nails, Blue and Beige Ombre Nails, and Light Blue with Swirls Nail Design.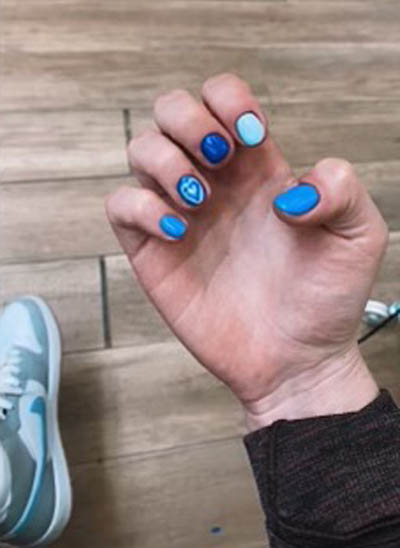 https://vibrantguide.com/wp-content/uploads/2022/07/blue-gradient-nails-accent-heart-3.jpg
548
400
Anna
https://vibrantguide.com/wp-content/uploads/2019/01/logo2.png
Anna
2022-08-17 09:36:33
2022-08-18 00:56:33
Blue Gradient Nails Design With Heart Accent Finger