Neon Green Nails – Lime Green Nails With Smiley Face Design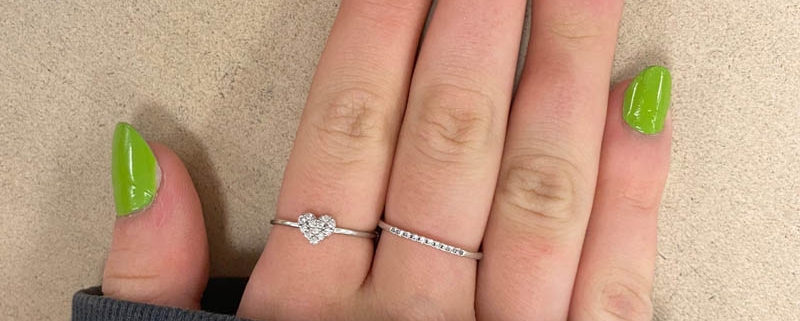 Fun and creative nails like this Lime Green Nails With Smiley Face Design are such a mood booster! I could roll out of bed with messy hair and a not-matching-set of a sweatshirt and bottoms, but if I have a fun nail design I still feel great.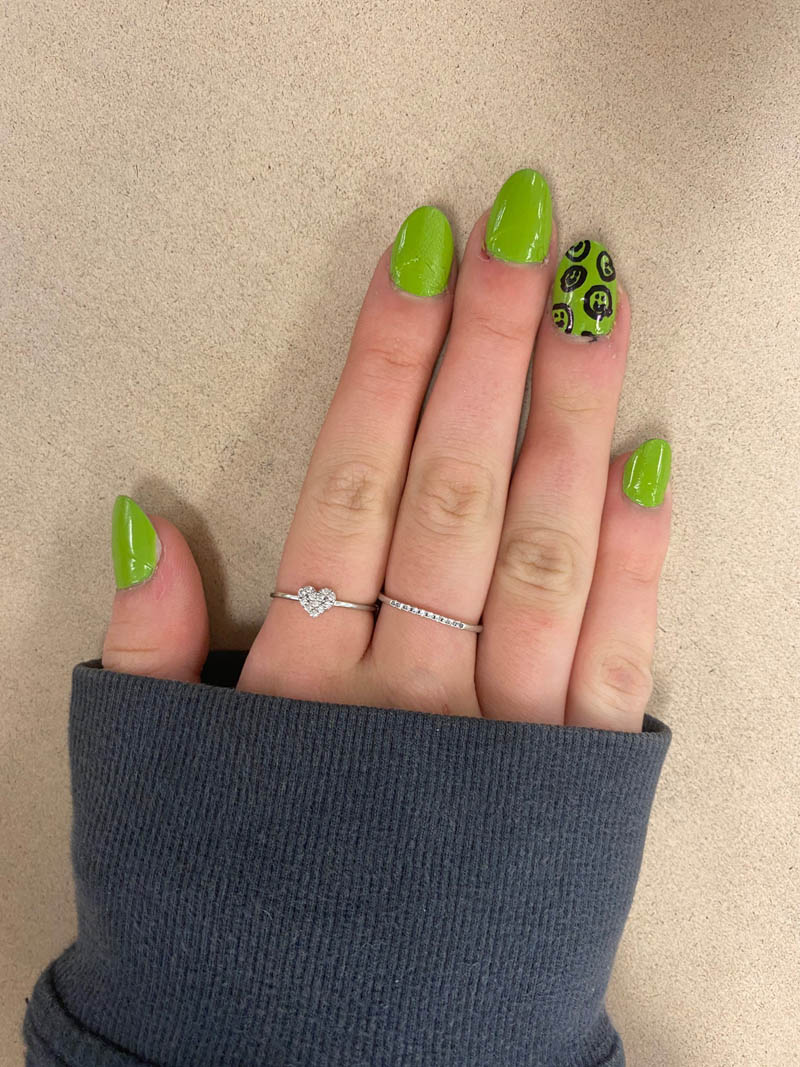 Lime Green Nails With Smiley Face Design Tutorial: Shape The Nails
A medium oval or almond nail shape is a perfect canvas for the round smiley face designs we will paint. This nail design would work on most nail shapes, but I like a rounder nail shape to compliment the round smiley faces.
An oval nail shape is one of the most simple to create. File nails in one direction into an elongated round egg shape by filing at an angle from the nail bed edges to the center. Keep the nail shape soft and round. Oval nail shapes are flattering for all hand shapes. It can create an elongated appearance of the fingers, making it an especially great option for girlies with shorter hands.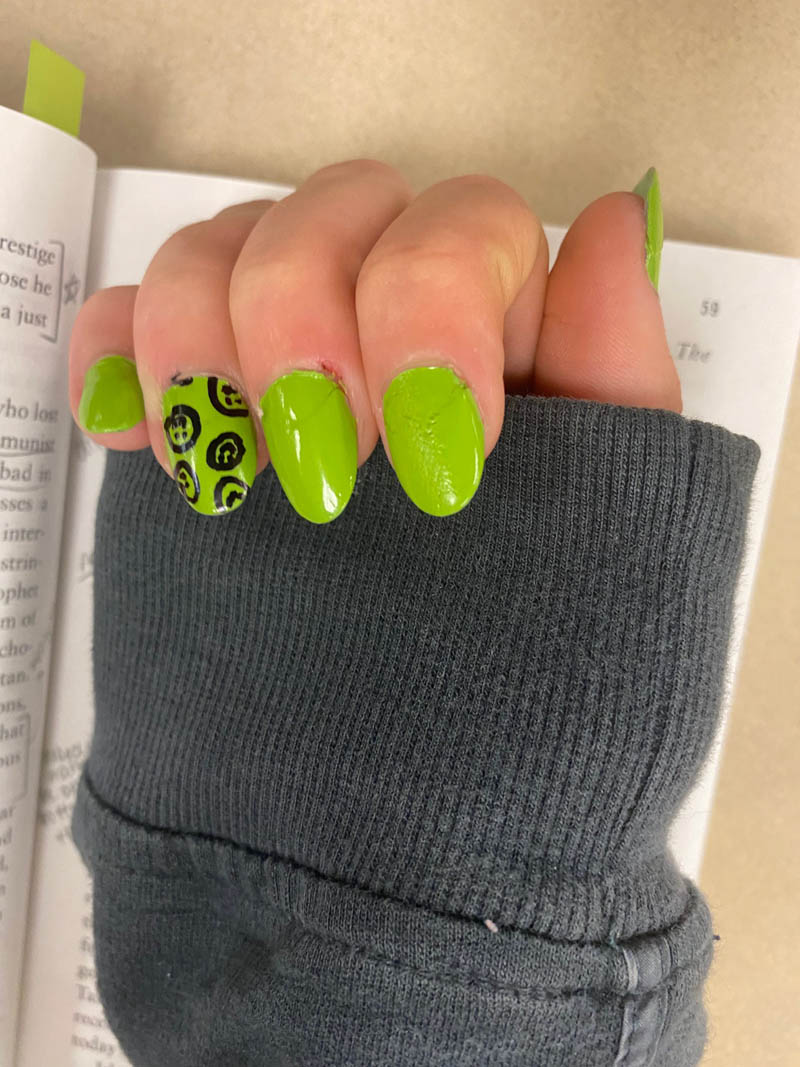 Neon Green Nails – Lime Green Nails With Smiley Face Design Tutorial
For this nail design, you'll need:
An opaque bold green nail polish
A black nail art polish pen with a fine tip
A clear topcoat
Apply two thin coats of the bold green nail polish to all nails. Allow the polish to dry. Wait at least twenty minutes before painting the accent nail.
Green nail design inspo: Light Green Nails Flower Design Idea and Hot Pink And Neon Green Nails Design.

Lime Green Nails With Smiley Face Design: Smiley Face Design Tutorial
First, confirm the green nail polish is completely dry. If the polish isn't 100% dry, the nail art pen will cause dents and smudges.
Confirm that the cap is locked on the polish pen,l and shake the pen well for a few minutes to mix up the polish ingredients. A fine-tip nail art pen is the easiest way to paint detailed designs on your DIY manicures but can feel a bit intimidating if you aren't familiar with using them.
You can practice using the nail art pen on a piece of paper to get a feel for it before going all in on your manicure. This also allows you to plan out your design size and spacing.
If your nail art pen is the felt style, practice finding the perfect amount of pressure. Pushing too hard may cause the pen to blob out too much polish at once. If the pen pressure is too light, it could cause a less opaque application.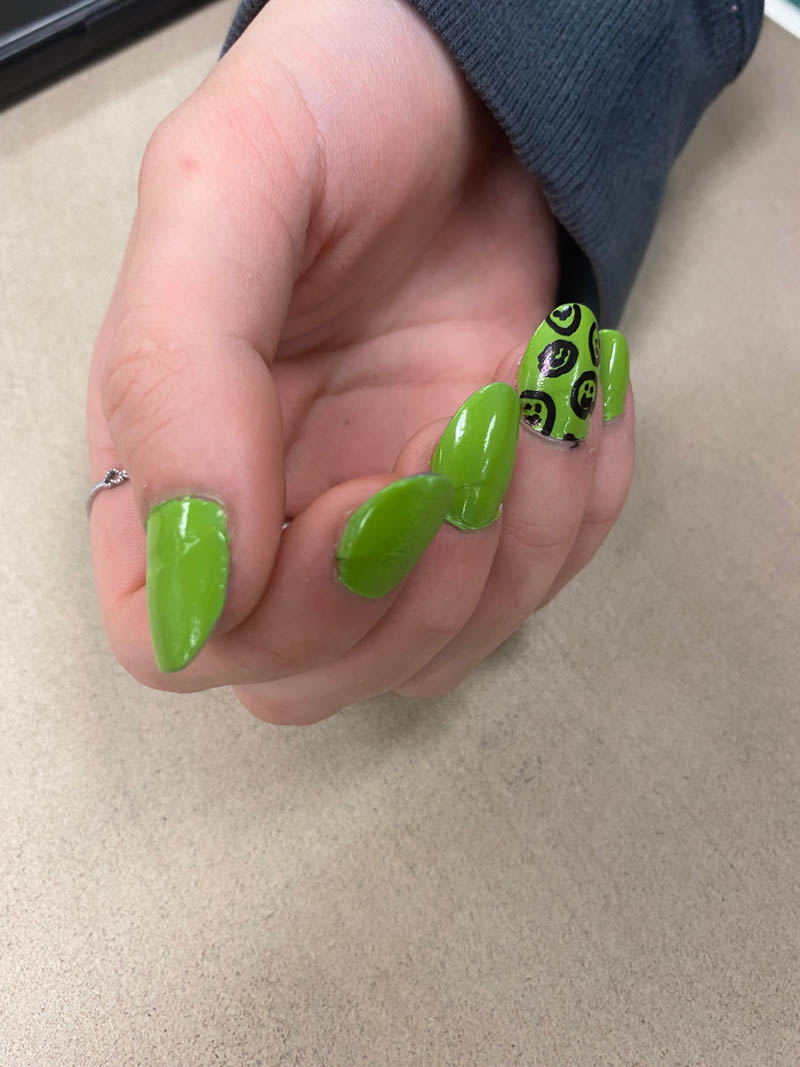 When you feel confident in your nail art pen skills, it's time to make the smiley accent nail designs. First, draw a circle for the outside of the smiley. If you start with the face, the scale could warp.
Then fill in the face with two dots for the eyes and a little happy swish for the mouth. You can fill in the entire nail space with multiple smiley faces, and even do partial smileys on the edges.
If you smudge a bit of polish on your cuticles, it will come off easily with a cotton swab saturated in nail polish remover.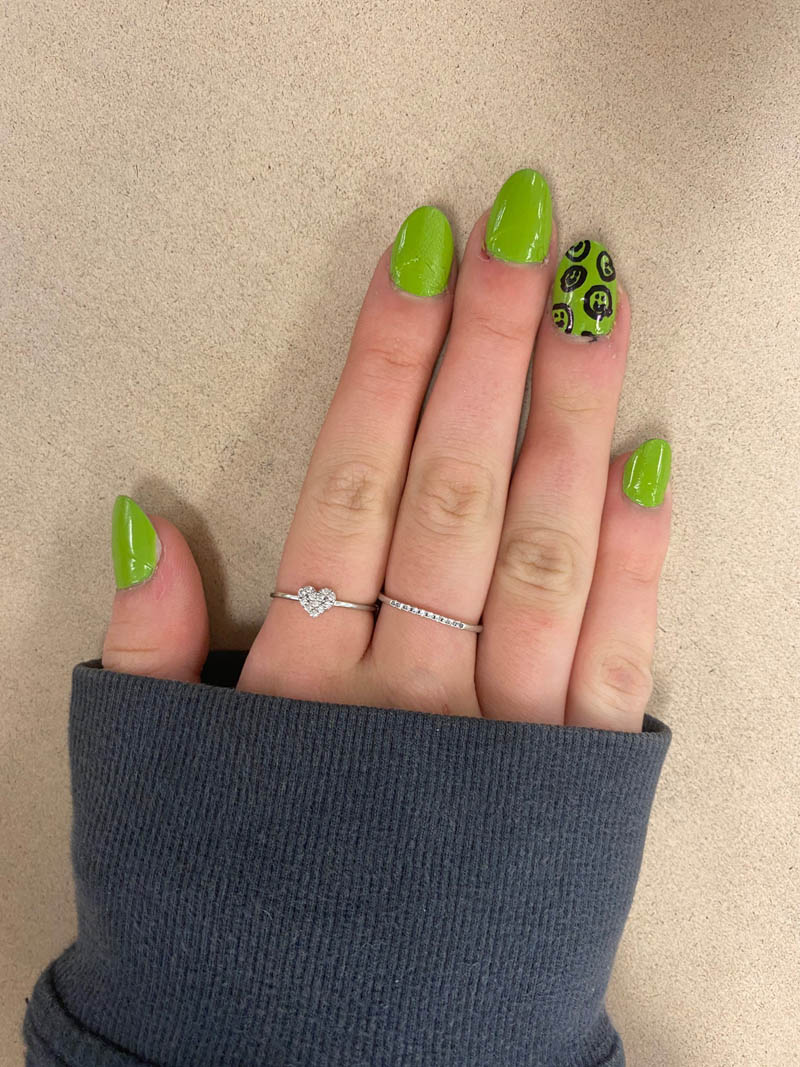 Lime Green Nails With Smiley Face Design Style Inspiration
Lime Green Nails are spirited and fun. When paired with the smiley face design accent nail, it's an insta-photo-shoot-worthy mani. This nail design is a way to show off your personality and creativity.
Neutrals will all pair well with your daring manicure. Choose white, black, and beige tones for outfit pieces. For a bolder look, choose yellow and hot pink outfits to wear with your lime green nails.
Lime green nail designs are the perfect option for when you want to brighten up your vibe and have an eye-catching style. Make a statement on a night out with friends, or add some excitement to your everyday look.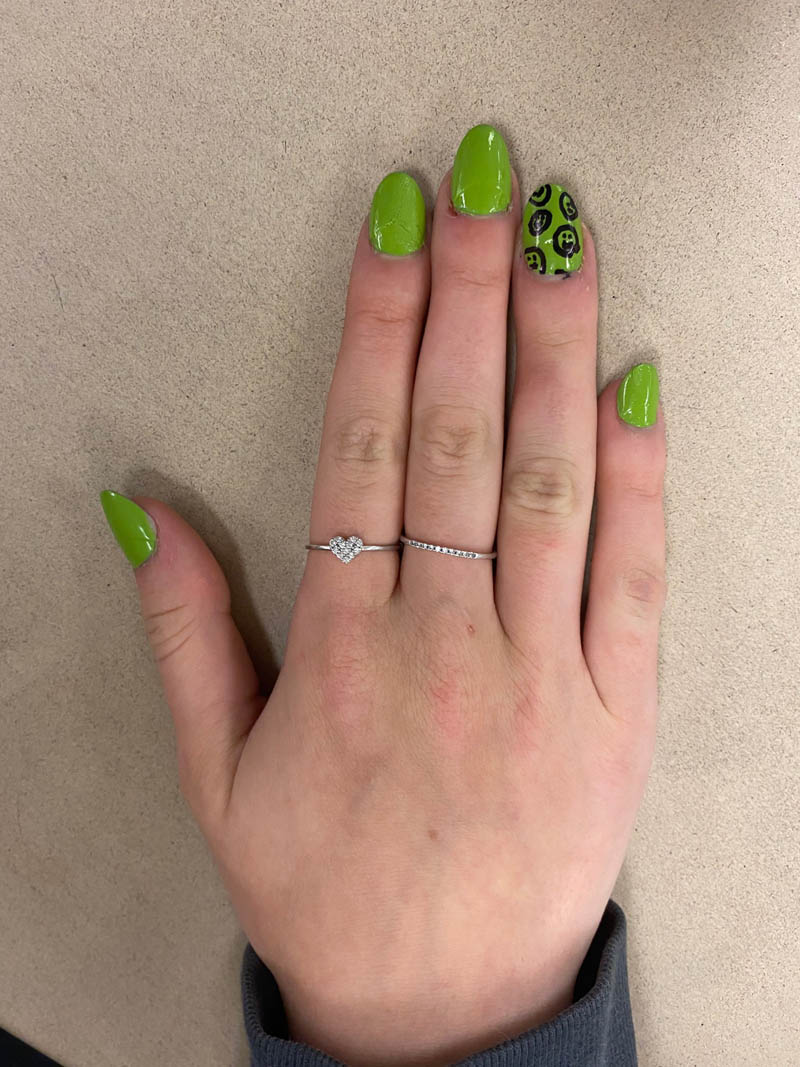 More hand-drawn accent nail ideas to love: Purple Nails With Smiley Face And Abstract Design, Lotus Flower Nail Design Blue And White Manicure, Purple French Nail Tips With Flowers And Glitter Design, Blue Gradient Nails Design With Heart Accent Finger, Cobalt Blue Nails With Heart Design On Ring Finger, and Pink Flames Coffin Nails.
https://vibrantguide.com/wp-content/uploads/2022/05/neon_green_lime_nails-3.jpg
1067
800
Anna
https://vibrantguide.com/wp-content/uploads/2019/01/logo2.png
Anna
2022-09-09 07:56:27
2022-09-16 21:39:26
Neon Green Nails – Lime Green Nails With Smiley Face Design