Smiley Face Nails In Blue And White
This blue and white nail design is fresh and extra fun because of the hand-drawn black and white smiley face accent nail. Perfect any time of year to show off your bold personality. You can create this look with normal smiley faces or get extra creative with trippy smiley face accent nails.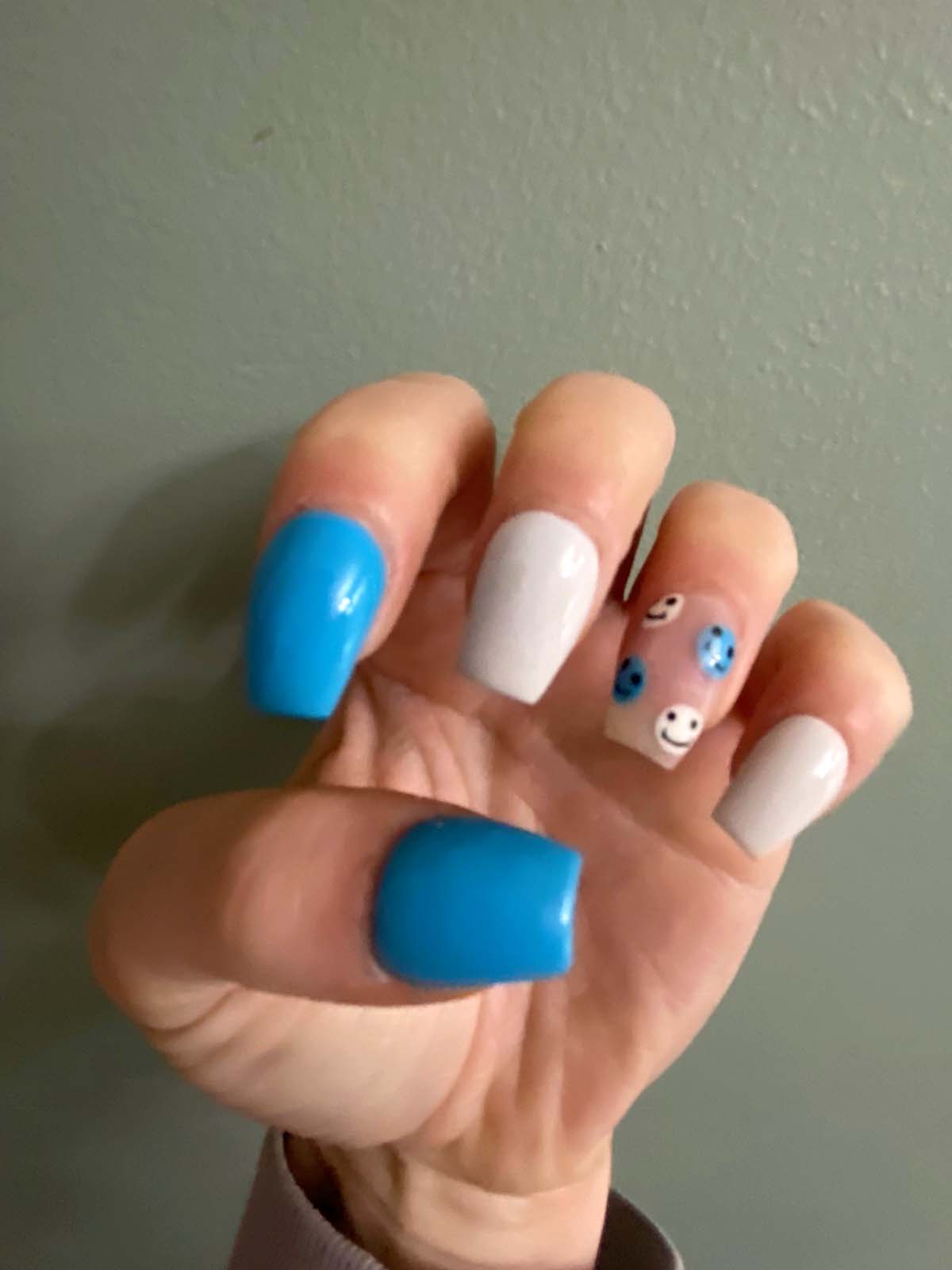 How To Do Smiley Face Nails In Blue And White: The Coffin Shape
Coffin nails are a bold and fashionable nail shape, perfect for this fun nail design. To shape coffin nails, follow the instructions in the How To Shape Coffin Nails tutorial.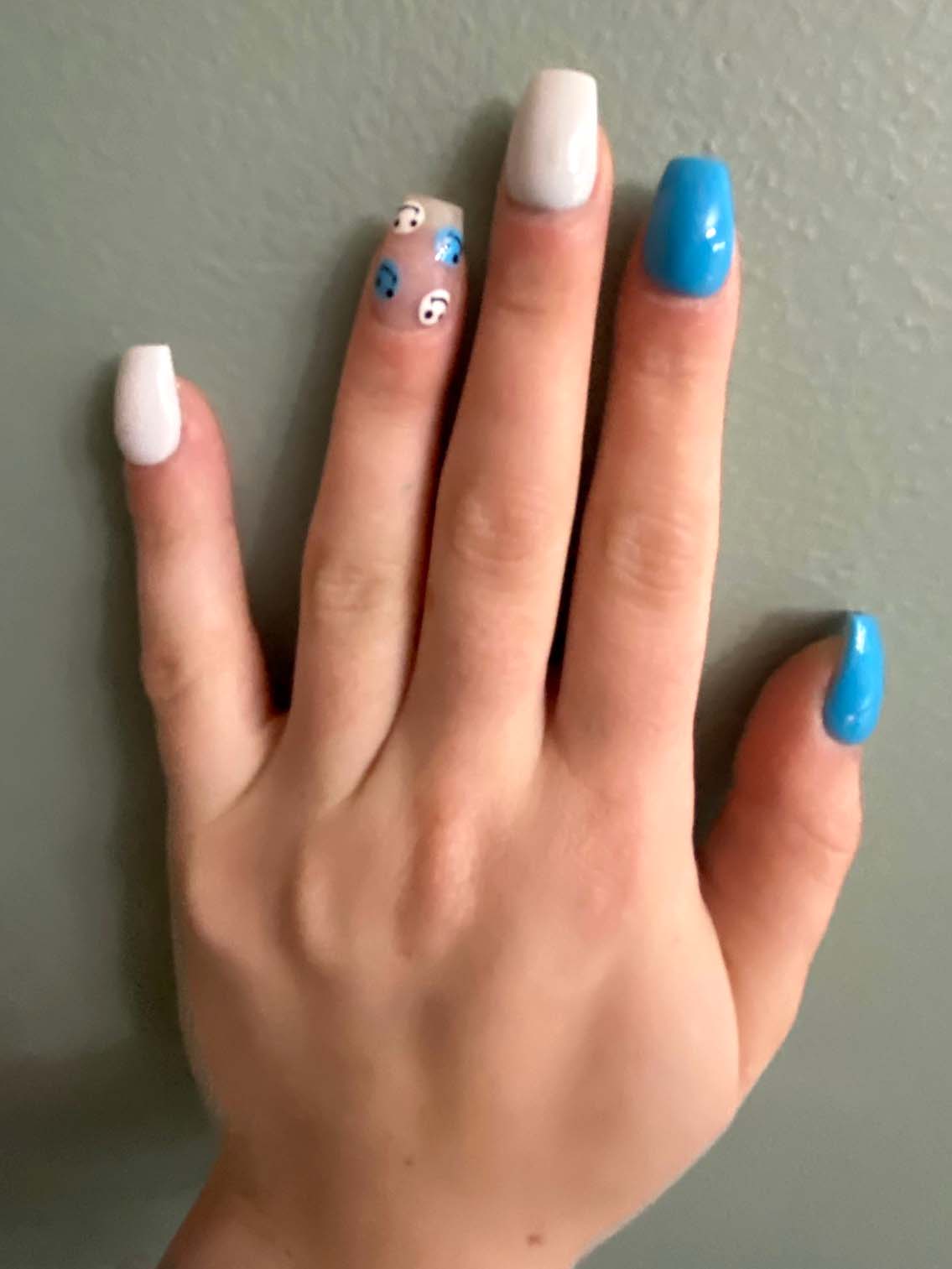 Smiley Face Nails In Blue And White Tutorial
For this Smiley Face In Blue And White Nail Design you'll need:
A white or very light blue nail polish
A bold sky-blue nail polish
A black nail art pen
An ultra-thin nail art brush
A clear top coat
First, on your pointer finger and thumb nails only, paint two to three thin coats of the bold blue polish until you have an opaque look.
Then on your index and pinky fingernails only paint two or three coats of the white nail polish. It's always better to have more thin coats rather than fewer thicker coats of polish for a smooth look.
If you like blue nail designs, you'll love:
Shades Of Blue Nail Design With Heart Design
Aqua Blue Coffin Nails
Cobalt Blue Nails with Hand Drawn Heart Accent Nail
Glitter Swirl Light Blue Nail Design
Periwinkle Squoval Soft Square Nail Design
Feminine Light Blue Almond Nails With Butterfly Accent Design
Blue To Beige Ombre Nail Design
Simply and Easy Sky Blue Short Coffin Nails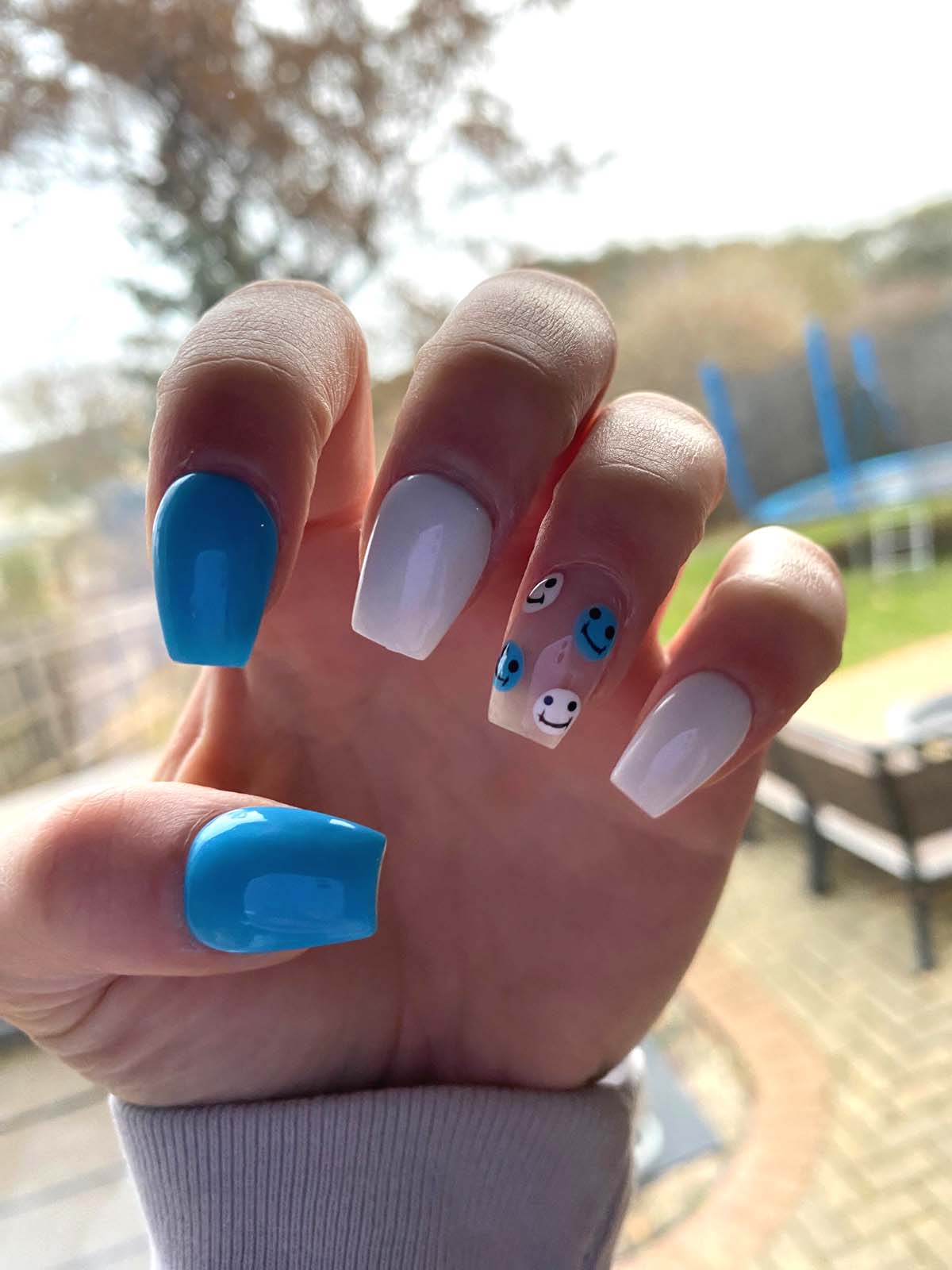 Smiley Face Nails In Blue And White: Using A Nail Art Pen
For this manicure, I chose my ring finger for the accent nail. You can choose any nail for the hand-drawn smiley design, even several if you're feeling extra creative.
To make the smiley face designs, follow the steps in the Purple Nails With Smiley And Abstract Designs tutorial.
First, check to confirm the polish is completely dry to prevent smudging the nail design and blocking up the polish pen.
Confirm that the cap is on the polish pen well and shake the pen well to mix the polish inside. Nail art pens have a fine tip that is great for detailed designs but can be tricky to use for the first time. You may want to practice making designs on a piece of paper before committing to your nails. Practicing on paper first will help you get used to how the pen works and allow you to map out your design.
If you have a felt tip style pen, apply moderate pressure and practice finding out how hard to push. If you press too hard, the pen could leak out too much polish, leaving a blob of paint behind.
Once you feel comfortable using the pen, work slowly on one nail at a time to create the smiley face art.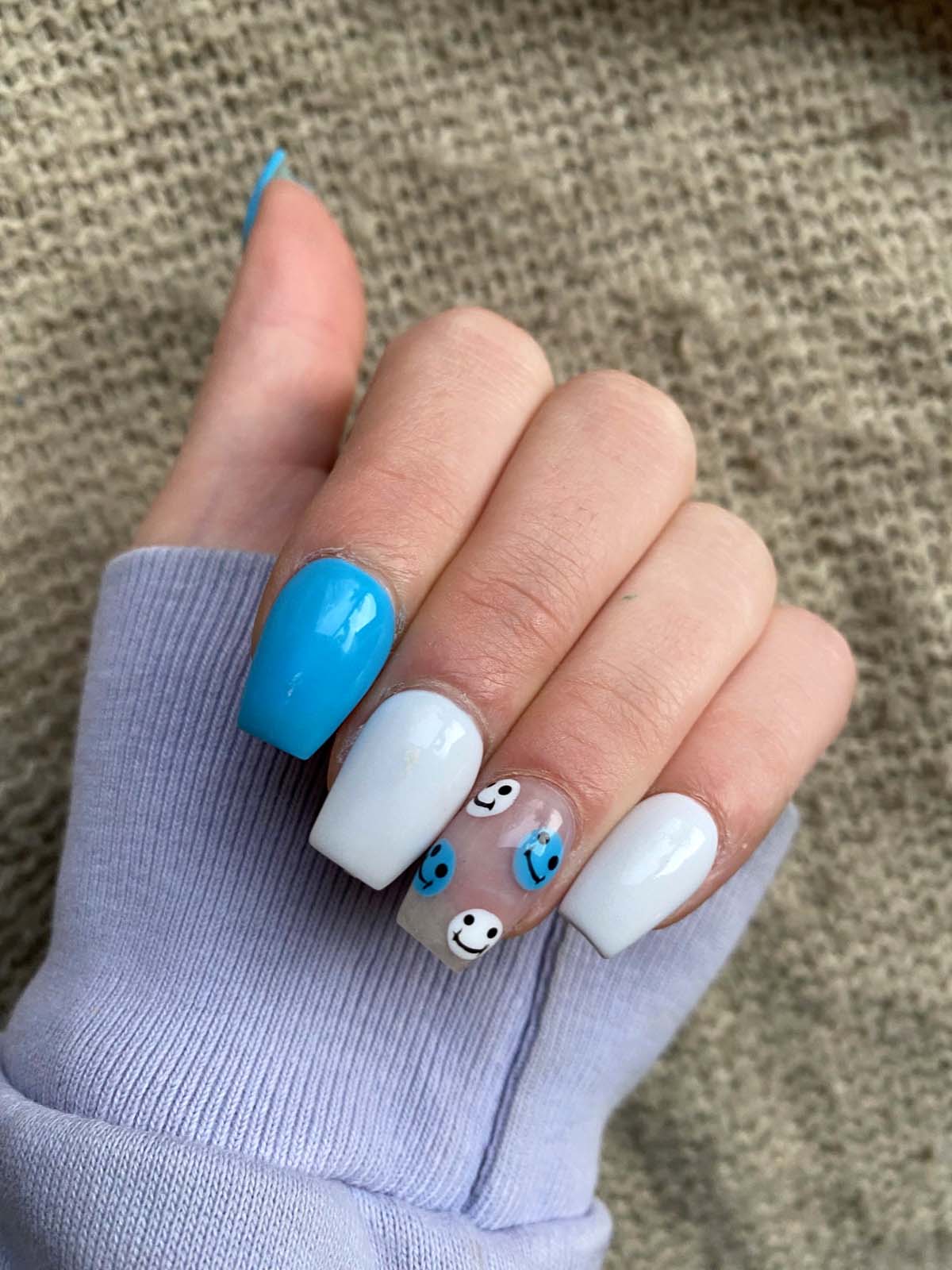 Smiley Face Nails In Blue And White: Smiley Face Nail Art
For the smiley face nail art, I chose to create the smiley design on a bare nail. If you prefer, you can paint a sheer nude polish on the accent nail first. Because the blue and white polish on the other nails are cool-toned, be sure to choose a nude polish with cool undertones.
To make the smiley face design, use the ultra-thin nail art brush to draw a circle first, and then fill in the shape with the standard polish brush. If you have trouble making a symmetrical circle, lightly paint it in quarters to have better control over the shape.
You can do both circles of each color at once but allow time for the polish to dry before working with the next color. I created the black and white smiley faces first. Because the smiley faces are so close together the risk of smudging wet polish is very high.
Once all the polish is totally dry, use the nail art pen to dot two smiley eyes and draw the smile line. Always draw the eyes first for the best spacing on the smiley faces.
If you love nails with hand-drawn line art, these nail design ideas may inspire you:
Pink And White Nails With Hand Drawn Leaf Accent
Light Purple Coffin Nails With Hand Drawn Smiley Faces
Almond Lime Green Nails With Smiley Face Accent
Multi Color French Tips With Hand Drawn Flowers
Pink and Purple Hearts Design On French Tips
Lavender Nails with Hand-Drawn Flowers
Purple French Tips With Trendy Cow Accent Nails
Hot Pink Mani with Hand-Drawn Lightning Bolt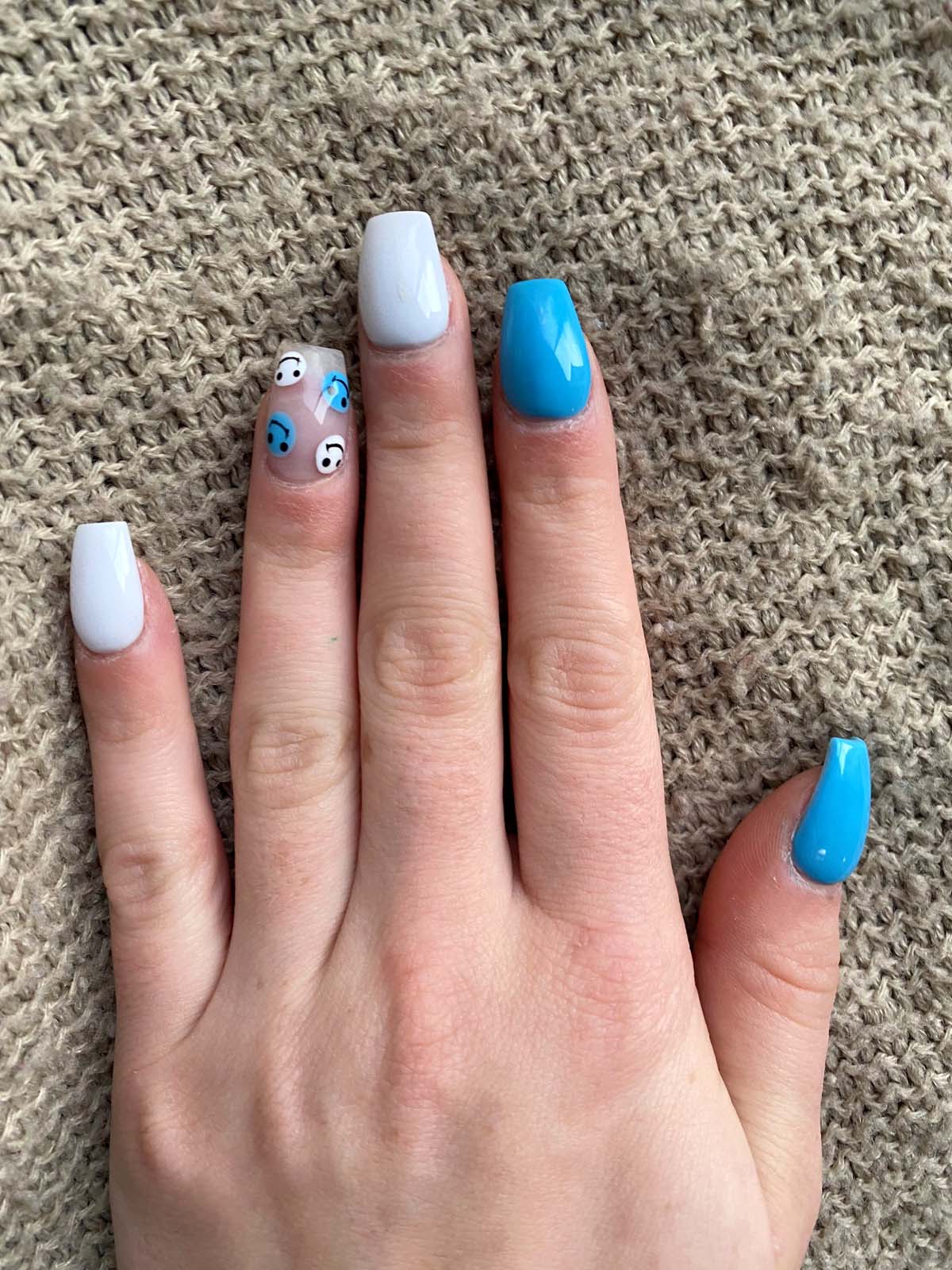 Smiley Face Nails In Blue And White: Alternate Design Trippy Smiley Face Nails
If you like a more trippy smiley face design, you can easily create it! First, draw the upper two-thirds curve of the circle of the face. You can make the top of the arch wavy to coordinate with the trippy look or smooth for a more refined trippy smiley.
Next, draw the drips of the bottom of the face, there's no required number of drips for a trippy smiley but three to five look best. Don't worry about making the drips perfect, this is meant to be flowy and fun! Alternate the length of the drips at the bottom for the best look.
Fill in the outline with color. Once dry, use the nail art pen to draw the eyes first. For a trippy smiley design, create an elongated wavy eye rather than a dot. Simply squiggle the paint pen back and forth as you draw each eye.
If you like more of a melting trippy smiley make the eyes by making two slightly oversized dots for eyes and pulling the polish down a little with a toothpick to create a melting effect.
For the mouth, simply draw a squiggling arch to vibe with the eyes. This stylized version of smiley faces is super trendy right now, and such a fun way to get creative.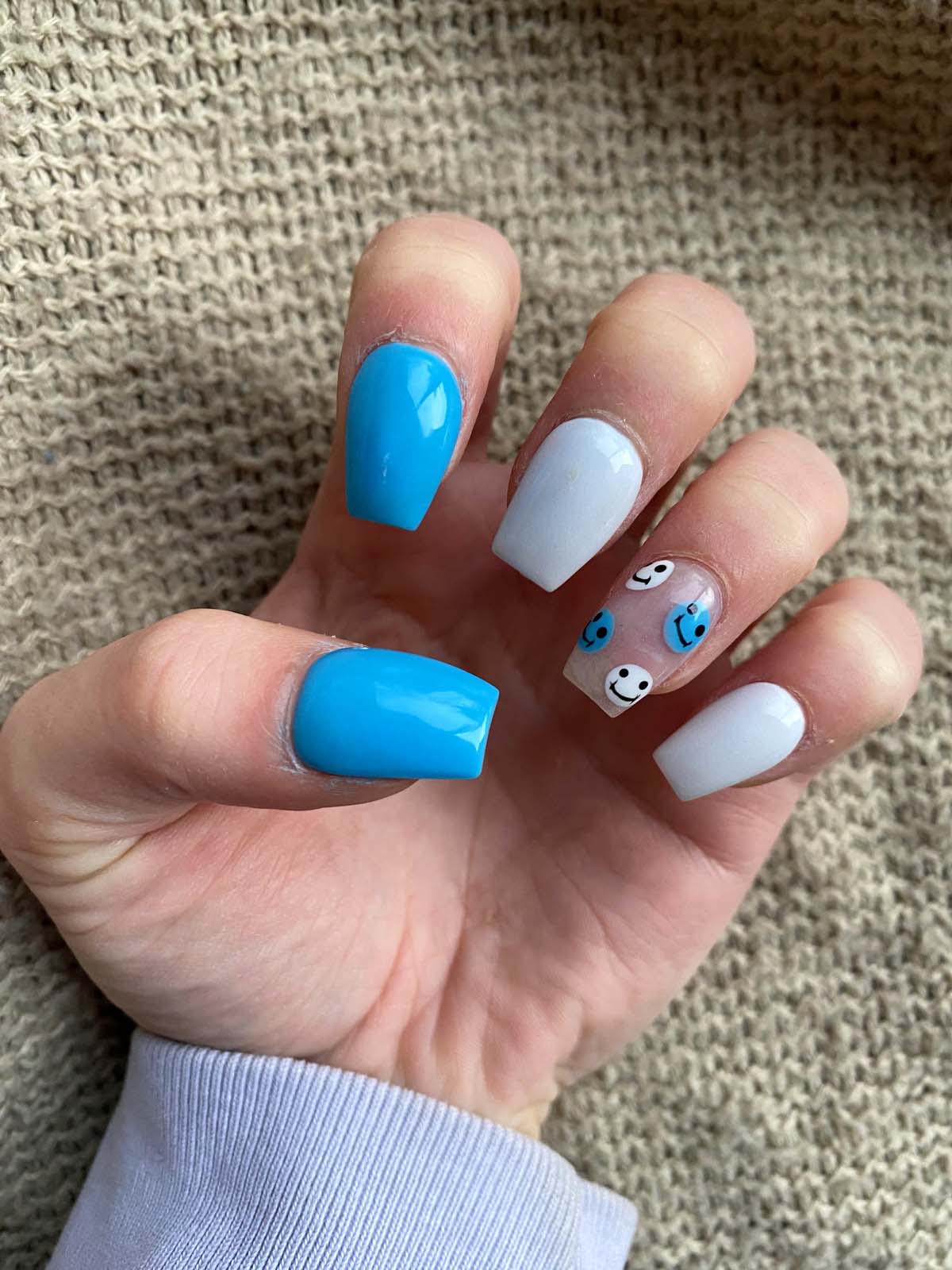 Styling Smiley Face Nails In Blue And White
Blue nail designs look great year-round but are especially pretty in winter and summer. Light and medium shades of blue work well with many colors and styles. Dressing in blues will create a monochrome, put-together vibe. While neutrals like tans and creams in lighter tones make for a feminine cohesive look. If you want to be bold, wear reds and purples with your blue mani to make it pop!
https://vibrantguide.com/wp-content/uploads/2022/12/smiley_face_nails-3.jpg
1600
1200
Anna
https://vibrantguide.com/wp-content/uploads/2019/01/logo2.png
Anna
2022-12-09 17:39:42
2023-03-28 16:08:48
Smiley Face Nails In Blue And White