French Nail Tips With Hearts Design Manicure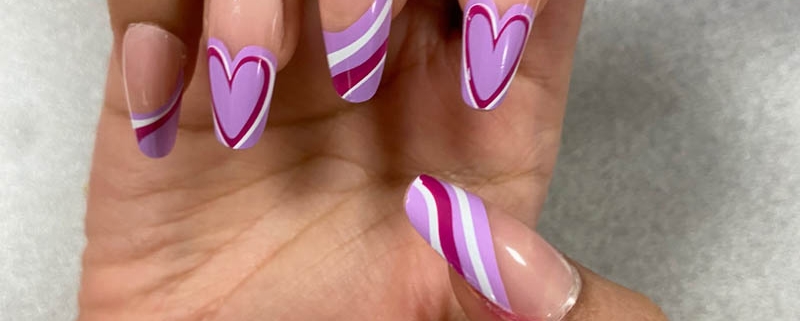 These french nails with an adorable purple design are the perfect nails if you are looking for something unique and fun!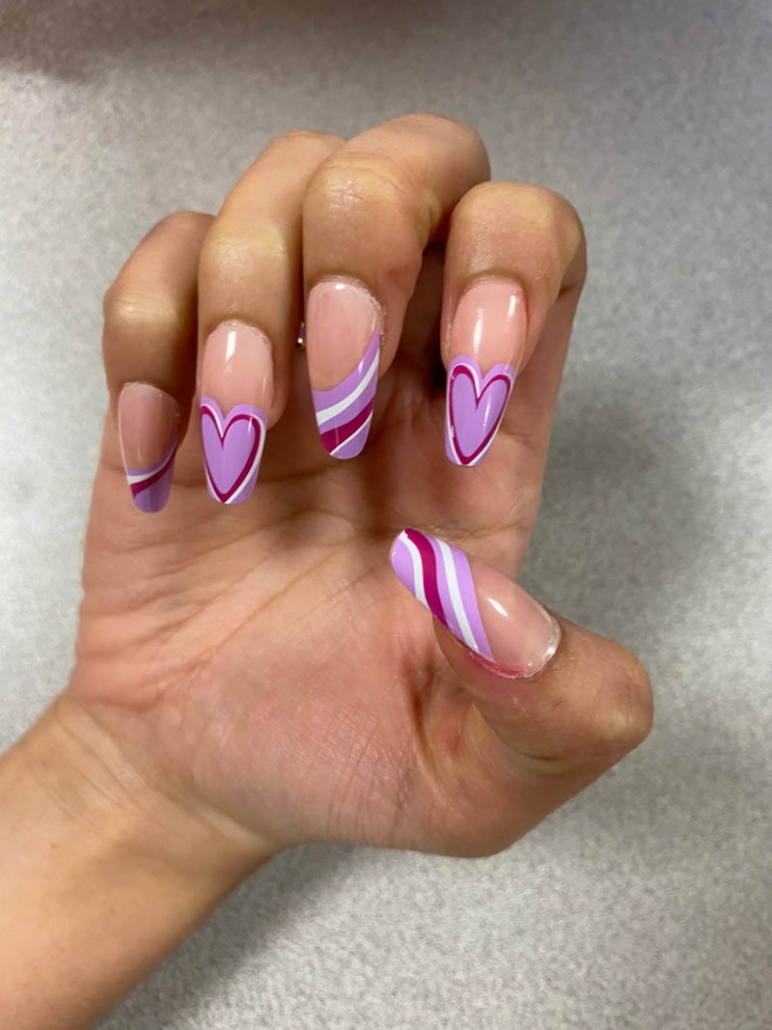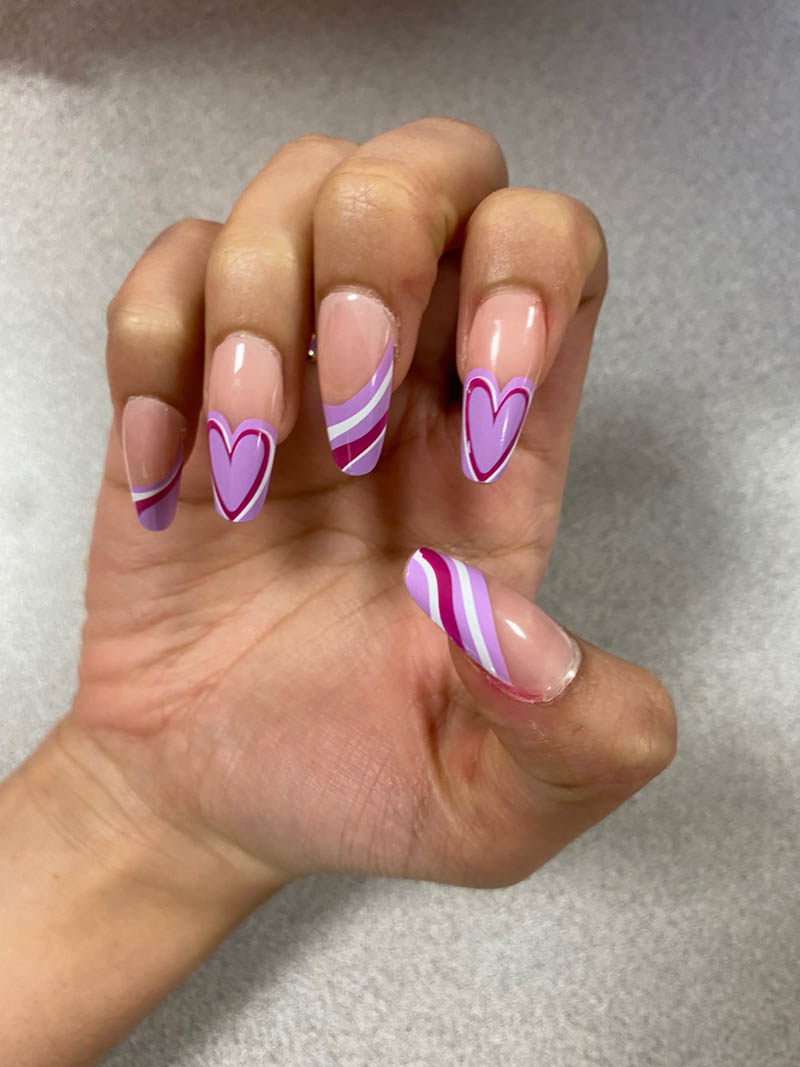 Despite the complex look, you can recreate these nails yourself! If your nails are not naturally are not long enough for this look, you can use nail tips. They have nail tips and nail tips application glue on Amazon and other places that sell nail products. To use the nail tips, simply place a little bit of the application glue on the top of your nail. Then, press the nail tip on your nail and cut it down to the desired length. Now you have beautiful long nails!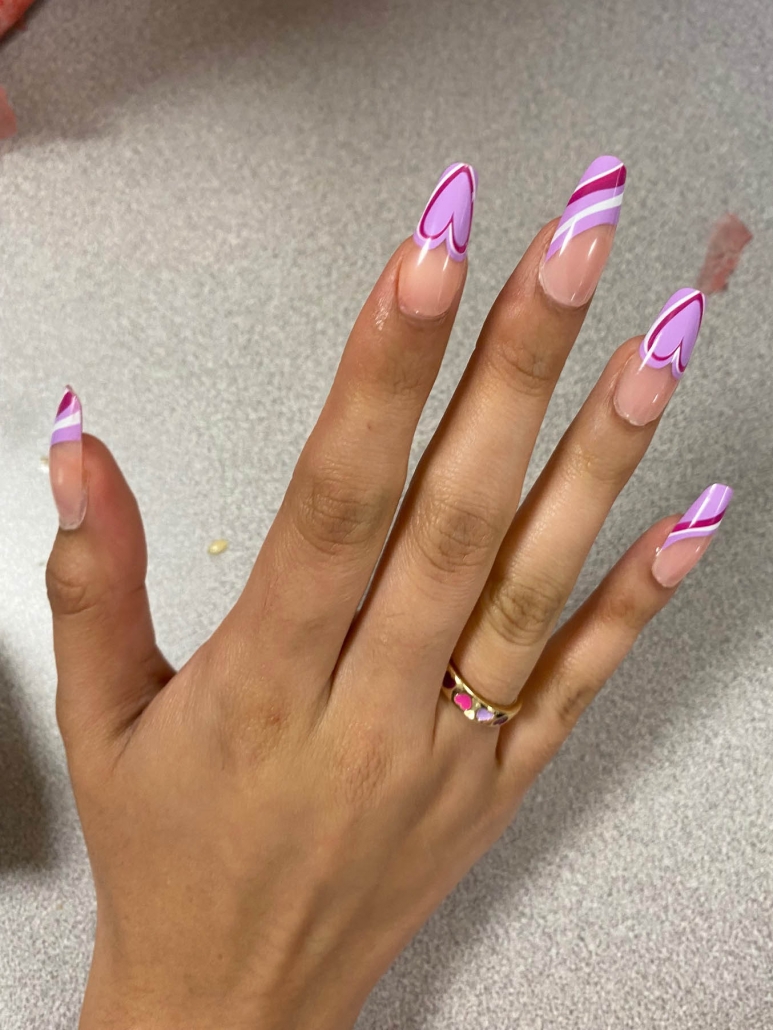 After you apply the tips, choose a base color that is nude with a hint of pink. The hint of pink will help match the base to the purple french tips. After applying two layers of the nude base, its time to start the purple heart design! This design requires three colors: a dark maroon, a light purple, and a white. Make sure that the base nail polish is completely dry to avoid smudging when adding the design.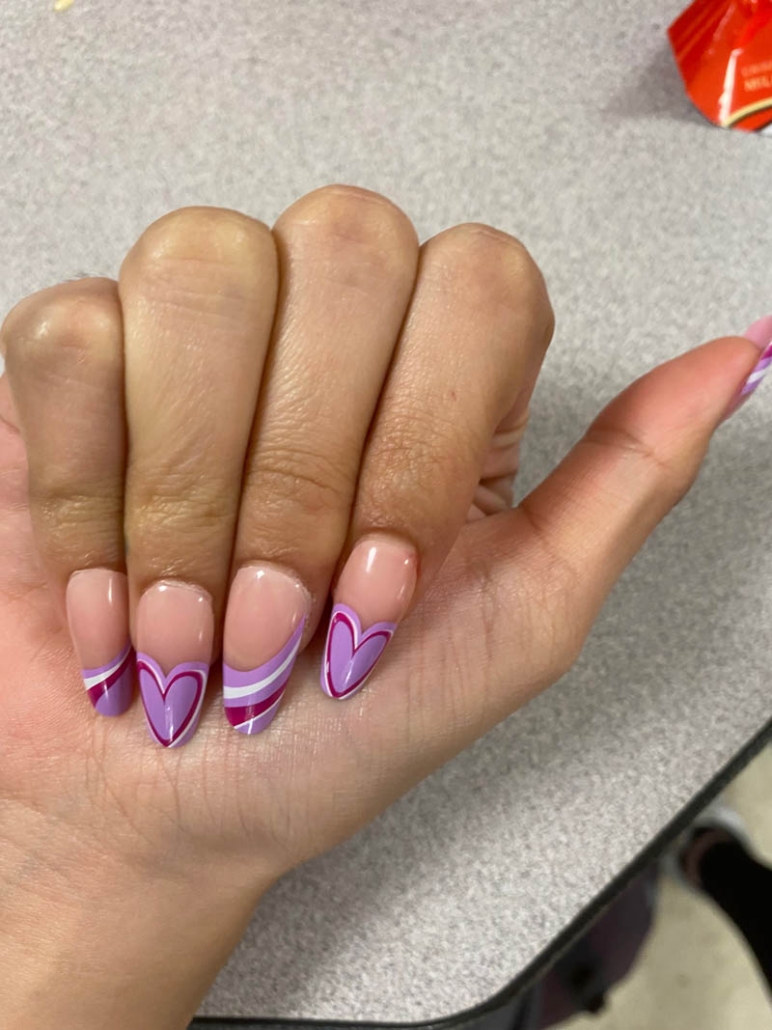 For the thumb, you are going to create 5 stripes, alternating between purple, white, and maroon, and starting and ending with purple. For the index finger you will need an ultra-thin nail polish brush. Trace and fill in a heart in the purple. Then outline a very thin heart in the maroon. Finally, when the nail is completely dry, add another small outline in white. For the middle finger, repeat what you did on your thumb with the 5 stripes. For the ring finger repeat what you did on your index finger with the heart. Finally, on your pinky paint on 4 stripes with purple, maroon, white and then finally purple.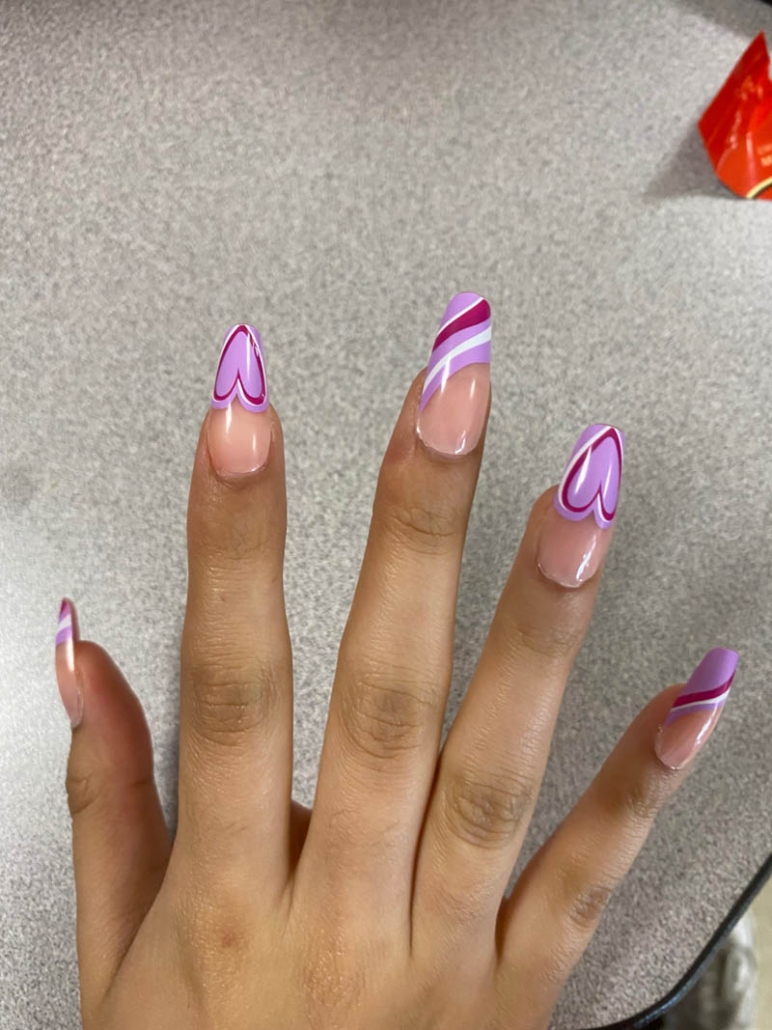 These nails are absolutely PERFECT for valentines day! While still being unique, they fit in the love theme perfectly! Additionally these nails are great for spring and summer, as they are cheerful and fun, and purple is an amazing color for spring and summer. These nails would go perfect with a sundress and look AMAZING in a photoshoot for Instagram! If you are looking for nails to wear to your next vacation, these nails will absolutely capture people's attention. They are very unique and fun without being overly flashy.
There are so many different things that you can do with these purple heart french tips. If you want to add more contrast to the nail, you can paint the base white. This will make the nails look more dramatic and eye-catching. You can also paint the base black, as black goes very well with purple. This will create a darker look which would be perfect for Halloween!
If you are looking for valentines day-nails that fit the more traditional color pallet, you could change the three colors to pink. You could do a hot pink, light pink, and white. You could also change the colors to different shades of red and do a bright red, lighter red, and then a pink. This will create a more traditional Valentines-day looking nail.
Whether you are looking for Valentines-day nails, or the perfect nails for summer or spring, you need to try these french nails with purple heart designs!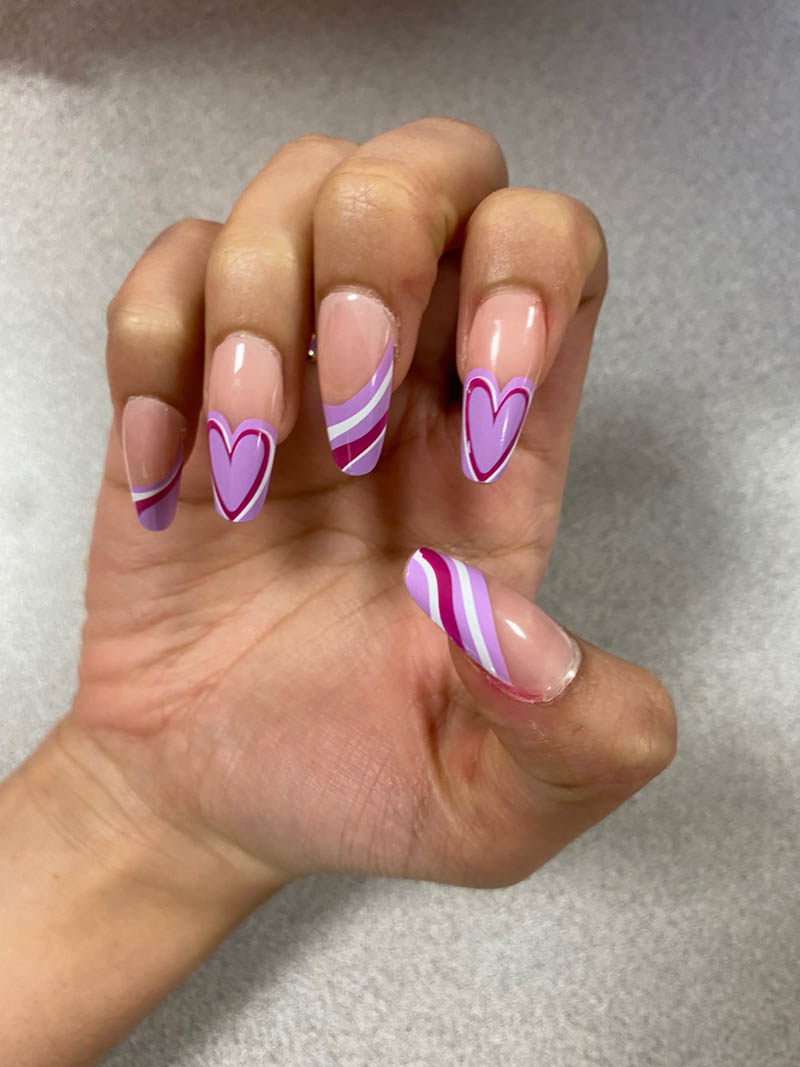 https://vibrantguide.com/wp-content/uploads/2022/05/purple_nail_hearts_stripes_design-4.jpg
1067
800
Anna
https://vibrantguide.com/wp-content/uploads/2019/01/logo2.png
Anna
2022-06-05 19:59:57
2022-06-05 19:59:57
French Nail Tips With Hearts Design Manicure