Ombre Pink Glitter Nails Design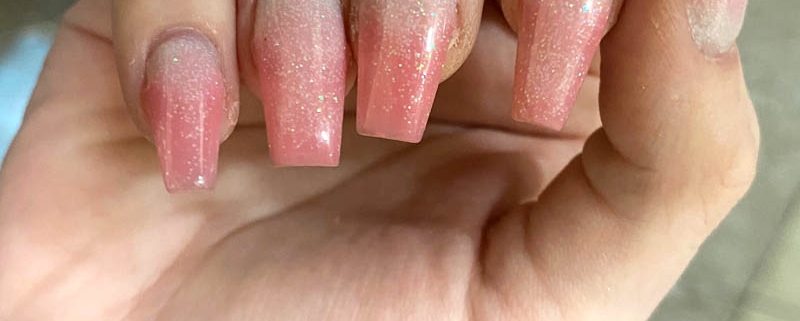 This coral pink ombre glitter nail design has such a positive and uplifting vibe. This manicure inspiration features a coral pink ombre gradient to pretty light pink with a shimmering glitter top coat.
Ombre Pink Glitter Nails Design Inspiration
Both coral hues and light pink are universally flattering. Coral is an energetic and fun color. It's mood-boosting, as a member of the orange family but not overly bold because of the balance of its pink tones. It feels fresh and lively and is seen as a very positive color.
Corals and pinks remind us of the beach and have a warm summery feel. It is a feminine color combination balancing bold orange tones with sweet pink hues.
If you love soft pink nail designs, you'll love: Light Pink Nails Ring Finger Design With Flowers And Gold Foil Flake, Purple French Nail Tips With Flowers And Glitter Design, French Manicure With Light Pink Tips, Simple Leaves Nail Art Idea, and Pastel Summer Nails Multicolor Swirls Design.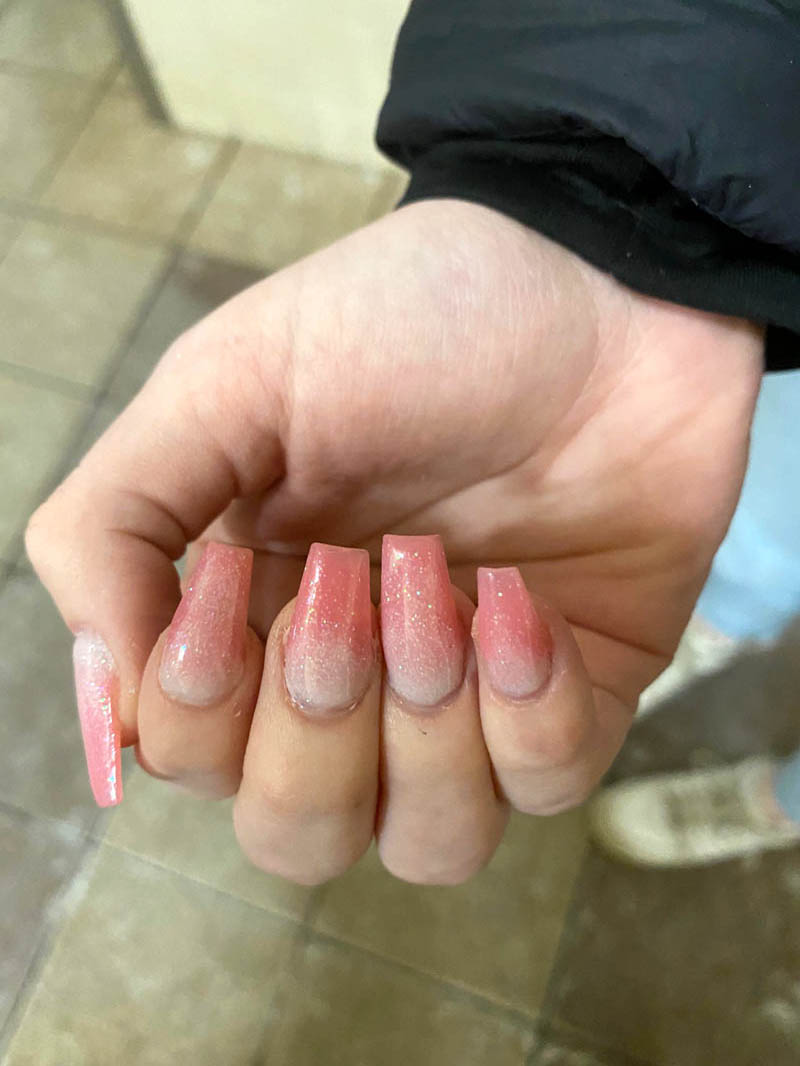 Ombre Pink Glitter Nails Design Tutorial: Shape Nails Into Coffin Nail Shape
Before painting this gorgeous ombre pink glitter nail design, first, trim and file your nails. This design can be done on any shape nail. This manicure is on medium-long coffin-shaped nails.
The coffin shape nail is an incredibly popular shape lately. Coffin nails flatter all hand shapes and are adventurous while still being a moderately durable option. Coffin nail shape is often seen on acrylic nails but can be achieved with natural nails.
To create the coffin nail shape, file the nail from the nailbed towards the center of the nail tip at an equal angle on both sides. Then flatten out the nail tip to a squared-off look. If shaping your natural nails into a coffin shape, opt for a shorter nail length and add a strengthening base coat to the manicure process to help stabilize the nail.
How To Do Ombre Pink Glitter Nails Design: DIY Manicure Tutorial
To do the ombre nail design, you'll need:
A Very Light Pink Polish
A Light-Medium Pink Polish
A Glittery Clear Top Coat
A Makeup Foam Sponge
Peel Off Cuticle Guard Skin Barrier Or Washi Tape
Ombre techniques for nail designs can take a bit of practice, but the gorgeous results you can create are so worth it. This process is a bit messy. I recommend using a latex tape peel-off cuticle guard skin barrier product. You can also simply tape off your skin with washi tape before beginning. You can also embrace the mess and simply clean up the excess nail polish with some cotton swabs dipped in nail polish remover.
Paint one or two thin coats of a very light pink nail polish on all nails. It's important to allow enough time for the polish to dry completely before moving to the next steps. We will be using a makeup sponge as a stamp. If the base coat of polish isn't fully dry, it will smudge and can even pull up during the ombre process.
Next, slightly dampen the makeup sponge. Paint multiple coats of the light pink polish in one line on the sponge. Paint a second line in the coral pink polish. The lines of polish should touch each other with no gap between them. Saturate the sponge with at least two coats of each color of polish.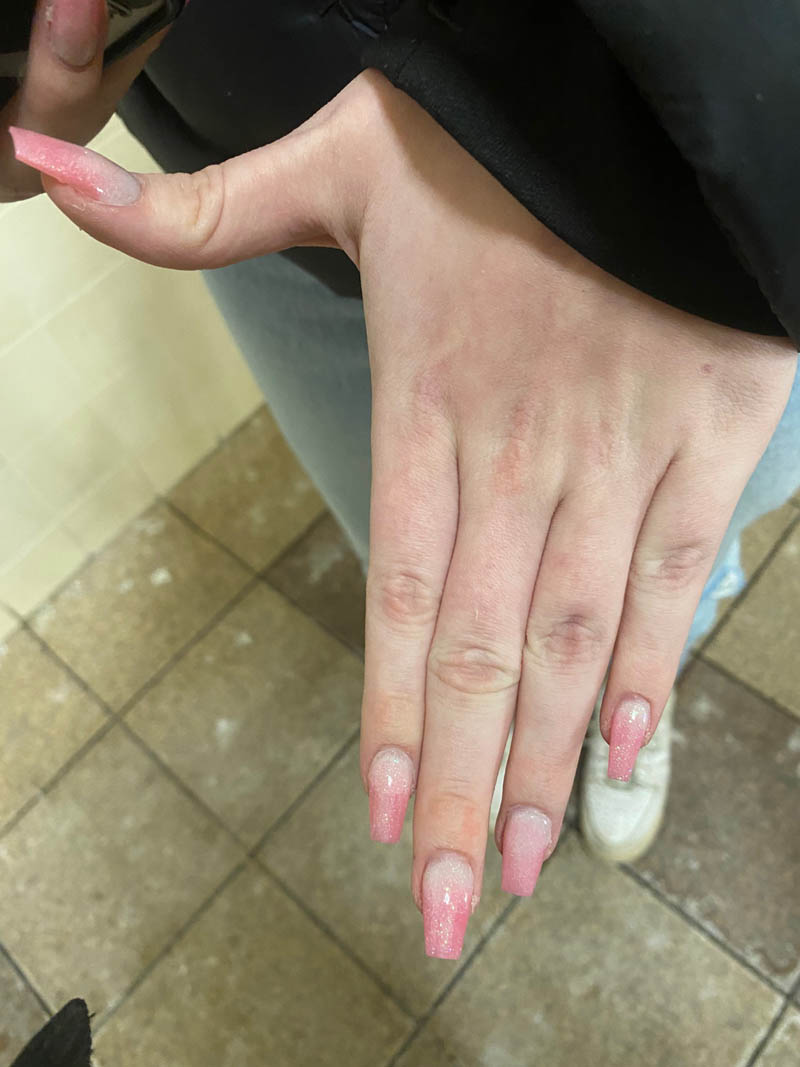 Working on one nail at a time, use the makeup sponge as a stamp, gently dabbing it onto the nail. When stamping, gently move the sponge back and forth vertically on the nail to blend the colors and create the ombre effect. Check the ombre design after every few stamping sessions to check on the progress of the ombre design. Continue stamping until the colors are blended to your liking.
Repeat the process on the remaining nails. Then remove the skin barrier/washi tape and clean up the skin with nail polish remover and cotton swabs.
Allow the ombre design time to dry. Then, finish the nail design with two thin coats of glittery clear polish or topcoat to protect your manicure.
More glitter nail design ideas and inspo: White And Gold Glitter Nails Colorblock Design Idea, Purple French Nail Tips With Flowers And Glitter Design, Christmas Candy Cane Nails Design Red White And Glitter, and Nude Nails With Glitter.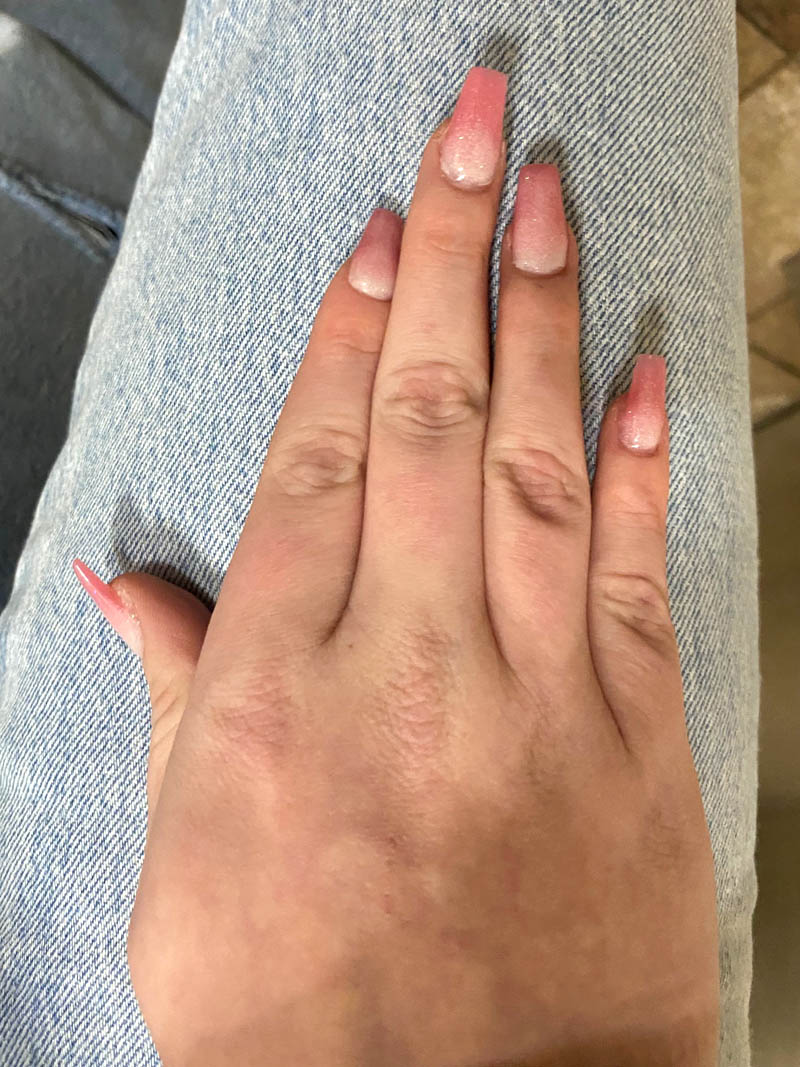 Ombre Pink Glitter Nails Design Style Ideas
Coral pink is seen as a fashionable color with positive and lively energy. Since being announced as the Pantone Color of The Year 2019 it has taken off in popularity in the fashion world. Coral pink complements many colors and could be considered near-neutral.
It shines when paired with white or deep blues for a crisp and clean look. Other shades of pink, teals, and plums are favorite options to pair with this coral pink ombre nail design.
https://vibrantguide.com/wp-content/uploads/2022/02/ombre_pink_glitter_nails-2.jpg
1067
800
Anna
https://vibrantguide.com/wp-content/uploads/2019/01/logo2.png
Anna
2022-09-01 07:45:47
2022-09-16 21:46:18
Ombre Pink Glitter Nails Design