White Nails With Gold Foil Accent Finger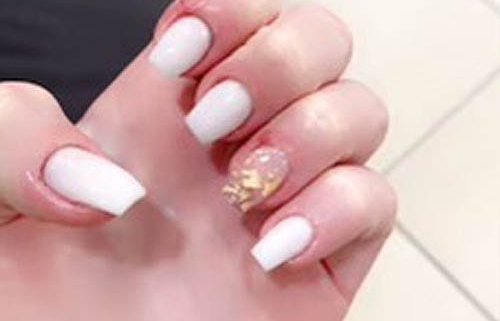 If you love neutrals and an elevated and versatile style, this white and gold nail design is perfect for you! White and gold foil is a dazzling pairing, combining classic tones with a truly glamorous execution. This nail design also looks amazing in a Pink and Gold Manicure Combo.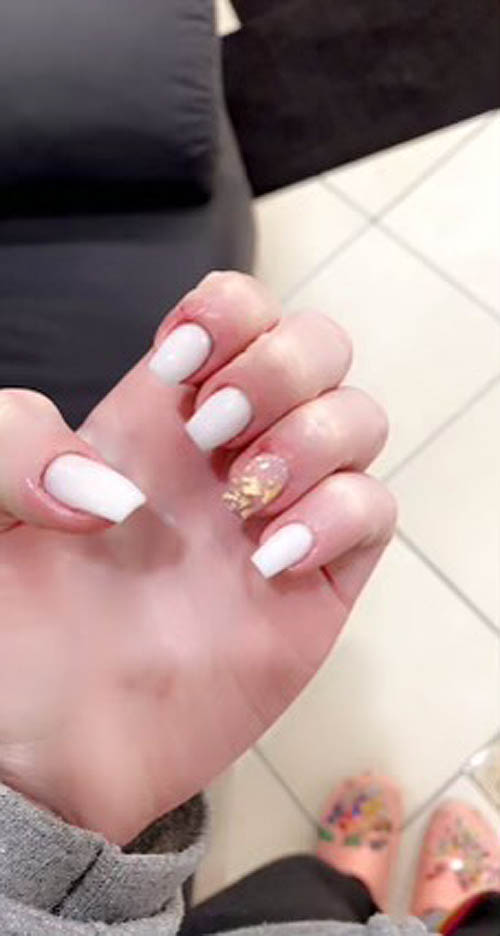 White Nails With Gold Foil Accent Finger
White nails are classic and chic year round but the gold foil accent makes these perfect for special occasions or the holidays. This DIY Gold foil nail design is so much easier than it looks.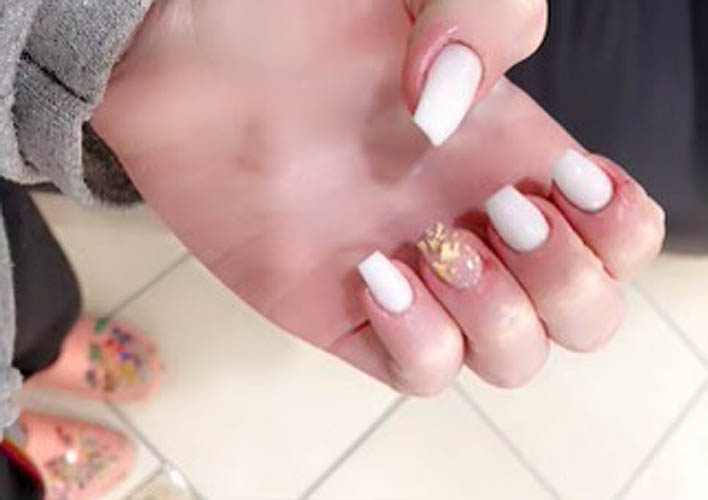 How to do White Nails With Gold Foil Accent Finger: Shaping The Nails
First, shape your nails; this nail design is clean and bold with the gold foil accent finger. I love an angular square shape for this nail design to juxtapose the organic gold flakes.
I went with a longer square nail for this nail design to really let the gold accent finger pop. This design would also look great on a long coffin-shaped nail.
For a square-shaped nail, if you want a true straight edge, file your nails straight across your nail bed, taking care to not angle the tops.
Finish the shape by lightly smoothing any sharp edges. If you like a squoval nail (like the Snowflake Blue French Tips), you can file the edges more, rounding out the corners.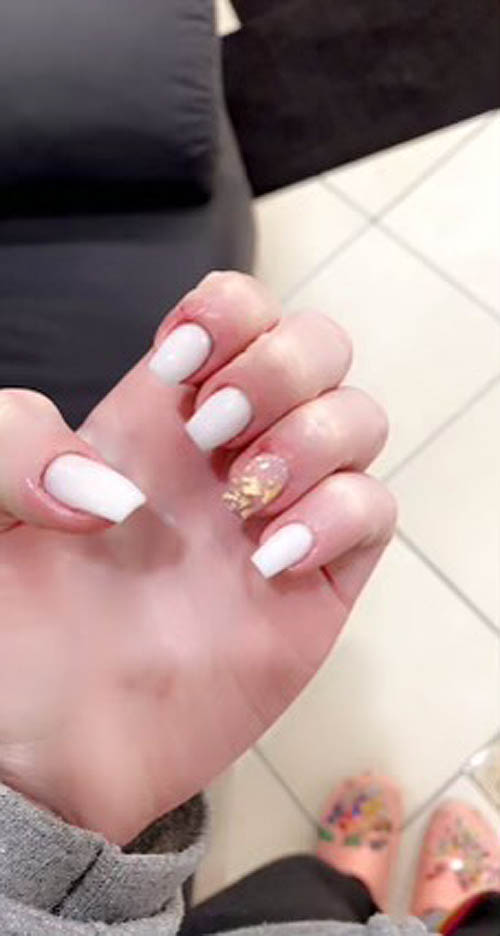 How to do White Nails and Gold Foil Nail Design: Painting The Nails
You'll need:
A white polish of your choice
A clear polish
Topcoat
Gold foil, broken into pieces
Tweezers
Start by painting two coats of white polish on all nails, except the accent nails. Allow the white polish to completely dry.
Next, paint one of the accent nails with clear polish.
Before it dries, use the tweezers to place a few pieces of the gold foil leaf onto the clear polish. The clear polish should be slightly sticky so the gold leaf can stick. If needed, gently pat the gold leaf pieces down with your finger. You can also use the clear polish brush to flatten and move pieces as needed.
Allow the nail to dry fully and then repeat this step on the other accent nail.
Paint a top coat over all nails to protect the design.
The gold foil accent finger would also look amazing with my Winter White Nails design.
White and Gold Foil Nail Design: The perfect "clean girl" style
The Clean Girl look favors neutrals, simple designs, and subdued designs. But that doesn't mean it has to be boring. The key to balancing a more bold or fun nail look like the gold accent is to keep the other colors light and muted. The gold foil accent nail isn't over the top because it is balanced by the white nails.
This nail design is perfect for any occasion but would absolutely pop at a holiday party with a white or tan sweater dress and gold accessories.
Are white nails your thing? You'll love White and Nude Swirl Nails and Tropical Coral and White Nail Design, and these White Nails with Butterfly Design are perfect for spring and summer!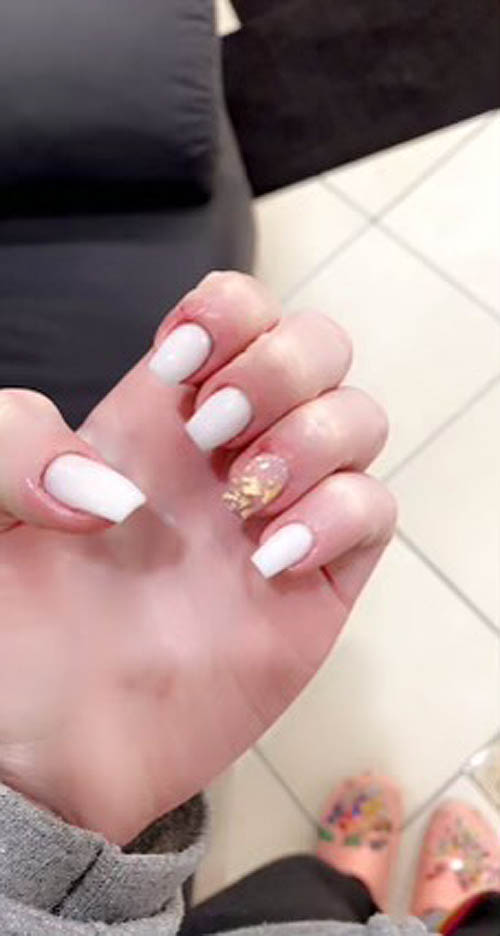 https://vibrantguide.com/wp-content/uploads/2022/07/white-nails-gold-flakes.jpg
936
500
Anna
https://vibrantguide.com/wp-content/uploads/2019/01/logo2.png
Anna
2022-07-27 08:11:51
2022-07-27 17:04:07
White Nails With Gold Foil Accent Finger