Emerald Green And Gold Nails Design

These emerald green and gold nail design is the perfect way to celebrate the most wonderful time of the year! Green Christmas nail designs especially dark green Christmas nails are a fresh and fashionable alternative to the classic red mani.
The green and gold Christmas nails combination is a fun way to add holiday cheer to a simple green holiday nail design.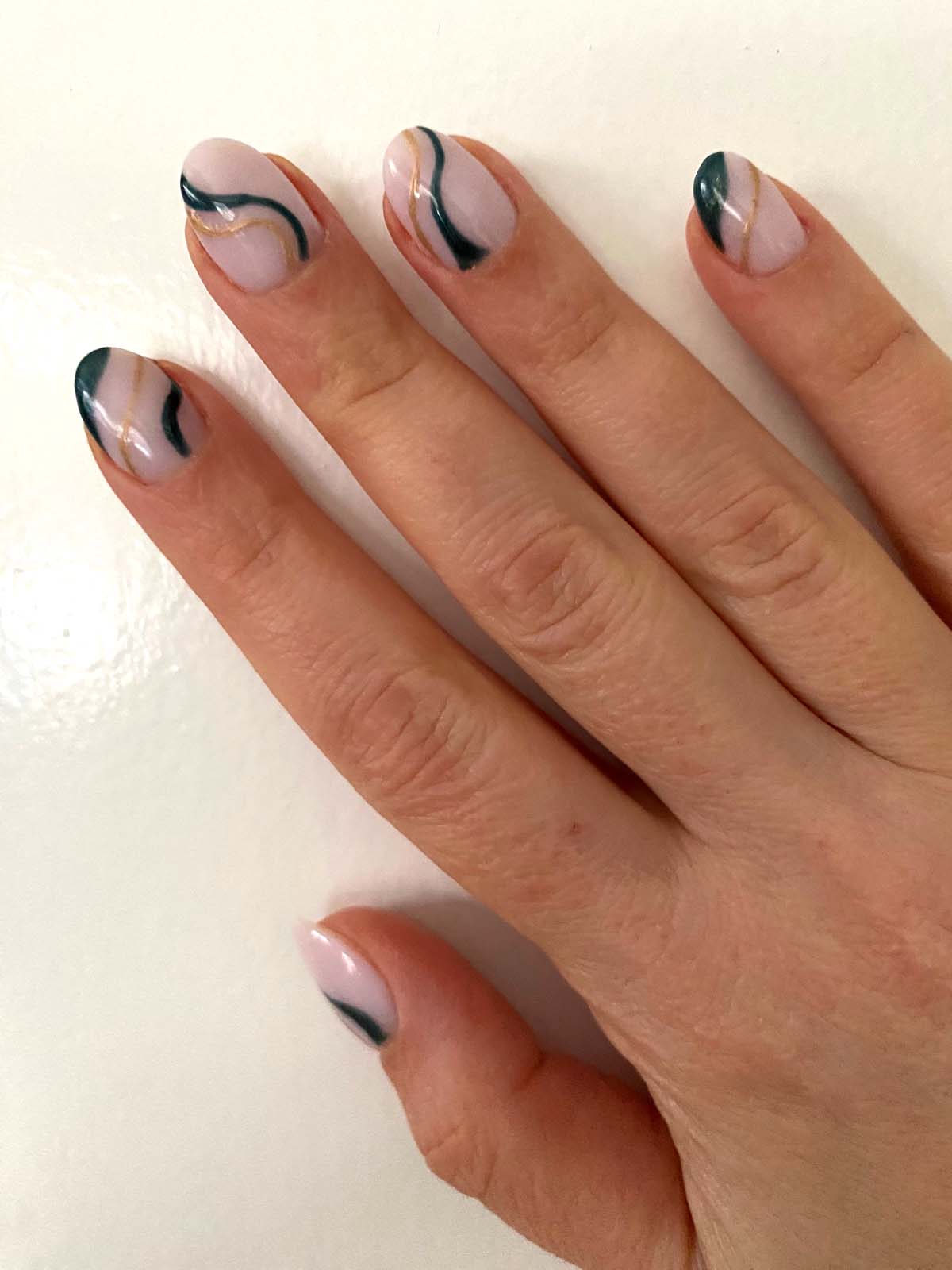 How To Do Emerald Green And Gold Nails Design: Shape The Nails
The flowing organic green and gold swirls on this holiday nail idea look best on a round or oval nail shape. Oval and round nails are very similar. The main difference is that round nails have straight sides on the nail shape, while oval nails are filed into a more rounded shape from edge to edge.
Shorter oval nails are a great holiday nail style to wear at work or for more active lifestyles.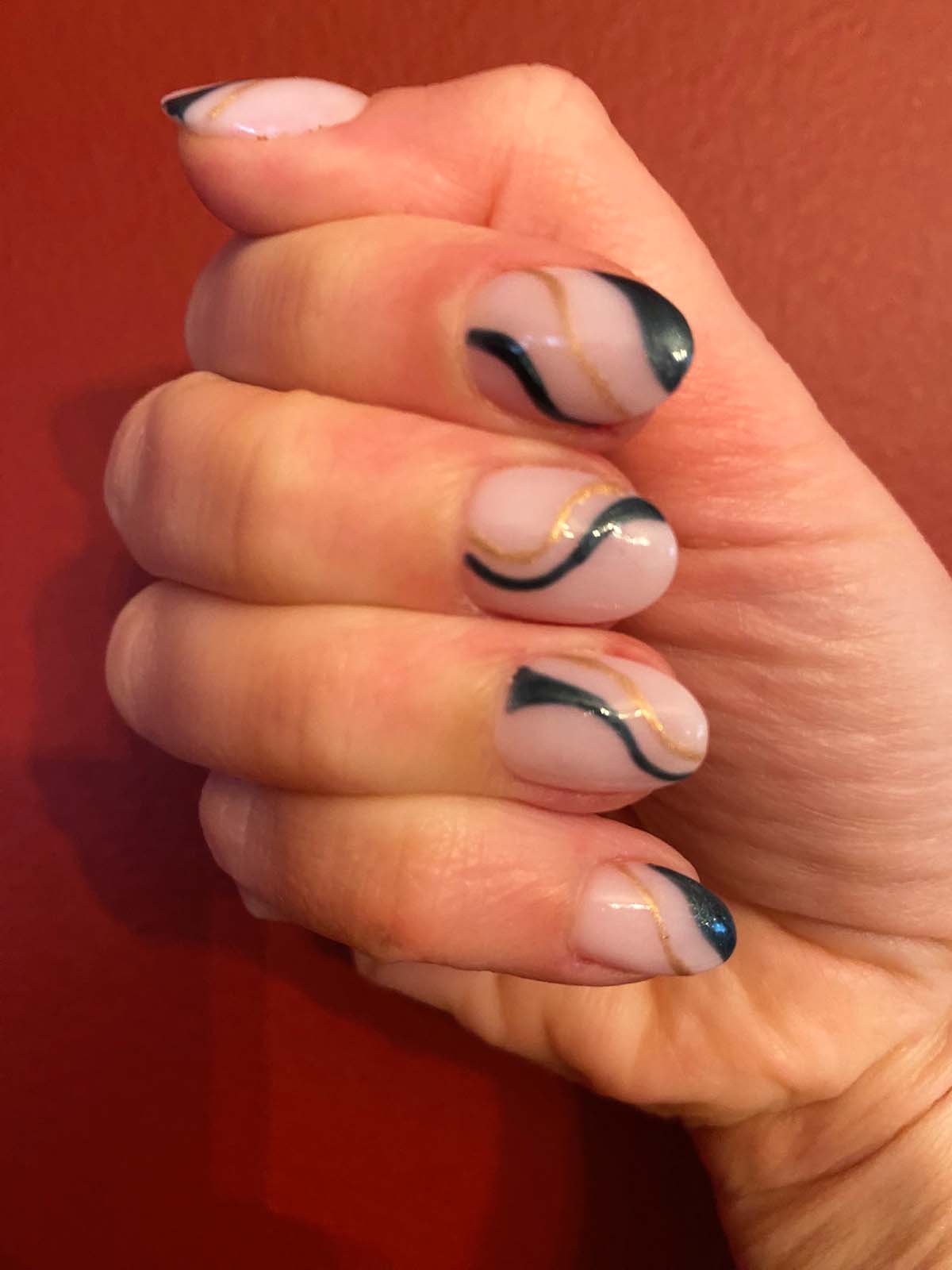 Emerald Green And Gold Christmas Nails Design Tutorial
For this emerald green and gold nails design you'll need:
A metallic gold nail polish
An emerald green nail polish
An opaque creamy white nail polish
An ultrafine nail art brush
A clear top coat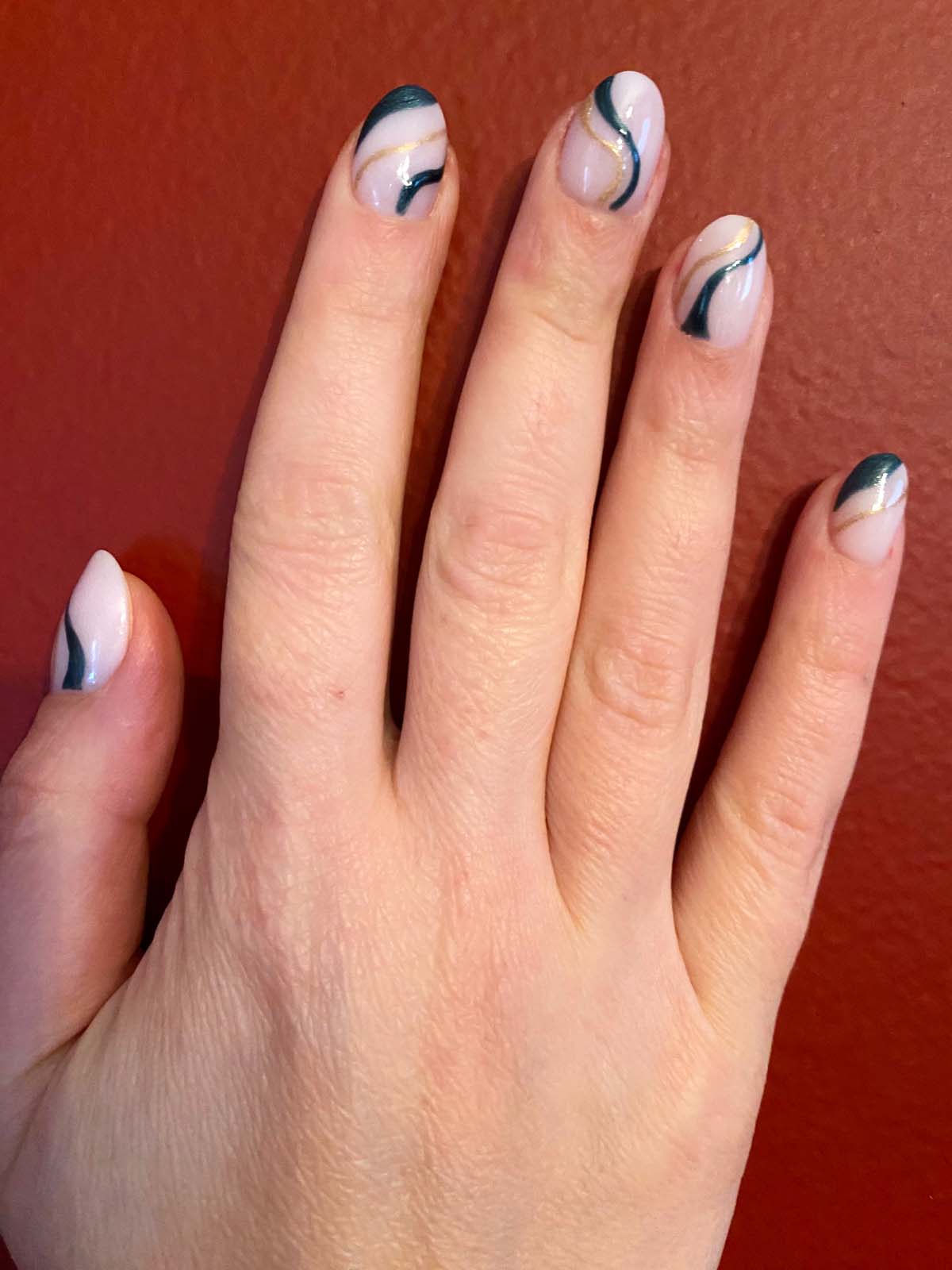 Paint two to three thin coats of white polish on all nails. If your polish is more sheer you may need more coats to achieve the opaque look. Give your nails at least twenty minutes to fully dry so you don't smudge on the next steps.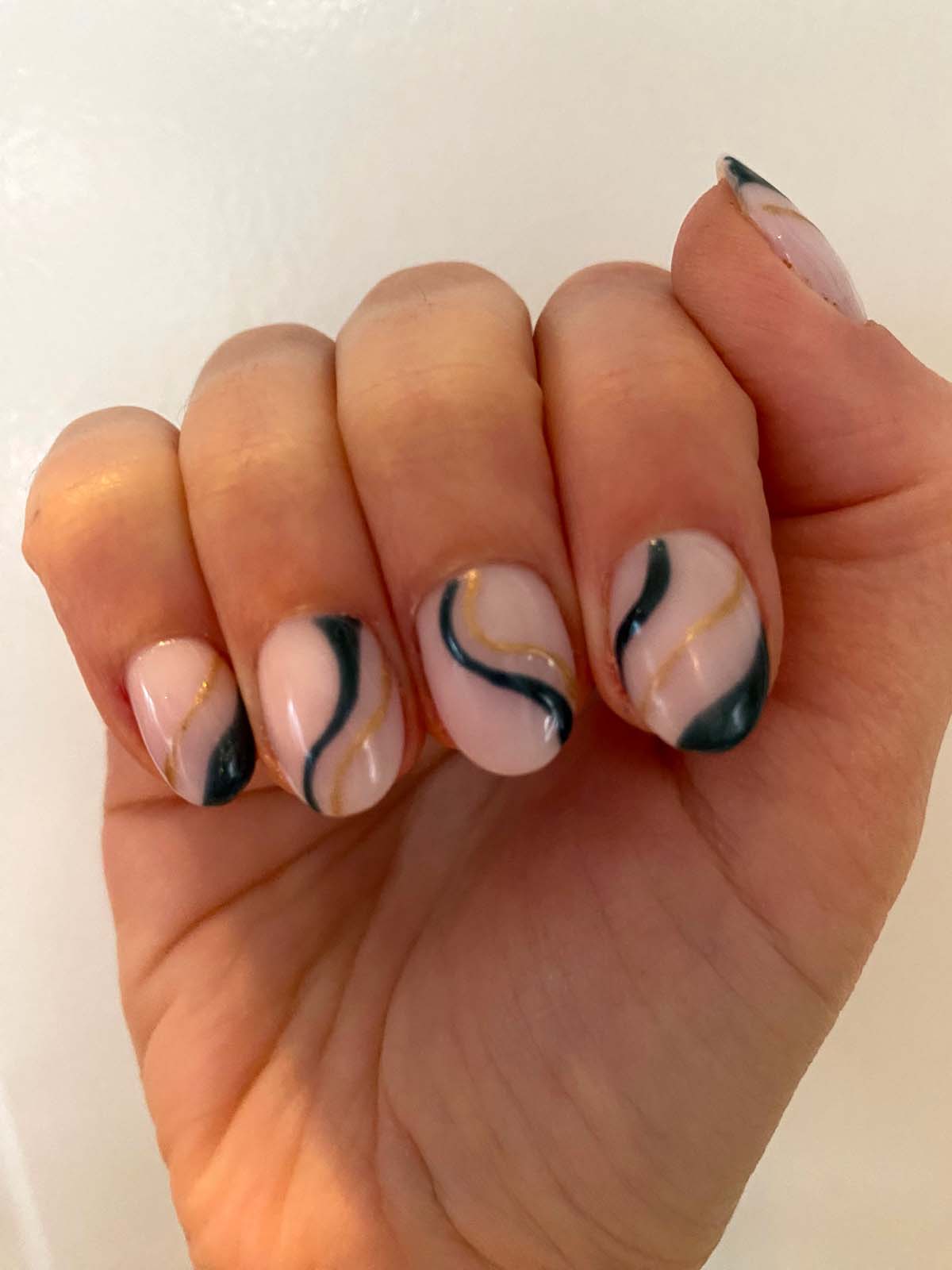 Emerald Green Swirls Christmas Nail Design Tutorial
Swirls are a perfect way to add a little something extra to nail designs, especially for holiday nails! Swirls are creative while still feeling classy enough for the work Christmas party.
To create the green and gold swirls we will start with the green polish. I chose to make my emerald swirls thicker. If you like this look you can use the regular polish brush to paint the thicker end of the swirl like an abstract blob. Then take an ultrafine or fine nail art brush and pull the polish into a swirling line.
Allow the emerald lines to dry fully. This step is important because we will paint the gold swirls very close to the emerald swirls, making smudges even more likely.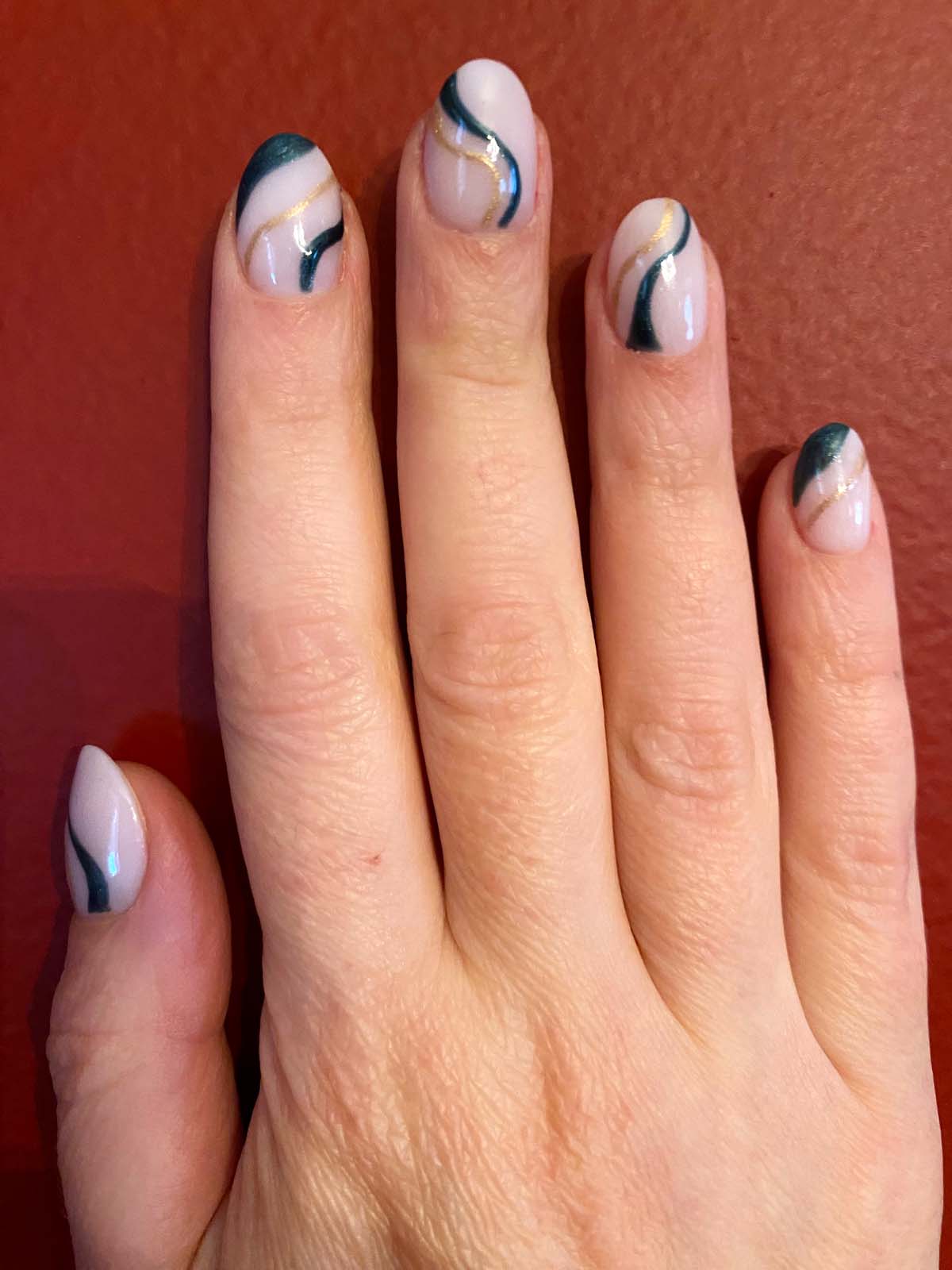 Gold Swirls Holiday Nail Design Tutorial
To create the metallic gold swirls, use an ultrafine nail polish brush. Dip the brush in the gold polish and paint each swirl in one swooping motion to prevent clumps or jagged edges.
Once all the swirl art has had time to fully dry, finish your new holiday mani with at least one coat of high-quality top coat to protect your artwork and nourish your nails.
If you love line art and swirl accent nails, these nail design ideas may inspire you:
Yellow Orange Nails with Flowers or Swirls
Nude Nails With White And Gold Swirls
Pastel Summer Nails Swirls Design
Blue Nails With Ring Finger Design
Hot Pink Nails With Swirl Accent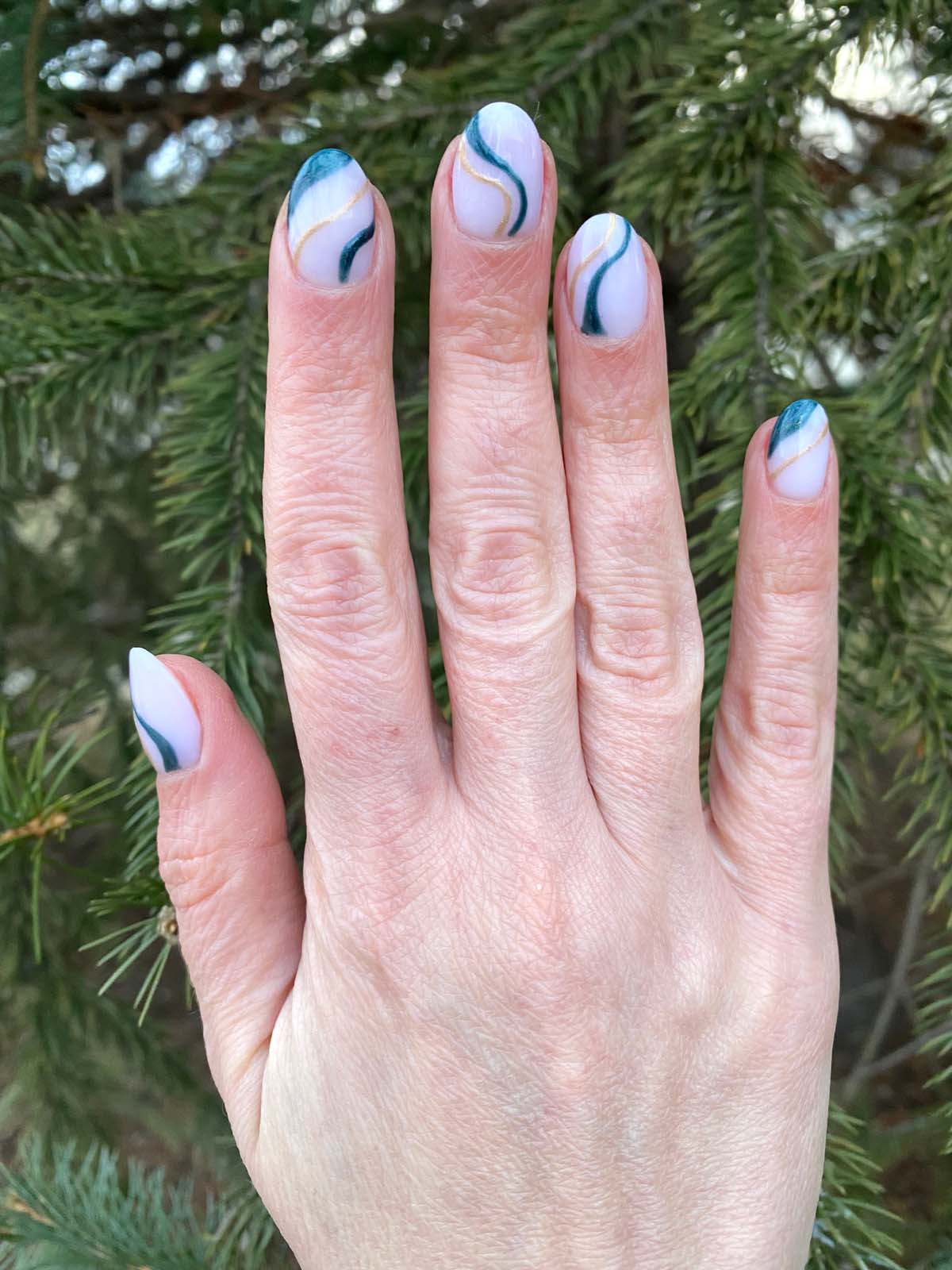 Emerald Green And Gold Holiday Nails Design
Winter green nail designs are a modern twist on a classic look. The white base feels wintery and fresh, while the emerald green and gold are a classic and elegant color combo making this a stylish holiday nail design.
With the gold swirl adding a touch of luxury and a shorter rounded nail shape, this holiday nail design is ready for every Christmas movie moment, from getting drinks with your hometown friends to chatting with your boss at the company Christmas party.
Simple green nail designs, specifically dark green Christmas nails are trending right now. This fun twist on a classic emerald and gold nail design will set you apart this holiday season.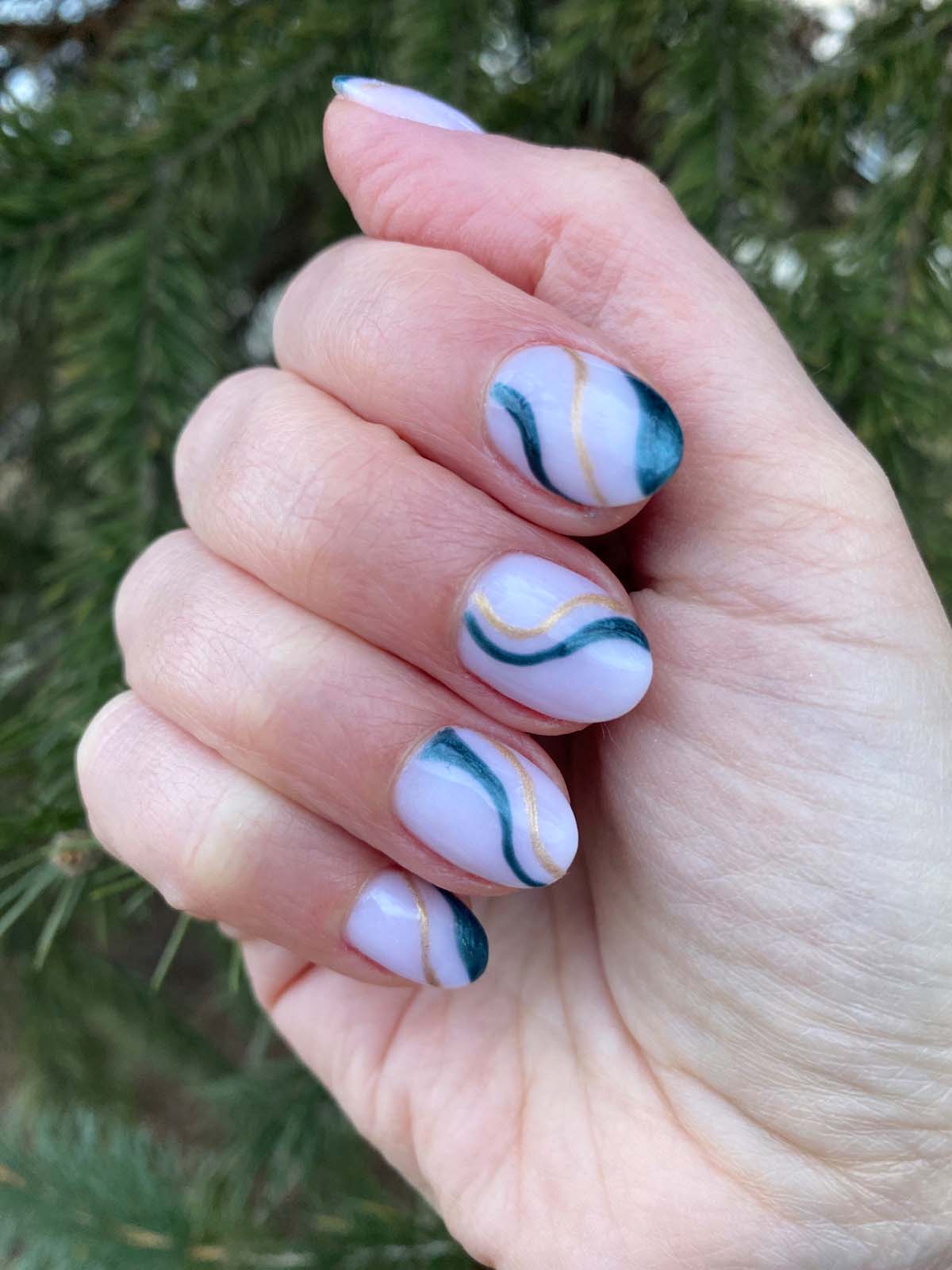 If you love holiday and Christmas nail designs, you'll love:
Christmas Candy Cane Nails Design
Champagne Gold And White Nails Design
Grey Silver Metallic Nails Design Idea With French Combo
White And Gold Glitter Nails Colorblock Design
White Nails With Gold Foil Accent Finger
Winter Snowflake Nail Design With Blue French Tips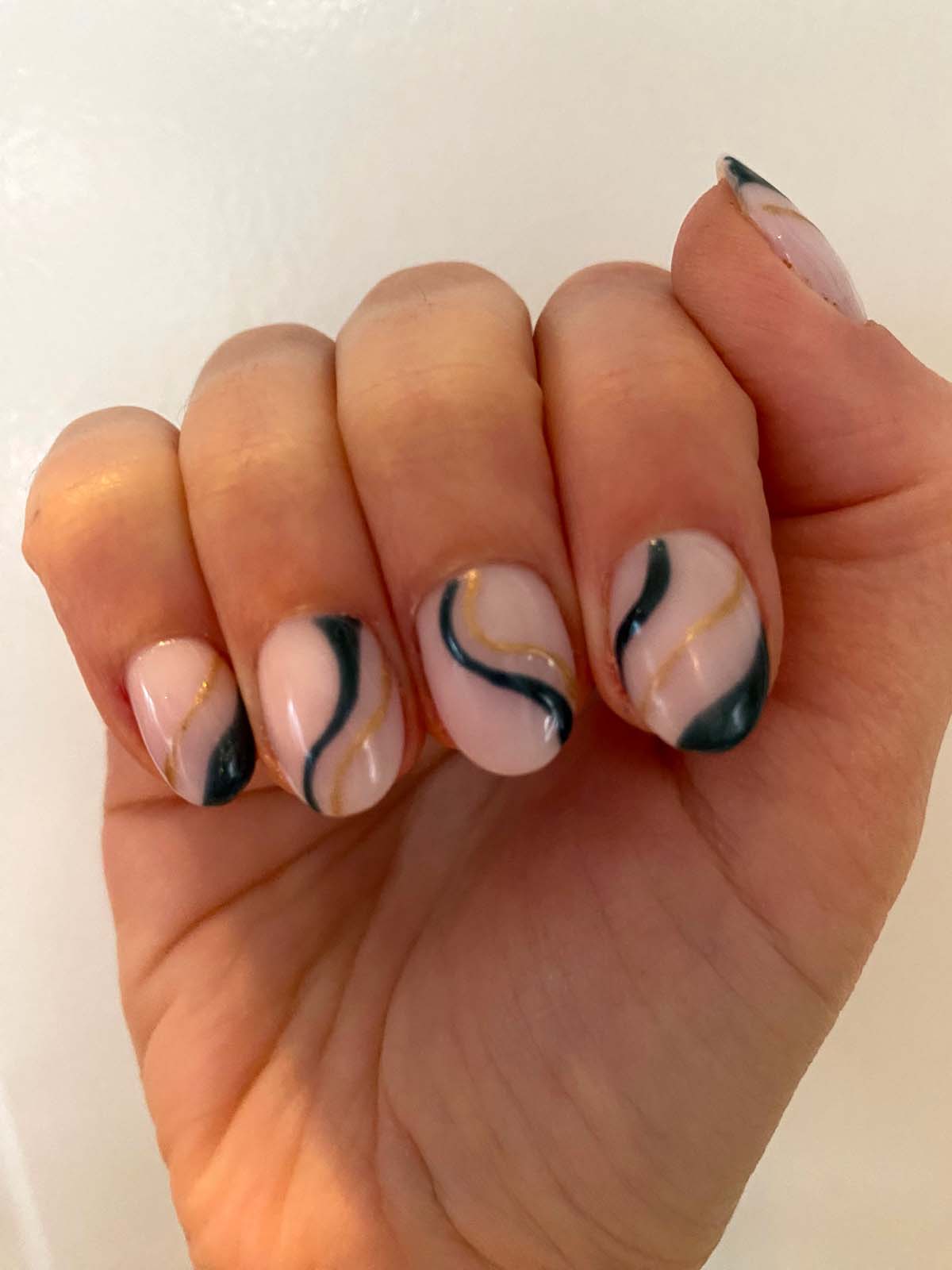 https://vibrantguide.com/wp-content/uploads/2022/12/emerald_green_gold_nails-2.jpg
1600
1200
Anna
https://vibrantguide.com/wp-content/uploads/2019/01/logo2.png
Anna
2022-12-18 07:24:26
2022-12-24 14:21:40
Emerald Green And Gold Nails Design