Healthy Baked Oatmeal With Frozen Berries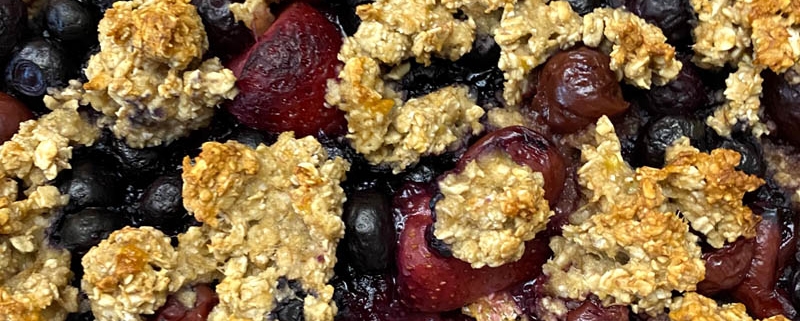 This healthy baked oatmeal with frozen berries is the absolute perfect breakfast! Packed with fiber, vitamins, and all natural ingredients, this baked oatmeal is so healthy and delicious!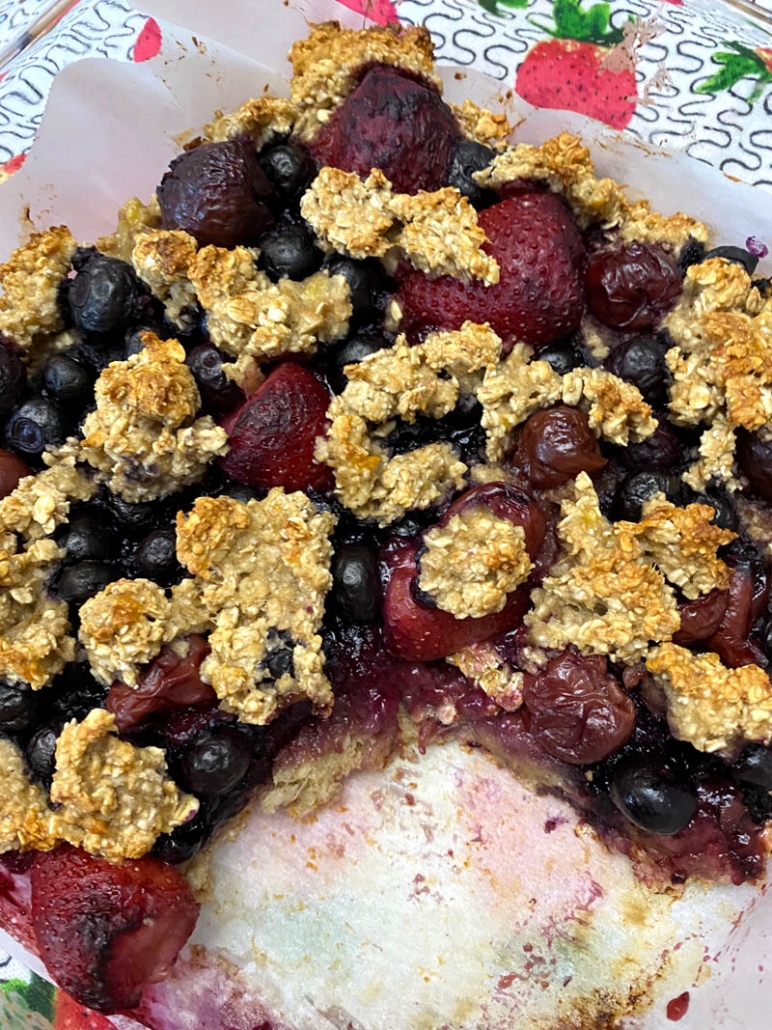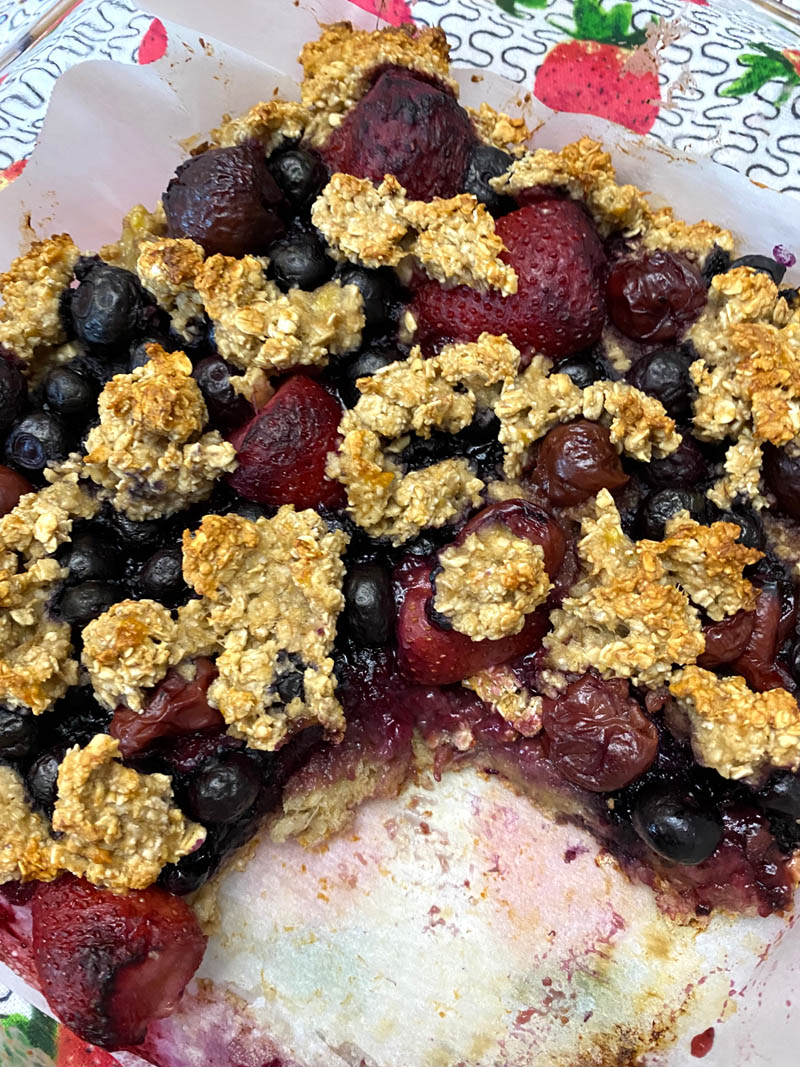 This easy berry baked oatmeal is so warm, flavorful and tasty! With layers of oats and berries, there is the perfect contrast between savory and sweet. The oats have a mild banana flavor, and have the perfect amount of sweetness due to the maple syrup. If you are looking to add less sugar, the baked oats will still be perfectly sweet with just the bananas and no maple syrup. In addition, the berries add plenty of natural sweetness.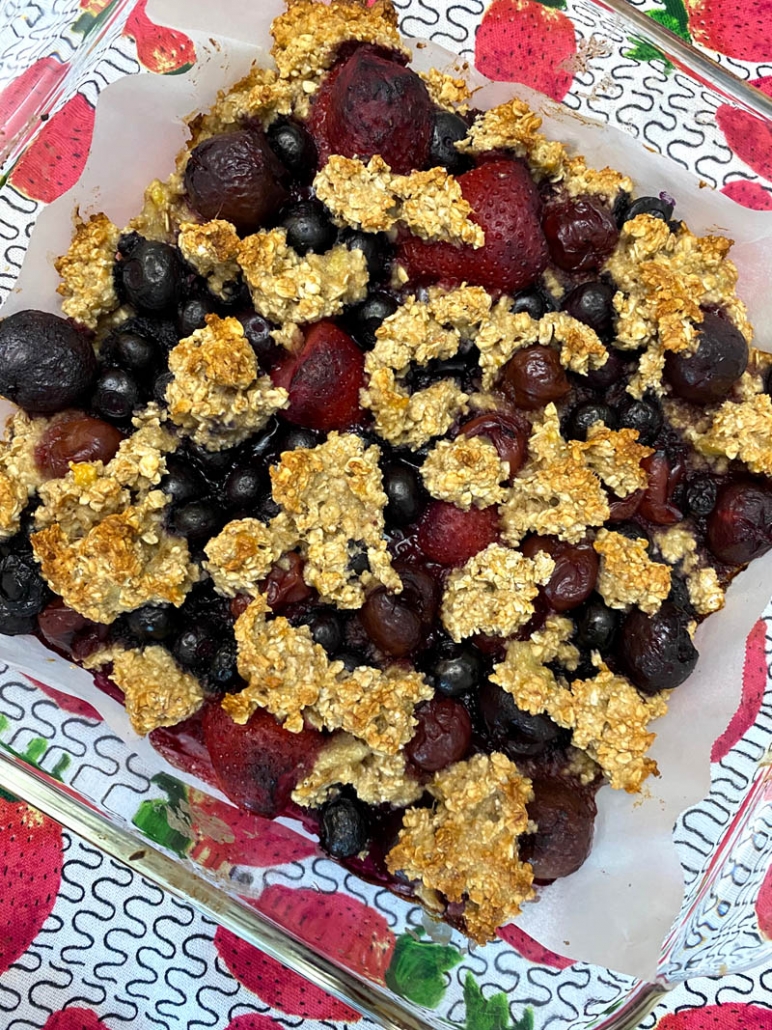 This easy berry baked oatmeal is so easy to make! All you do is combine all the ingredients with the oats, layer it with berries, and bake! I'm always looking for quick and easy breakfasts, and with these baked oatmeal bars, they will last the whole week! The best part is, due to the moisture in the berries, these baked oats do not get dried out. All you have to do is pop the baked oatmeal bars in the microwave for 30 seconds and enjoy! If you are looking to pack these bars on the go, they also taste great without heating up.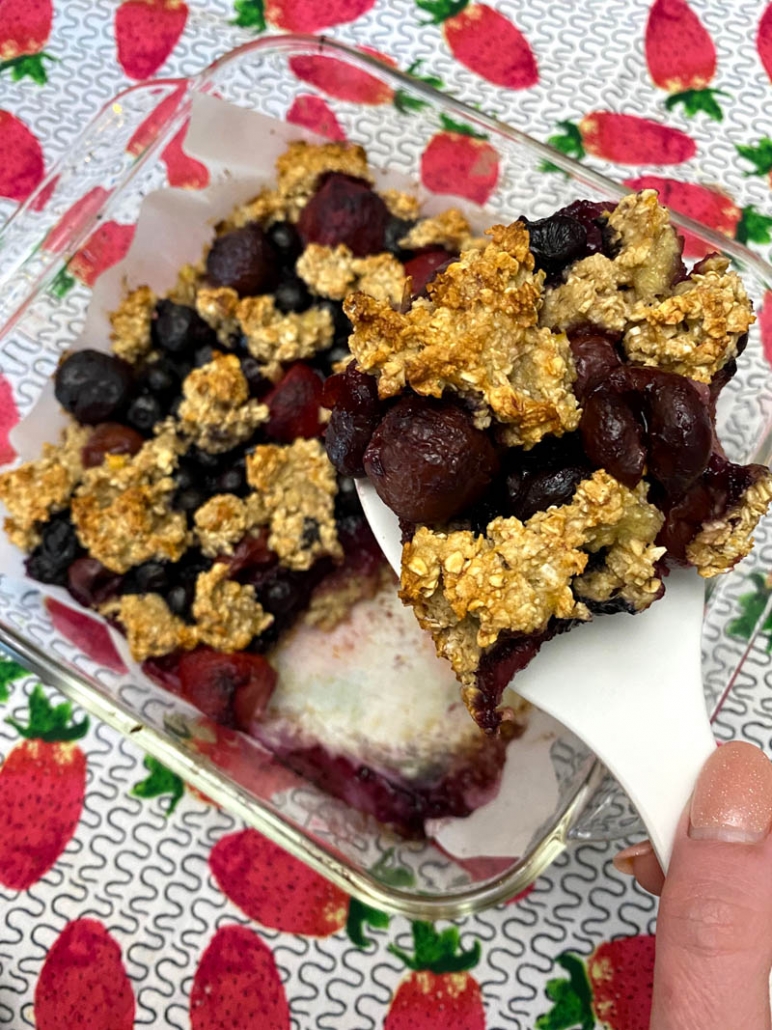 There are so many different things that you can do with this berry baked oatmeal. If you want to switch the oatmeal up, you can replace it with 2 cups chopped up apples and cinnamon. In addition, you can add nuts into the oatmeal for some extra calories and protein. One of my favorite things to do with these baked oatmeal bars, is add a layer of peanut butter or almond butter on top. Doing so not only adds protein, but the flavor compliments the bars so well. If you are not a big fan of berries, you can also opt the berries out and just have plain oatmeal bars.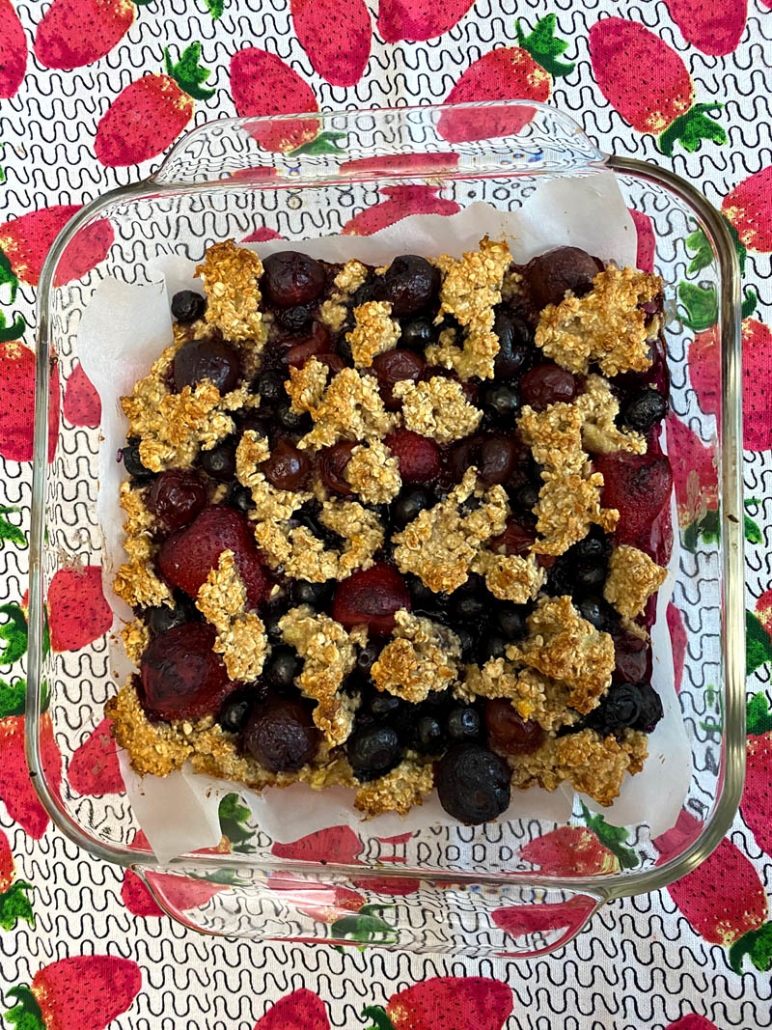 These easy baked oatmeal bars with frozen berries have so many health benefits! The banana adds a great amount of potassium, the oatmeal adds lots of complex carbs to keep you energized throughout the day, and the berries add tons of essential vitamins. It is very hard to find breakfasts that is fast, easy, healthy and tastes delicious and this oatmeal is exactly that!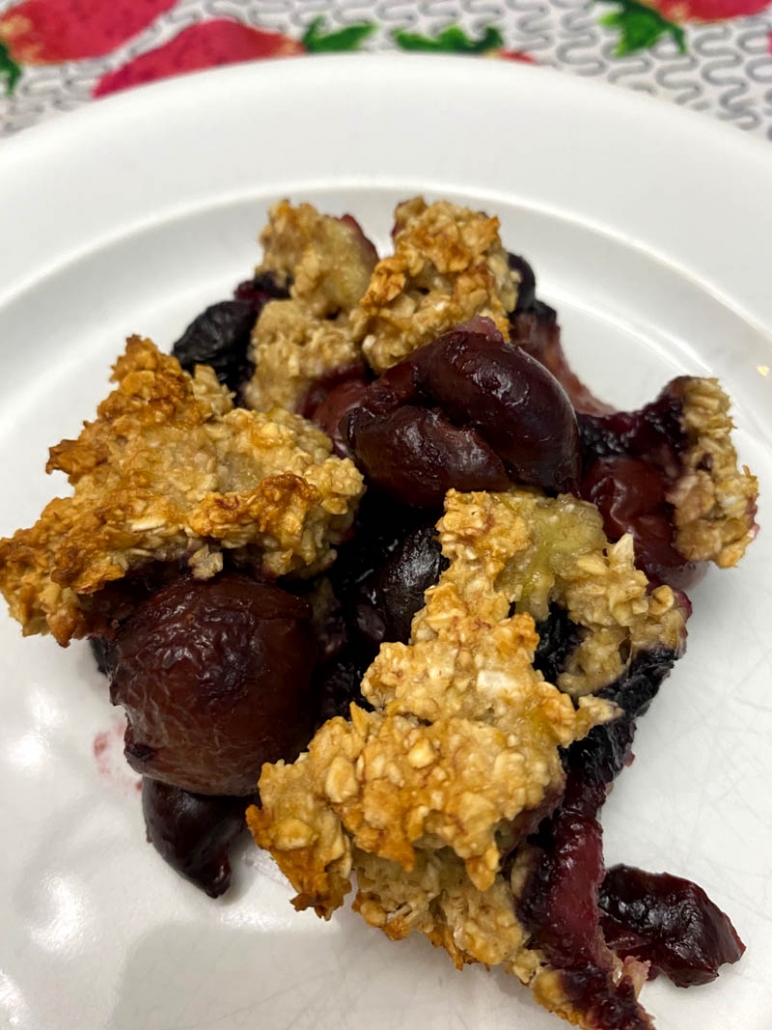 If you want a delicious and warm breakfast that is easy to make, will last a whole week, and is super healthy and delicious, you have to try these berry baked oats!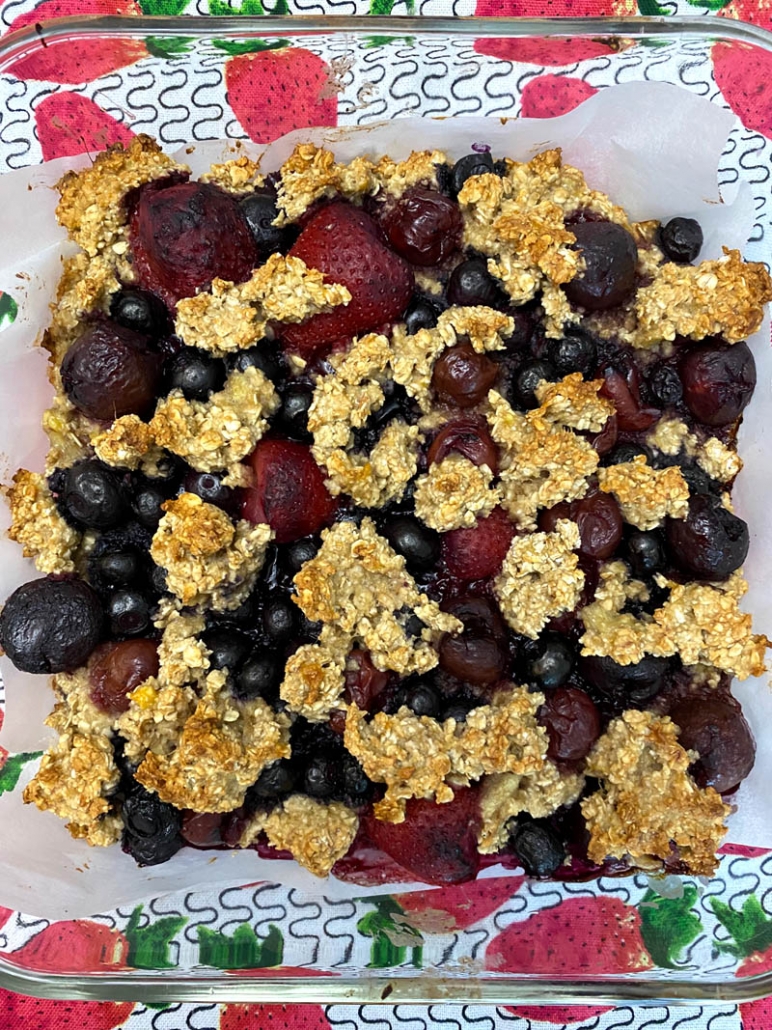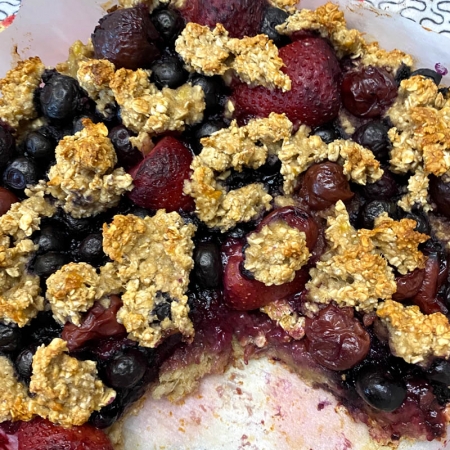 Baked Oatmeal With Frozen Berries
This healthy baked oatmeal recipe with frozen berries is amazing! So easy to make, healthy and delicious! This baked oatmeal with frozen berries will become your favorite breakfast!
Ingredients
2

cups

quick oats

1

tsp

baking powder

2

bananas

ripe

1/4

cup

maple syrup

or honey

1

tsp

vanilla

2

cups

frozen berries
Instructions
Preheat the oven to 375F.

Spray an 8x8 non-stick baking dish with cooking spray or line it with parchment paper.

Process 1 cup of oats in a food processor or blender until it turns into oat flour.

Put bananas in a large bowl and mash with a fork until smooth. Add vanilla and maple syrup and mix until combined. Add oat flour, remaining 1 cup of rolled oats and baking powder and mix until combined.

Put half the mixture in the baking dish and spread to cover the bottom of the baking dish. Add frozen berries in a layer on top of oatmeal mixture. Drop the remaining oatmeal mixture on top of frozen berries by a spoonful.

Bake in the oven for 45 minutes.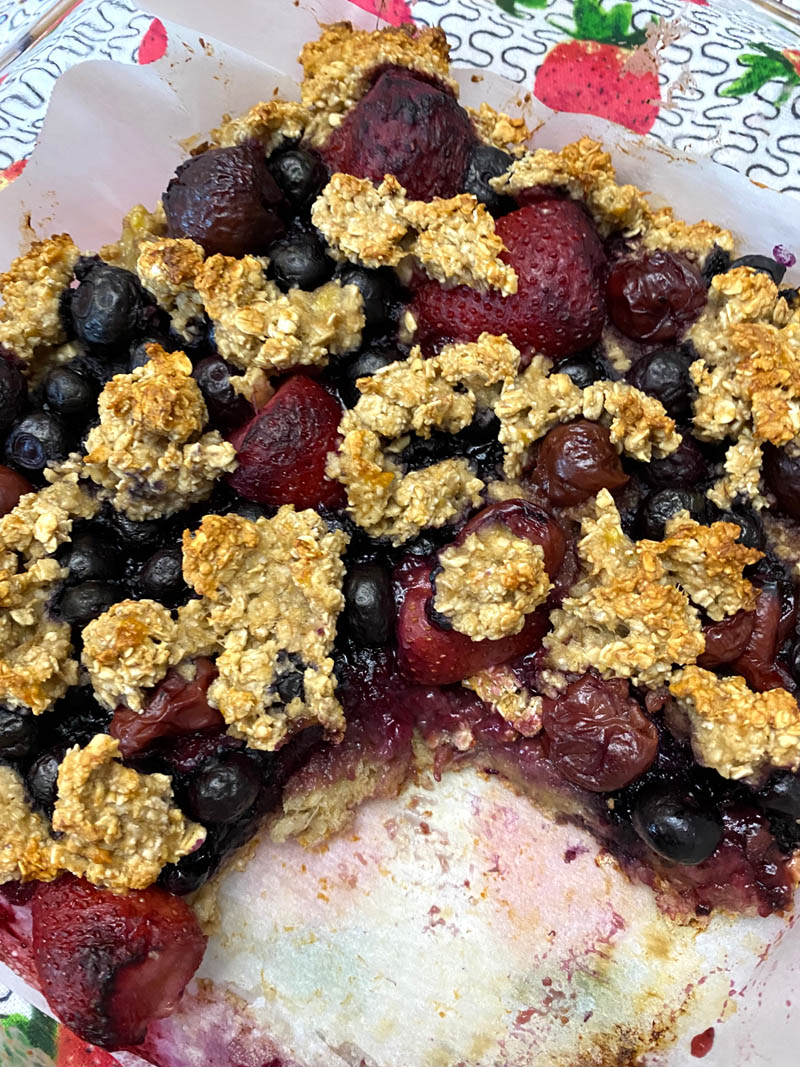 https://vibrantguide.com/wp-content/uploads/2022/01/baked-oatmeal-frozen-berries-5.jpg
1067
800
Anna
https://vibrantguide.com/wp-content/uploads/2019/01/logo2.png
Anna
2022-12-23 22:45:30
2022-12-24 14:20:19
Healthy Baked Oatmeal With Frozen Berries