Bright Orange Nails With White Swirls Design Idea

Nothing says summer vibes like a bright, bold nail design, and orange is such a fun summer color! Orange tones remind us of tropical fruits, warm sunsets, and gorgeous summer florals. Whether you're at a summer concert downtown or lounging by the pool on vacation, this bright orange nail design is the perfect summer manicure idea.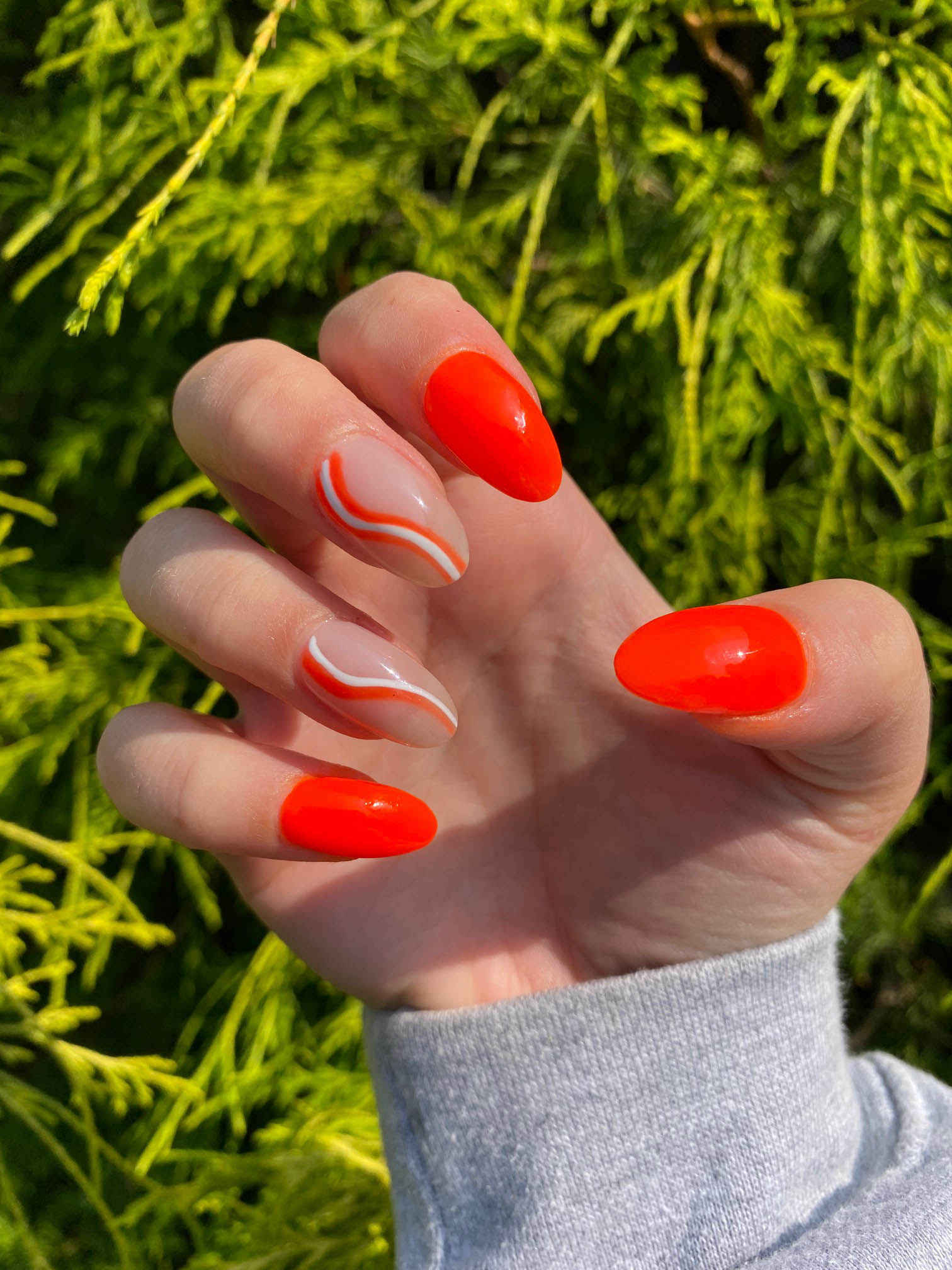 How To Paint Bright Orange Nails With White Swirls Design
First, trim and shape your nails. For this summer design, I chose a medium oval nail shape. The oval nail shape suits both long and shorter nails and is less likely to snag or chip, thanks to its smooth edge. Perfect for all the fun summer days ahead.
To create an oval nail shape, use a rounded motion filing your nail diagonally up one side and down the other. You can make the oval more or less rounded depending on your preferences but keep the tip of the nail longer than the sides so it doesn't look squared off. This nail shape is soft and organic.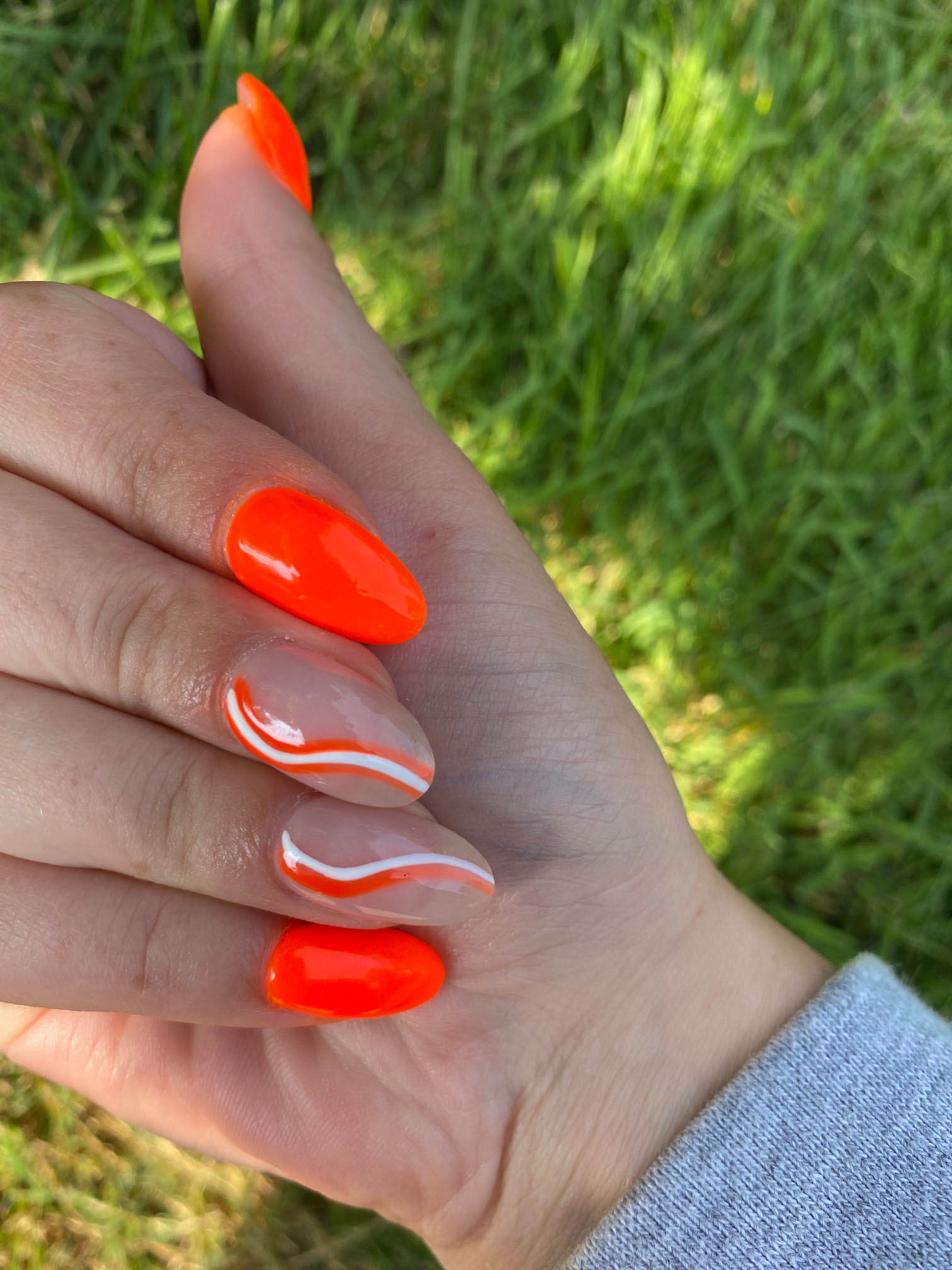 Bright Orange Nails With White Swirls Design Tutorial Tips
For this nail design you'll need:
A neutral or warm nude nail polish
A bright orange nail polish
An opaque white nail polish
A clear topcoat
1-2 ultra thin nail art brushes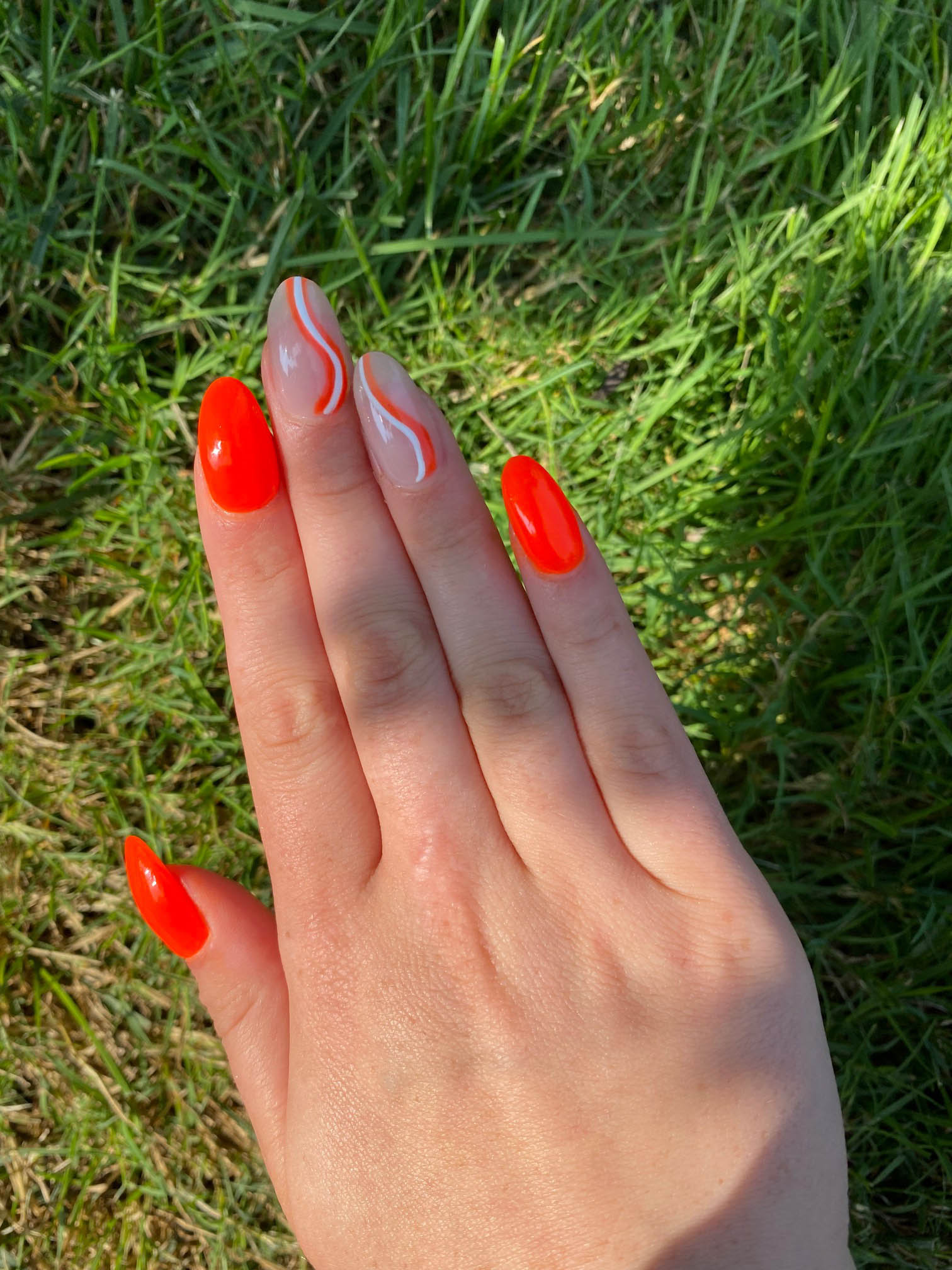 Be sure to choose a nude polish with warm undertones to avoid clashing with the bold orange polish. On the accent nails only, paint one or two thin coats of the nude polish.
You can do one accent nail or several. For this DIY manicure, I chose my index and ring fingers as accent nails. If you do multiple accent nails, keep the stripe sequence the same on all nails to keep a cohesive look, especially when working with bold or neon color options.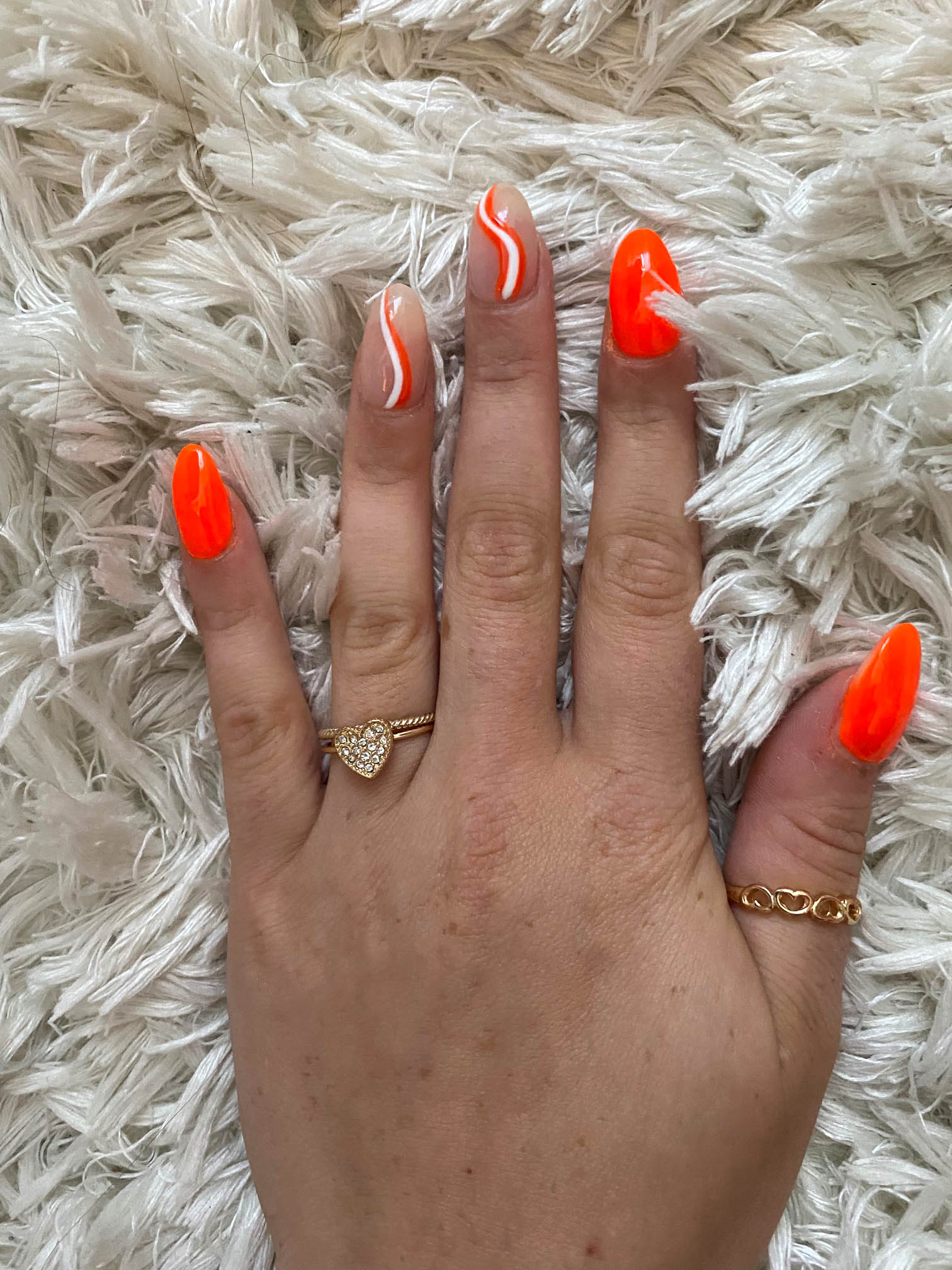 Paint two thin coats of the bold orange polish on the remaining nails. You can paint a third coat if your polish isn't opaque; just give the polish enough time to dry completely.
More orange nail designs you'll love: Yellow And Orange Nails Designs With Flowers And Summer Swirls, Nail Design With Red Orange Yellow Stripes, Orange French Tips Nails Manicure With Flowers Design, Tropical Orange Coral And White Nail Design, and Pink And Orange Ombre Nails Design.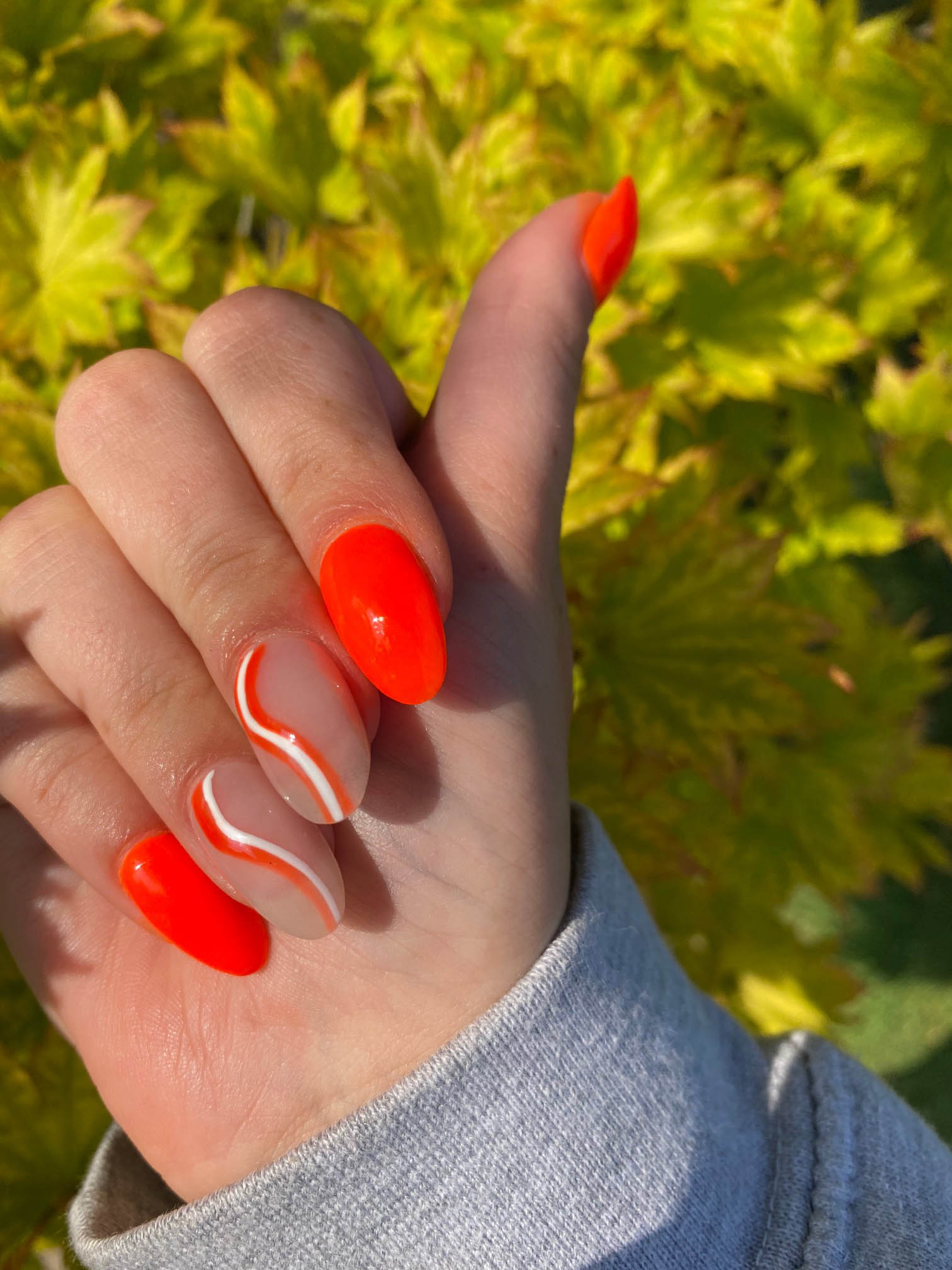 How to Paint Bright Orange Nails With White Swirls Design
Painting swirl accent nails is so easy and a fun way to create a unique design. Using multiple colors takes the design up another notch!
Take a long thin nail design brush and dip it into the bold orange nail polish. Start from the base of the nail painting towards the tip, and make a line in one sweeping motion. Go slowly and allow the swirl line to have a natural organic curve. It's okay if the swirl line isn't perfect; this is meant to be a flowy look.
I like to paint the orange line on all accent nails in one color at a time. Allow the polish to fully dry, or the next steps will smudge. Clean the design brush (or grab a clean one) and follow the orange polish line with the white polish.
On some of my nails, I stopped there. On others, I simply followed the design swirl line with the orange polish again. Get creative and have fun with accent nail designs.
Finally, finish the design with at least one coat of a truly clear topcoat on all nails.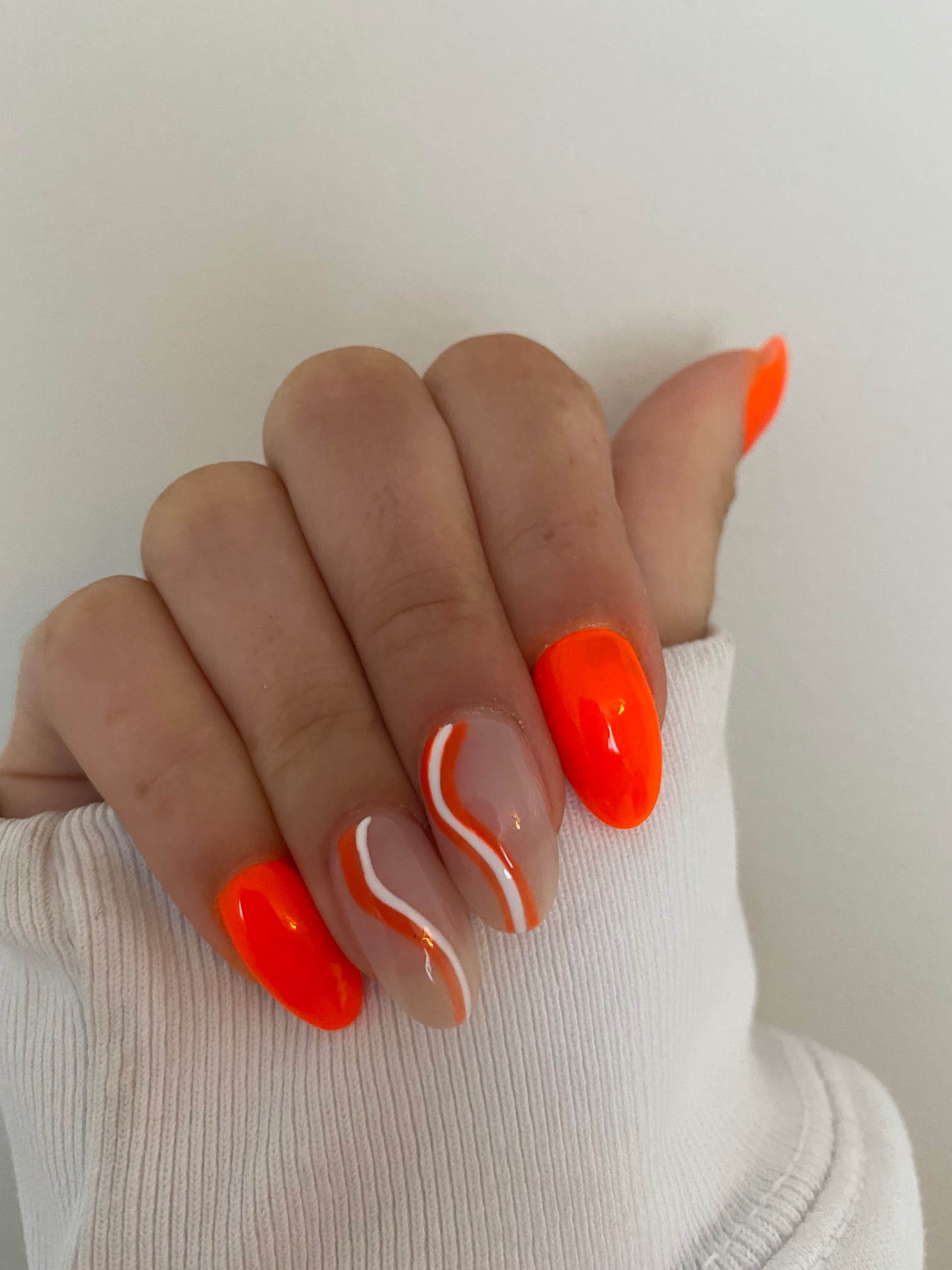 Other swirl nail design ideas you'll love: Nude Nails Design Idea With White And Gold Swirls, Abstract Swirls Pastel Nails Design Light Purple Green, Pastel Summer Nails Multicolor Swirls Design, Pink & White Swirls On Nude Nails, Light Blue Nails Ring Finger Design With Simple Swirls, Lavender Nails Design Idea With White And Silver Swirls, Nude Nails Design Idea With Simple White Swirls.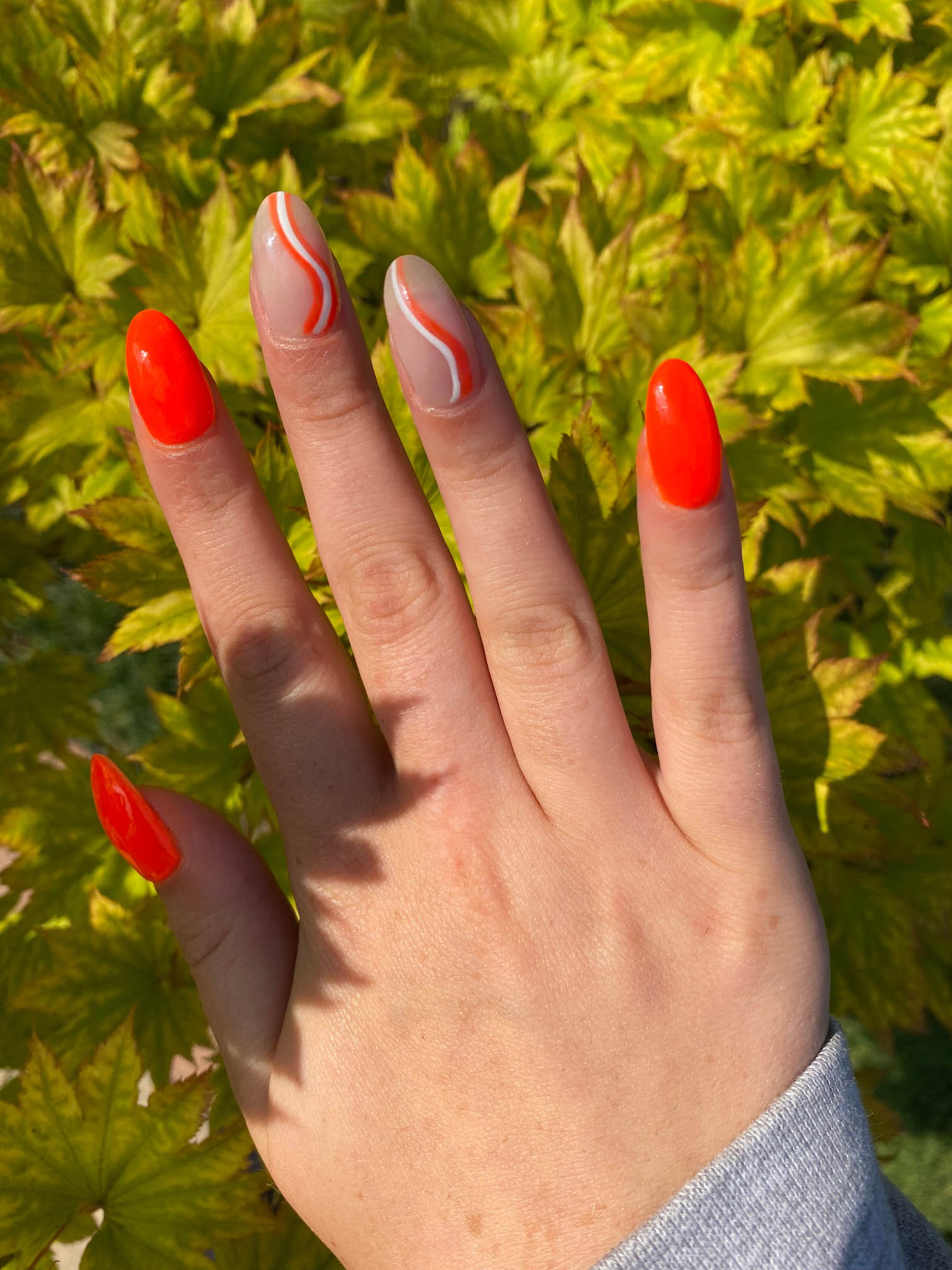 Bright Orange Nails With White Swirls Design Inspiration
Bright orange nail designs look best with sunkissed skin. Lean into the bold vibes by wearing bright yellow, hot pink, and other neon colors with these bright orange nails. Or pair this easy manicure with neutrals, especially tans and nudes to balance the bold orange.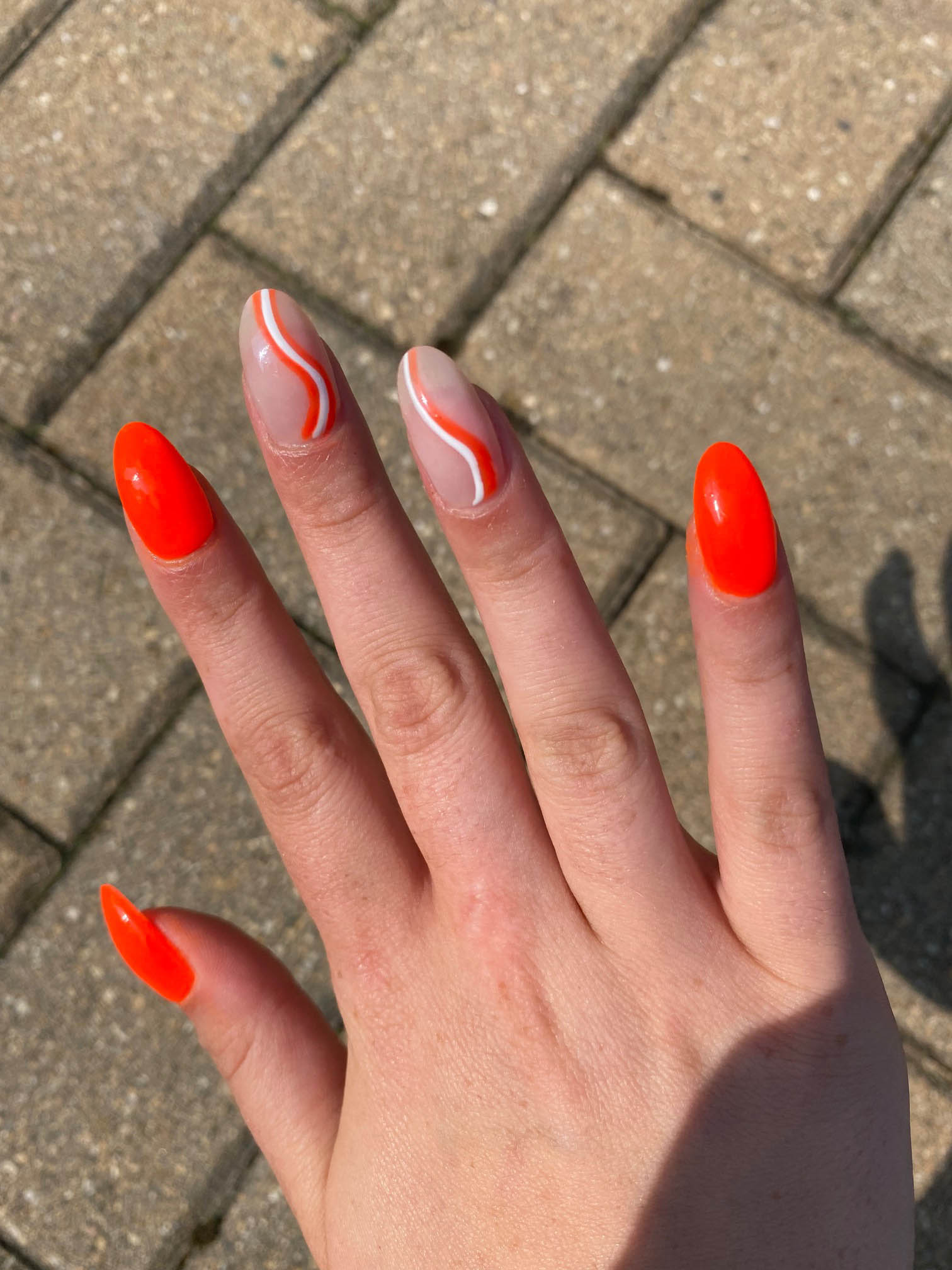 Summer is the best time to get bold with your DIY manicure. The summer days are carefree and fun, and your nail design can be too!
More orange nail ideas: yellow and orange nails, orange french tips, tropical orange nail design, orange sunset nail design.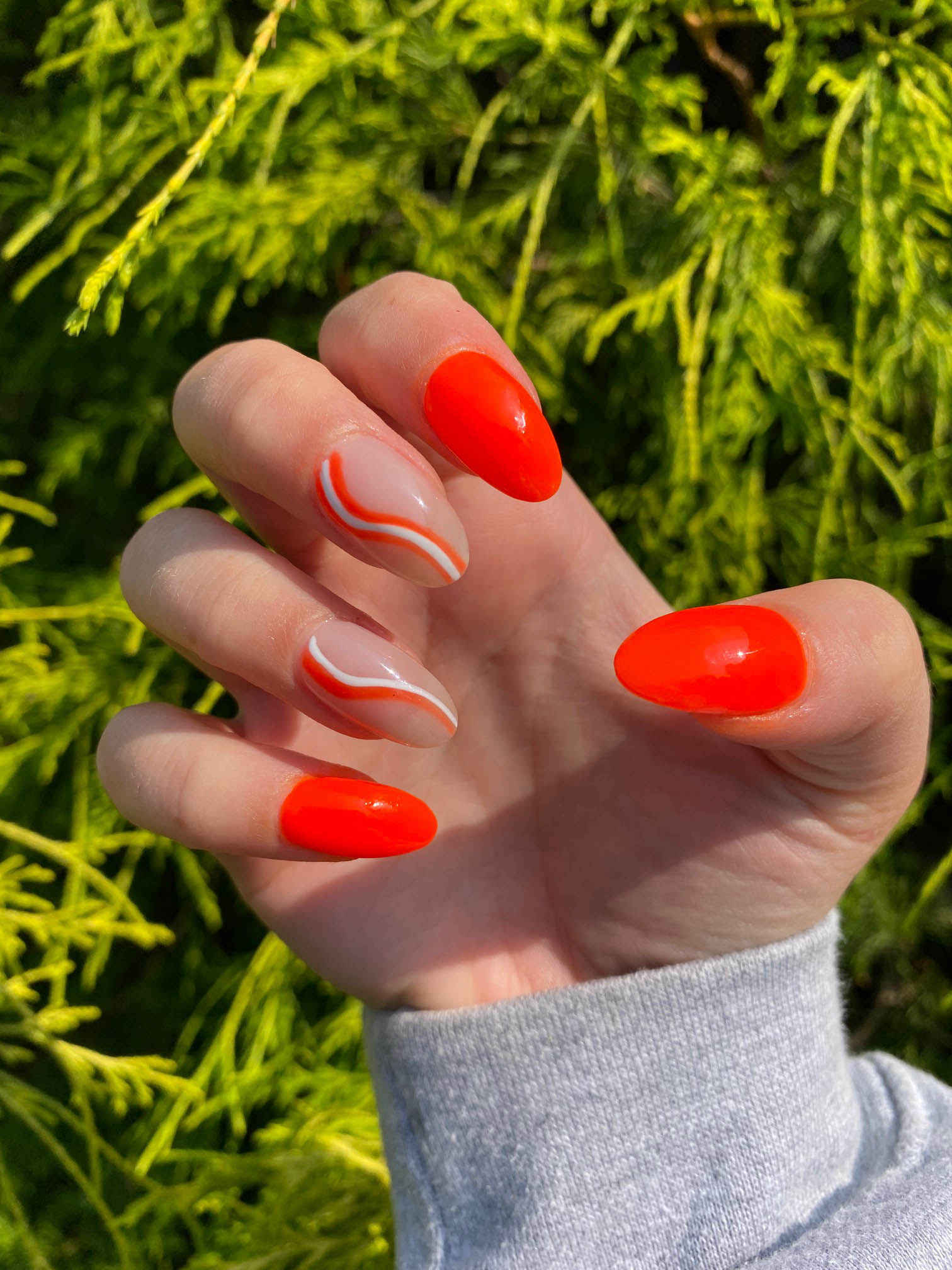 https://vibrantguide.com/wp-content/uploads/2022/08/orange-nails-swirls-design-6.jpg
2016
1512
Anna
https://vibrantguide.com/wp-content/uploads/2019/01/logo2.png
Anna
2022-09-16 14:15:34
2022-09-16 21:55:05
Bright Orange Nails With White Swirls Design Idea