Super White Nails – Whitest Dip Manicure Color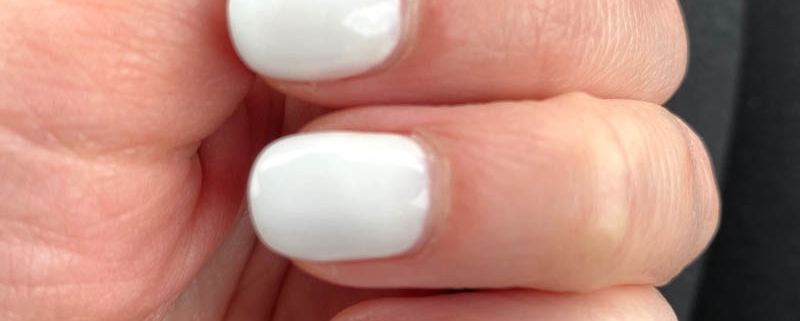 Dip powder nails are an increasingly popular manicure option, especially taking off when we were all on lockdown. With no access to the salon, we adapted and learned how to get salon results at home.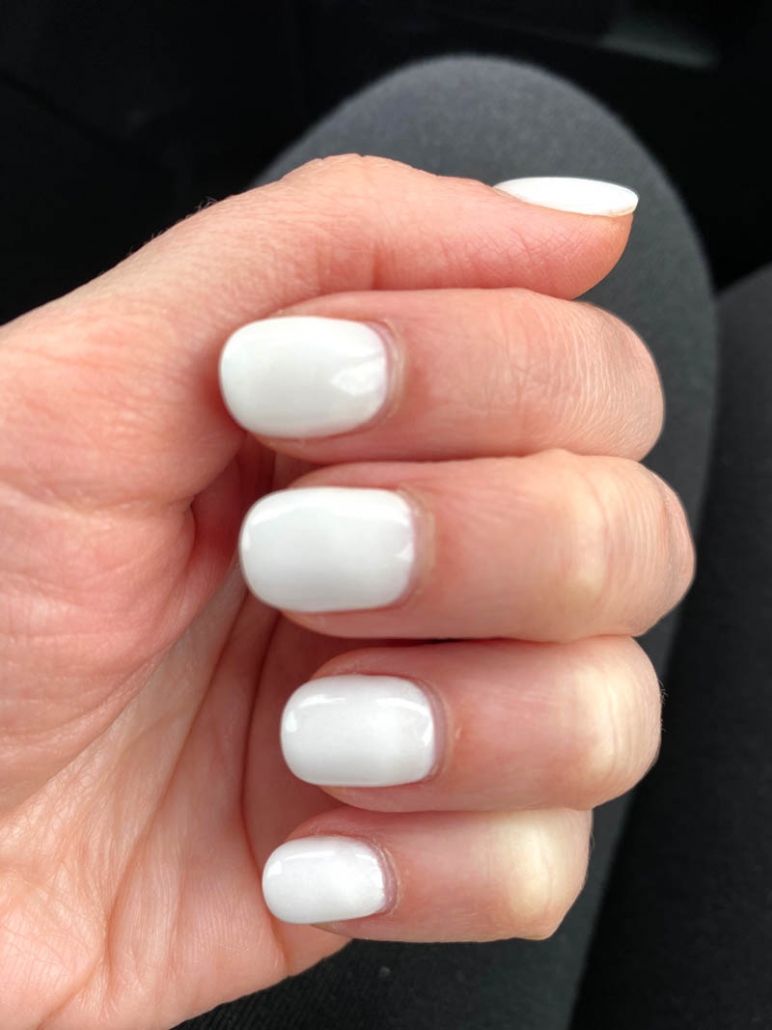 What Is A Dip Powder Manicure?
Dip powder mani is an alternative to gel manicures. The process is odorless, doesn't require a UV lamp, is faster and easier on natural nails than acrylics, and has the same staying power as gel nails. Dip nails are super chip resistant and can last up to four to five weeks without chipping.
Super White Dip Nails: DIY Dip Manicure At Home
The best part about these white dip nails is that you can save yourself a trip to the salon and do it yourself at home. If you're new to dip nails, don't be intimidated, it's easier than it looks! I'm going to go through the steps of a basic DIY dip manicure but be sure to follow the instructions on your specific dip kit because there may be variations in instructions and order of applications depending on the dip kit.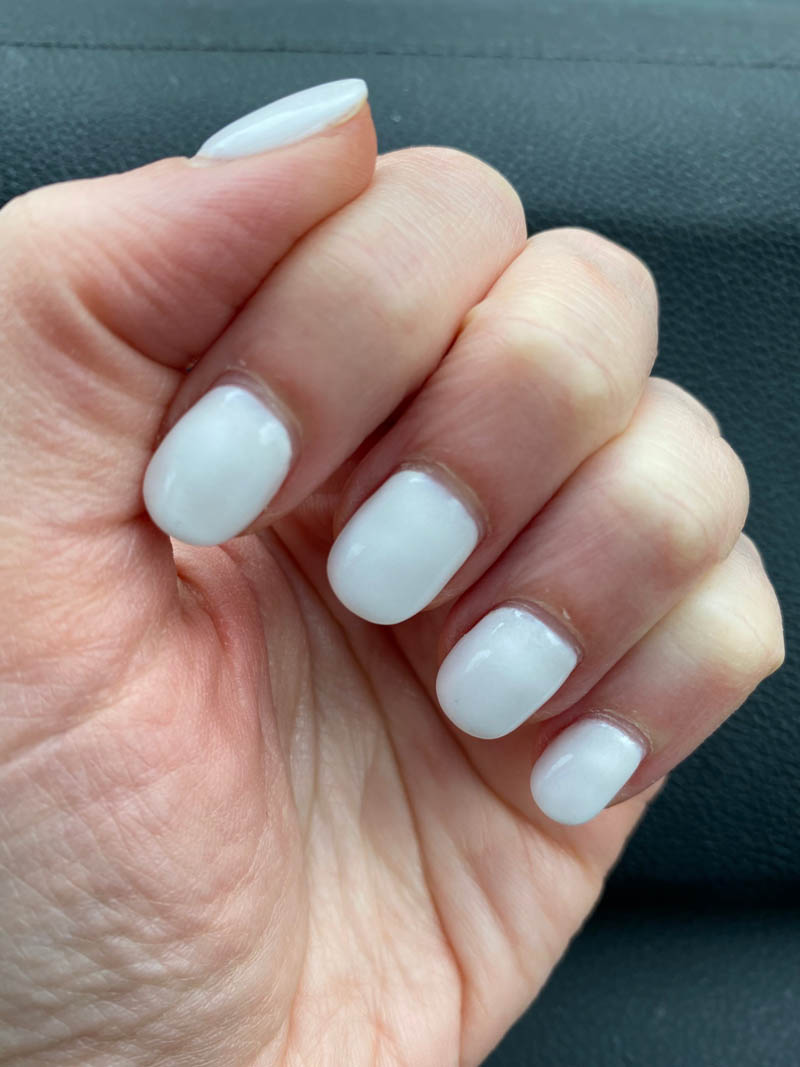 How To Do Super White Dip Nails: DIY Dip Manicure Tutorial Prep
Before starting the dip nails process, trim and shape your nails. I chose a round shape, but any shorter nail shape is a great option for dip powder nails.
To do these DIY Dip Nails, you'll need:
Dip Powder, I am wearing NuRevolution #1 Whiteout
1 Base Coat
1 Activator
1 Top Coat
Manicure Buffer
Emery Board Nail File
A clean fluffy makeup brush
Dip powder can settle while sitting overtime or in shipping which can make it apply unevenly. Before beginning your dip manicure at home, check that the lid is on tight and gently shake the jar to loosen any clumps or settling.
First, prep your natural nail surface using a manicure block buffer to create a smooth surface. Push back your cuticles and trim off any snags. Avoid cuticle treatments or oils when doing dip manicures because they will prevent the dip powder from being able to stay.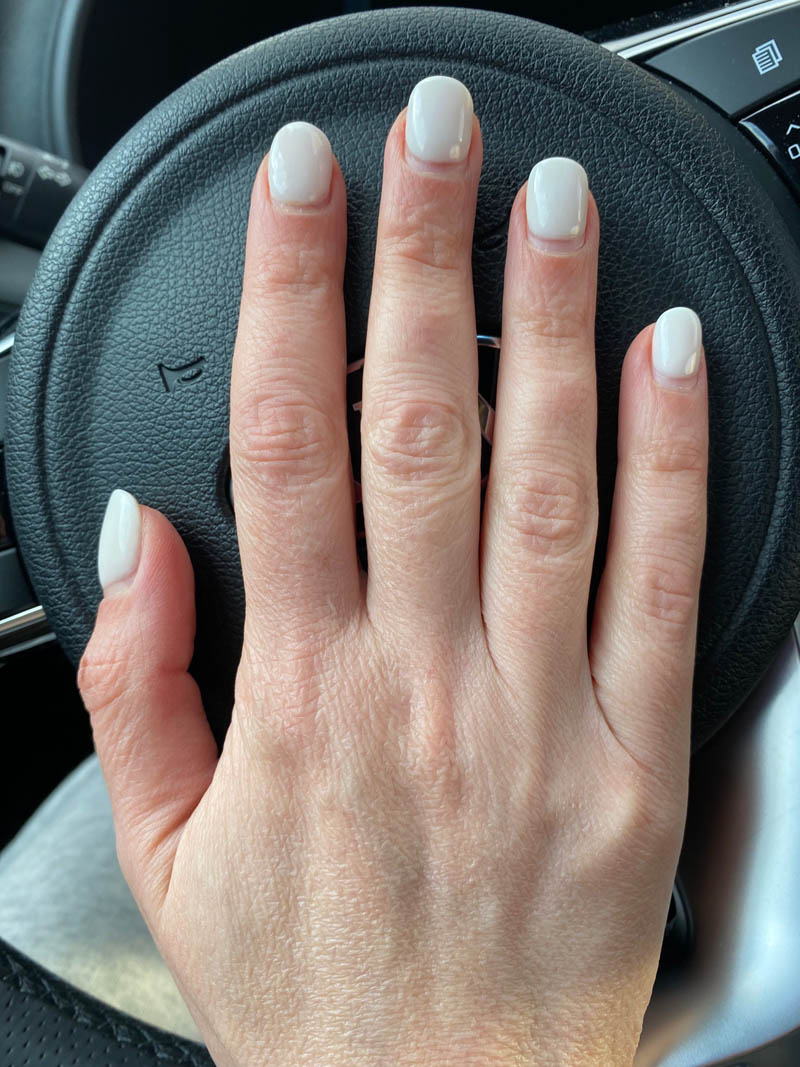 How To Do Super White Dip Nails: DIY Dip Manicure Base Coat Tutorial
We will work one nail at a time. On your first nail, apply a thin, even coat of the dip powder base coat. The base coat is what the dip powder will stick to, so take care to get full coverage on your nail without getting the product onto your cuticles or skin.
How To Do Super White Dip Nails: DIY Dip Manicure Dip Powder Tutorial
Simply dip your nail at an angle into the dip powder jar. Make sure your entire nail is covered in dip powder. Remove your finger and gently tap or brush off any excess powder.
Repeat the process on all fingernails, one nail at a time. If you try to paint multiple nails with a base coat and batch the process you will not get ideal results as the base coat is fast drying.
Repeat the paint and dip steps on all nails for a second coat of dip powder.
How To Do Super White Dip Nails: DIY Dip Manicure Activator Tutorial
Next, we will activate the dip powder. Simply paint a generous coat of the nail activator on each nail. You may see changes in your powder color like darkening and the color becoming less sheer.
How To Do Super White Dip Nails: DIY Dip File and Top Coat Tutorial
When your dip nails activator has fully hardened, you can use a coarse grit nail file to even out any thick areas or bumps. Then use a fine grit buffer to smooth out the edges and nail surface.
Rinse your nails off with water, but avoid using any soaps. Then you can apply the activator one more time (don't skip the nail edges!) and let it sit for 2 minutes to create a protective top coat.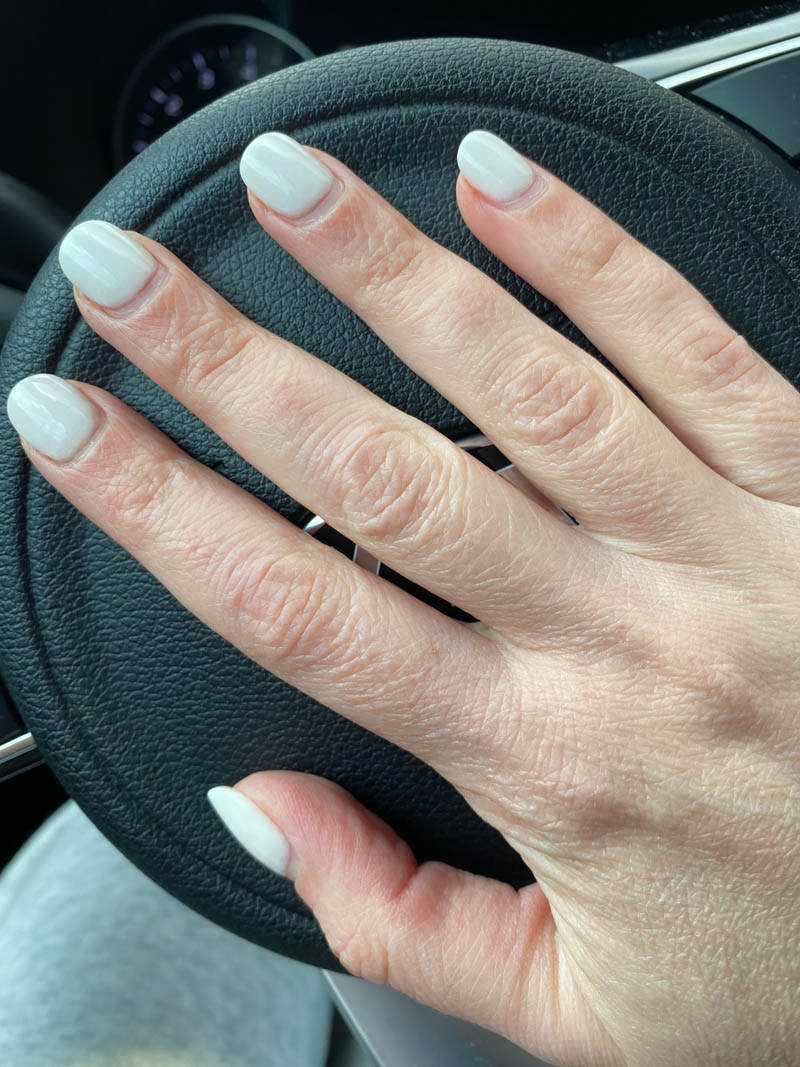 Super White Dip Nails: Whitest Dip Manicure Tips
Avoid picking or peeling off your dip powder manicure. The dip base bonds the powder to your natural nail. Peeling or picking off your dip nails will also peel off the top layer of your natural nail.
To remove your dip powder nails safely, file off the shiny top coat of the nails to allow the remover to penetrate throughout the powder layers. Then, place an acetone-soaked cotton ball over your nail.
100% acetone can be harsh on nail beds and skin, but it is simply the only product that will remove dip nails. Then use aluminum foil to wrap your nail, keeping the cotton ball in place. Wait for fifteen to twenty minutes.
Then remove the foil and whip off any remaining powder with a new acetone-soaked cotton ball or cotton swab. If you still have a lot of powder on your nails, repeat the soaking process. I recommend using moisturizing cuticle oil on your nail beds to replenish some of the nutrients lost to the drying power of the acetone and promote healthy natural nails.
Super White Dip Nails: Whitest Dip Manicure Color
This bright white nail color is NuRevolution #1 Whiteout
More white nail design ideas and inspo: Winter White Nail Design, Simple White Nails Design With Light Purple Green Color Block, Short Nails White French Tips Manicure, and White And Gold Glitter Nails Colorblock Design Idea.
https://vibrantguide.com/wp-content/uploads/2022/05/white_out_dip_nails-2.jpg
1067
800
Anna
https://vibrantguide.com/wp-content/uploads/2019/01/logo2.png
Anna
2022-09-15 07:09:41
2022-09-16 21:43:32
Super White Nails – Whitest Dip Manicure Color