Long White Nude Almond French Tip Nails

These long French tip nails are so stunning, cute, and classic! With a classy almond shape, a nude base, and white tips, you simply cannot go wrong. You will absolutely love these nails!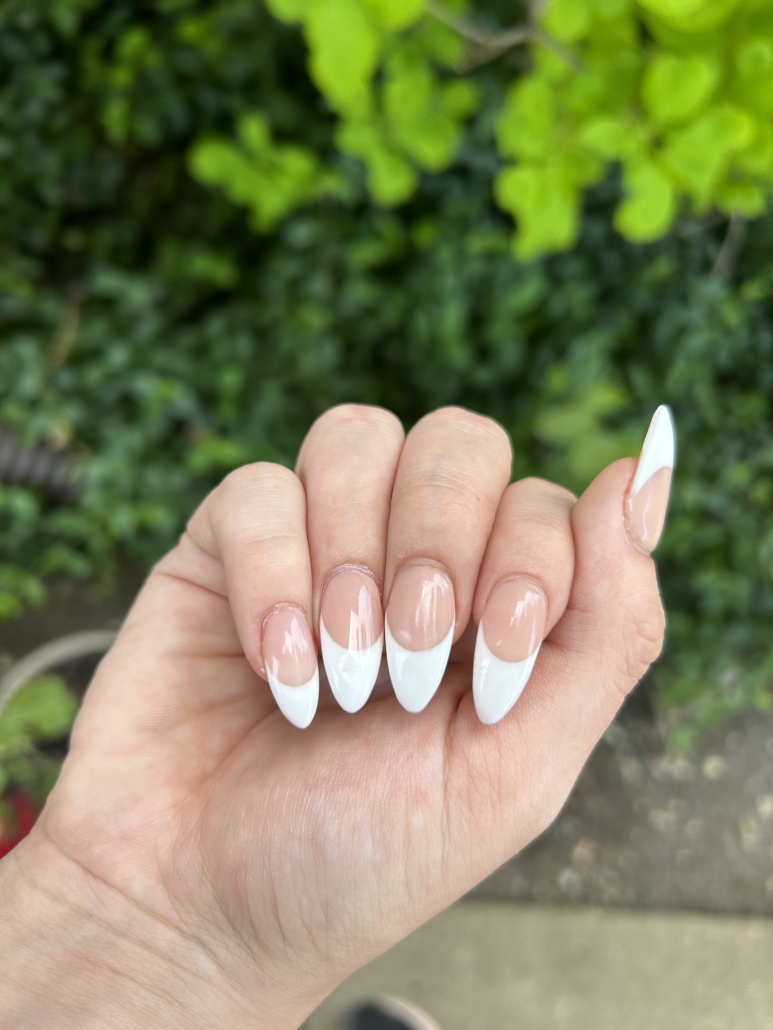 The Charm of White and Nude French Tip Nails
When it comes to nail designs, the classic French tip has always been a timeless favorite. It exudes elegance and sophistication, effortlessly complementing any outfit or occasion. However, with the twist of an almond shape and the introduction of soft white and nude hues, this traditional style takes on a whole new level of charm.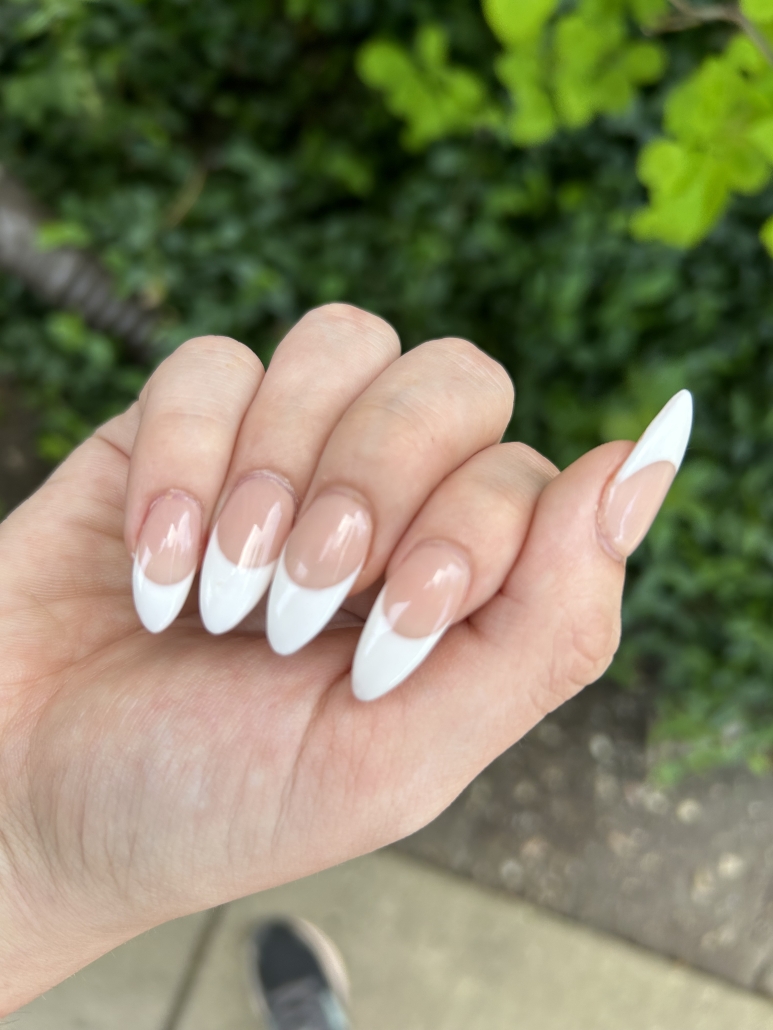 The almond shape, known for its slender and tapered appearance, adds a touch of femininity to your nails. It elongates your fingers and creates an illusion of elegance and grace. Combine this with the timeless appeal of the French tip, and you've got a winning combination that's hard to resist.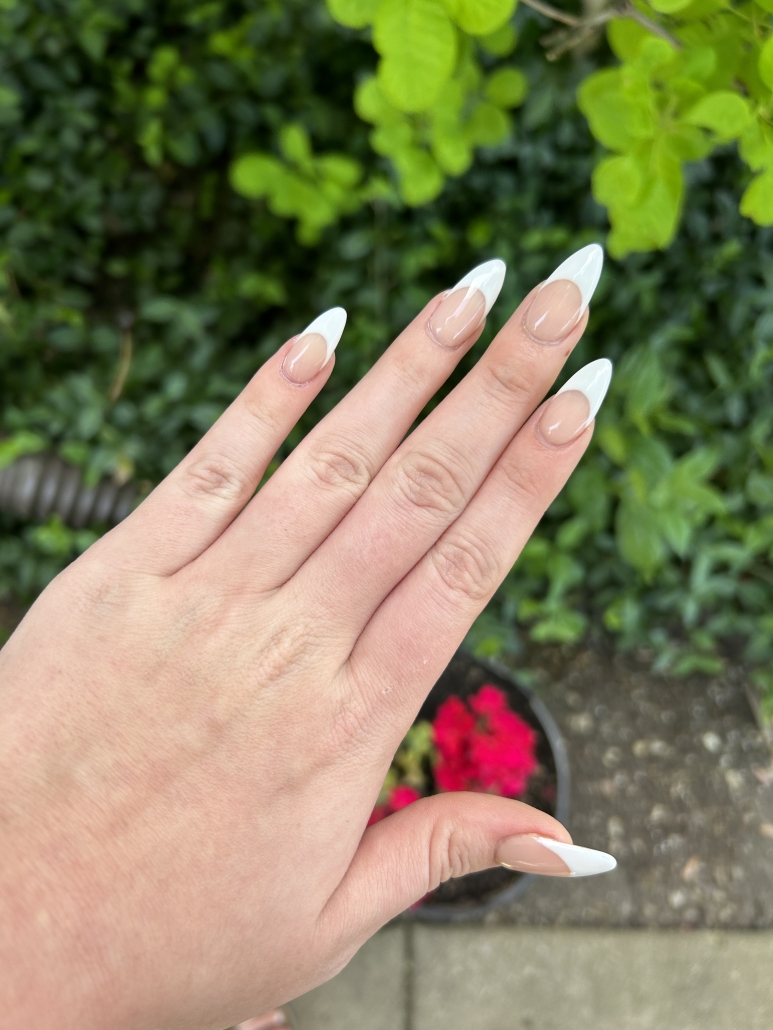 Cute, Classy, and Versatile
One of the most remarkable qualities of white and nude French tip nails with an almond shape is their versatility. Whether you're heading to a casual brunch, an elegant evening event, or even just a regular day at the office, these nails seamlessly adapt to any setting.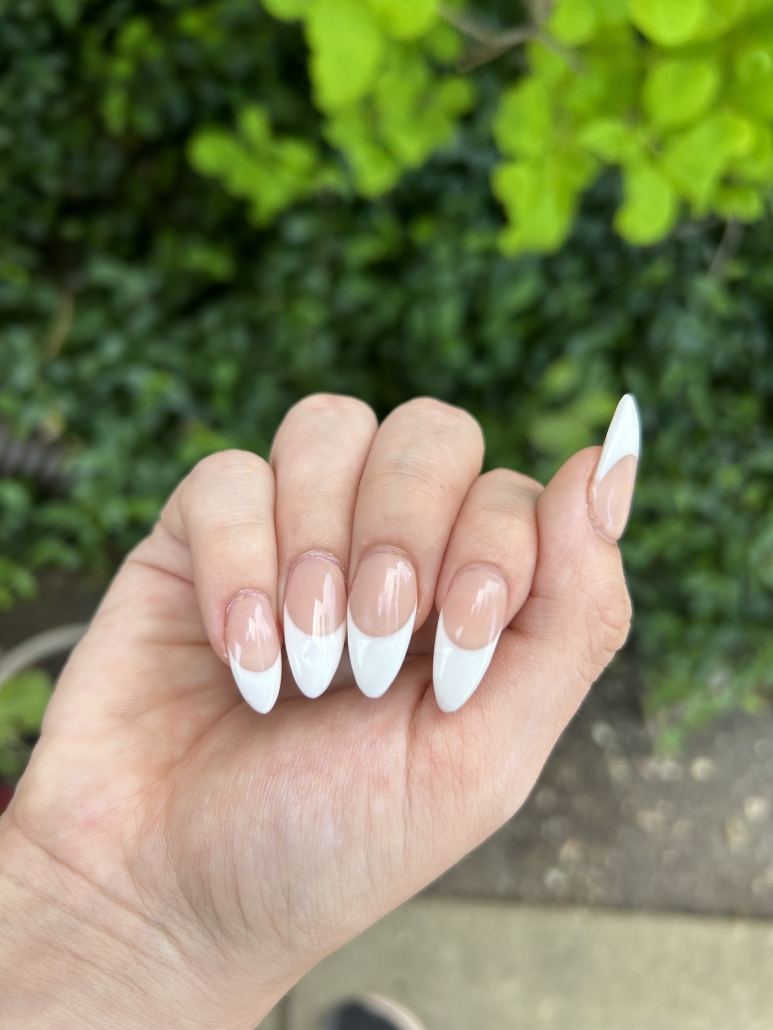 For a cute and playful vibe, opt for shorter almond-shaped nails with a subtle white tip. This youthful and adorable look pairs beautifully with summer dresses, jeans and a T-shirt, or even a cute romper. It's the perfect choice for those who want to add a touch of fun to their style without going overboard.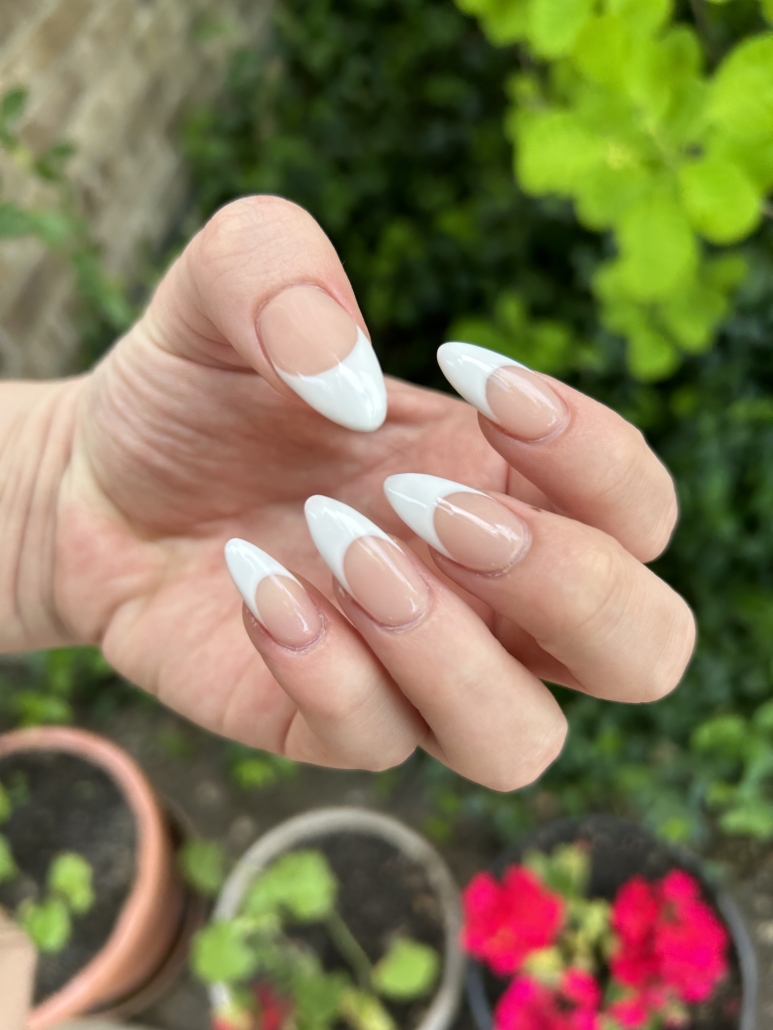 On the other hand, if you're aiming for a more formal and classy appearance, go for longer almond-shaped nails with a sleek and thin white tip. This refined and sophisticated variation adds a touch of glamour to your ensemble, making it an ideal match for cocktail parties, formal events, or a glamorous night out. Pair them with an elegant gown, a tailored suit, or even a little black dress, and you'll be turning heads wherever you go!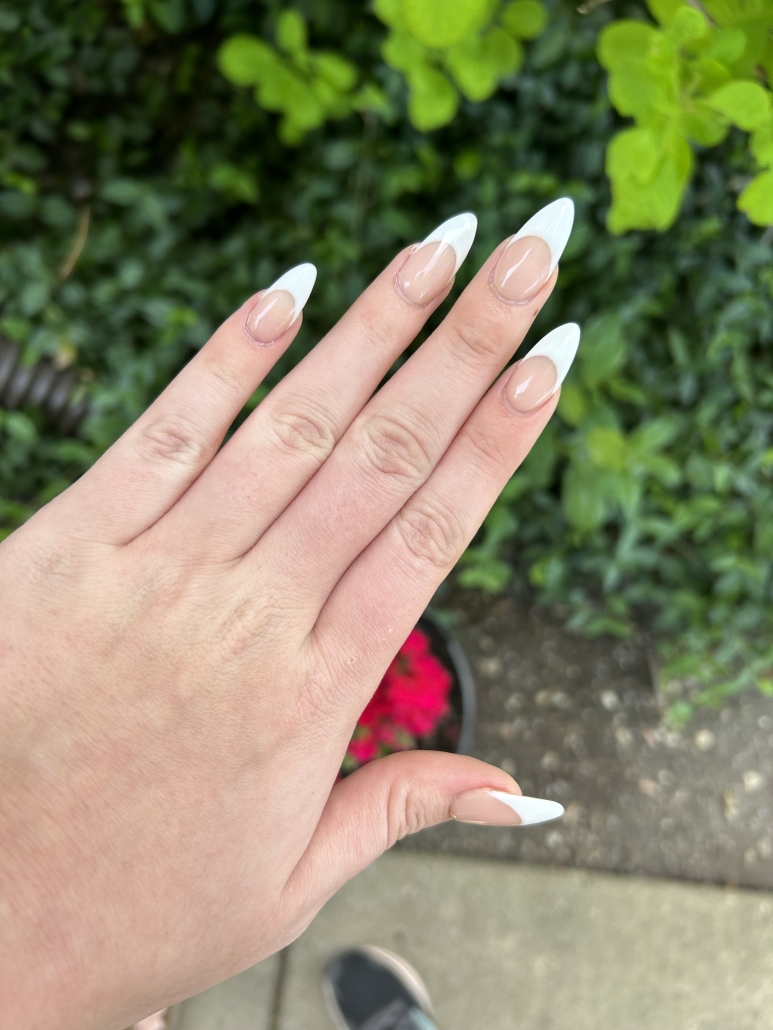 Recreating the Look
Now that we've talked about the allure and versatility of white and nude French tip nails with an almond shape, let's dive into how you can recreate this fabulous look at home.
Prep your nails: Start by shaping your nails into the desired almond shape using a nail file. Ensure they are clean, dry, and free from any old nail polish.
Base coat: Apply a clear base coat to protect your natural nails and promote better adhesion of the nail polish.
Nude base: Apply a thin layer of your favorite nude nail polish. Choose a shade that complements your skin tone and provides a smooth, even base for the French tip.
French tip: Using a white nail polish or a nail art pen, carefully draw a thin white line across the tips of your nails. You can use nail guides or tape to help achieve a precise and even line.
Seal the deal: Once the French tip is dry, apply a high-quality top coat to seal in the design and enhance its longevity. This step will also give your nails a glossy finish, adding that extra touch of sophistication.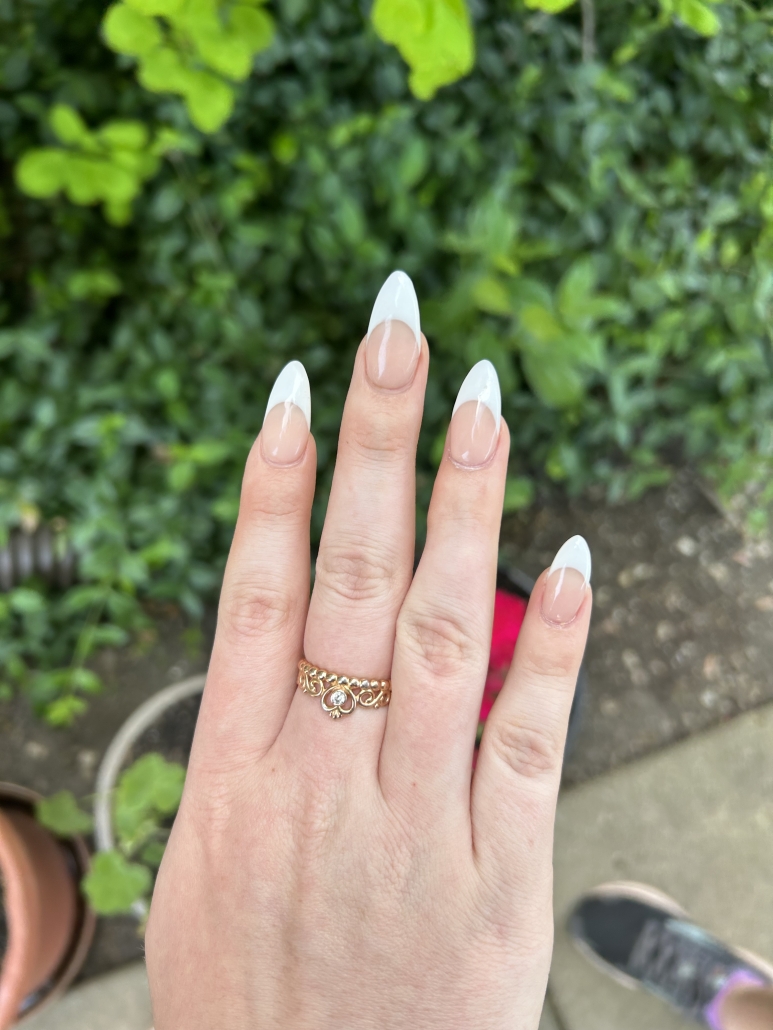 White and nude French tip nails with an almond shape are an absolute winner in the nail game. They effortlessly combine cuteness and classiness, adapting seamlessly to any occasion or outfit. Whether you opt for a shorter, playful style or go for longer, glamorous nails, this versatile design is sure to turn heads and make you feel fabulous. So, gather your nail supplies, let your creativity flow, and rock those gorgeous almond-shaped nails with pride. I hope that you love your new gorgeous nails!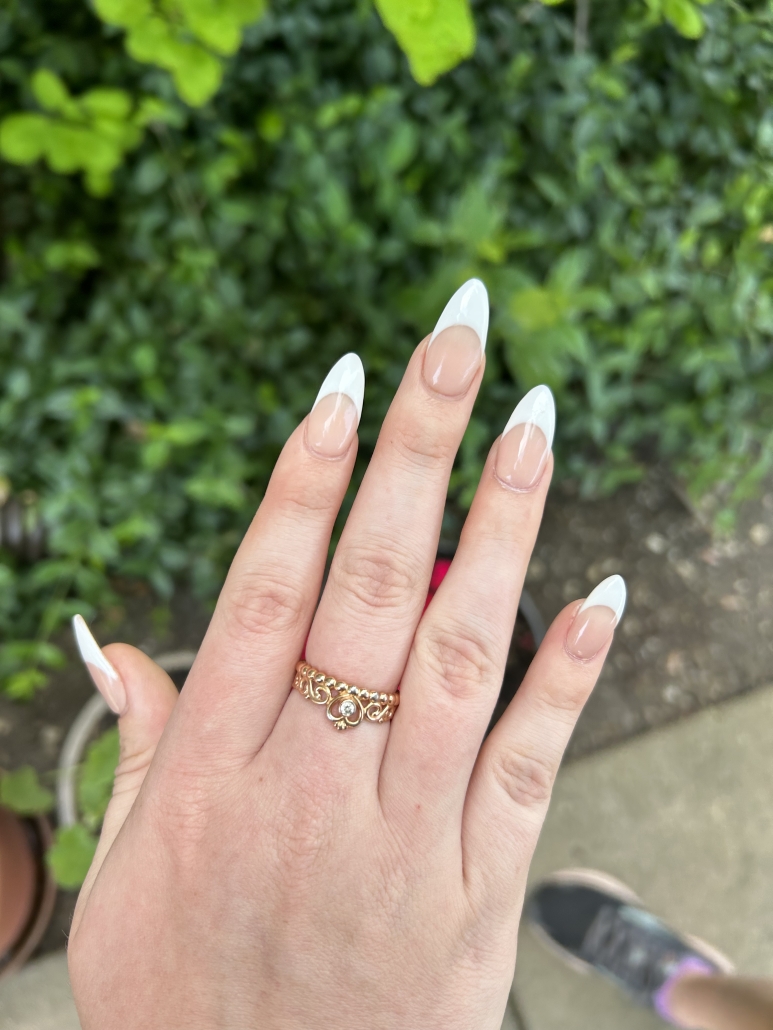 For more nail ideas like this, check out French Tips Nails Ideas, Designs, Colors, Simple Nails Ideas and Designs, and White Nail Ideas and Designs.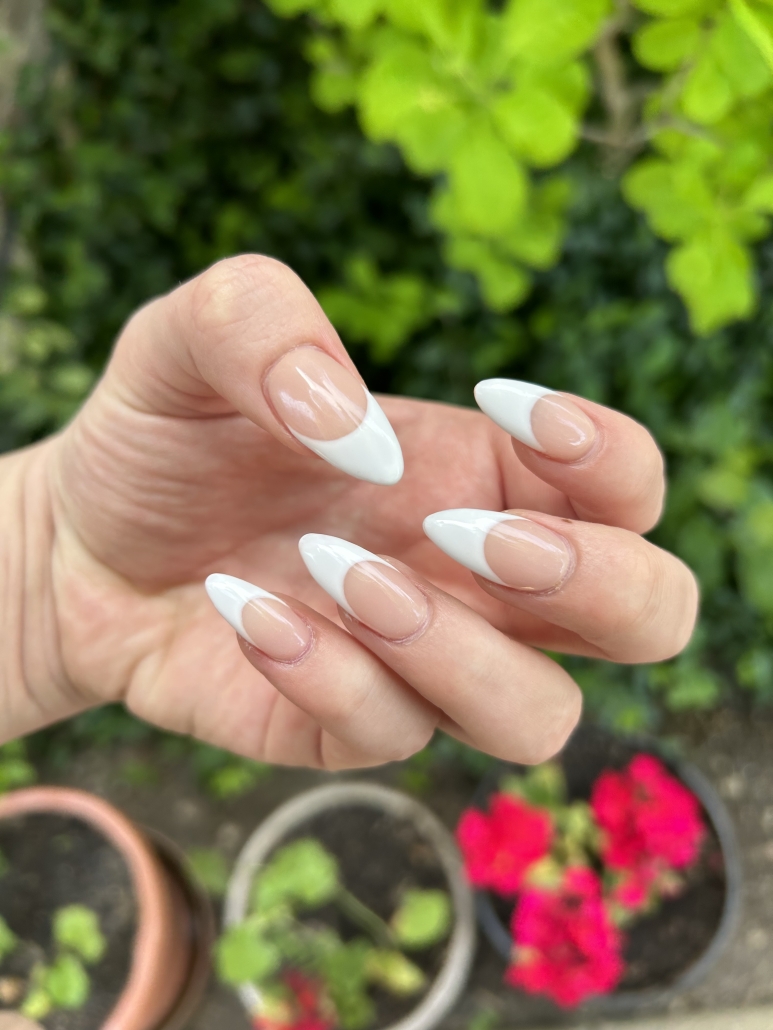 https://vibrantguide.com/wp-content/uploads/2023/05/IMG_1180-scaled.jpeg
2560
1920
Anna
https://vibrantguide.com/wp-content/uploads/2019/01/logo2.png
Anna
2023-05-30 23:52:17
2023-05-30 23:52:17
Long White Nude Almond French Tip Nails