Nail art is an excellent way to express your creativity and style. Whether you're preparing for a special occasion or simply want to add a touch of flair to your everyday look, layered pink French tip nails with heart designs are an adorable choice. With their charming aesthetic and versatility, these nails are perfect for Valentine's Day, summer, and vacations. In this blog post, we'll explore why pink is the ideal color for these designs and guide you through the steps to recreate this stunning nail art.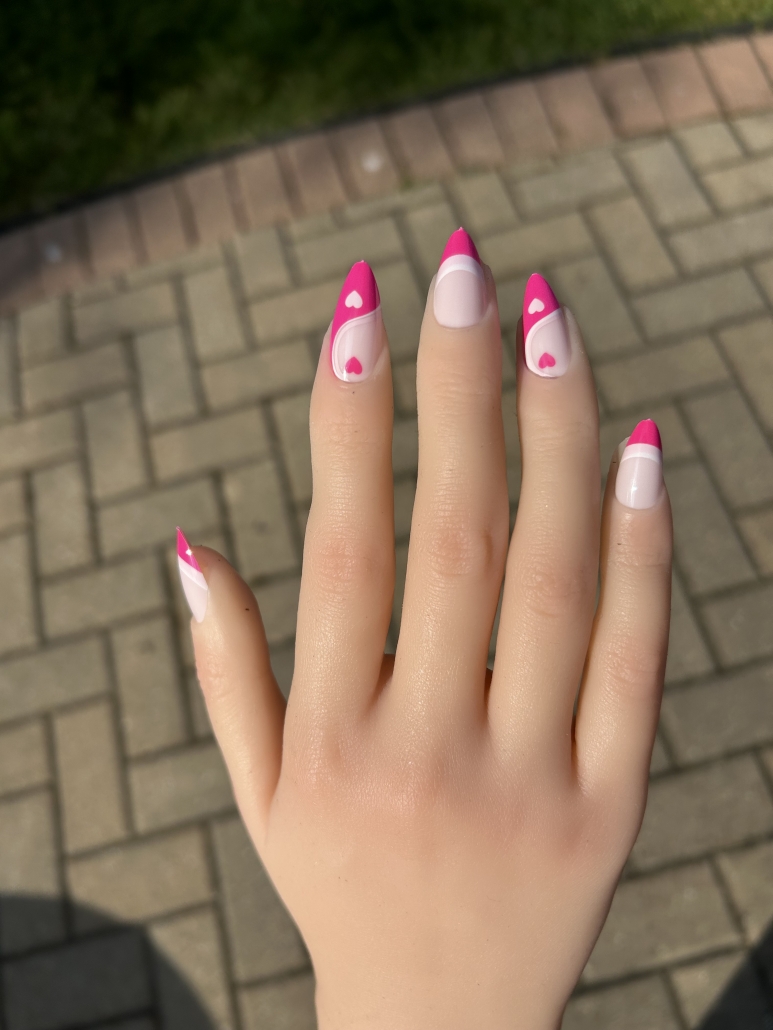 Pink: The Adorable Color
Pink is a color associated with femininity, sweetness, and charm. It symbolizes love, warmth, and tenderness, making it an excellent choice for expressing affection and romance. The shade of pink used in these layered French tip nails adds a playful touch to the traditional French manicure, taking it to a whole new level of cuteness. Whether you opt for a soft pastel or a vibrant hot pink, this color is sure to grab attention and make a statement.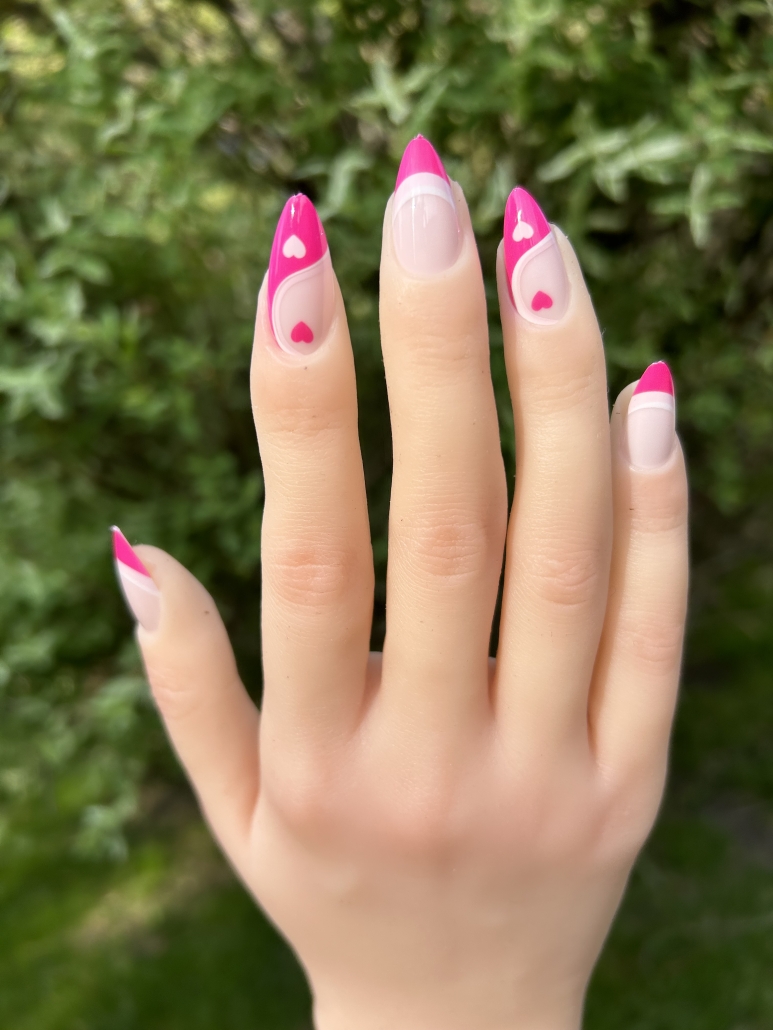 Perfect Nails for Valentine's Day
Valentine's Day is a celebration of love, and what better way to showcase your romantic spirit than through your nails? The combination of pink French tips and heart designs perfectly encapsulates the essence of this special day. The layered pink tips add depth and dimension to your nails, while the heart design on the index and fourth finger creates a captivating focal point. These nails will undoubtedly complement any Valentine's Day outfit and make you feel extra special on this day of love.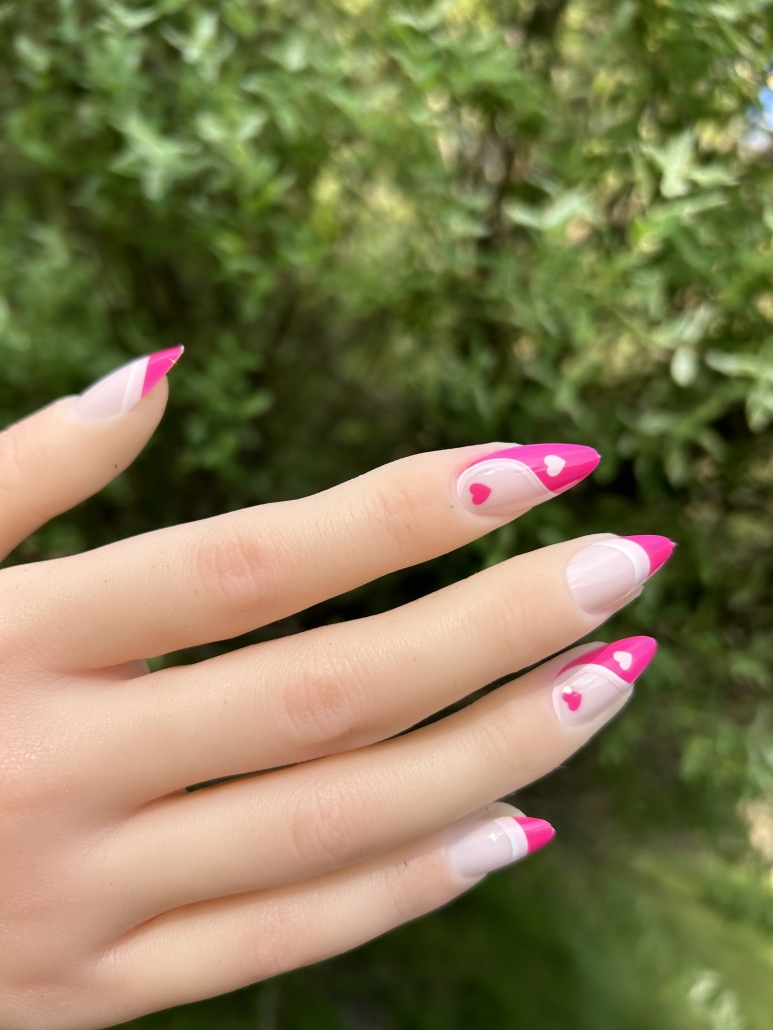 Ideal for Summer
Summer is a season of vibrant colors, playful patterns, and carefree vibes. Layered pink French tip nails with heart designs are an excellent choice to embrace the summery spirit. The soft pink-tinted nude base provides a neutral canvas that enhances your sun-kissed glow, while the layers of pink and white tips add a pop of color to your nails. The heart design adds a whimsical touch, reminiscent of ice cream, watermelon, and other summer delights. These nails are the perfect accessory to complement your beach days, picnics, and sundresses. For more summer nail ideas, look at Summer Nail Designs, Ideas, Colors 2023.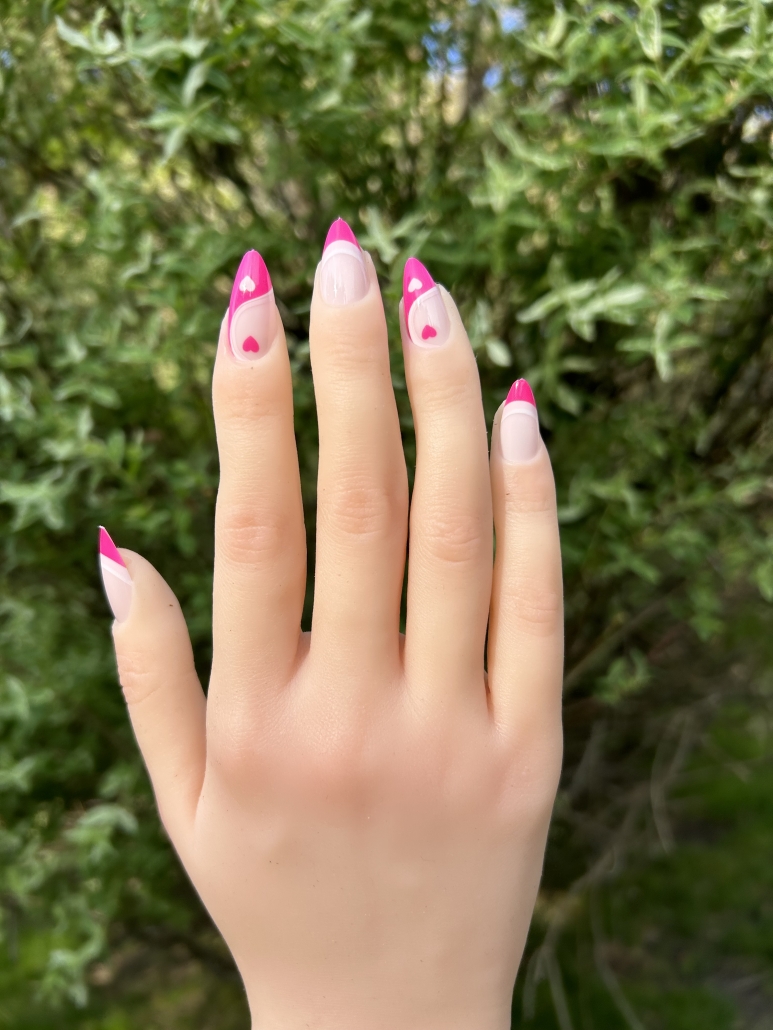 A Must-Have for Vacations
Vacations are all about relaxation, exploration, and embracing a new mindset. Layered pink French tip nails with heart designs are a must-have for your vacation nail art repertoire. The adorable and cheerful nature of these nails will bring a smile to your face every time you glance at them. Whether you're lounging by the pool, exploring a tropical paradise, or simply indulging in a much-needed getaway, these nails will add a touch of whimsy to your vacation style. For more vacation nail ideas, check out Vacation Nails Ideas Designs Colors.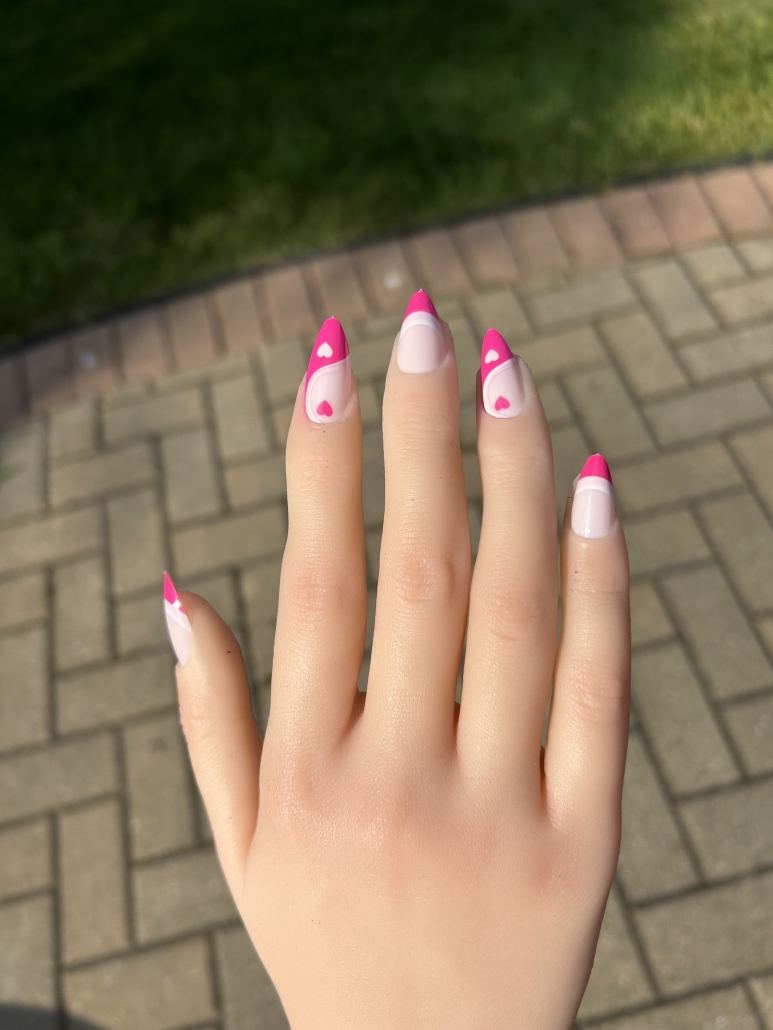 Recreating the Look
Now that we've explored why layered pink French tip nails with heart designs are perfect for Valentine's Day, summer, and vacations, let's dive into the process of recreating this adorable nail art.
Start by prepping your nails: Remove any existing nail polish, shape your nails, and gently push back your cuticles.
Apply a base coat to protect your natural nails and promote longevity.
Once the base coat is dry, apply a pink-tinted nude polish as the base color for your thumb, middle, and pinky finger.
For the French tips, use a nail guide or a thin brush to create the layered effect. Begin by painting the top portion of the tips with a hot pink polish, followed by a middle layer of light pink, and finish with a white layer at the bottom.
On your index and fourth finger, divide the nail horizontally. Paint the top half with a hot pink polish, and using a thin brush, create an upside-down heart shape with light pink in the center. Then, paint the bottom half of the nail with light pink and draw a hot pink heart at the top.
Allow the nails to dry completely, and then seal the design with a glossy top coat for a polished finish.
Layered pink French tip nails with heart designs are an adorable and versatile choice for various occasions, including Valentine's Day, summer, and vacations. The combination of pink hues, the layered French tips, and the heart designs create a playful and charming aesthetic that is sure to make a statement. By following the simple steps outlined above, you can recreate this stunning nail art and express your creativity through your fingertips. Embrace the cuteness and have fun experimenting with different shades and variations of this design.
If you are looking for more designs like this, be sure to check out Light Pink Nail Ideas, French Tips Nails Ideas, Designs, Colors, and Hot Pink Nails Ideas.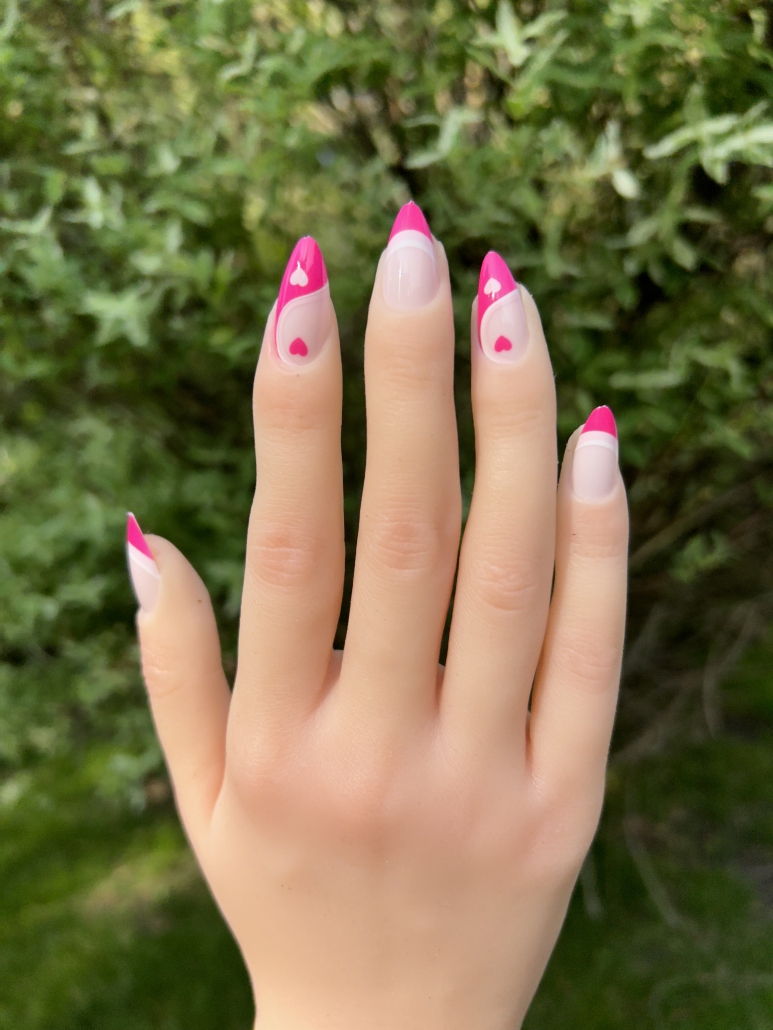 https://vibrantguide.com/wp-content/uploads/2023/06/IMG_1293-scaled.jpeg
2560
1920
Anna
https://vibrantguide.com/wp-content/uploads/2019/01/logo2.png
Anna
2023-06-06 20:20:45
2023-06-06 20:20:45
Pink Heart Nails Idea