Blue Summer Nails Design With Flowers

These light blue summer nails with flowers are the absolute cutest look! They are so cheerful and bright, and look absolutely stunning! They make for a super original look, with three fingered covered with cute daisies, one finger with a French tip, and one finger with a solid blue nail.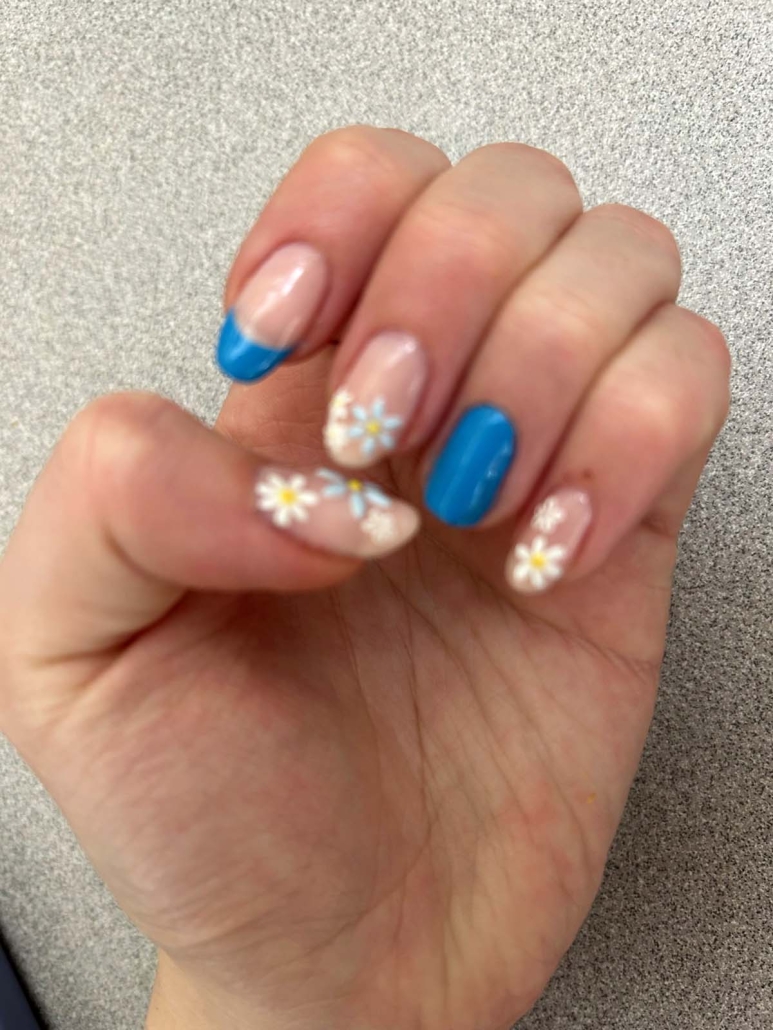 These cheerful bright blue nails are super easy to recreate, despite their fancy look. You simply will need blue nail polish, white nail polish, a clear base color, and yellow nail polish. You also need an extra thin brush for the design. Start by painting on a clear coat on your thumb, third finger and pinky. Next, take your bright blue nail polish and paint a french tip on your second finger and your whole nail on your fourth finger.
Next, once the clear fingers are completely dry, paint on 7-8 small white lines on the clear fingers. You will want to do this in 2-3 different sections of each nail. Finally, once the white lines are dry, paint a yellow dot in the middle. Paint on another layer of the blue nail polish on the blue nails, and finally finish with a top coat. Have a q-tip with nail polish removed near by to erase mistakes.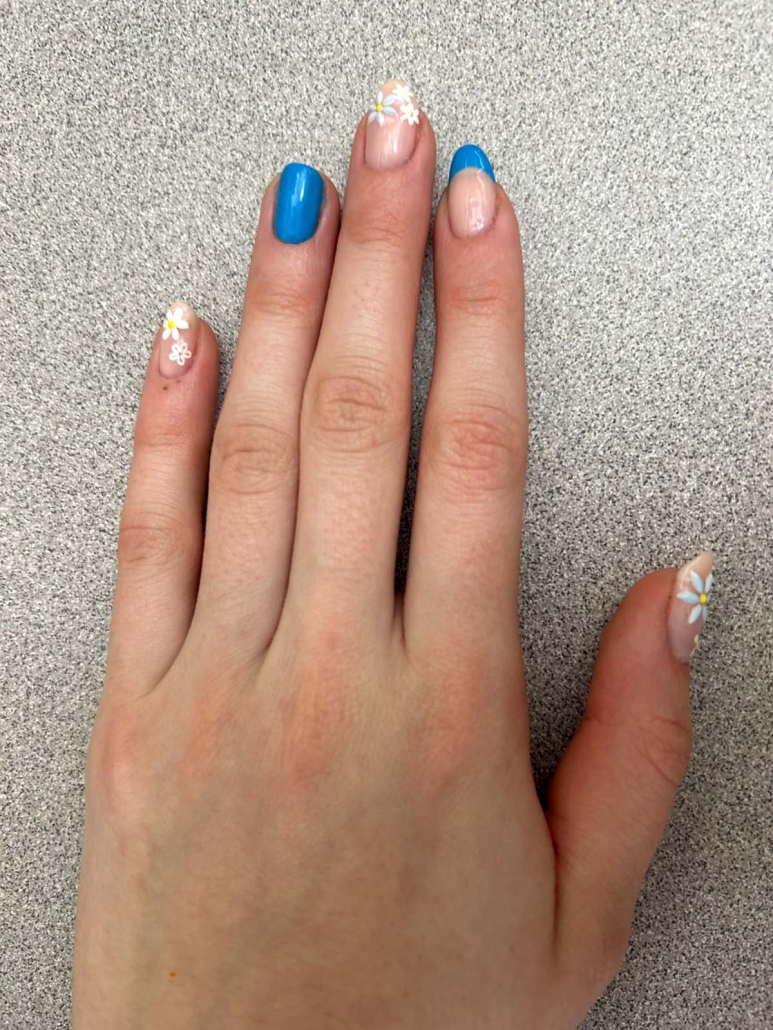 These bright blue nails with daisy designs are perfect for so many different occasions. These make for the perfect summer or spring nails, as they are colorful, cheerful, and absolutely stunning! They are sure to add to any outfit, and look amazing in photoshoots. These also make for the perfect vacation nails! They have a super cute design, and the bright blue color with daisies gives super good vibes!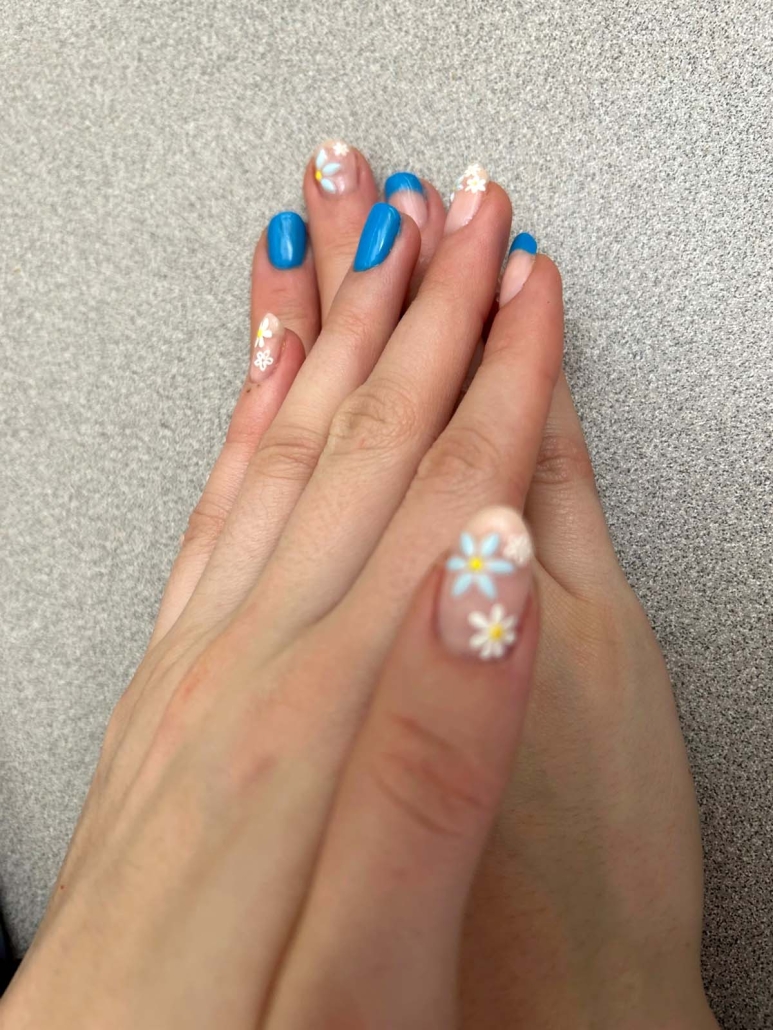 There are so many different ways to change up these bright blue nails with flowers! Firstly, you can change the color from blue to pretty much anything! You can go for a hot pink or yellow color, or you can even go for a red or dark color for a more intense look. You can also change up the amount of nails you add the flower design to. If you want a less busy design, you can keep the blue nails and only add flowers on your fourth finger.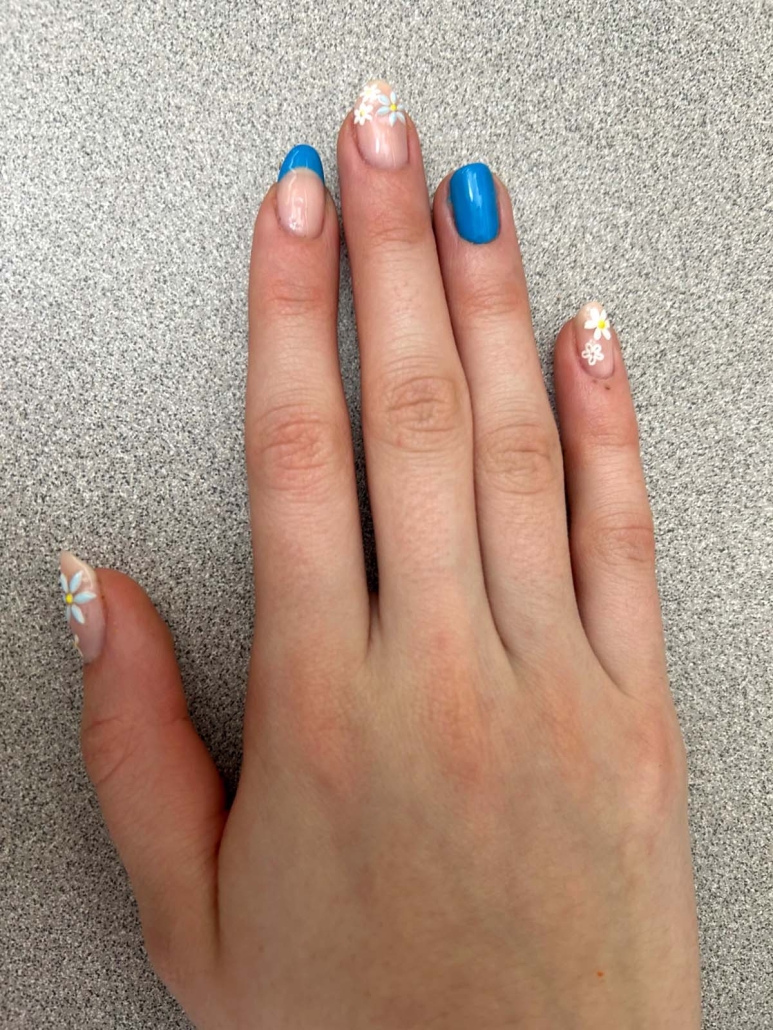 You can also switch up the design to include all French tips or all solid nails. You can also change the colors of the flowers from white to blue for a more solid-colored look. Get creative with these gorgeous nails!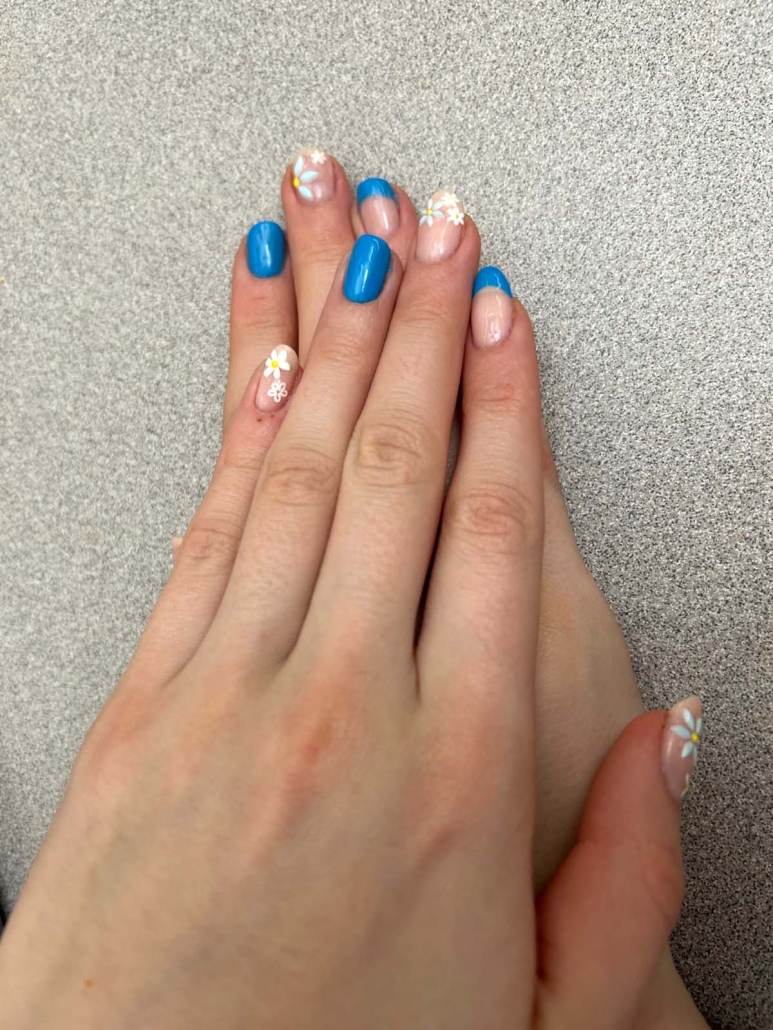 If you want more cheerful nail ideas check out Spring Nail Ideas, Designs, Colors and Spring Break Nail Ideas, Designs, and Colors.
If your looking for more flower nail designs check out Flower Nails – Designs and Ideas.
https://vibrantguide.com/wp-content/uploads/2023/03/blue-summer-nails-with-flowers-3.jpg
1600
1200
Anna
https://vibrantguide.com/wp-content/uploads/2019/01/logo2.png
Anna
2023-04-04 23:28:09
2023-04-09 20:56:39
Blue Summer Nails Design With Flowers