The Best Waffles – Press Waffle Co. Review

If you are looking for a tasty treat, you NEED to try the waffles from Press Waffle Co. Press Waffle Co. has locations all around the country, but I went to the one located in Dallas, Texas in The Exchange at AT&T. This food court offers so many different food options, and Press Waffle Co. is located towards the back of the food court.
The waffle stand is decorated cutely in an old fashioned style, placing an emphasis on the fact that these waffles are all handcrafted from scratch. The menu provides options for sweet waffles, savory waffles, ice creams, and drinks. There is also an option to build your own waffle where you choose your own toppings. I love how Press Waffle Co. turned such a simple food into something so versatile! The hardest part of my experience at this waffle stand was choosing which waffle to get.
The staff were all very friendly and helpful and really added to the experience. When I asked for extra fruit loops, the staff made sure to give me a whole extra cup of them. Part of what makes this waffle stand so special is that you get to see them prepare the waffle in front of you! It is so nice getting to see what you are about to eat being made right in front of you, so that you know how fresh it is. There is nothing better than a fresh hot waffle served to you.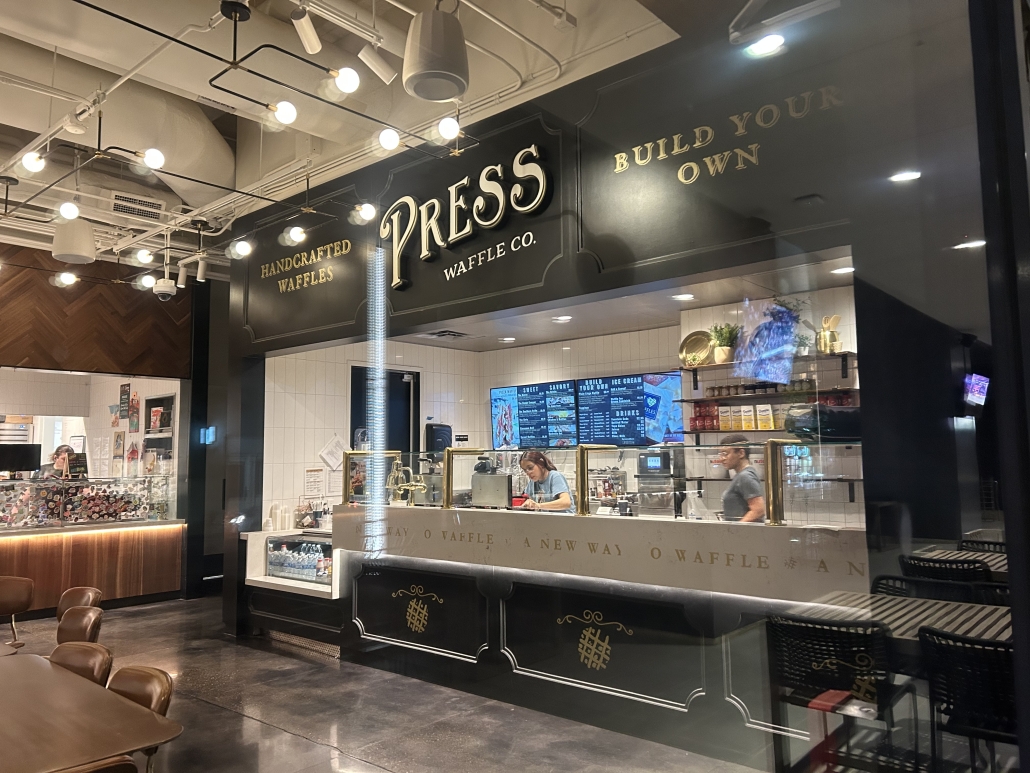 After looking at the menu for a little bit, I elected for making my own waffle. I have a big sweet tooth so I went with fruit loops, strawberries, and some vanilla ice cream as my waffle toppings. Let me tell you, this waffle was THE BEST waffle I have ever had. The cold vanilla ice cream went so well with the fresh hot waffle. I also really appreciated that the strawberries were fresh, rather than being from a syrupy can. Freshly sliced strawberries complimented the waffle SO WELL. The fruit loops topping is a very unique topping option which I really appreciated. Overall this waffle was just delicious!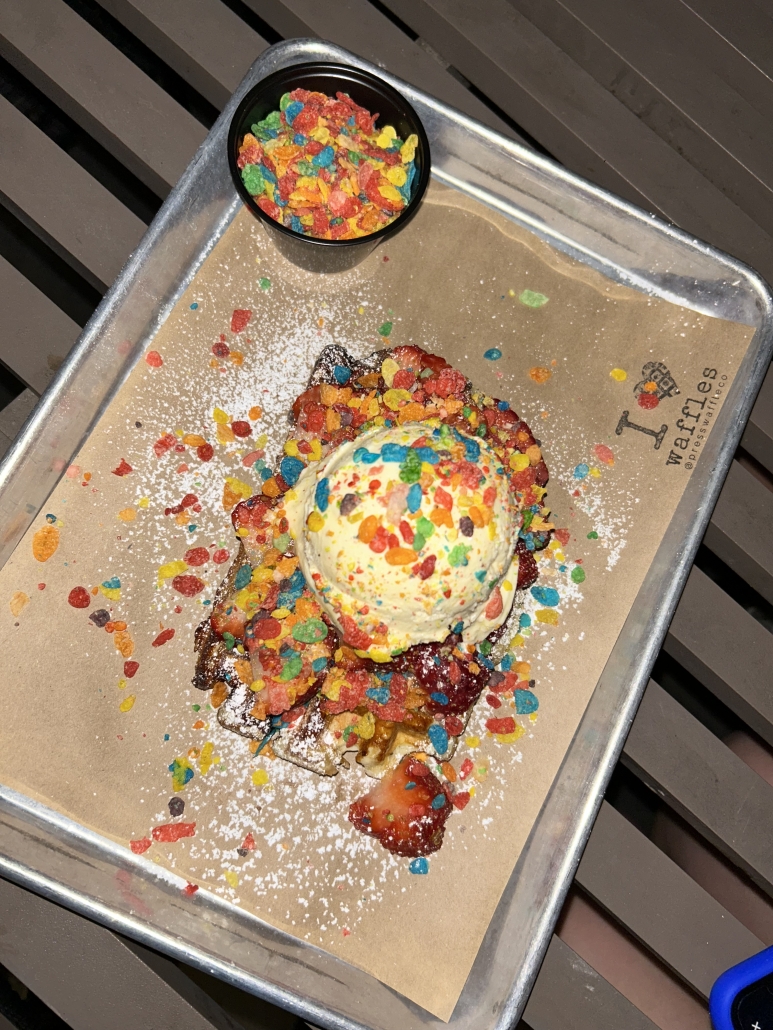 Unless you are planning on eating a waffle as a meal, I recommend splitting the waffle with one person if you are getting one as a dessert. These waffles are pretty big and quite filling. If you are getting a meal, you could get one savory waffle and then split one sweet waffle for the dessert. I ended up giving some of my delicious waffle to my friends because I just couldn't finish it! Press Waffle Co. does not skip with portions.
If you are looking for a fun and unique dessert place, you HAVE to try Press Waffle Co. They offer the best and freshest waffles around!
https://vibrantguide.com/wp-content/uploads/2023/05/IMG_7069-scaled.jpeg
2560
1920
Anna
https://vibrantguide.com/wp-content/uploads/2019/01/logo2.png
Anna
2023-05-28 19:32:12
2023-05-28 19:32:12
The Best Waffles – Press Waffle Co. Review