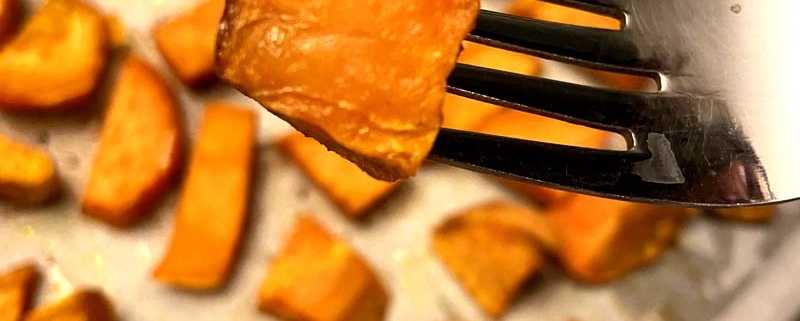 These sweet potatoes are the tastiest side dish ever! Adding amazing color, flavor, and health benefits to your meal, these sweet potatoes are guaranteed to make your meal ten times better!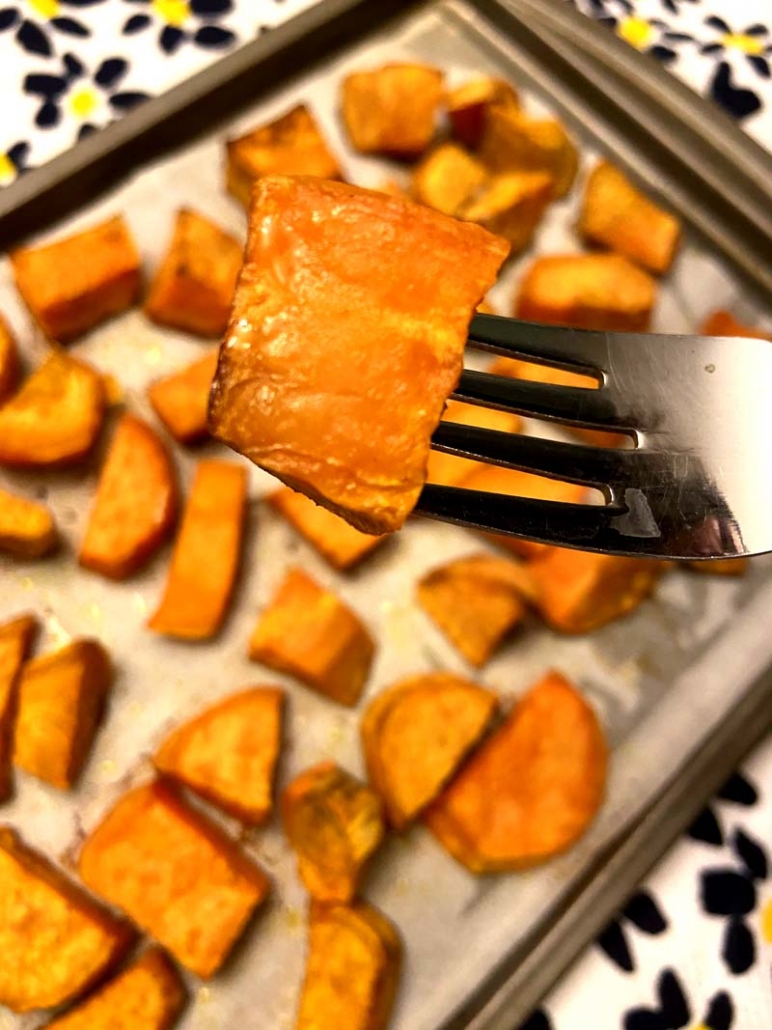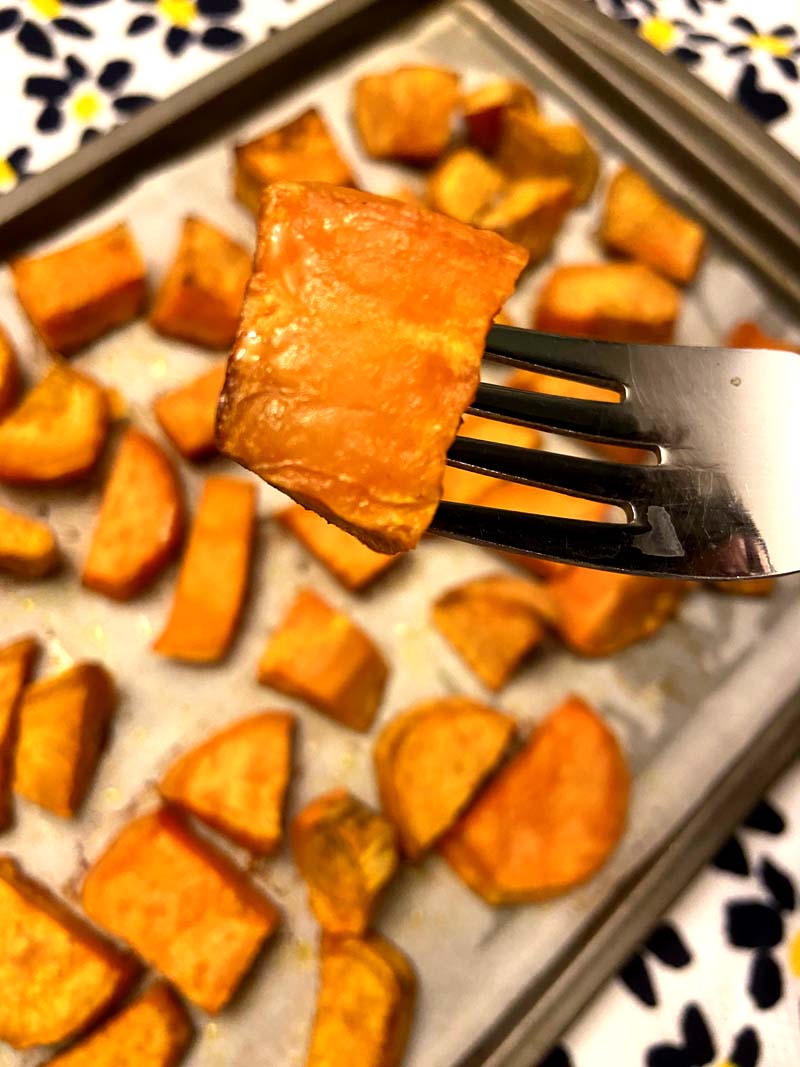 These sweet potatoes are vegan, gluten-free, and all natural, with tons of health benefits. High in fiber and potassium, sweet potatoes rank at one of the healthiest side dishes. If you're looking for a healthier alternative to classic potatoes, sweet potatoes are the perfect recipe for you! Not only adding a bright orange vibrant color to your meal, but packing in tons of vitamins and nutrition.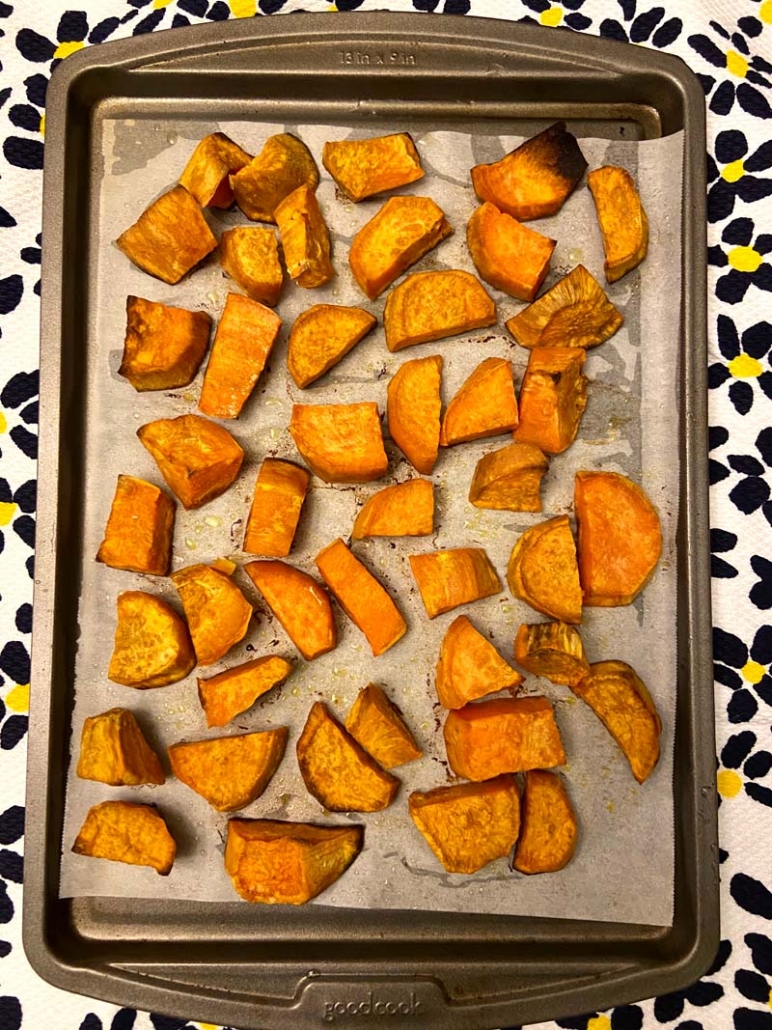 Oftentimes, when I am eating meat or fish for dinner, I want a sweet side dish to balance out the savoriness of the meat. Sweet potatoes are one of the few side dishes that are naturally sweet. They go with everything, and are so easy and quick to make. If you need an easy side dish that is sweet and colorful, just pop a few sweet potatoes in the oven and out will come a warm, delicious, side dish!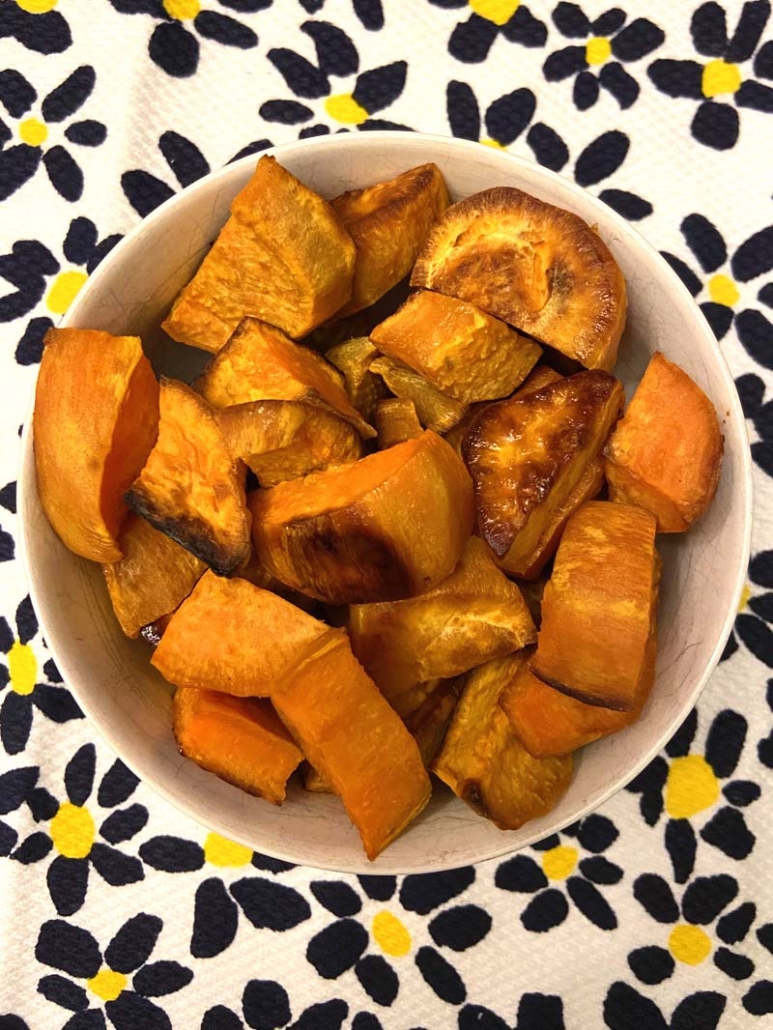 Not only are roasted sweet potatoes so easy and quick to make, but they can be eaten for multiple days in a row. If you need a side dish for the next few days, simply put the sweet potatoes in the microwave, and they will come out tasting new! Because roasted sweet potatoes last multiple days, they are perfect for meal preps. Add them to your meals for the week, reheat them, and out will come a fresh, warm, lunch!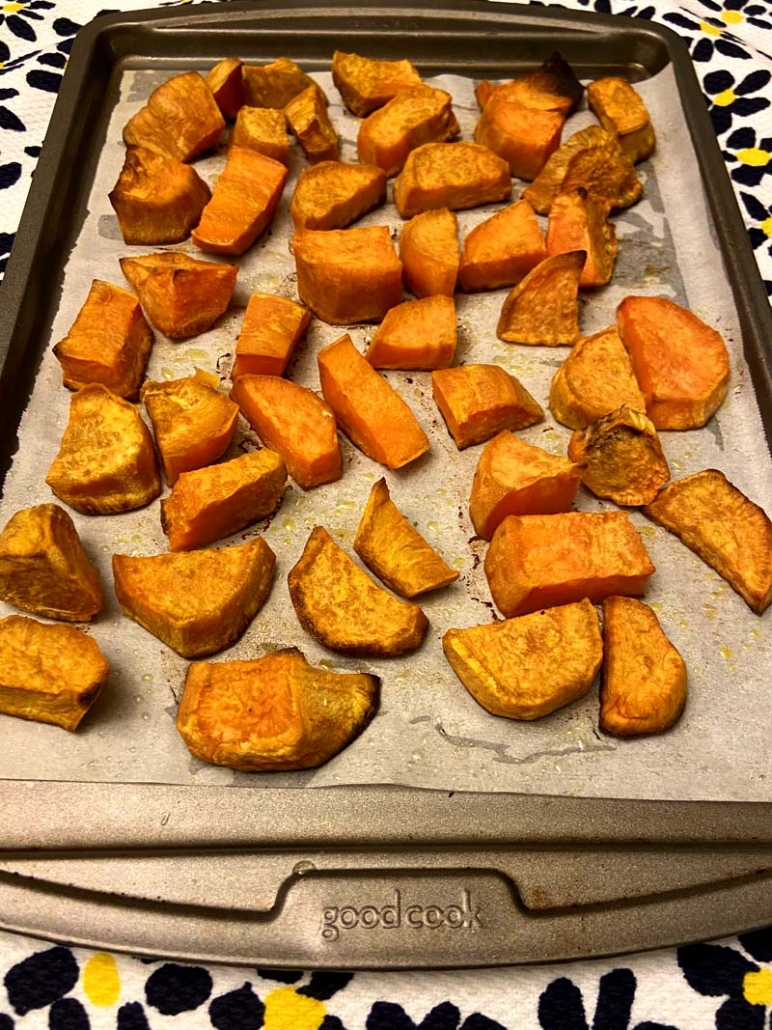 In addition to being great side dishes, they also are great to put in salads to instantly make a salad more lively and tasty. Adding these to any simple salad will add tons of color, and offer a sweet, unique flavor to the salad. They simply can go with anything, and are a great food to experiment with. Healthy, delicious, and colorful, these roasted sweet potatoes are simply amazing!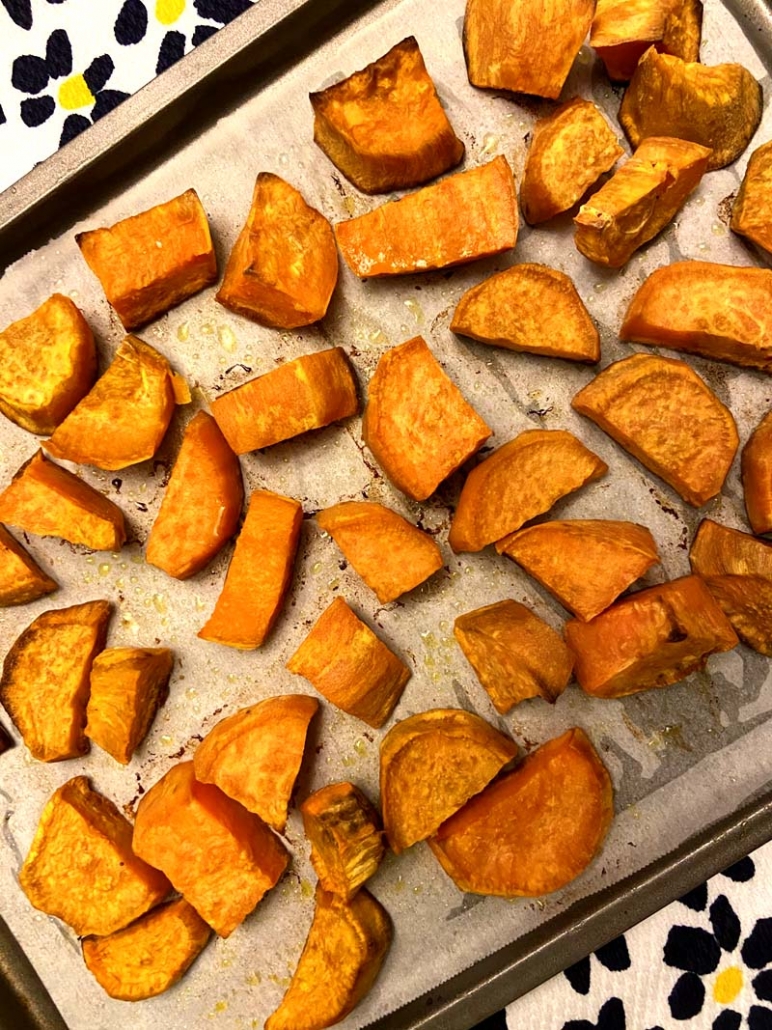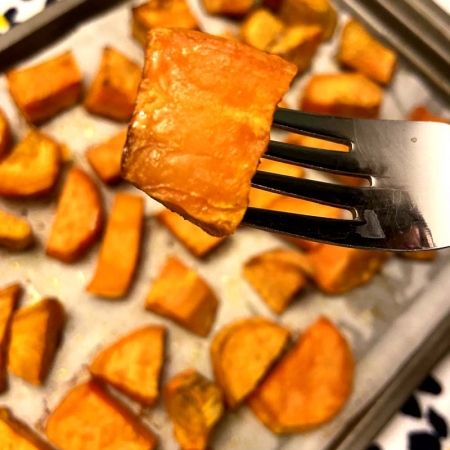 Roasted Sweet Potatoes
These roasted sweet potatoes are the best side dish ever! They are so tasty, healthy and colorful, and are guaranteed to add excitement to your meals!
Ingredients
2

sweet potatoes

1

tbsp

olive oil
Instructions
Line a non-stick baking sheet with parchment paper and preheat the oven to 425F.

Peel the sweet potatoes and cut into one inch cubes.

Put the sweet potatoes on a baking sheet in a single layer.

Pour olive oil over the sweet potatoes and toss with your hands to coat with oil.

Bake the sweet potatoes for 30 minutes or until tender.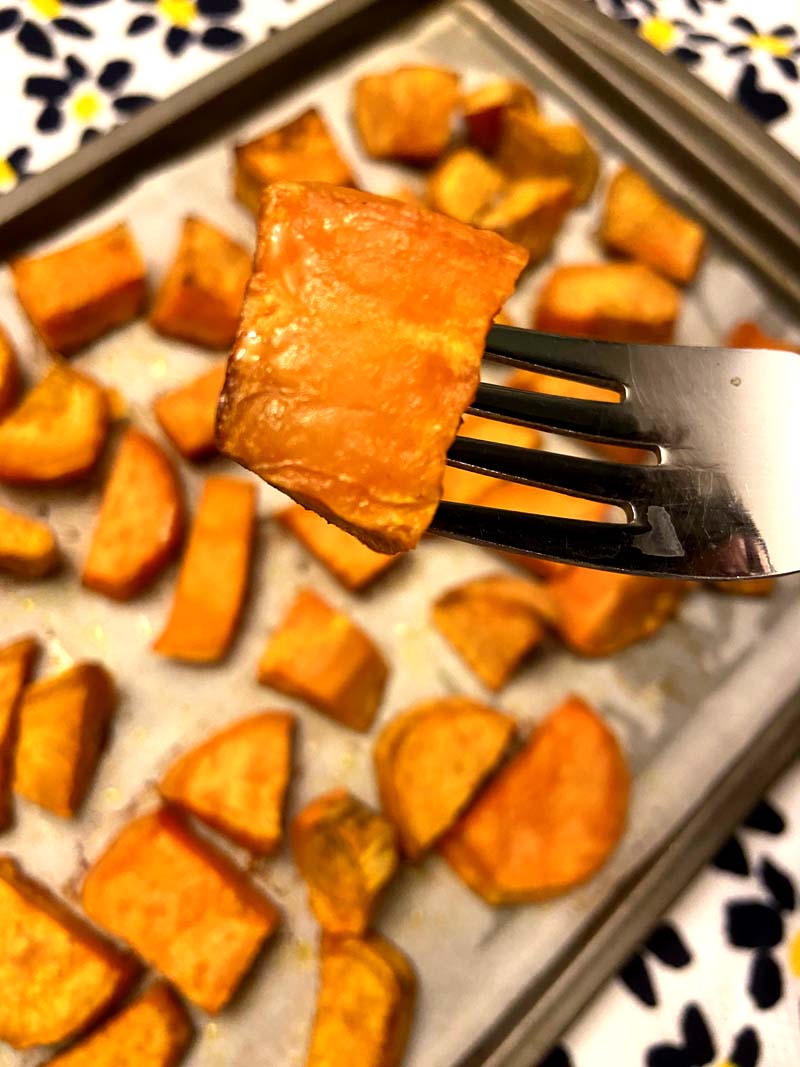 https://vibrantguide.com/wp-content/uploads/2020/01/roasted_sweet_potatoes_recipe.jpg
1067
800
Anna
https://vibrantguide.com/wp-content/uploads/2019/01/logo2.png
Anna
2020-01-10 02:03:46
2020-01-10 02:33:08
Roasted Sweet Potatoes