Easy Heart Shaped Pink Sugar Cookies With Red Sprinkles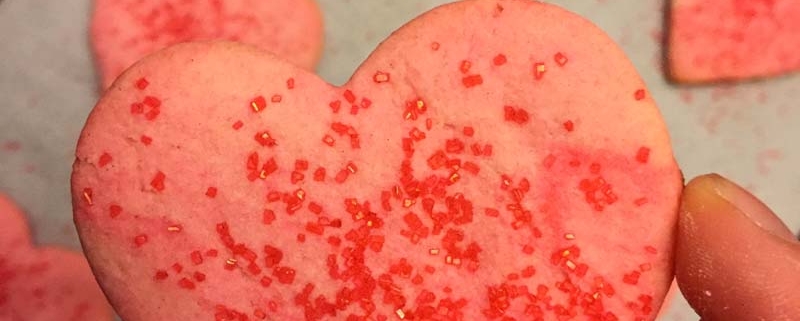 Whether you are looking for a valentines day themed dessert, or a super cute cookie for a party, these are the most delicious, cute sugar cookies! These are super easy to make, and can be made so quickly! They require no chilling, and they only need basic ingredients you can find in your kitchen!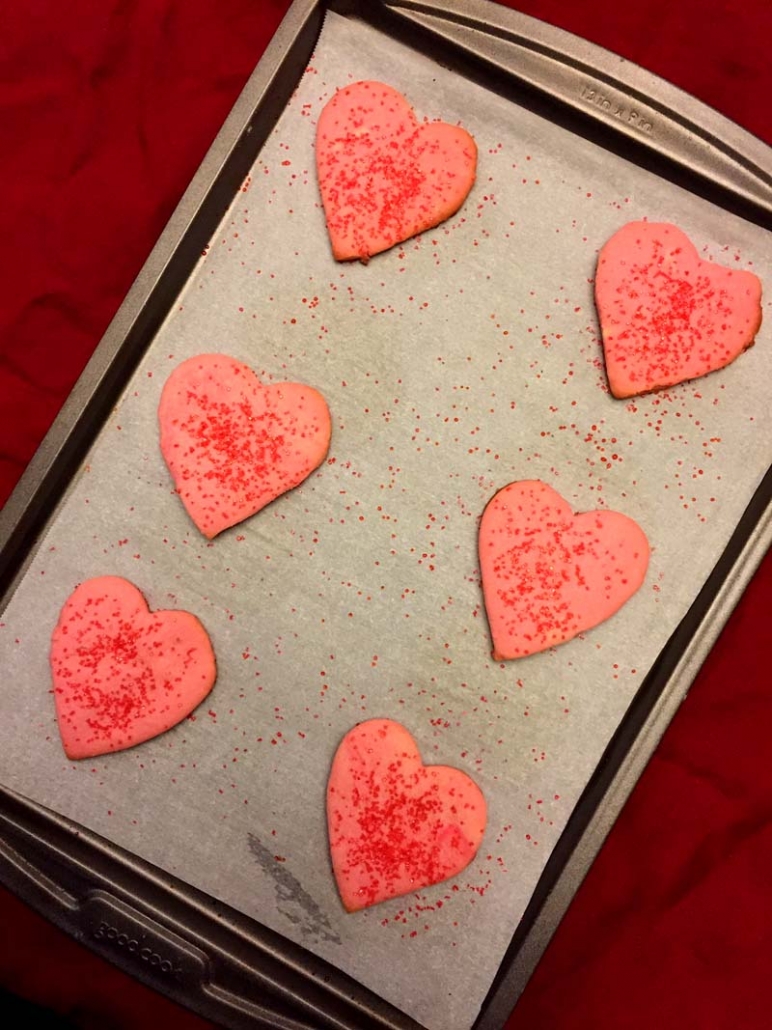 These sugar cookies are so yummy! They are perfectly sweet and have such a great texture! They are perfect for little kids, as the taste of the cookies is sweet and vanilla-y. In addition, these cookies are so easy to make, and perfect to bake with little kids! Since the dough is chill free, and only a few minutes of baking is needed, kids can make the cookies in a very short amount of time, without having to wait. In addition, doing things such as putting on sprinkles, mixing in food coloring, rolling cookie dough and cutting out heart shapes in the cookies are all very fun tasks for kids. Kids can give them as valentines to their classmates, friends, and relatives, as the perfect gift! I would recommend these cookies for any age, especially at parties that are valentines day themed. They are so cute, and require very little time and effort!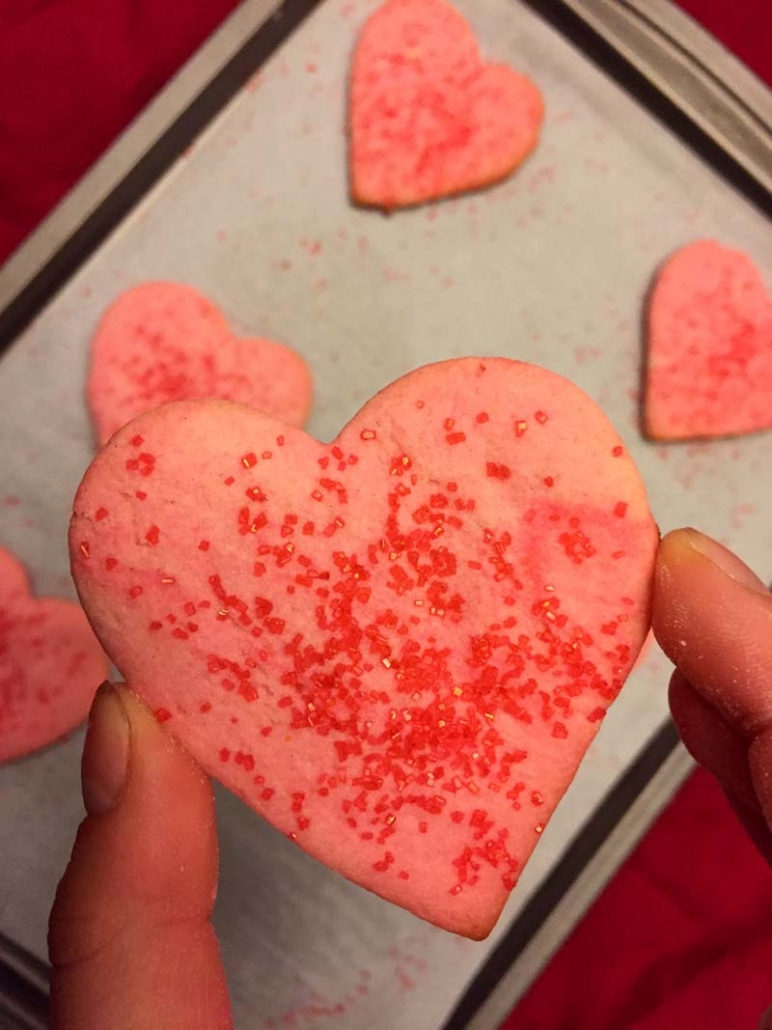 These cookies are so cute and festive for almost any occasion. Only needing food coloring and sprinkles to get the look of the cookies, these are one of the easiest cookies to make and decorate. I've noticed that some foods can have a food coloring artificial taste when food coloring is added, but these cookies don't have that taste at all! Only a very small amount of food coloring is needed to achieve the light pink colored cookies, and the sprinkles are sugar based, so they don't have the taste either. In addition, using the sugar sprinkles gives a different, more unique look to the cookies, and I'd highly recommend using the sugar sprinkle!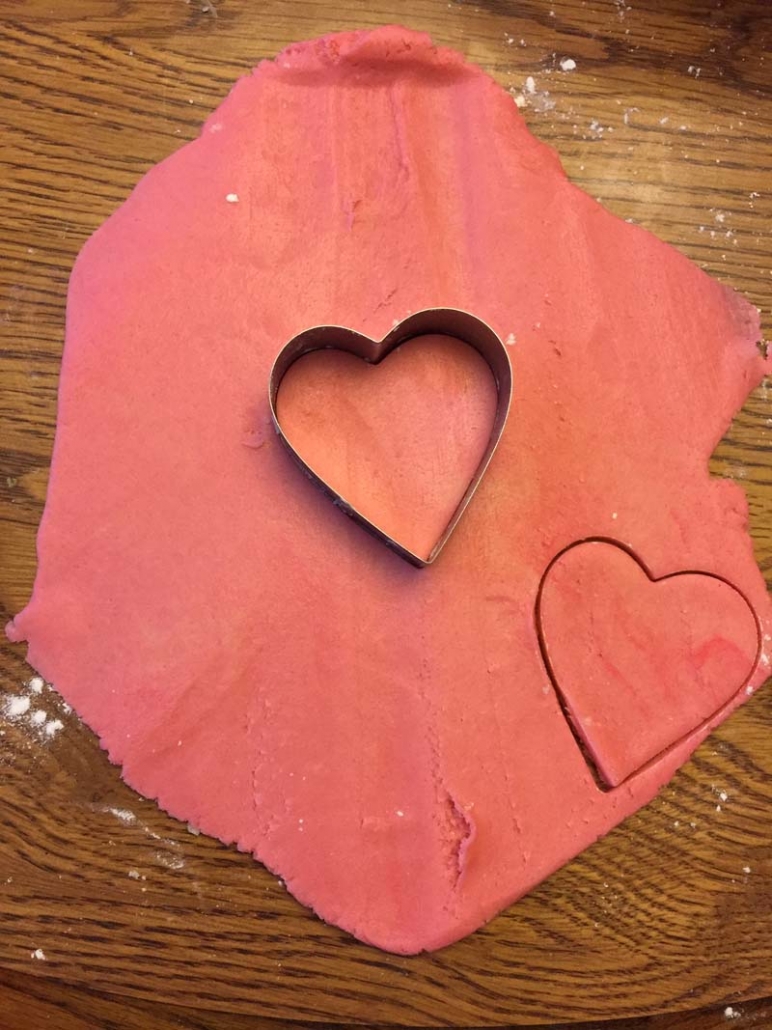 Overall, to make these delicious cookies, you simply mix the butter and sugar, throw in the other ingredients, roll out the dough, cut it into heart shapes, sprinkle some sprinkles, and bake it for 7-9 minutes! It's so easy, and the results are amazing! I highly recommend making this!
Heart-Shaped Sugar Cookies
Ingredients
1/2

cup

butter

softened

1/2

cup

sugar

1

egg

1/2

tsp

vanilla

1

tsp

baking powder

1 1/2

cup

flour

1

tsp

red food coloring

red sprinkles
Instructions
Preheat the oven to 375 degrees. Line a baking sheet with parchment paper.

Cream the butter and sugar with an electric mixer in a large bowl.

Add in the eggs, vanilla, and food coloring, until the desired color.

Mix in the baking soda and add in the flour 1/2 a cup at a time.

Roll the dough out, until the dough is 1/8 inch thick. From there, cut the cookies out with a heart shaped cookie cutter.

Put the cookies on a baking sheet 2 inches apart.

Sprinkle the cookies with red sprinkles.

Cook in the oven for 7-9 minutes or until the cookies are golden brown around the edges.
https://vibrantguide.com/wp-content/uploads/2019/02/valentines_sugar_cookies_sprinkles.jpg
1067
800
Anna
https://vibrantguide.com/wp-content/uploads/2019/01/logo2.png
Anna
2019-02-07 00:26:06
2019-03-07 01:05:11
Easy Heart Shaped Pink Sugar Cookies With Red Sprinkles